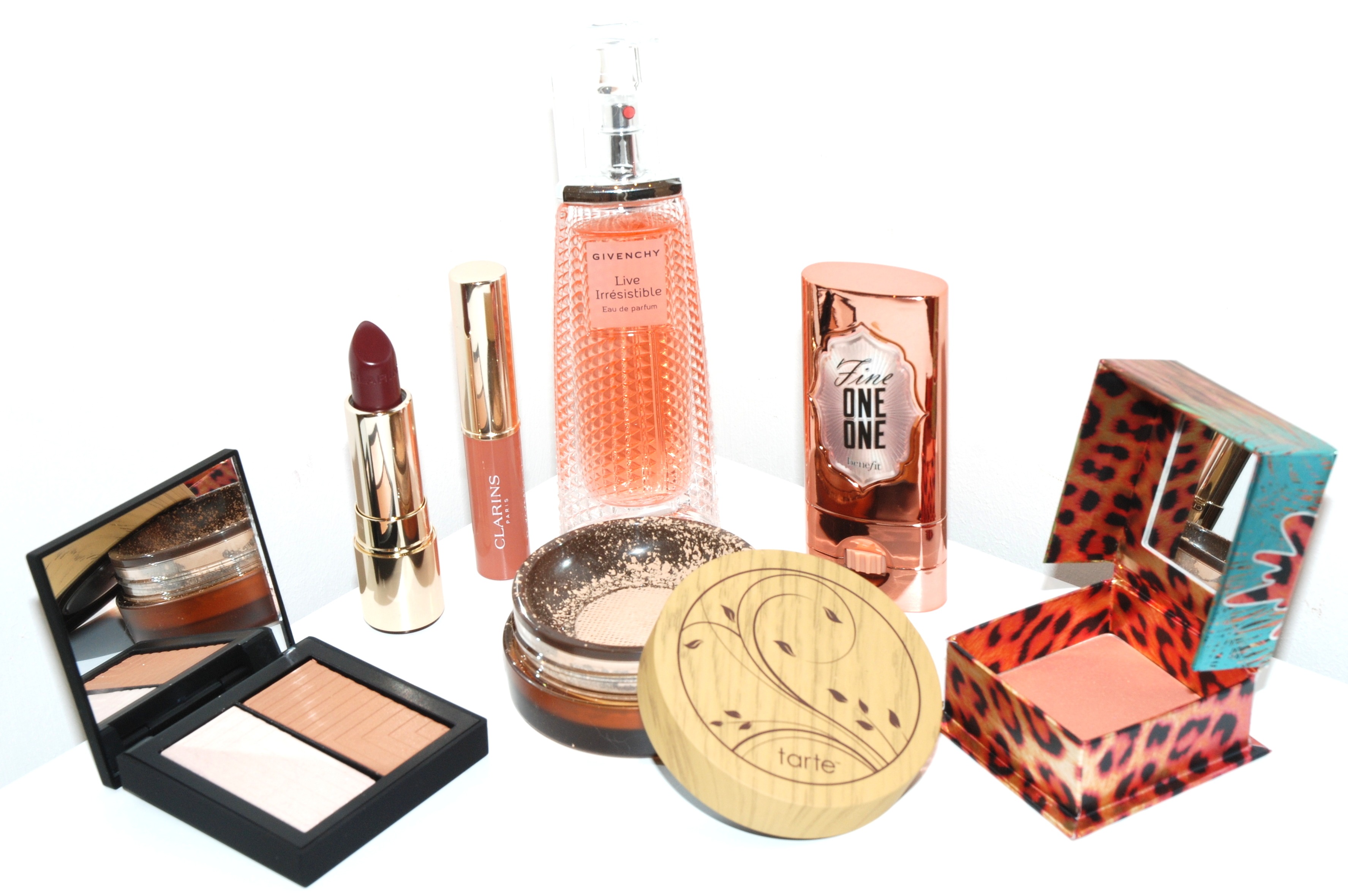 Beauty Favourites of 2015 & Christmas Gift-Guide
As 2015 soon draws to a close I thought it would be ideal to handpick some of my selected beauty favourites I have been using over the year to showcase to you all to provide you with some beauty inspiration and hopefully some ideas for Christmas too! This post showcases 66 of my favourite beauty products so I hope you'll find some inspiration 🙂
In the photograph above from left to right
NARS Duel intensity blush in Craving which is a sparkling seashell pink highlighter & Shimmering beach bronze
Clarins Joli Rouge Lipstick in Royal Plum. A beautiful plum shade which is ideal for Fall. The Joli Rouge lipsticks are gorgeous & so moisturising. Really beneficial for Fall.
Clarins Instant Light Lip Balm Perfector in 06 Rosewood. This lip balm was my favourite thing to wear on my lips throughout the Summer and great for Winter also as it adds radiance to the lips & a beautiful shine.
Givenchy Live Irresistible which is a beauty flirty floral, spicy and fizzy scent with a heart of spicy rose, a top note of juicy pineapple, & a base of Amber accord. The campaign for this advert starring the beautiful Amanda Seyfried is one of my favourite beauty campaigns of 2015 it's done incredibly well.
Benefit Fine-One-One. This pretty sheer highlighter has been designed for the cheeks and lips. It's incredibly light so if you're looking for a slight pop of colour this one is a great choice for you. The packaging is particularly pretty!
Benefit Coralista which is a beautiful warm peachy shade adding warmth to the face. A great coral blush to add to your collection, it's really pretty!
Tarte Amazonian Clay Full Coverage Airbrush Foundation in Light Beige which is a 12 hour full coverage weightless foundation. Tarte is a great brand, see some more favourite picks in my Tarte Cosmetics Summer Picks Review.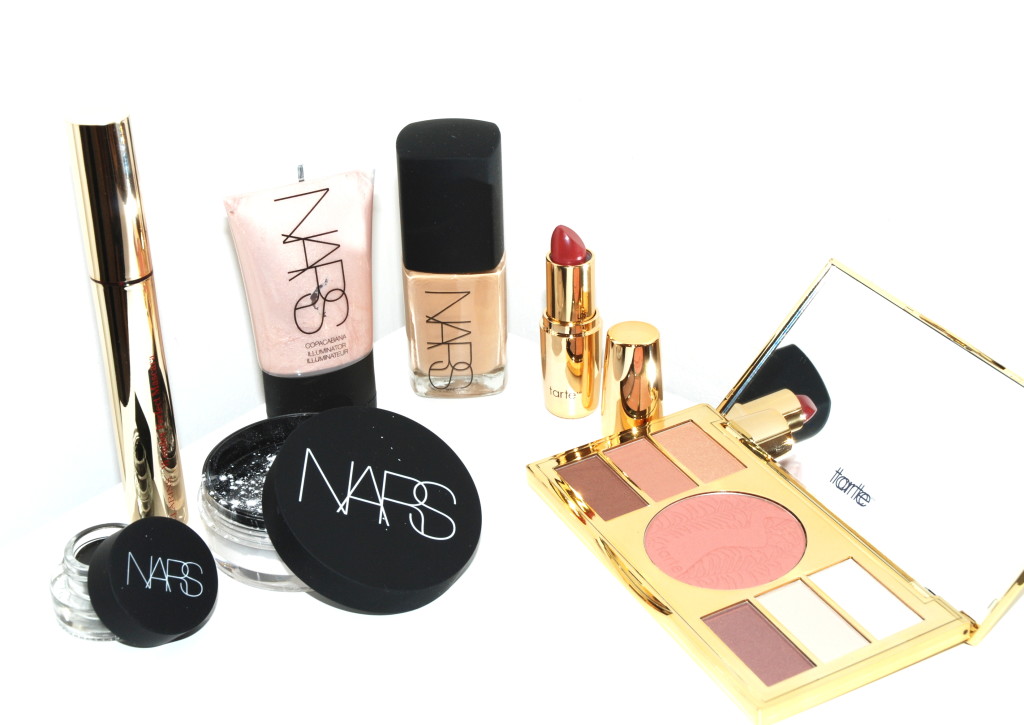 From left to right:
NARS Eye Paint in Black Valley. A fantastic gel eyeliner which I'm finding myself using daily. It's really long lasting & a really lovely jet black. If you pack on a black matte eyeshadow on top you can lock the eyeliner in place for longer without it smudging.
Clarin's Wonder Perfect Mascara in Black. This mascara comes in a lovely golden large tube so this mascara will last for ages which is an added benefit. This was one of my favourites to wear during the Summer months.
NARS illuminator in Copacabana which is a glistening pearl highlighter. A really pretty highlighter to use on the cheekbones and under the eyebrow. NARS Orgasm highlighter is also a lovely choice seen in my NARS 2015 Summer Picks
NARS Sheer Glow Foundation in Stromboli which is the perfect foundation shade for medium coloured skin with olive undertone like mine. This foundation is really impressive and provides a medium coverage. I prefer sheer foundations so this is a hit for me. There's also an All Day Weightless Foundation from NARS which is a lighter alternative product.
Tarte Primrose Coconut Oil Lipstick. This golden shade is a limited edition shade from Tarte's 7 Piece High Performance Naturals Cosmetic Bag Collection which you can get here on QVC. A really pretty shade and a very buttery lipstick. More Tarte Amazonian lipsticks are reviewed in my Tarte Cosmetics Summer Picks.
Amazonian Eye & Cheek Palette which is a really pretty palette containing some really pretty eyeshadows & pretty peach cheek colour. A really gorgeous compact which also comes in the gift bag above from QVC 🙂
NARS Light Reflecting Loose Powder is one of my favourite setting powders as it really does work so nicely. It makes your skin feel & look ever so soft and velvety. It locks foundation in place with a stunning finish. Also, sweep it underneath your eyes, this will help stop any smudging from eyeliner or shadow from your eye makeup.
From left to right
Rosmira Frankincense & Rose Exfoliating Facial Scrub– This is an organic scrub suited for dry skin. I have been using this once a week as a treatment which is great during Winter.
Suti Skincare Purity Gentle Balm which is purely organic. It contains Calendula, Chamomile & Lavender. I use this product as a serum underneath moisturiser.
Mel Mellis Organic Phytonutri Body Oil containing sought after oils which date back to ancient times! The body oil photographed here contains Frankincense and Myrrh so certainly fitting for Christmas!
Mel Mellis Organic Phytonutri Daily Cleansing Oil which contains a wide variety of vitamins essential for the skin. It contains vitamins A, B, C, D, E And K and plant oils of Apricot, Avocado and Camellia. This product helps promote cell growth as you sleep! An active multi tasking skincare product!
LiLash & LiBrow these are eyelash and eyebrow serums which really do work in terms of growing your lashes & brows which really does work well. You can put the serums on underneath eye makeup & before doing your brows.
Suti Skincare Face Oil for the night. This is a great facial oil to try especially if you love natural skincare products. It contains Avocado Oil, Macadamia Nut Oil, Jasmine & Patchouli so it smells lovely too!
Mel Mellis Facial Skincare Organic Phytonutri Baobab & Immortelle Age Defying serum. This serum is a great anti ageing serum to use on the face before applying a moisturiser.  This one is discontinued however Mel Mellis have a collection of similar facial products to this one.
The cute little mirror in the middle is a Limited Edition Compact from LiLash 🙂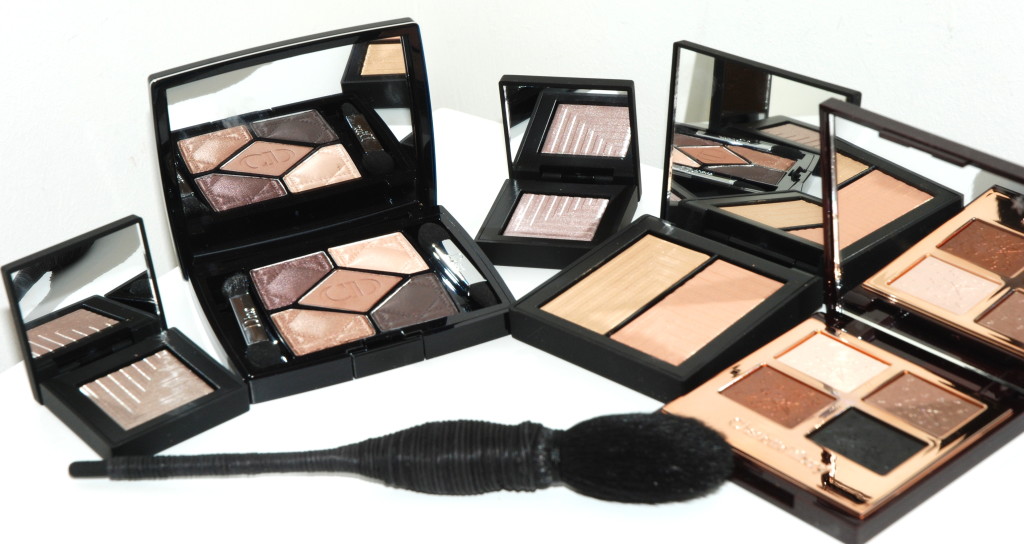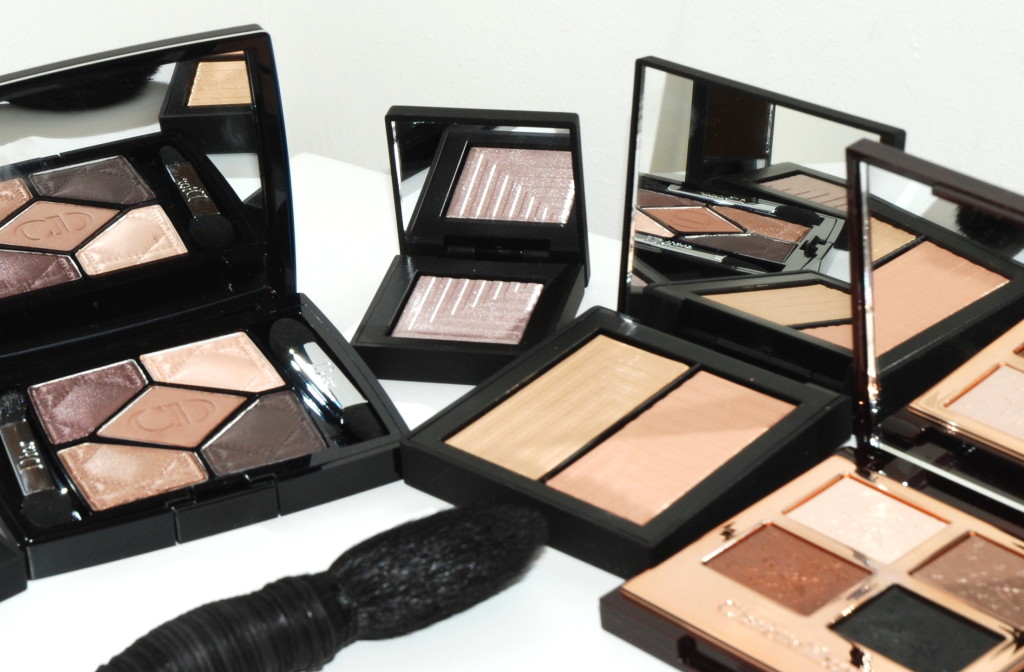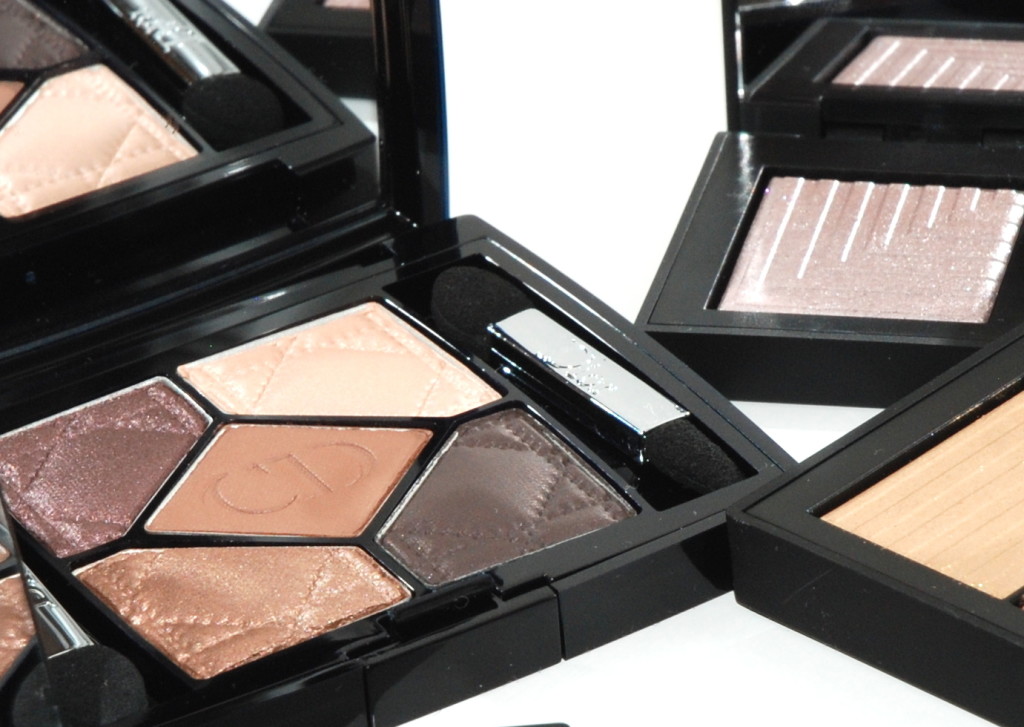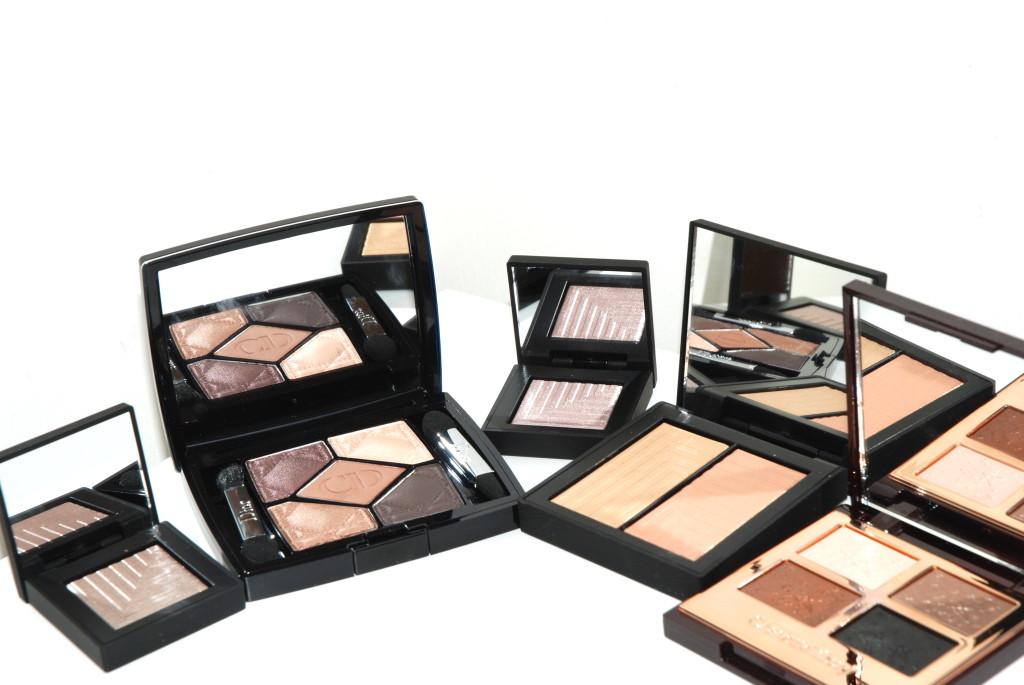 Luxury High End Beauty Corner
When it comes to high end beauty products I cannot resist especially when it comes to these beautiful brands!
From left to right
NARS Dione Duel Intensity Eyeshadow which is a metallic champagne beige! It's a beautiful eyeshadow and can be worn both wet & dry! It provides a really intense look when applied wet!
DIOR Cuir Cannage which is just beautiful. The palette offers a warm set of natural colours ranging from beautiful beige shades to seductive plums. A great palette to wear as an evening look! Dior for me simply spells luxury & the quality of their shadows is superb!
NARS Callisto Duel Intensity Eyeshadow which is an icey pink silver! It's a beautiful light shade and really applies well both wet & dry! You can create such dramatic eye looks with the Duel Intensity shadows they're just beautifully formulated!
NARS Jubilation Duel Intensity Blush which is a Sparkling yellow gold highlighter & Shimmering soft, nude-peach! It's stunning & a wonderful product in terms of pigmentation & quality! This highlighter works really well on olive skin tones such as my own however it's suited to any skin-tone too as it has a really universal appeal.
Charlotte Tilbury in Luxury Fallen Angel which is a stunning Limited Edition Palette. It contains a range of beautiful shades to create a stunning smoky eye look ranging from antique silver, hypnotic golden pearl, metallic bronze and velvet black. A stunning Charlotte Tilbury creation!
The brush showcased in the first image is the Nars Mie Kabuki Brush which is superb! It's perfect for applying loose powder around the face and for applying blush shades! A favourite brush to use at the moment and the bristles are ever so soft too 🙂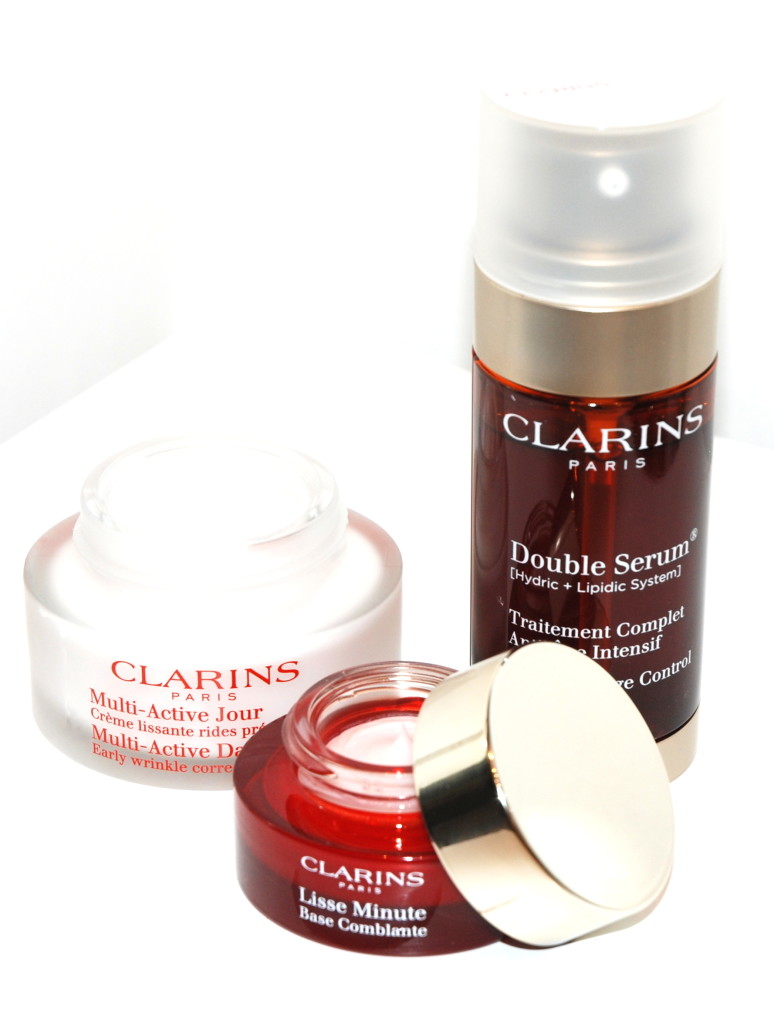 Everyday Skincare Products
My skincare favourites at the moment are from Clarins and I do find myself regularly recommending others my favourites from the brand as they always impress me!
Photographed here are three of the products I have been reaching for especially during Winter for some extra skin comfort.
Clarins Multi Active Jour which is a terrific day cream. It targets fine lines and plumps the skin and within a week of using this products you can really see the difference this product makes on your skin. This is a favourite for all skin types and brilliant to find a multi tasking product.
Clarins Double Serum is a very popular product from Clarins & I can certainly see why. It contains 20 different plant extracts which boost skin function. Also suited to any skin type, and great to use under your day cream.
Instant Smooth Perfecting Touch is actually a makeup primer, however this product is perfect to wear alone also because it smooths out any of your fine lines which is the purpose of a great primer. I remember trying this many years ago and I was so impressed. A great quality product and makes all the difference to your makeup also!
From haircare to statement lips, from fragrance to aromatherapy here are some perfect picks which I have been opting for throughout 2015.
First photograph from left to right
NARS Audacious Lipstick in Leslie which is a luscious rich cherrywood colour. Really beautiful on the lips and have been impressed with lip-shades all year.
DNKY Be Desired. This is a new scent from DNKY which has a moorish appeal in scent. Described as fruity, cool and sultry on the website, Be Desired lived up to it's description. It's really appealing and wearable for day to night
KeraStraight Ultimate Oil is a lightweight oil for the hair which works wonders for hair! I have naturally wavy hair & it seems to develop a mind of its own sometimes! This product really tames unruly, frizzy hair and keeps it from rising. It's a great oil to use. I can happily say my hair looked normal after walking around during a recent storm in the UK which never usually happens. Would highly recommend.
Aerin Weekend Palette available from Estee Lauder which is a luxurious palette perfect for creating a very natural look. The palette contains some pretty rosy looks for the lips, multi use shades for the cheeks & lips. The colour is very light in appearance & great for adding natural radiance to the face.
ByTerry Blush in Flash Fiesta which is a warm rose/orange tinted shade. This is a highly luxurious brand providing such a silky finish on the skin. The formula is beautiful and this blush has certainly been one of my favourites to use especially in Fashion shoots as well as other blushes from the brand, they're really beautiful.
Laura Mercier Paint Wash in Orchid Pink. The lip paints provide a vivid matte colour for the lips. They are not sticky at all compared to a lip gloss for example, these go on as a paint and settle like a matte lip-shade, however as the formulation is so creamy it helps rid the appearance of any lines on the mouth for a very smooth finish.
Bottom Row from Centre, then left to right:
Lee Stafford Argonoil Straighten & Nourish Irons the brick red straighteners from Lee Stafford are infused with Argon Oil to help improve hair condition and product the hair from high heat. Really impressed with these as they leave my hair feeling really soft & silky. The fact these are such a lovely shiny red colour makes these even more appealing!
Tazeka Aromatherapy in Motivation & Concentrate. I haven't tried Aromatherapy before however these products really do work really well. You apply the product to pulse points in your wrist & in the neck and breathe in. They contain unique blends of high quality oils adapted to help with different areas of your life. I did notice that these worked well to boost my concentration whilst working, also I like the scent and they also work well as a perfume!
Harajuka Lovers Pop Electric Love Eau de Parfum is such a fun loving in so many ways! The cute trophy bottle design is fantastic. The scent is a fruity floral, surrounded with notes of apple, pear, jasmine, musks & cashmere woods. I love these fun little bottles and their actual website is so cute!
Lee Stafford Nourishing Miracle Oil is a lightweight oil suitable for all hair types. It's a great product to reach for when using the hair straighteners. The two combined are great for creating perfectly straight hair.
Furless Cosmetics Perfectly Pink Stippling Brush. I love this brush as well as the contour & face brushes from this unique brand. I love the pop of colour combined with the black shiny casing. Really soft on the skin and a pleasure to use & admire.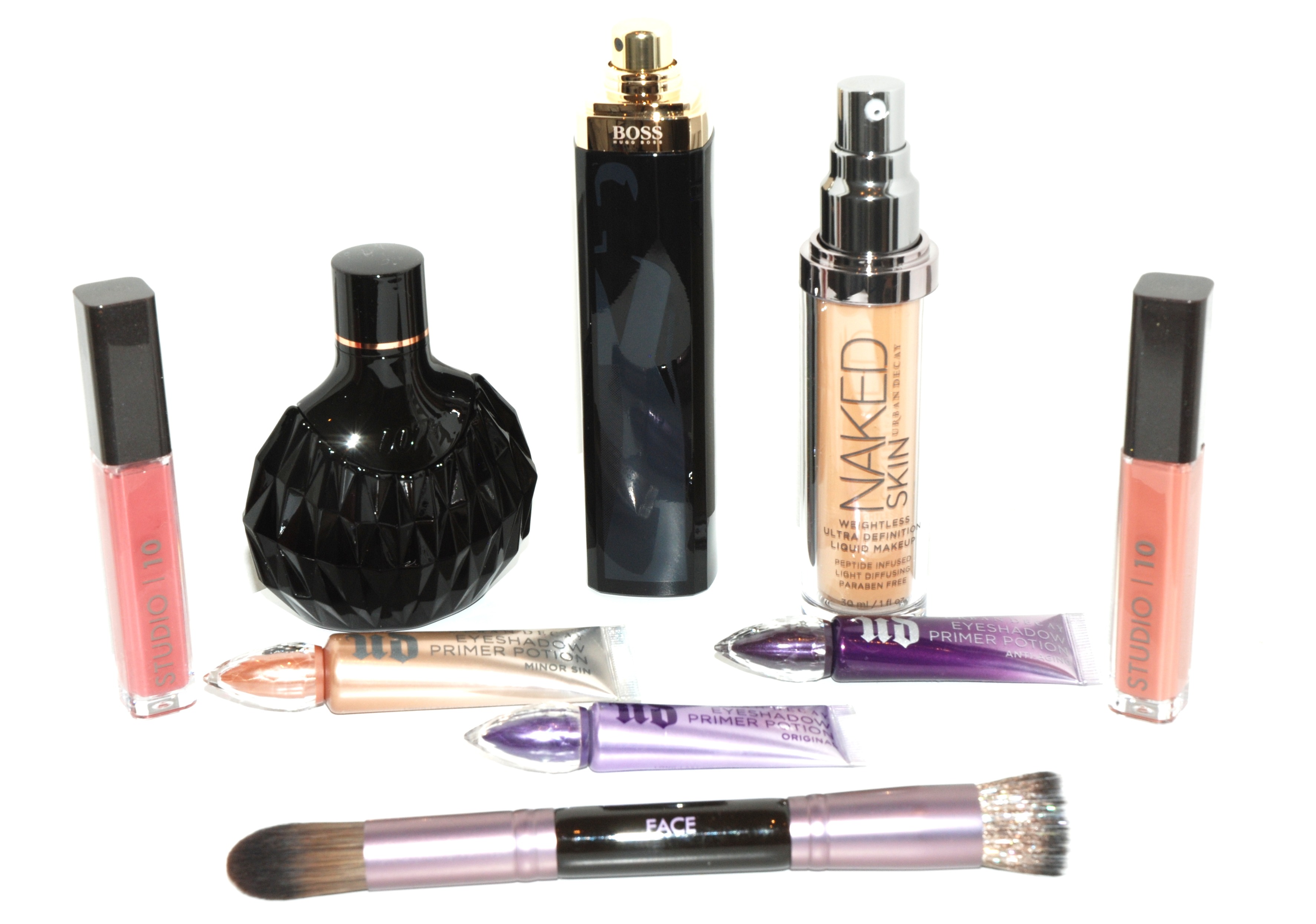 Studio 10 Liquid Lips in 02 Blossom which is a pretty liquid pink lip colour & one of the best sellers from Studio 10. I'm very found of this brand and find their products of a very high quality in terms of formulation.
007 for Women Eau De Parfum which is very alluring oriental scent. The perfect combination of sweetness combined with seductive woody notes.
Runway Edition Nuit Pour Femme Eau de Parfum by Hugo Boss is a beautifully designed black shiny bottle with a print of a runway model in white. A very feminine fruity scent containing juicy peaches with jasmine and violets.
Naked Weightless Ultra Definition Liquid makeup by Urban Decay in shade 4.0 which has been created to have a weightless feel, to add luminosity, and provide coverage. This foundation has successfully provided all three aspects here. I like lightweight formulas when it comes to my foundation & this one settles on my skin nicely. The radiant glow it produces is really quite beautiful.
Studio 10 Liquid Lips in 01 Tearose which is a very natural rose coloured liquid lip colour. It's beautiful and looks really pretty for a natural daytime lip.
Urban Decay Potion Primers in Major Sin, Original, Anti Ageing. These are my favourite go to eye primers! They are fantastic for keeping on your eyeshadow on for longer. Primers are a must have to bring out the truest colour of your eyeshadow, designed to be a canvas for your eyeshadow. Major sin has replaced the previously released sin shade to make it sheerer & I can certainly see the different in product quality, it's a lovely shimmery champagne shade.
Studio 10 Double End Face Brush a brilliant double ended brush which provides you with an airbrushed finished when applying your foundation.
My final picks in my Big Beauty Feature of 2015 are form left to right
Studio 10 Prime & Perfect Refining Powder Silk which is the perfect facial primer in a compact. It minimises fine lines & adds a lit from within look to your skin. A great product to use when applying foundation.
Hugo Boss The Scent I LOVE the smell of this wonderful fragrance for men however do you know what's very interesting, this scent is suitable for women also. It's heart note is Maninka Fruit, the top note is ginger, and the base has leather accords. It's a delicious scent and I actually wore this as a base scent underneath sweeter scents to add more depth to my perfume.
BOSS Bottled OUD this is a great pick for guys especially for Christmas. I would opt for this scent for a father or Grandfather as it's incredibly refined containing saffron, woody and cinnamon notes.
Michael Kors Gold Collection Rose Radiant Gold Eau De Parfum which is incased in a luxurious rose gold bottle. The scent itself contains rich florals, musks & sparkling spice! It's a lightweight scent & one suitable for day to evening. Impressed with how beautiful the packaging is 🙂
Studio 10 Radiance Glow Bronzing Veil which gives you a very natural sun-kissed look. It helps to brighten skin and your overall look appears warmer and radiant.
Lip Perfecting Plumping Gloss by Studio 10 which really does create fuller looking lips. It contains Hyluronic Acid which helps add volume to the lips. The shade is really pretty and comes out as a peachy pink.
NARS brush in Number 21. This is a brilliant contouring brush which is a a perfect tool for beautiful cheekbones. The bristles are soft and the brush deposits product very evenly.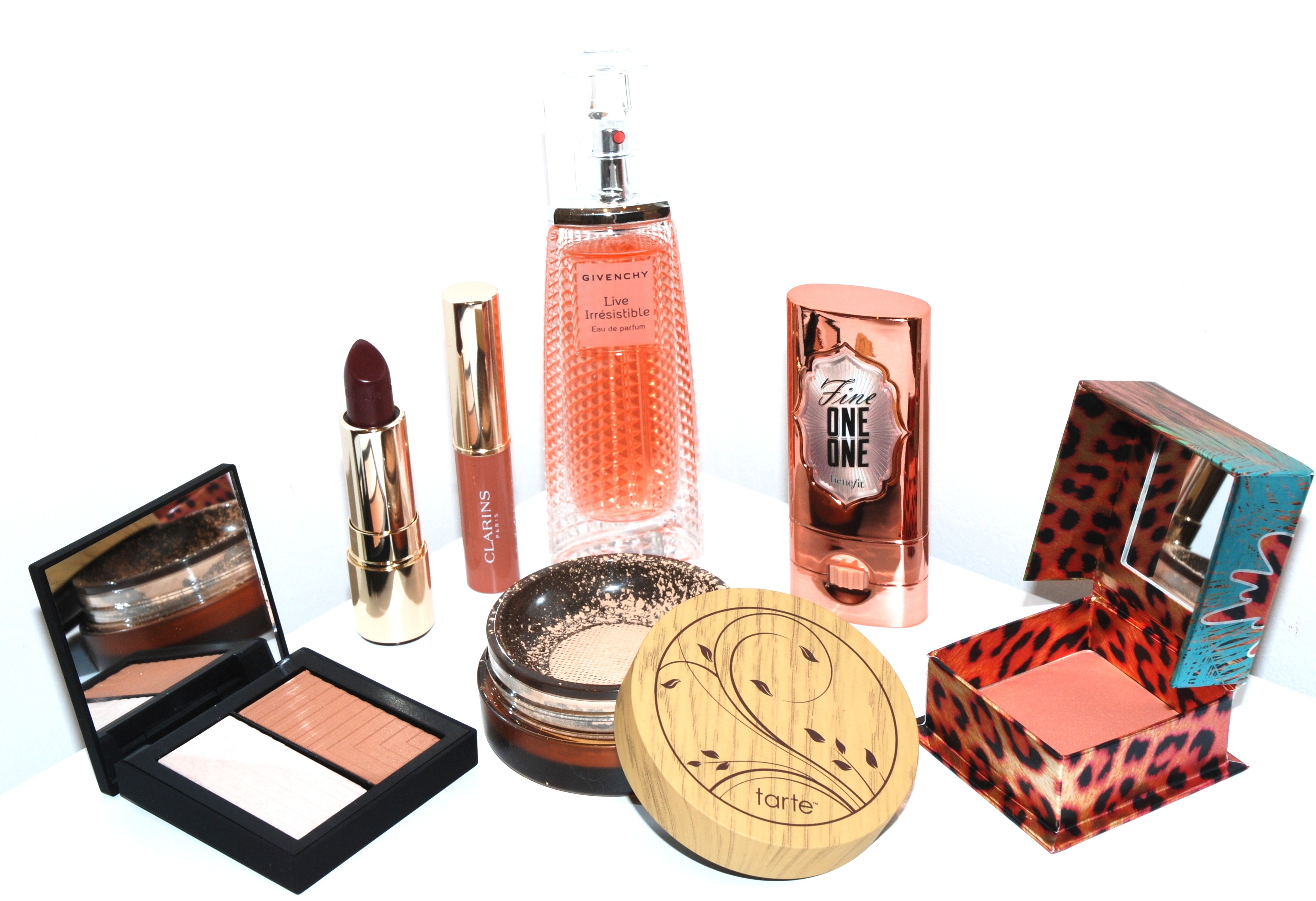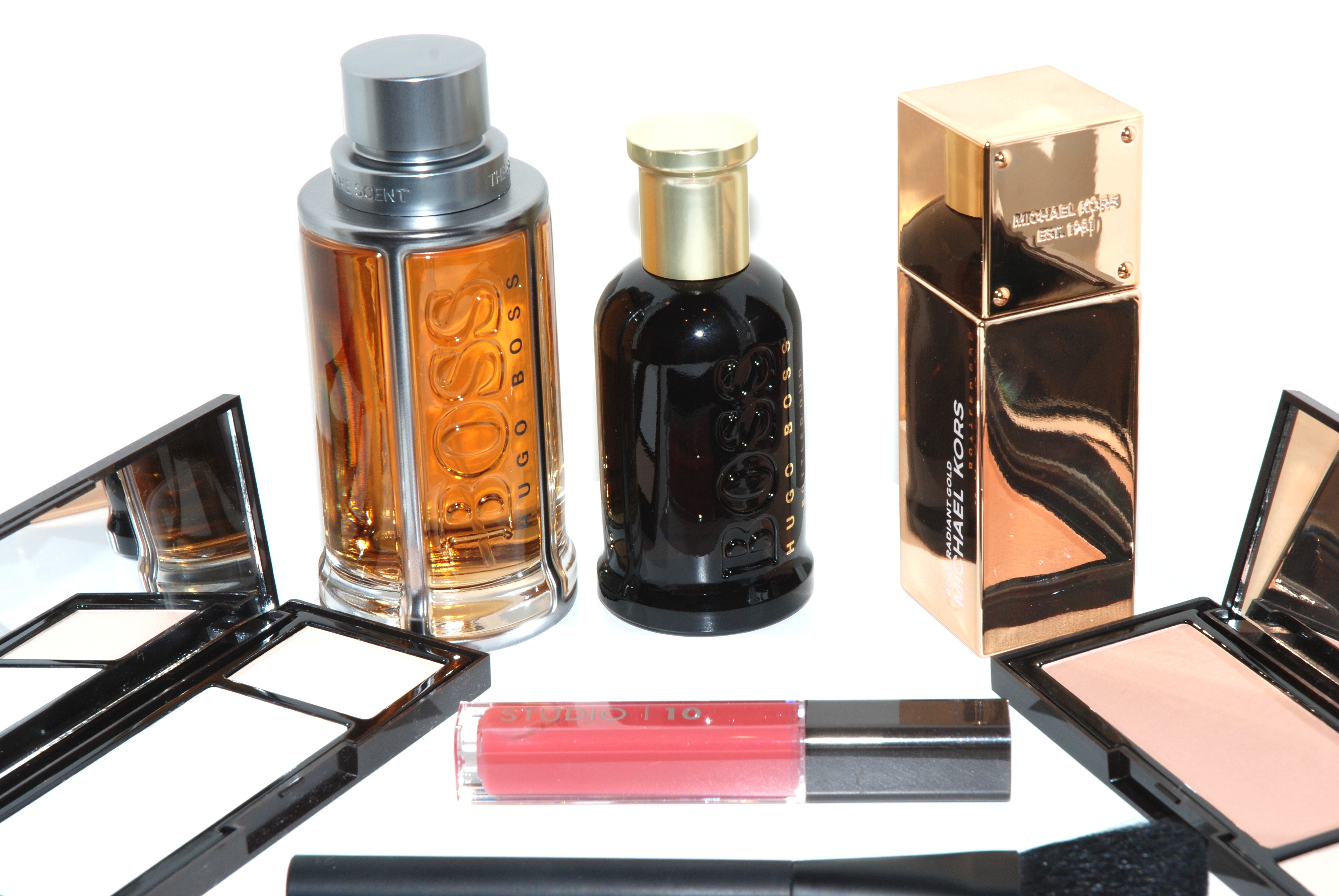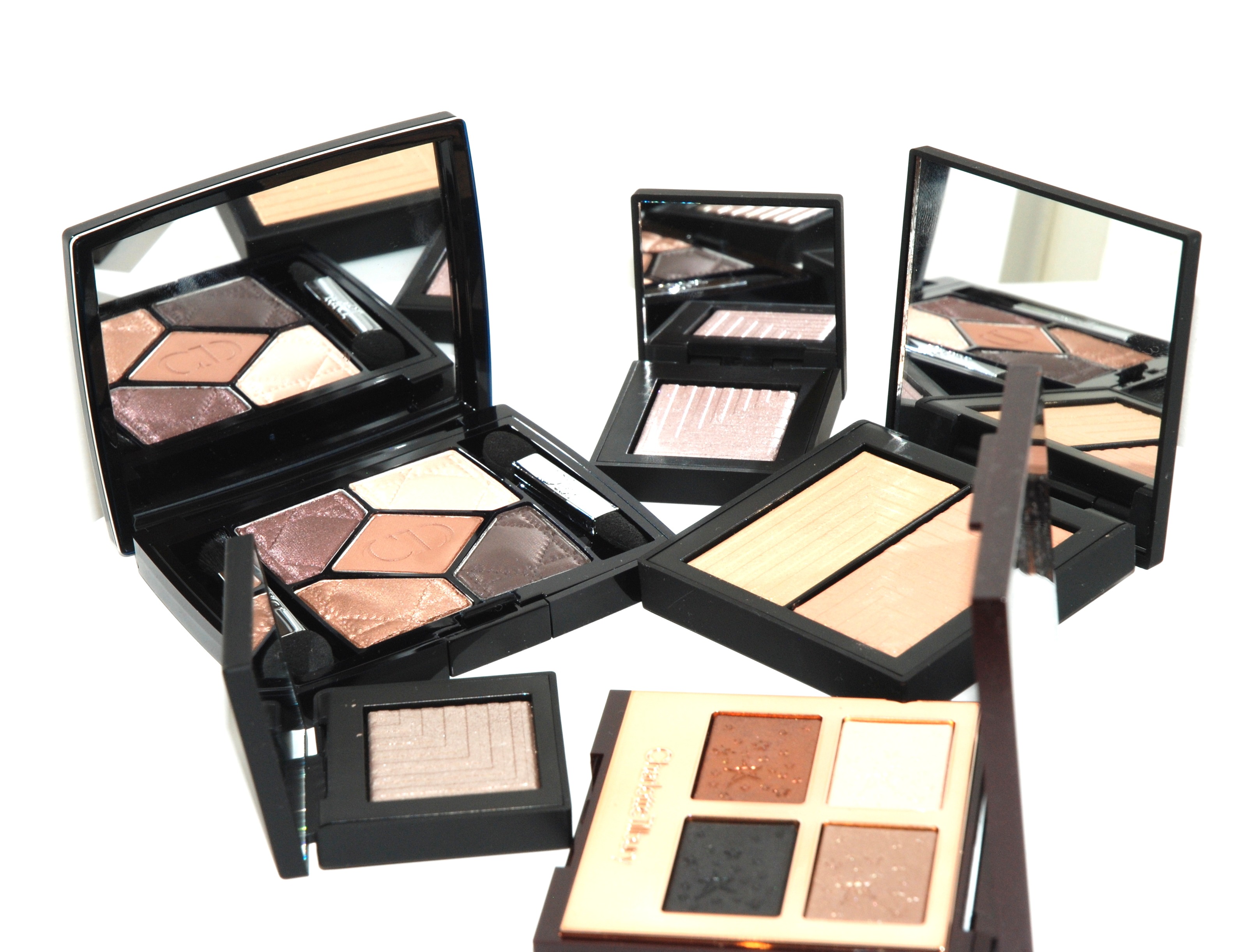 My plan was to bring you some of the best in beauty & I really hope this post has given you some inspiration 🙂
What are your favourite items here and why? I would really love to hear your thoughts 🙂
Thank you so much for reading!
Laura xo