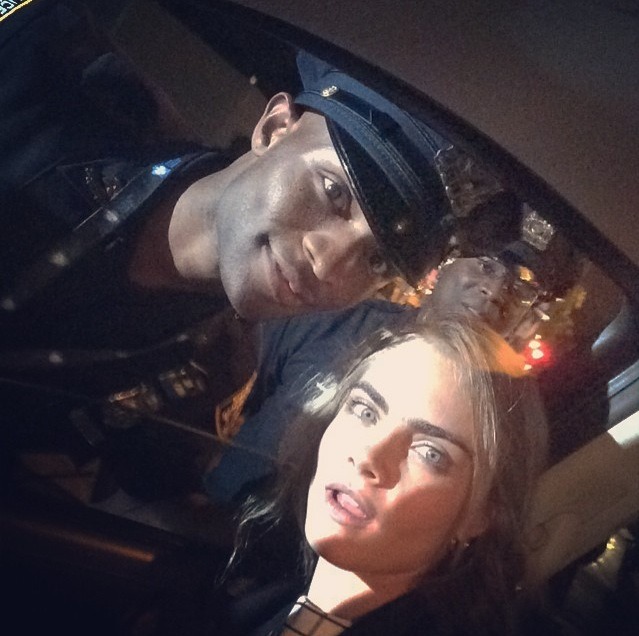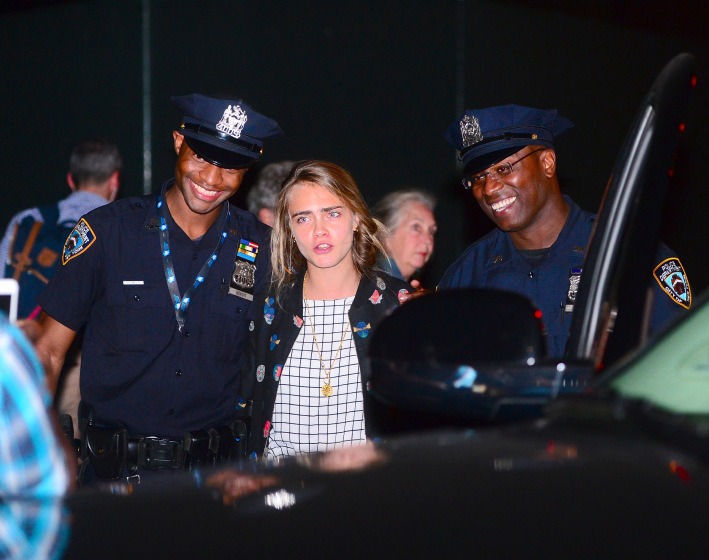 Supermodel Cara Delevingne was on her way to The Summer Charity Basketball game at The Barclays Centre Brooklyn with Rihanna when she was swept away by two NYPD officers!
No, she wasn't being arrested, the two policemen simply wanted a selfie with Cara who happily accepted! She also jumped into their cop car to take her own selfie of her own with the officers on her mobile http://Instagram.com/p/r_mWqPDKDl/?modal=true saying
See you next time @ra_718 #Esson
So who is the NYPD officer in Cara's selfie? Meet Ra Benoit, officer from Brooklyn who I had the pleasure of interviewing!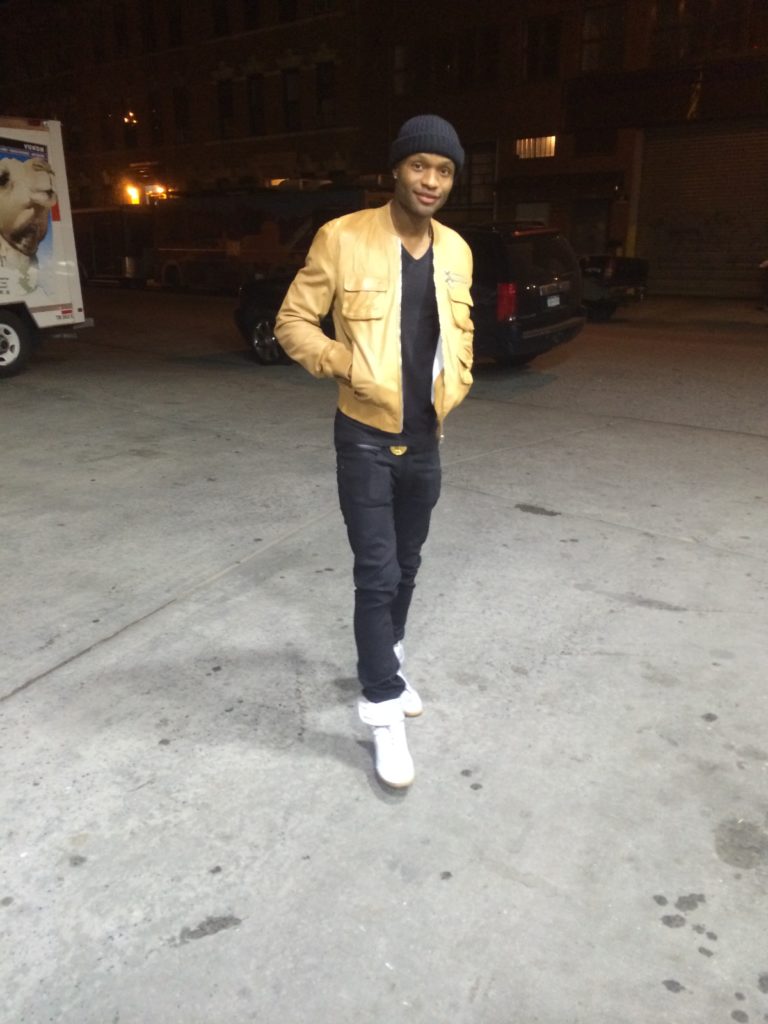 Ra in D Squared Leather, Acne Jeans and Margeila Reflector Sneakers 
What was it like meeting Cara Delevingne in person and what was she like? 
It was a great experience meeting her, she so cool down to earth and very humble you would have thought we known each other for years the way she embraced me.
Did you have much of a chance to chat to Cara, if so what did you talk about?
We spoke for a few minutes; at first i didn't recognise who she was so we introduced ourselves and she told me who she was where she was from and I loved her loved her accent. Then I made a joke and asked her if she would believe me if i told her i modelled part time and she was like yes i def can see that, then i told her I'm just kidding. We also spoke about what it was like being a cop in Brooklyn.
What was Cara wearing and what do you think of her style in general? 
She was wearing a wind breaker sort of jacket with a shirt under it, some shorts and some tennis sneakers. I think her style is amazing she can wear anything and make it look good.
You seem like a very fashionable person, have you considered trying modelling yourself?
I would consider modelling all the time only because people always stop me and ask me if I'm a model. Funny; one time at work this lady pulled me to the side and said young man, you are in the wrong business you should definitely be a model. When you hear it so much you actually start to believe you can do it. So i'd definitely consider doing it.
How would you define your own personal style and who are your fashion icons?
I think my style is cool, i can wear basically anything and make it look good shopping is something i love to do so i always have different visions in my head. I like Kanye West style of fashion, Cara of course , Scott Disick just to name a few.
Do you think you will stay in touch with Cara? 
I think i will stay in touch we can always reach out through Instagram, also there is a fashion event coming up at Barclay Center in Brooklyn where I work so I'm sure we will see again. People aren't hard to contact the way social media is today anyway.
Compose a tweet for Cara in 140 characters
If I could compose a tweet it would be like:
Regular day working at Barclay Center for charity game when the lovely supermodel Cara takes a few mins to talk with my partner and I. Most cool sophisticated down to earth person snapped a few picks before paparazzi came.
Why are you a fan of Cara and what stands out to you the most about her as a fashion model and as a person?
After meeting her I'm a huge fan of hers because she is so humble its like we were two regular people talking, also she makes modelling look so easy, she is very good at what she does.
Tell SheHearts about you, what inspired your career to work in the NYPD and what do you like the most about your job?
I was born in Brooklyn I'm 32 yrs old and my family is from Haiti. I used to play basketball so things didn't work out, but while playing basket ball I took the NYPD test, and as I was done with the basketball thing, they called me to come into the academy  so i did it. I like my job because i have the opportunity to help people on a daily basis. Cops get a bad reputation but i always tell people it's not what you do, its how you do what you do.
What's it like living in Brooklyn? What are the trends and styles like over there?
Brooklyn is the best city in the world to me. people are big on fashion here, there is not just one trend; you will come here and see so many different styles its crazy. People here are great and things are only getting better here. I would advise everyone to come here at least once to experience it for themselves.
What are your personal hobbies?
I like to shop, I'm very big on working out, going out to eat, hanging out with family and friends, playing basket ball and traveling.
Do you share anything in common with Cara aside from excellent style?
Yes I think we share a lot in common as far as personality goes. I'm very funny once you get to know me and i get that vibe from her. I'm also very humble and down to earth and just very laid back.
If you could meet up with Cara one day, where would you like to go with her and why?
If I got to hang with her i would have her eat my moms food  she'd love it, and just show her around Brooklyn and the places I grew up at so she can get the Brooklyn vibe that every one speaks of.
What are your favourite fashion brands and why?
I have so many fashion brands that i like.  I think Burberry Prorsum makes the best coats hands down,  I just love them. I Love Calvin Klein boxers and their slim fit T-Shirts, they have the best feel to me.  Shoes, I just have a lot of them from Nike, YSL, Gucci, Raf Simons, Bally, Balenciaga, Ferragamo, Margeila the list goes on. Lately I've been falling in love with Dolce & Gabbana clothing. their jeans and t-shirts are awesome. You can also find some good clothes in Zara, TopShop and Urban Outfitters, they never fail me.
If you could be on the face of any Fashion campaign which one would it be and why?
If I could be on the face of a campaign it would be Burberry Prorsum because I'm just madly in love with their coats, they fit well on me.
If you could do a duo campaign with Cara which brand would you like to shoot for any why?
If I could do a duo campaign with Cara I would do it with Dolce & Gabbana , Burberry or Versace because they have a lot of pieces that are awesome to me and I always love their ads.
It seems that fitness seems like an important thing to you, how much training do you do to stay in shape?
I love working out its very important to me. I feel like if you don't have anything else in the world, you have your body so you must take care of it. i work out at least five times a week. and it gives you a confidence like no other.
Have you ever visited the UK and if so, what did you like most about it and the fashion over here?
I have never visited the UK but its definitely on my to do list. I love the sense of fashion over there.
How would you sum up your overall experience meeting supermodel Cara Delevingne? 
My overall experience meeting Cara was great and it showed me that even if you are a superstar you can still be regular, normal, down to earth and humble at the same time. it was a great experience meeting her. She is awesome.
---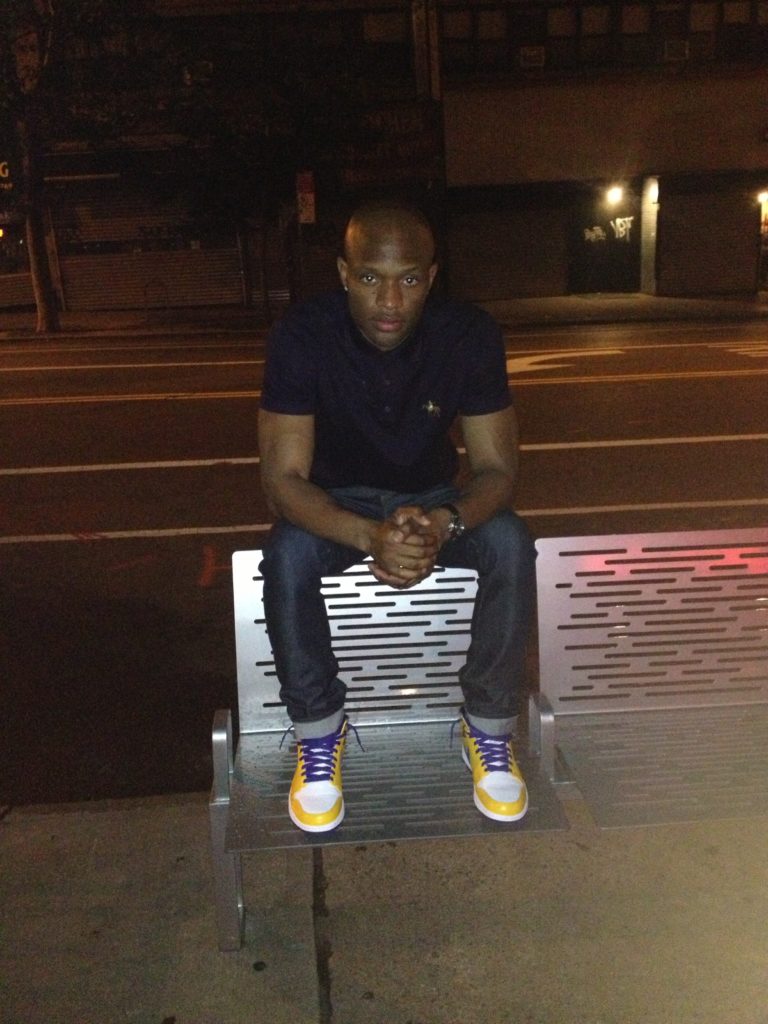 Ra in a Purple top, Acne jeans and Jordan Sneakers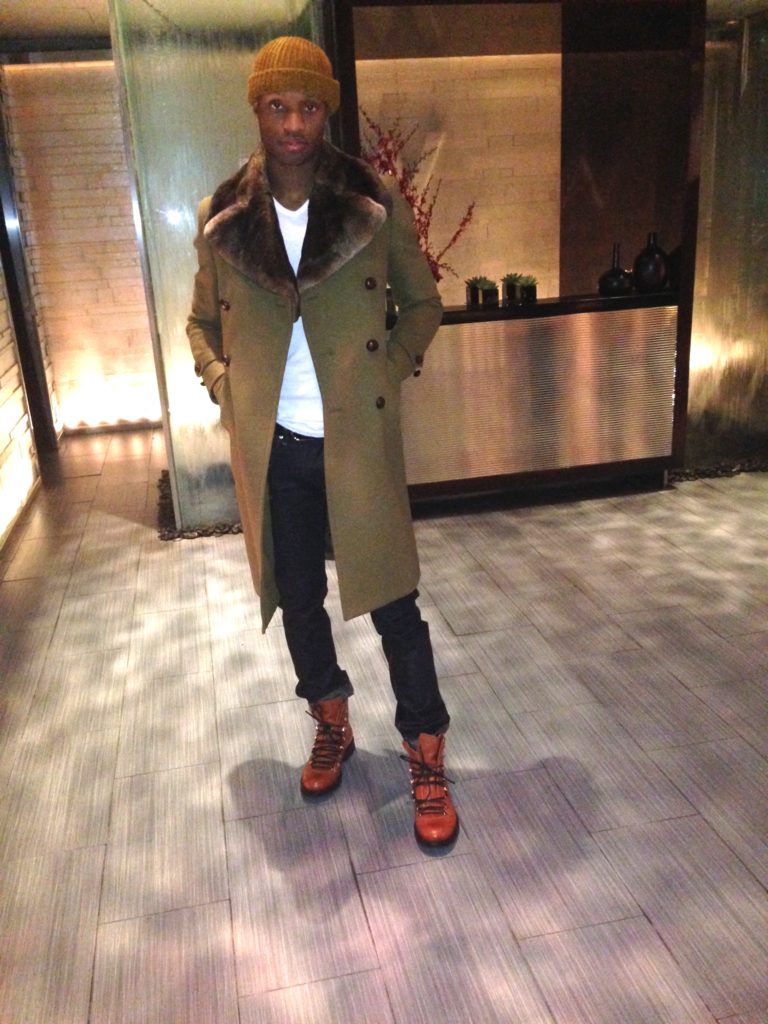 Ra wearing a Burberry London coat, Acne Jeans and Bally Boots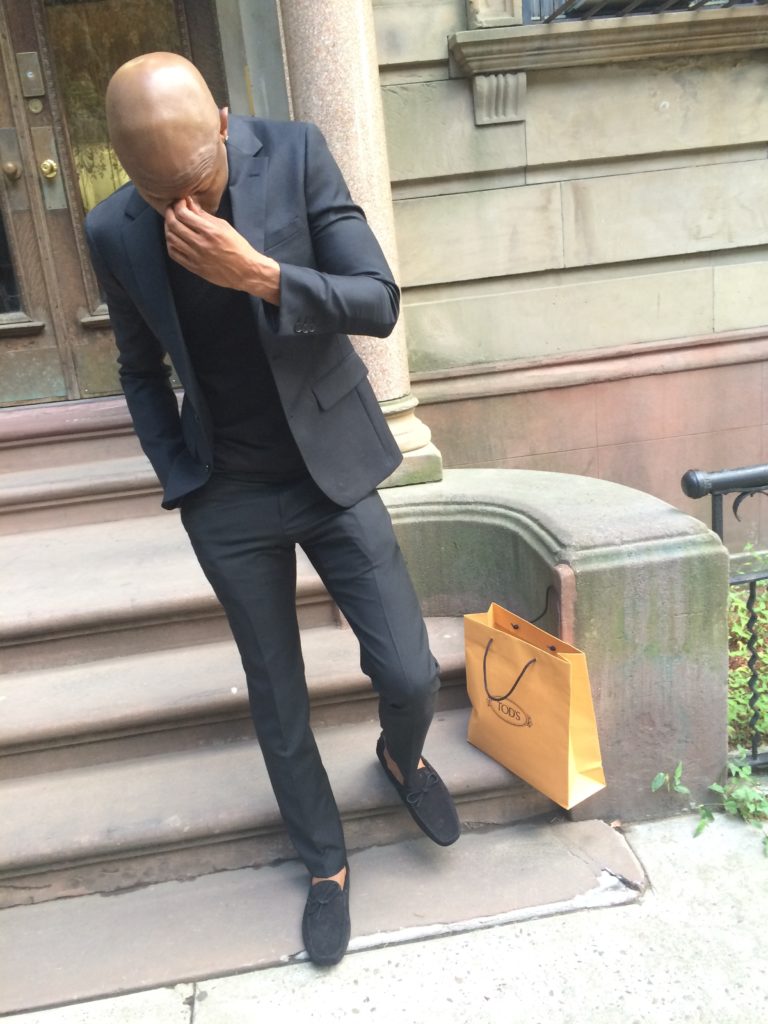 Ra wearing a Reiss Suit, Todd Loafers and a Calvin Klein V Neck T-Shirt