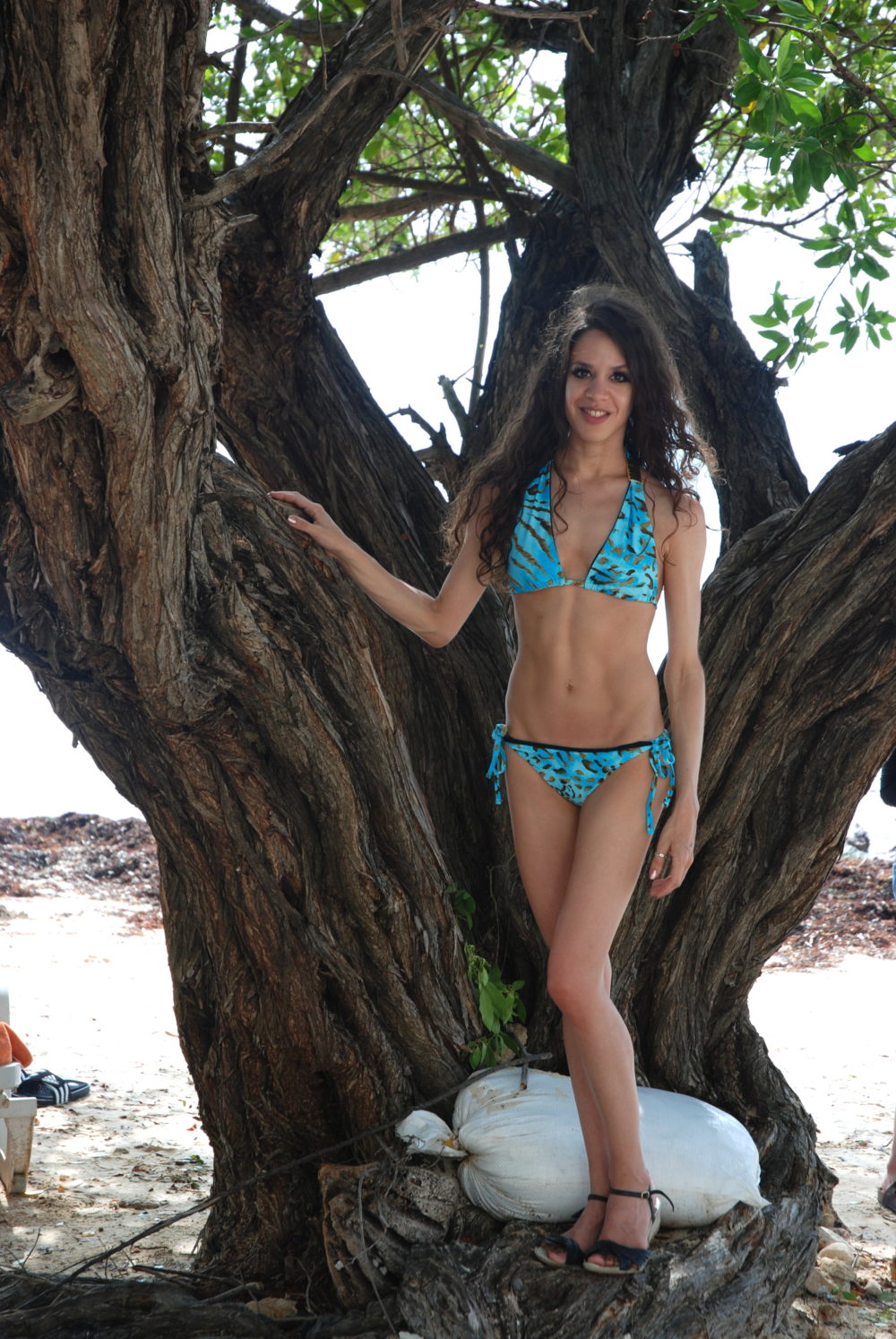 Swimwear Favourites of 2015
When it comes to Swimwear this season it's so important to find swimwear that suits you. For me it's important to find swimwear that's flattering in style and unique in design. Another important aspect is to find well tailored and flattering cuts, especially designs which add curves to a slender frame.
Finding unique brands is certainly something I enjoy doing & this Summer I set out on a venture to find my favourite Swimwear picks from all over the world to bring the best in Swimwear to you for 2015 to shoot in Cancun, Mexico at the luxurious Dreams Sands Cancun Resort & Spa 🙂
The swimwear selected will suit most shapes and I've made sure to choose a great range for you to hopefully give you some inspiration for your holidays 🙂
First up and pictured above:
Mavele Swimwear
Photographed above is the Pacific Leopard Halterneck Bikini Top & Pacific Leopard Bikini Bottom in an XS size. This flattering bikini is vibrant in design, the blue leopard print design stands out and really looks fantastic with a tan! The material is soft and the cut of this particular bikini is very flattering and supportive.
Top £48 Bottom £40
Freya Watermelon Coral Bandeau Bikini Top & Classic Bikini Brief
Freya's Watermelon Bikini Top & bikini brief bottom are ever so sweet in design. The watermelon print is ever so cute and a really fun bikini to wear! The bandeau top fits well and is supportive around the bust, the neck tie holds the top firmly in place which is great. The bottom compliments the pretty top ever so nicely.
Top £38 Bottom £22
Piha Bohemia Fixed Halter Top & Bottom
This pretty green bohemian styled bikini is from Piha, a brand from New Zealand. It's floral design is perfect for the Summer and the greens and blues in the bikini are so complimentary on bronzed skin. This is a fun and flattering bikini to wear.
The Bohemia Fixed Halter Top & Bottom is available at a variety of stockists, if you take a look on the website you can find a variety of global stores 🙂
Top £26
Bottom £21:50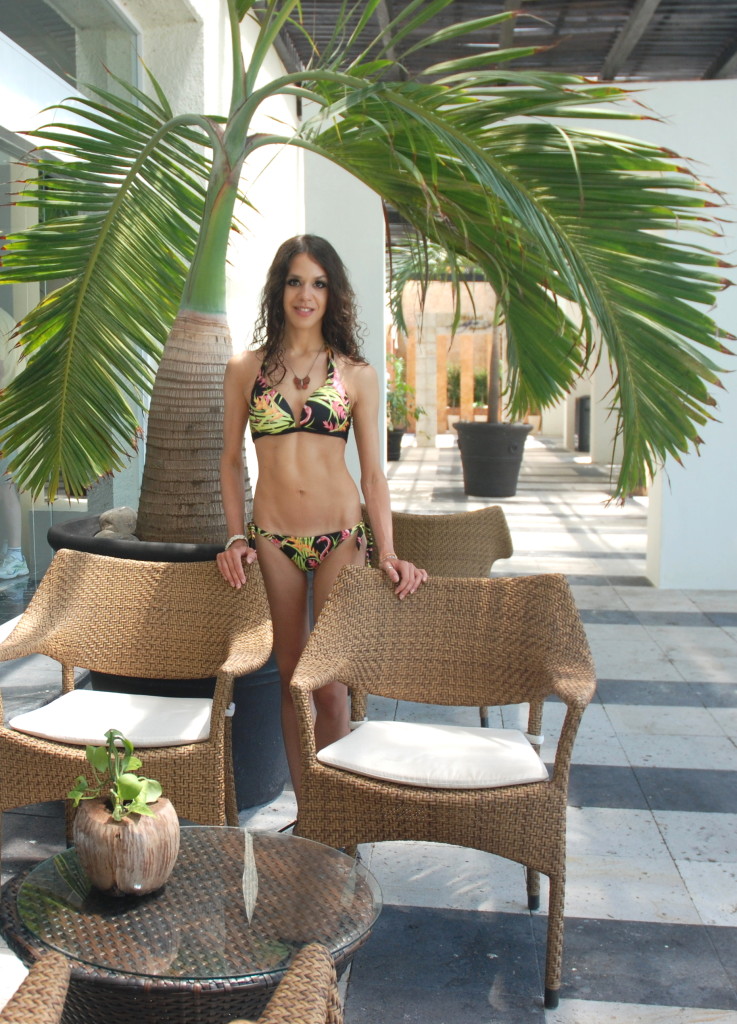 Kinky Octopus
This exotic bikini from Kinky Octopus is so bright in colour and flattering to wear! The brand take their inspiration from Rio in Brazil, & the fun factor is certainly obvious in their designs. I'm wearing the Flamingo Bikini Top which has maximum cleavage for smaller busted ladies, and matching flamingo bikini bottom.
Top £34
Bottom £24
Lara Ventura Kiara Bikini
The Kiara Bikini is beautifully designed, unique in detail & highly delicate. The ikat printed design is a great choice for ultimate sophistication. Designed for poolside partying, I would prefer only to wear this on occasion, for cocktail drinking by the pool for example. It's beautifully cut & this particular bikini is perfect for a smaller bust with its triangle styled top.
It finishes with a pretty rippled edge and it's finished with gold snakeskin print straps.
Priced at £98 at Lara Ventura.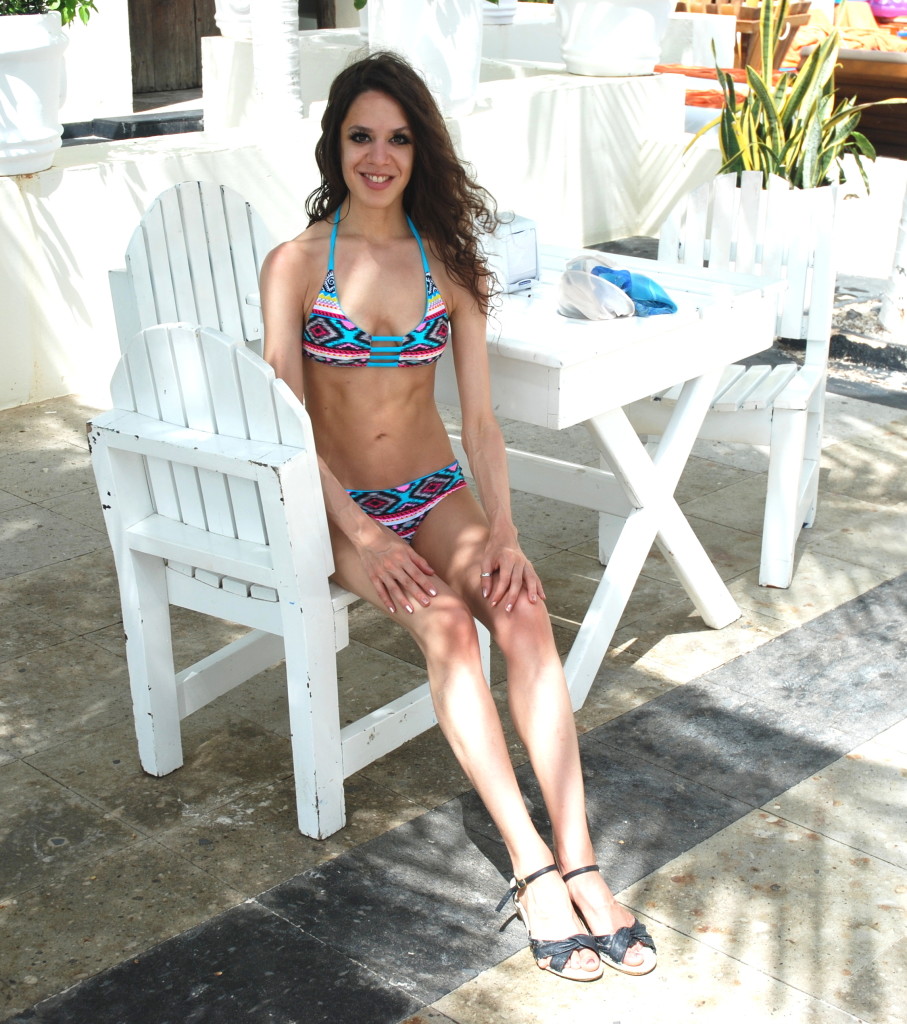 Khongboon Swimwear Giza Bikini
Khongboon Swimwear is a Thai brand which hand makes each of their beautiful swimwear designs. One thing I loved about this brand were the vibrant & unique colours, cuts and styles! Each bikini design is so unique, and has their own individual personality.
The Giza bikini is just gorgeous! It's a reversible bikini and the top is a haltered triangle top, so you can easily adjust it to fit comfortably. The bottom is a Brazilian cut though it does offer some coverage. The colours really do pop and this is certainly a favourite choice for 2015!
Priced at $95 for the set.
Maya Green Bikini by Ashanti Brazil
The Maya Green Bikini an ethnic printed bikini which is a triangle halter style on the top, and comes with a Brazilian cut pant. The sides have a unique hand crafted accessory which is the bottoms unique style.
The colours are very vibrant, & I hope you noticed that the cocktail I chose especially for this photo matches the colours in the bikini 😉
Currently priced at £22
Forever Young Swimwear
Forever Young Swimwear is a U.S brand which believes ever girl should feel great in their bikinis and are dedicated to creating bikinis which are practical & versatile. I discovered them on Twitter.
The bikini above is the Floral Santa Cruz Strappy Back Bikini Top & Kingston Adjustable Scrunch Hipkini Bottom in Island Garden Print.
The design of the top is quite unique and can be worn in four different ways! I opted for a halter necked style which fitted beautifully. The print of this bikini really stands out, and is ever so pretty to wear.
The bottoms caught my eye because of the four braided side straps, I really like side straps because they really help to add shape to any frame, and they're fun and flattering to wear too!
Top $28
Bottom $30
Rebecca Swimwear
Rebecca Swimwear is a high end luxury brand which originated from Budapest Hungary. Their designs are hand made with the highest quality fabrics and flattering cuts.
This bikini is the Zirconia styled print from their Episode collection. The top is a halter push up triangle cup, and the bottom is a pretty side tie bikini pant.
The turquoise colour and print is just beautiful & as you can probably tell from this post that blue/green toned bikinis are a particular favourite of mine!
Seafolly Poolside Bikini
Seafolly is a well known Australian brand who design swimwear which is perfect for sporty types who love action packed holidays and also love beautiful designs, cuts & shapes.
This beautiful bright and cheerful bikini caught my eye at Coco Bay Beachwear on-line. I'm wearing the Poolside Tri Side Top and Poolside Hipster Brief.
The top has an incredibly flattering fit and it's a great choice if you have smaller bust. The double supportive neck ties really did offer maximum comfort. It's palm tree 1950's meets 1980's design is great fun to wear with it's vibrant turquoise, oranges, whites, yellows, greens and blues on the print!
Priced at £48 for the top and £41 for the bottom.
Forever Young Swimwear
I'm wearing the Kona-Kini Bikini Top with braided straps in Wild Flower & Kingston Adjustable Scrunch Swimsuit Bottom in Wild Flower from Forever Young Swimwear.
This pretty flowered bikini combination is really pretty & certainly a head turner. The scrunch bottomed bikini with it's four side braided ties is really comfortable and flattering to wear.
Forever Young Swimwear have a combination of unique designs which come in a variety of different styles in the same pattern, so if you prefer a different style in the same print that is possible which is something I love about this brand.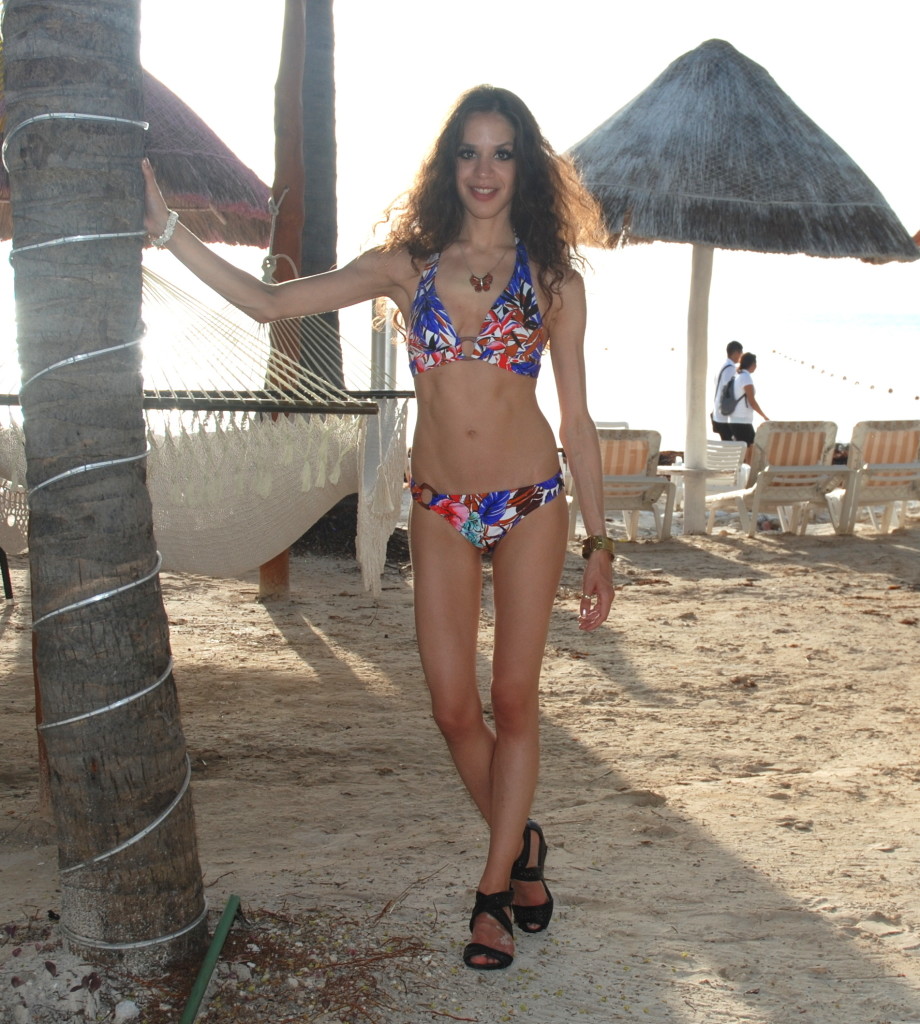 HUIT Swimwear
Huit was established in France which combines French and Persian flare in each design using luxurious patterns, fabrics, and cuts. Huit prides itself on it's expert craftsmanship.
Chosen here is the beautifully coloured Patchouli Royal Purple Foam Triangle Bra & Patchouli Royal Purple Low Waisted Brief.
The top is very comfortable & supportive to wear as it has softly padded foam cups for a rounded shape. The bottoms are flattering to wear and I love the little wooden side design on the brief.
Top Priced from £58
Bottom Priced from £31
It's You by HUIT Swimwear
Another pick from HUIT was a sportier choice in terms of design. A grey underwired triangle bra & matching grey brief.
This modern & stylish bikini is a great choice for those who love the water, great for active types as the bikini top offers comfort and fits ever so well.
Top priced from £58
Bottom from £31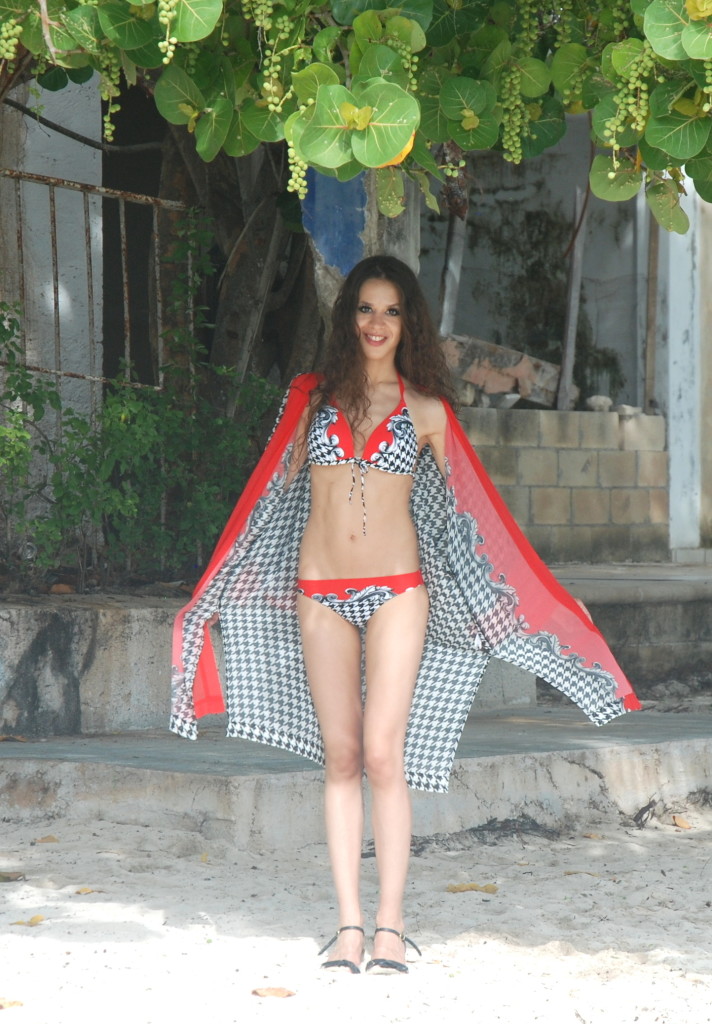 Rebecca Swimwear
Another Swimwear favourite for 2015 is the ONYX bikini from Rebecca Swimwear. The top is a triangle push up bikini which is cut beautifully, highly luxurious and very well fitted. The bikini brief is a low rise pant which fits very comfortably on the hip.
I teamed this with a beautiful kimono to wear as a coverup with the bikini which is so soft and floaty.
A fantastic high end luxury brand which is ever so sophisticated in style, comfort and design.
On average bikini sets are roughly $158 dollars depending on the design you order and cover ups are roughly $129.
Mavele Swimwear
This bikini from Mavele Swimwear is the Urban Chameleon Reversible Halterneck Bikini Top & Urban Chameleon Reversible Bikini Bottom. This bikini is very unique & it can be worn in four different ways. Underneath the Urban print is a golden yellow shade on both the top & the bottom so you can play around with it to find the design style that suits you!
A wonderfully designed piece of swimwear!
Top £35
Bottom £35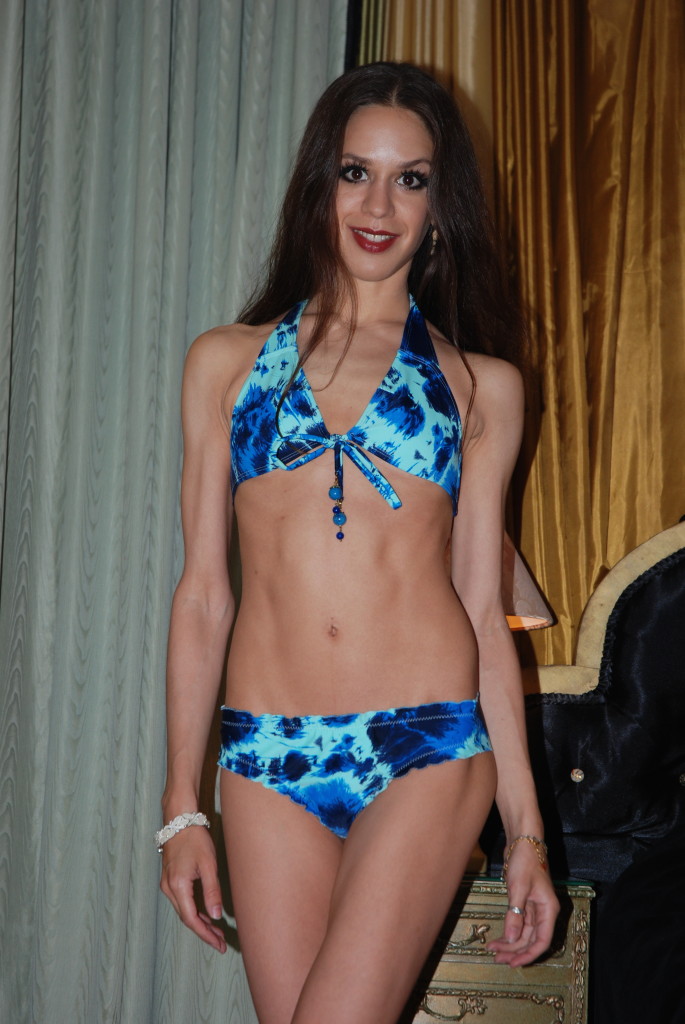 Maya Swimwear
This aqua marine blue bikini from Maya Swimwear is quite the eye catching bikini. I'm wearing the Splash Aquamarine Gemstone Front Tie Top & Splash Aqua Marine Bottom in a regular cut.
This halter neck bikini is tailored ever so well, and nicely adds shape to a slender frame as well as being incredibly supportive. The pretty blue beaded detail is a great way to tie the bikini together (quite literally, it ties at the front)
The material is made of high quality lycra fabric & is very delicate, and soft on the skin.
Current price
Top $95
Bottom $65
A beautiful detailed bikini for SS15.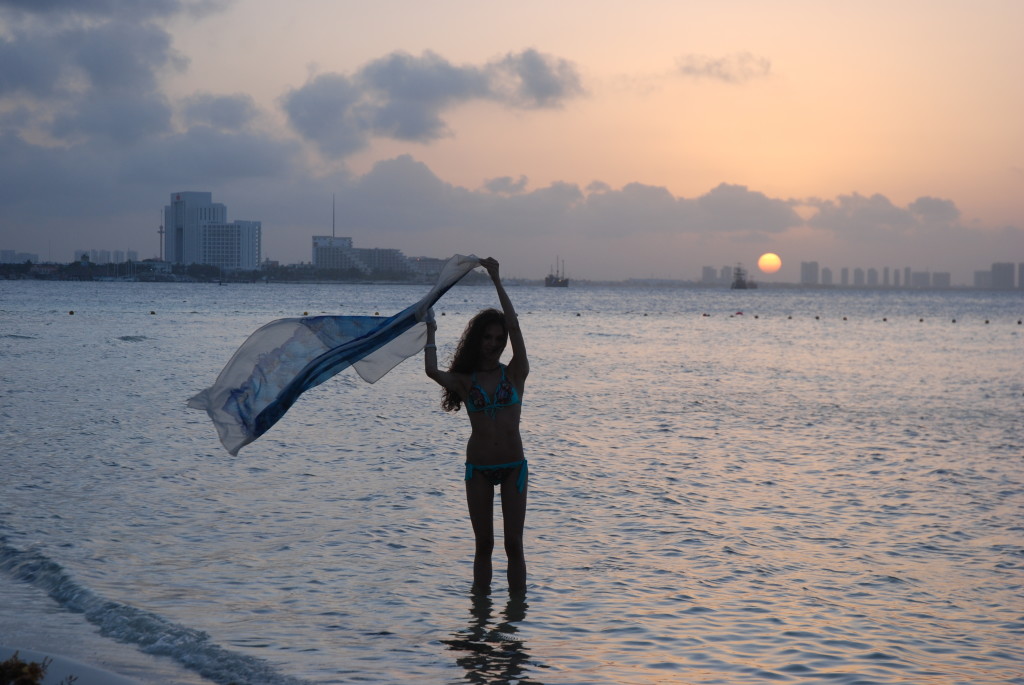 Thank you for reading!
I hope that my Best Swimwear of 2015 has been useful to you. Please do keep an eye out for other up & coming swimwear features from myself over the next few weeks! If you're looking for great swimwear then do keep an eye out on my blog 🙂
I would love to hear more about your favourite swimwear picks, and which designs you liked the best from the above 🙂
Laura xo