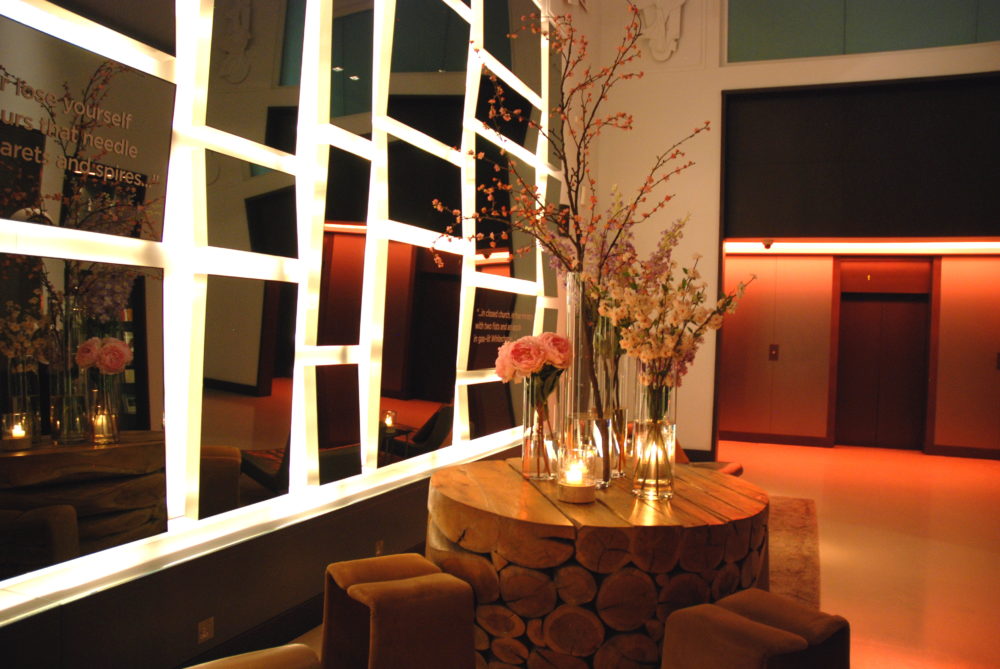 Andaz London Liverpool Street
Recently I had the pleasure of spending a couple of nights at the stunning Andaz London Liverpool Street, a five star luxury boutique hotel in the heart of the East End of London.
This beautiful hotel is a mixture of Historic luxury meshed with the artistic flare of the East End creating a modernistic atmosphere combined with depth.
Walking in to The Andaz you're greeting by friendly and sophisticated staff & you're instantly mesmerised by the modern appearance of the hotel lobby which is spacious and smells lovely! The entire hotel has a fresh zesty scent which is a really nice touch.
The quirky mirrored wall makes quite a statement & then you look up and see the beautiful high circular ceilings which makes quite an impact! I spotted quite a few people taking photographs on their phones of the ceilings!
You're checked in promptly on iPads and handed your room key promptly.
The Room – A Deluxe Andaz King Room
The room I stayed in was a Deluxe room, otherwise known as an Andaz King. The room is really impressive and one of the things which struck me was how high the ceilings are there which nicely mimics the downstairs high ceiling theme which is seen throughout the hotel.
The room is 33-sq-metre room which features a very comfortable king sized bed, reading chair, work desk, and beautiful monochrome bathrooms with a bath tub and separate showers, and heated shower rails.
We were greeted by some treats from the Andaz bakery (& apologies I didn't photograph these as they were eaten shortly after arrival ;)) which was a lovely added touch. It's the small things that really make you feel welcomed in hotels.
The fantastic red chair was certainly a great added touch created by furniture designer Eames who makes modern & quirky designs, very fitting to the Andaz hotel.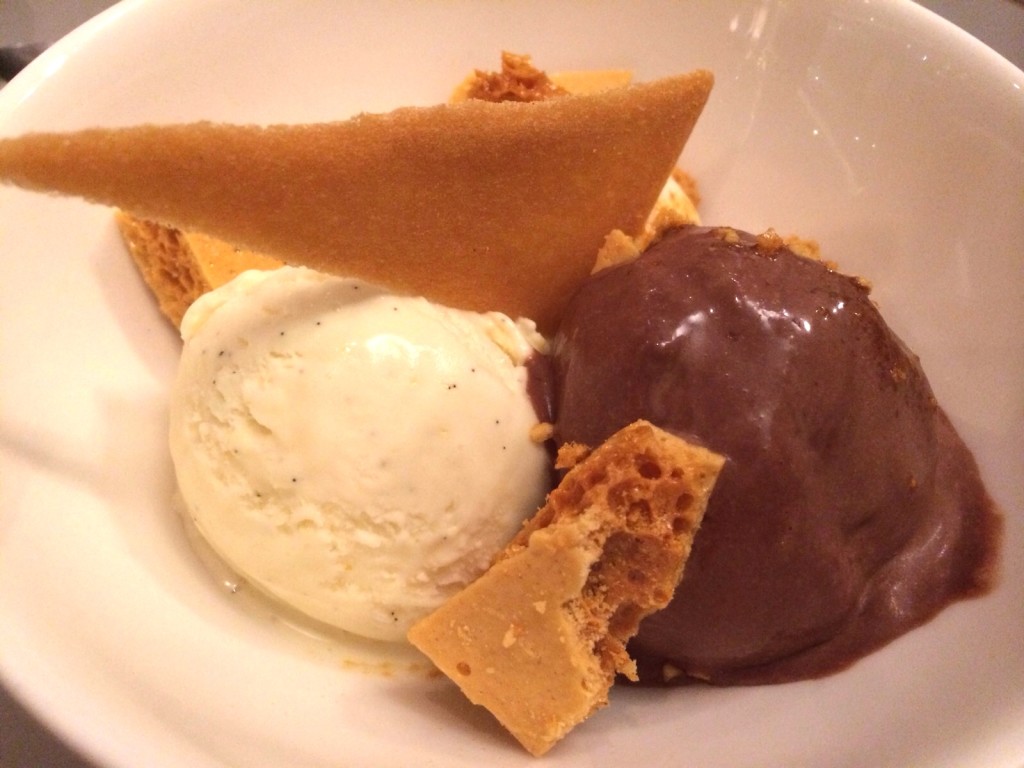 Fine Dining at Eastway
Eastway is a contemporary restaurant serving a chef's selection of classic favourites serving a delicious range of chef favourites.
For starters I had the Smoked Salmon & Purple Potato Salad which was beautifully served and fairly light. For the main I chose the Salmon Steak and my partner chose the Sirloin Steak which was very tasty indeed.
For dessert, a selection of homemade ice-cream, delicious!
The food at Eastway is very rustic in nature, offering a simple yet very well selected menu in a relaxed modern atmosphere.
1901 Restaurant and Wine Bar
This stunning historic 1901 Restaurant and Wine Bar at the Andaz London Liverpool Street is set in a magnificent Grade two listed room which provides such a stunning setting.
It was The Great Eastern Hotel's original ballroom and it really does feel like you're stepping back into history when you walk inside, it's just beautiful.
You can enjoy a dining experience here but I simply stepped in to take some photographs of this breathtaking room. Just outside of the room is a seating area where you can sit and enjoy a glass of champagne or cocktail whilst you wait to be seated for dinner.
The staircase which leads to other rooms in the hotel photographed in the second photograph above was rather lovely, you can get a feel of how large it was compared to me and the gigantic piece of modern artwork on the left hand side!
My dress I'm wearing here is a 1920's inspired dress by GatsbyLady which seemed to be a perfect fit for this room 🙂
Catch Champagne Bar & Lounge
The Catch Champagne Bar & Lounge is really beautiful. The lounge is really relaxing and sophisticated, and enjoying a glass of champagne in there is a pleasure. The staircases outside of the lounge are just beautiful and enjoyed gazing at the scenery whilst I sat back and relaxed.
There is a bar next door to the lounge where passers by can also come in and enjoy a drink.
The silk dress I'm wearing here is by AGA Couture.
Andaz Masonic Temple
Yes you have read it correctly! The Andaz London Liverpool Street has its very own temple! It is a Grade ll listed Greek Masonic Temple where Freemasons attended Lodge meetings.
For decades staff at the Great Eastern Hotel walked past an inconspicuous wall unaware of what was behind it. During construction this room was discovered. It was haired by the Queen's cousin, Grand Master Duke of Connaught.
The temple is magnificent inside and really is beautiful with its golden decor & fabulous ceilings!
When I walked in there Andaz staff were laying a large dining table for some guests who were planning to eat in there! Quite the setting for a dinner!
The temple is popular for fashion events. Celebrity Photographer Markus Klinko photographed Lady Gaga inside the temple for Hello Kitty's 35th birthday!
The temple is also used for live music events and film screenings! Very unique and such a quirky setting. I was quite amazed by the beauty of it 🙂
The Hotel Interiors
Stepping into the heart of the hotel you are surrounded by a very peaceful atmosphere in the spacious Andaz, at nighttime this is a great place to come and relax.
There are also some stairs leading to a little tucked away lounge area which is surrounded by indoor trees and sofas, really pretty and a nice find if you wish to take a drink and relax.
A nice little retreat area!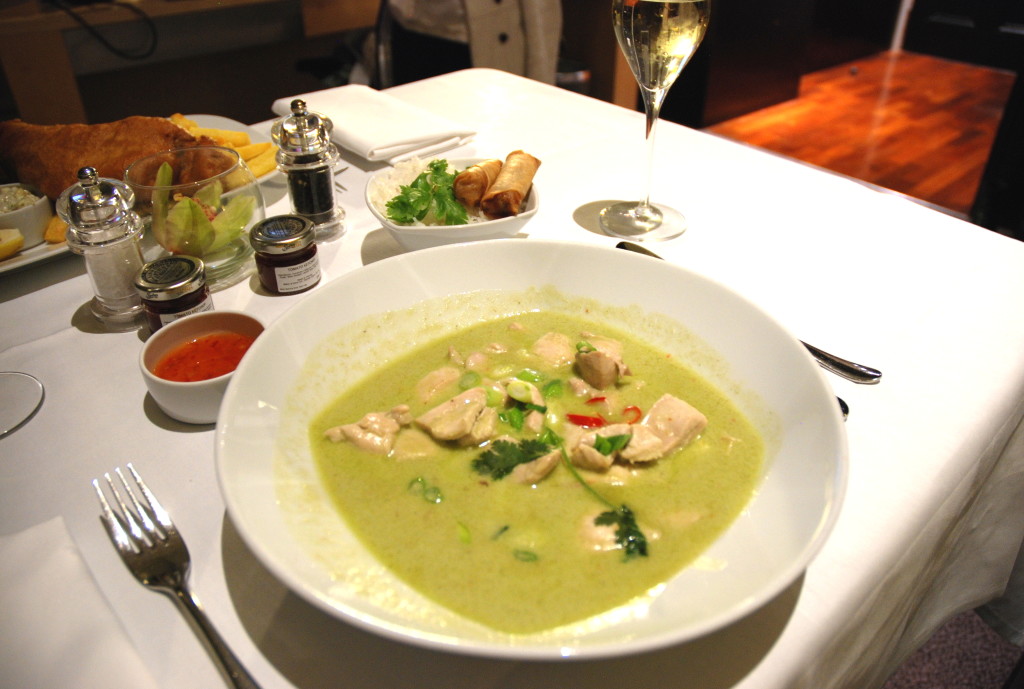 Room Service
Room service in the hotel runs for 24 hours and the menu is really quite delicious! I had a Thai Green curry the night before we left the Andaz along with a glass of champagne. A perfect way to end such a beautiful stay in a stunning hotel.
The service was fast & the food was nicely presented along with a wheeled in table with great sized portions! My partner had fish and chips which I also sampled, really tasty indeed. It was really lovely to sit and enjoy the comforts of the beautiful hotel room.
Q&A with Front Office Manager Alex Cohen
1/ What are your favourite aspects of The Andaz Liverpool Street and what makes it unique?
The trendiness. To create an inspiring experience through a Kaleidoscope of Local Culture. We support local artists and activities. The unscripted dialogue with guests , colleagues and suppliers
2/ How would you describe the Hyatt Andaz in a sentence?
Andaz is the sophistication made simple.
3/ Where do you see the future of the hotel?
Andaz keeps innovating and coming up with modern ways to renew luxury hospitality and create unforgettable experiences. I strongly believe that the Andaz will always be the most preferred lifestyle hotel.
4/ What is it like working at the Andaz and what do you do to ensure your customers have a great experience?
Working at Andaz is being part of a big family. The main driver to ensure our customers have a great experience is care. We are connecting with our guests through empathy techniques to create an unforgettable experience. It is common to find out guest food preferences and  organise a welcome amenity according to their likes. This is recorded in one of our systems so each time the guest returns something unique and personalised will be put in place by our Guest Experience Team.

It's a place to explore and engage, but most of all share stories.
5/ What are your personal favourite aspects of the Andaz Hotel?
I love the style of old Victoria Red bricks building mixed up perfectly with a touch of modern! A spontaneous environment, free of both physical and mental barriers between us and the guests.
6/What inspired the design of the hotel?
Andaz means personal style and wants to reflect the Local Culture.
Overall I was throughly impressed by the Andaz London Liverpool Street. This beautiful five star hotel really does go out of its way to impress both in terms of hotel quality, space, style and atmosphere. Staff are incredibly friendly and always greeted guests with a smile which is always an added benefit.
I loved the quirky touches of the hotel, the written messages on the walls and high ceilings. The room was ever so comfortable and the large king sized bed was a pleasure to sleep in.
This is a great hotel to visit in London for a restful stay. I would come back again to the beautiful Andaz! It really impressed 🙂
What do you think of the Andaz judging from the photographs and review? Would you pay it a visit and if so why? I would really love to hear your thoughts 🙂
Thank you for reading!
Laura xo