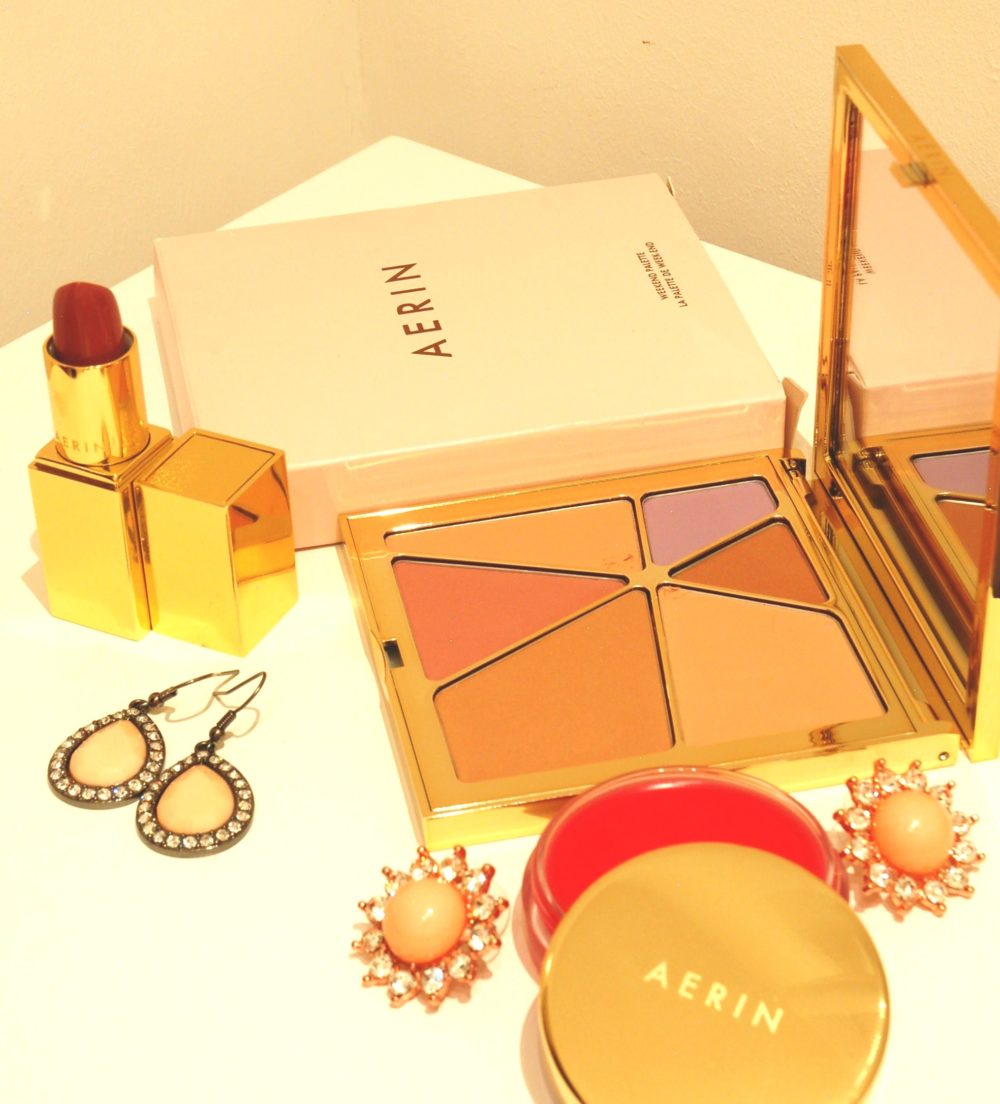 AERIN Beauty
AERIN is a luxury lifestyle brand inspired by its created Aerin Lauder, the granddaughter of Estée Lauder and Joseph Lauder, the co-founders of Estée Lauder.
The brand is based on this premise:
Living beautifully should be effortless
Aerin has a beautiful range of cosmetics which fit into her companies ethos of living effortlessly.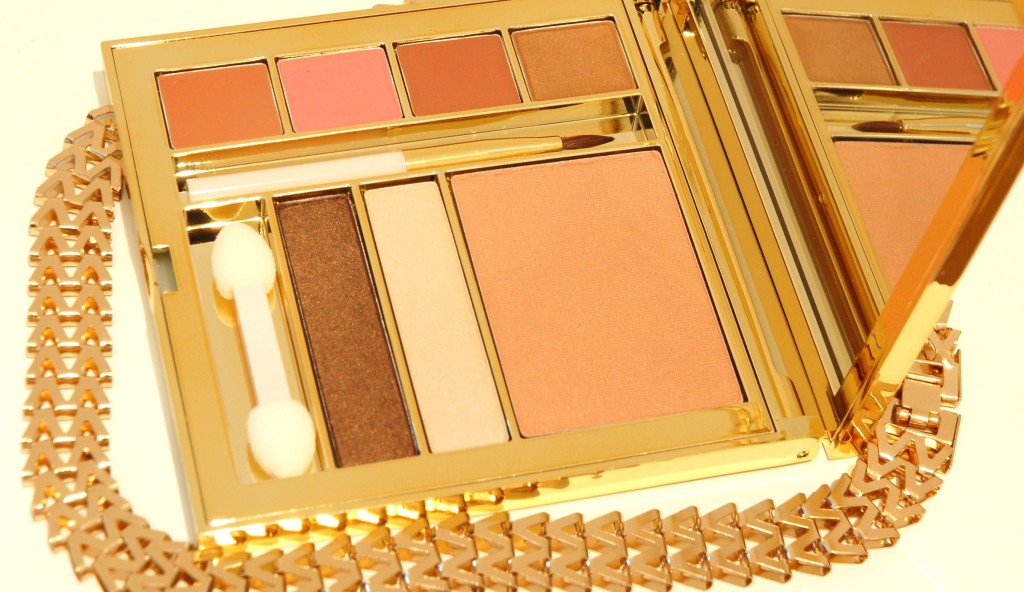 Weekend Palette
The Weekend Palette contains a beautiful mix of natural shades perfect to wear during the day time on the weekend. The palette contains:
Left side:
Highlighter Glow
Multi Colour Natural
Rose Balm Lipstick in Whisper
Rose Balm Lipstick in Cabana
Right hand side:
Bronzer in Pretty Bronze – an illuminating powder
Eyeshadow simplicity
Eyeshadow Cocoa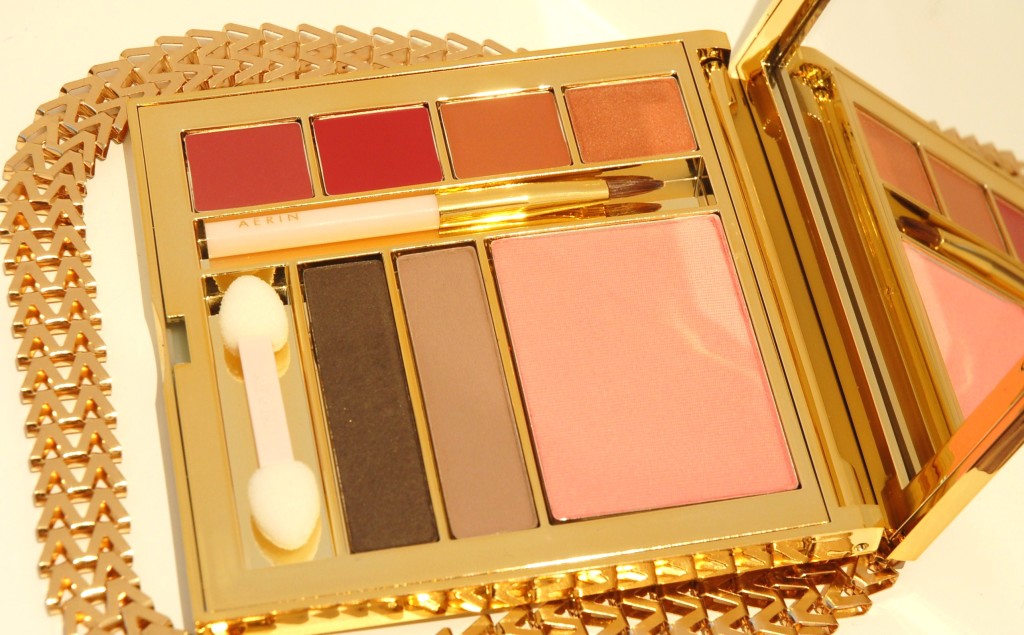 Weekday Palette
The Weekday Palette is a collection of pretty pinks and bold neutrals that create a pretty and polished look. The face is warmed with soft colour and cheeks dazzled in pretty peach.
Eyes smokey and defined.
Left hand side
Highlighter Beam
Multi Colour Natural
Rose Balm Lipstick in Geranium
Rise Balm Lipstick in Liebling
Right hand side
Blush Bloom
Eyeshadow Grayge
Eyeshadow Graphite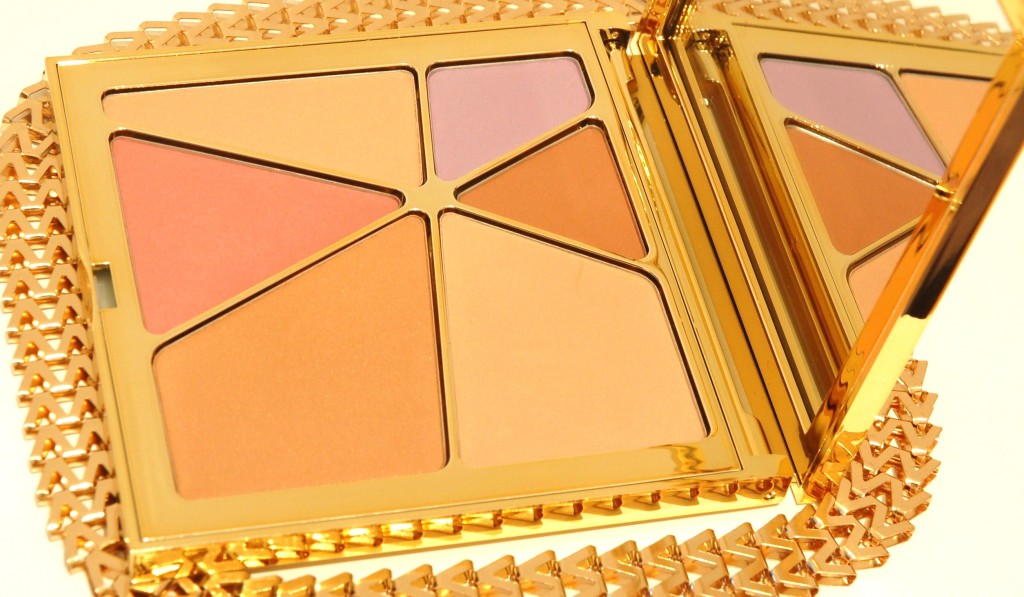 Kaleidolight Palette
This luxurious Limited Edition Kaleidolight Palette includes five illuminating shades for the eyes and the face. A multi tasking palette containing a light-enhancing pink, lavender, bronze, brown, and two neutral shades.
The jewellery shot with this beautiful makeup is a necklace from Bijou & Boo.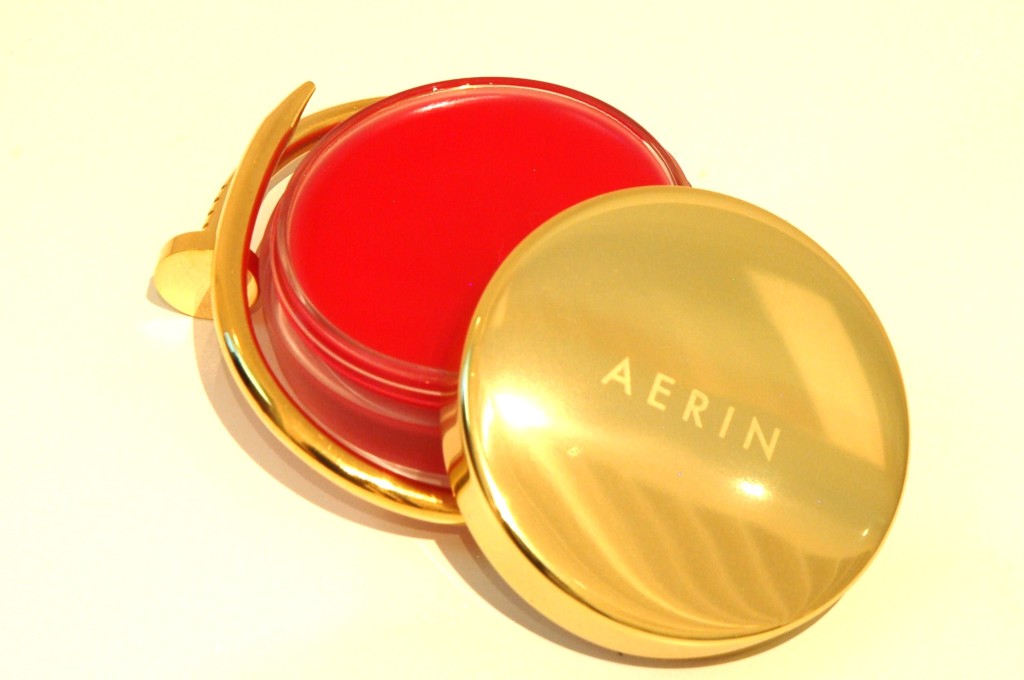 Rose Lip Balm
This beautiful rose lip balm is the the perfect beauty accessory to carry in your handbag or sit proudly on your dresser. Highly moisturising and adds a pretty pink tint to the lips. Perfect for spring if you don't feel like wearing lipstick, though AERIN's lipstick range is very lightweight in formula.
Bracelet photographed is also from Bijou & Boo.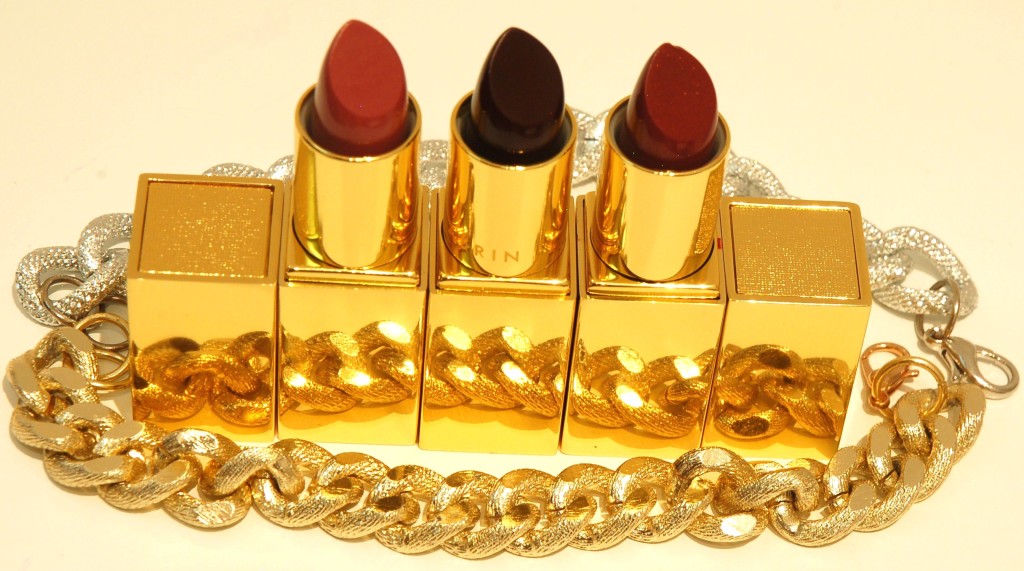 Rose Balm Lipstick
AERIN's Lipstick range are luxurious, creamy and all have medium coverage. They have a shine to them, and feel like lip balms rather than lipsticks. Great to wear if you like a shine to your lip shade.
From left to right
06 Liebling – A natural pinky brown
10 Wild Lilac -A deep lilac plum
09 Poppy – A warming cherry brown
If you're looking for more of a dramatic look you'll need to add several coats of lipstick to get the truest colour as these do come up light on the lips on the initial application.
You can view the entire lipstick range on the AERIN website.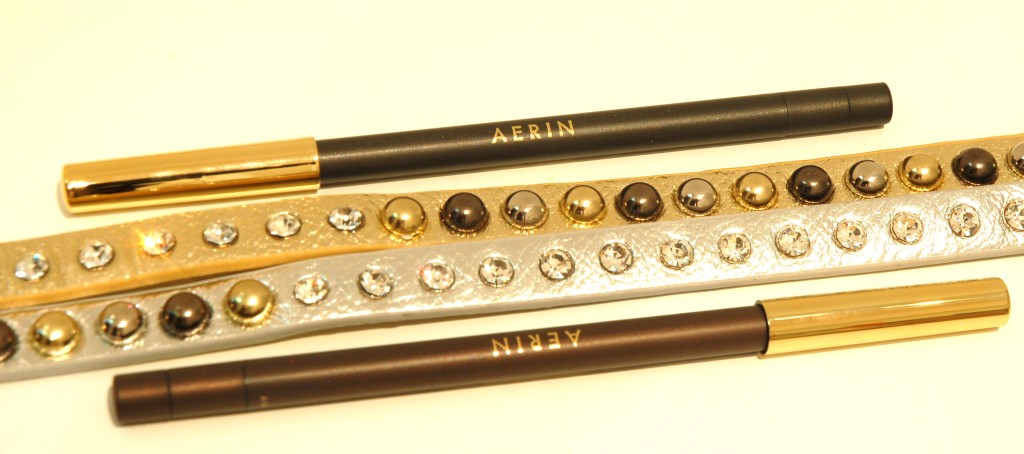 Cool Gel Eyeliner
An effortless, easy to apply gel eyeliner. Available in two shades Effortlessly Brown and Effortlessly Black
Eyeliners have been photographed with the Clementine Gold bracelet (bottom) and Clementine Silver bracelet from Bijou & Bou.
---
Overall the AERIN range really does impress with it's luxurious golden packaging and pink velvet which home each eye palette.
The golden encasing makes each product an accessory as well as being beautiful products to use.
A natural range tailored for everyday use, a pleasure to see on your dressing table.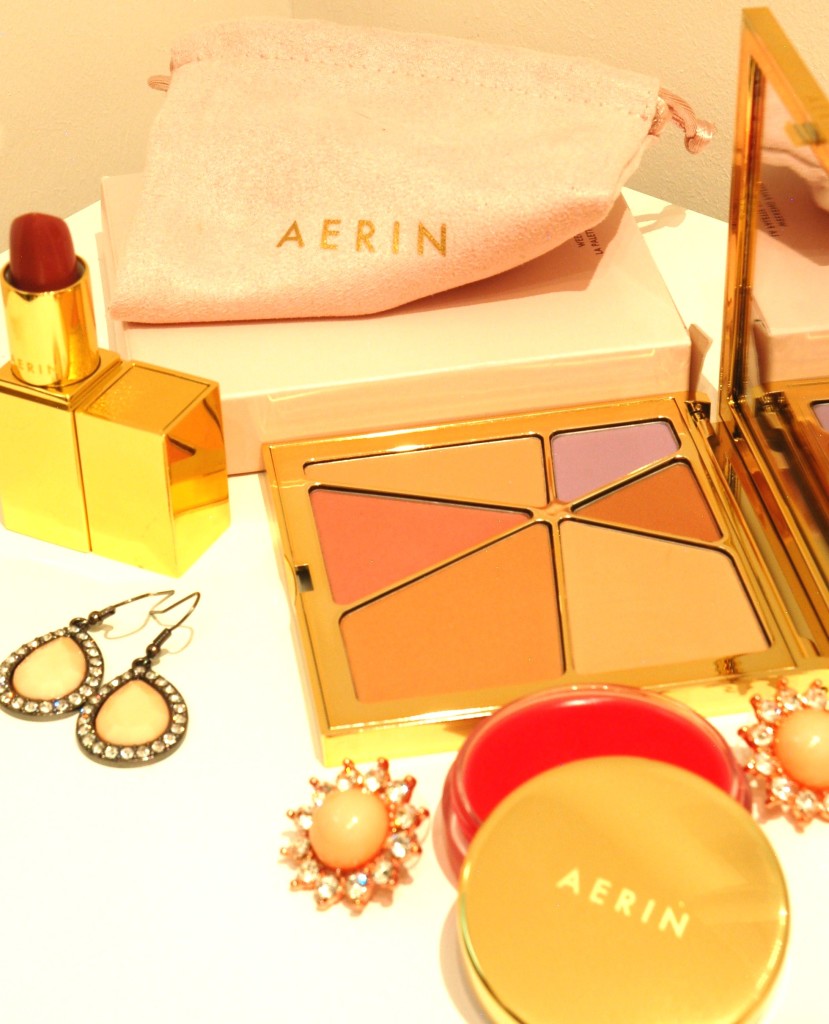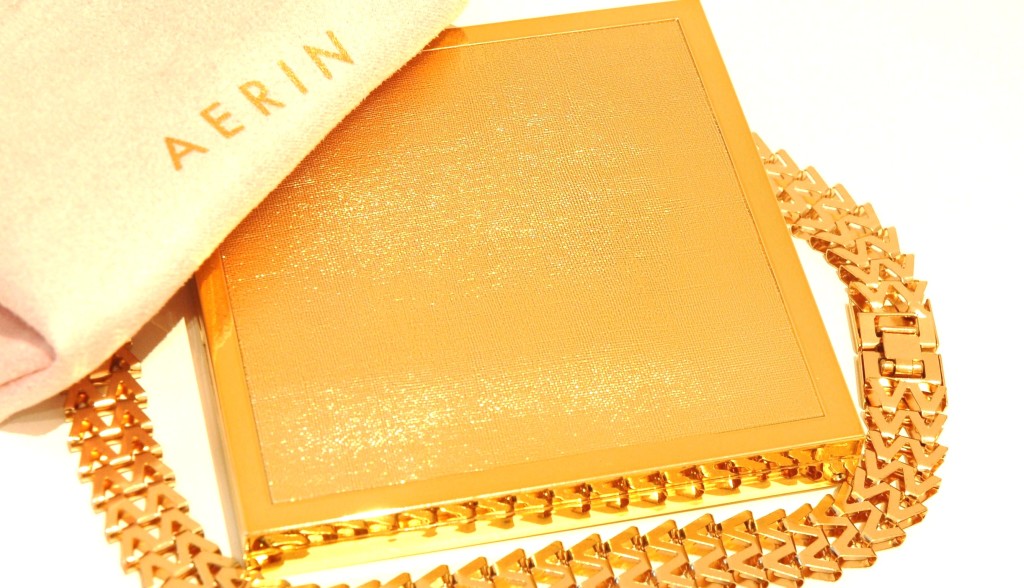 Earrings in photo one are the Kooky Rose and Entire earrings from Bijou & Bou.