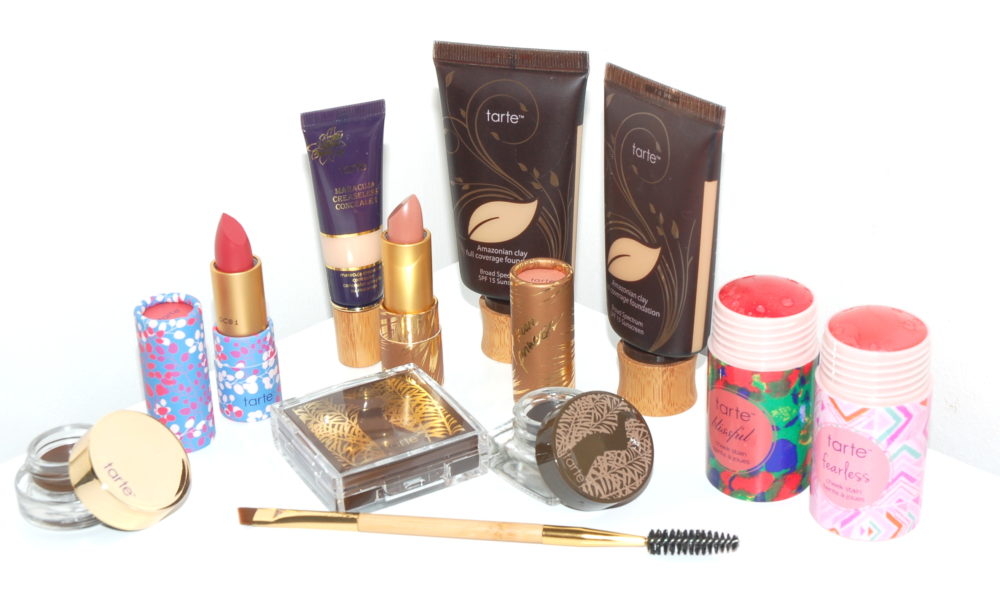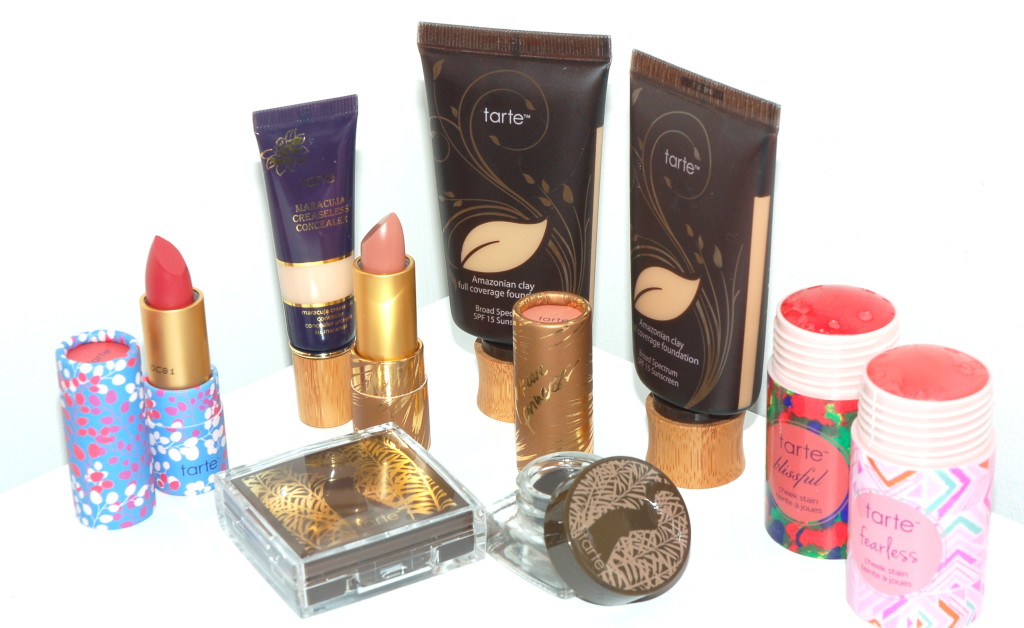 Tarte Cosmetics Summer Picks 2015
With Summer just around the corner I always like to opt for a very natural look especially during the daytime. Tarte Cosmetics offer such a stunning range of natural cosmetics which are so lightweight & easy to wear.
Tarte's products are also great for your skin as they are jam packed with vitamins & minerals, many of which include Amazonian Clay which is so beneficial to skin.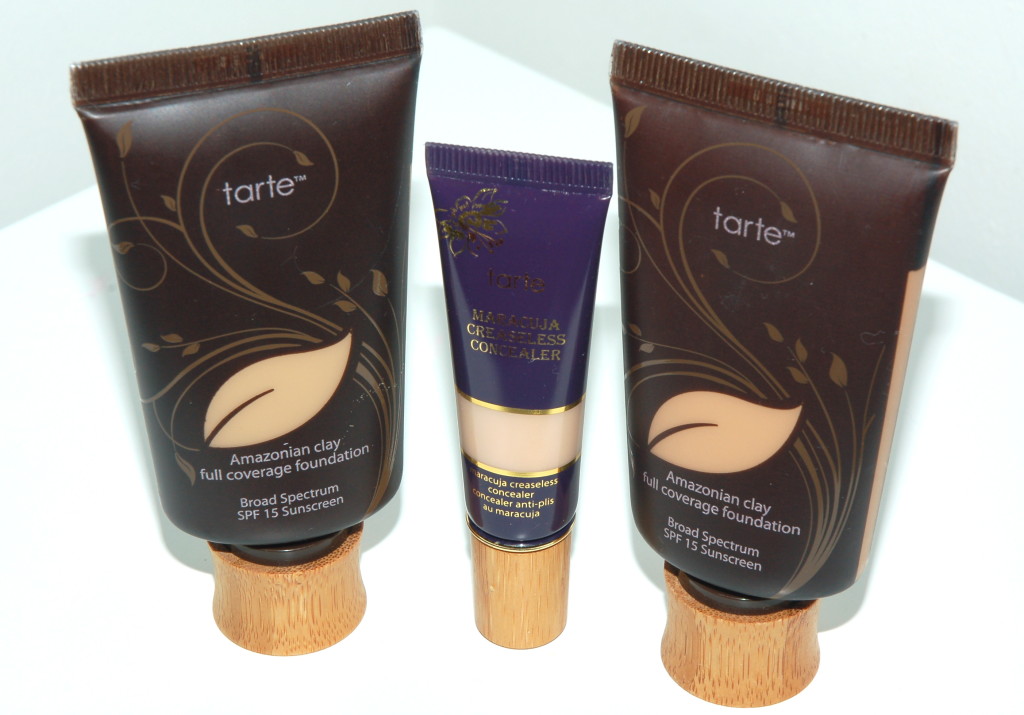 Amazonian Clay Foundation & Maracuja Creaseless Concealer
Amazonian Clay Foundation is a great full coverage facial product which is formulated with Amazonian Clay which is ever so softening on the skin. I chose the shades Light-Medium Beige (left) and Light-Medium Sand (far right) for a deeper shade in the evening.
Maracuja Creaseless Concealer is a waterproof liquid concealer which has a crease free effect when applied to under-eye skin. With many concealers I find that they draw out my fine lines under my eyes rather than cover them up. Under eye concealer is often difficult to get right, however starting with the right product is helpful.
This concealer is pretty impressive. Maracuja helps to improve skin's tone and texture, & moisture whilst brightening and creating a luminous finish.
Media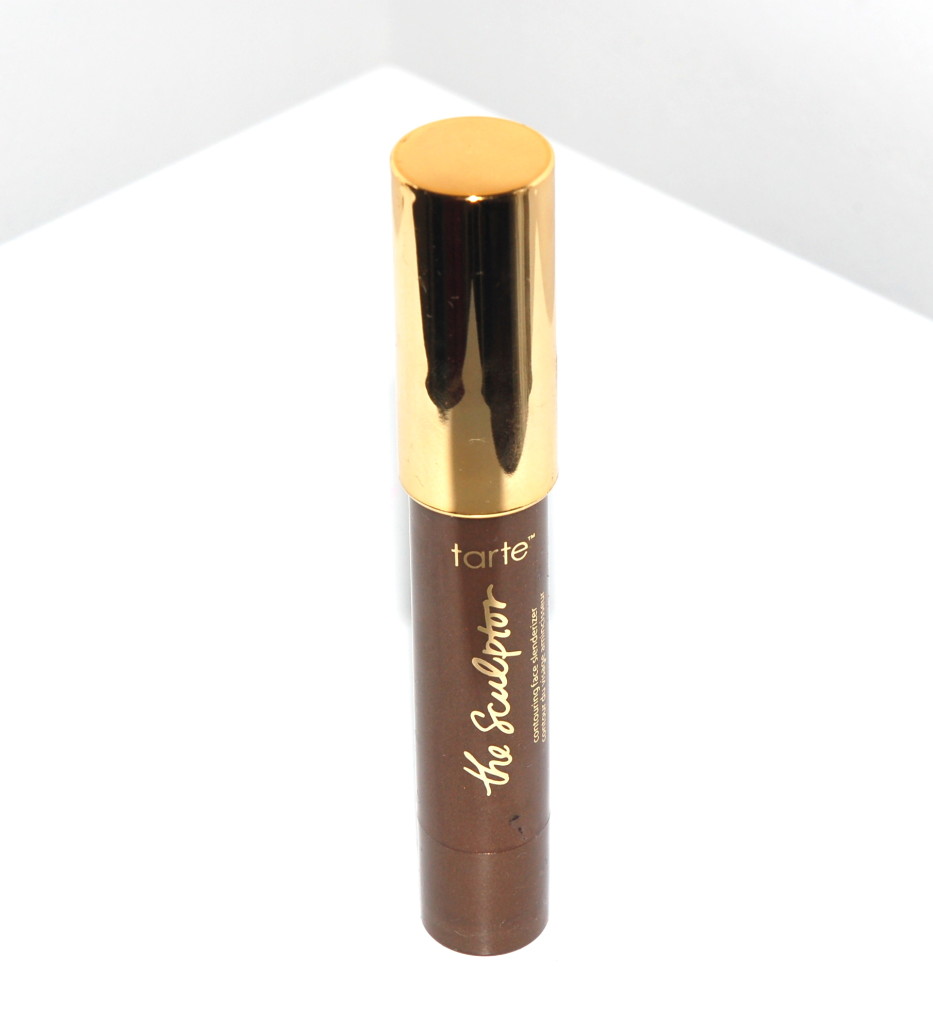 The Sculptor Contouring Face Slenderizer
The Sculptor Contouring Face Slenderizer is a great product for contouring and slenderising the face. It's a great product to improve cheekbone definition, create the appearance of a smaller slender nose, and slender the forehead.
The steps on how to do so are on the website which are really helpful 🙂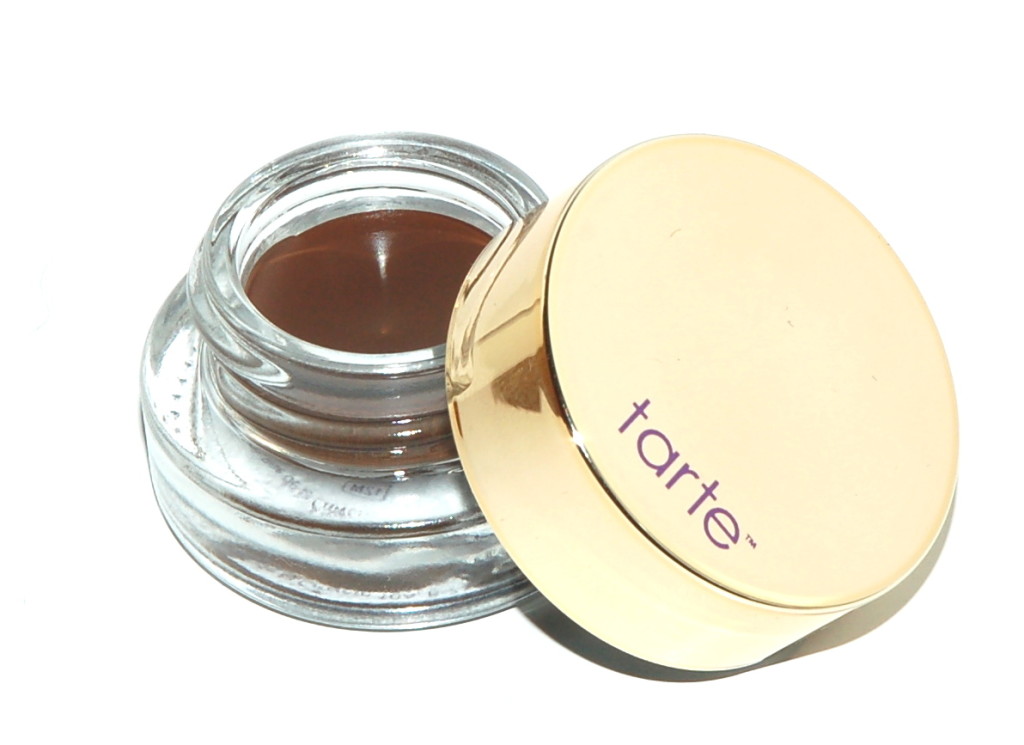 Clay Pot Amazonian Clay Waterproof Liner
The Clay Pot Eyeliner is a great choice for Summer as it's Waterproof, ideal to wear on the beach as it won't slip and slide off your eyes if you're in the water. I opted for a Brown shade as it's a much more natural shade to wear during the day during Summer.
Amazonian Clay Volumizing Brow & Hair Powder
The Amazonian Clay Brow and Hair Powder creates naturally defined eyebrows. The product helps to fill in sparse areas and create beautifully accentuated brows. A weightless formula which keeps surface oil at bay, whilst locking pigment in place. A great product to define your brows effortlessly.
Amazonian Clay Waterproof Brow Mousse
The Amazonian Clay Waterproof Brow Mousse is a great product to wear during the Summer. Amazonian clay keeps the pigment in place, and minimizes oil around the hair follicle which balances skin.
The formula is lightweight & waterproof, keeping colour locked in place whatever the weather.
The Brow Mousse comes with a free bamboo brush which provides even application ever time.

Lights, Camera, Lashes Precision Longwear Liquid Eyeliner
The Lights, Camera, Flashes eyeliner provides precision application due to its defined tip giving you easy access to the inner corners of your eyes, a part of the eye I find so hard to define with many eyeliner brushes, so the thinner the better!
The product has an easy hold grip making application easy & even without smudging.
The eyeliner is a rich black colour, highly pigmented for a very defined look, packed with Vitamin B it also helps to moisturise and sooth skin.
Eyebrow Pencil Amazonian Clay Waterproof Brow Pencil
The Amazonian Clay Waterproof Brow Pencil is four times smaller than the average eyebrow pencil, so it perfectly mimics natural brow hair for a much more natural effect. You can build up the look by applying more for more dramatic brows if you wish to do so. I chose the shade Medium Brown.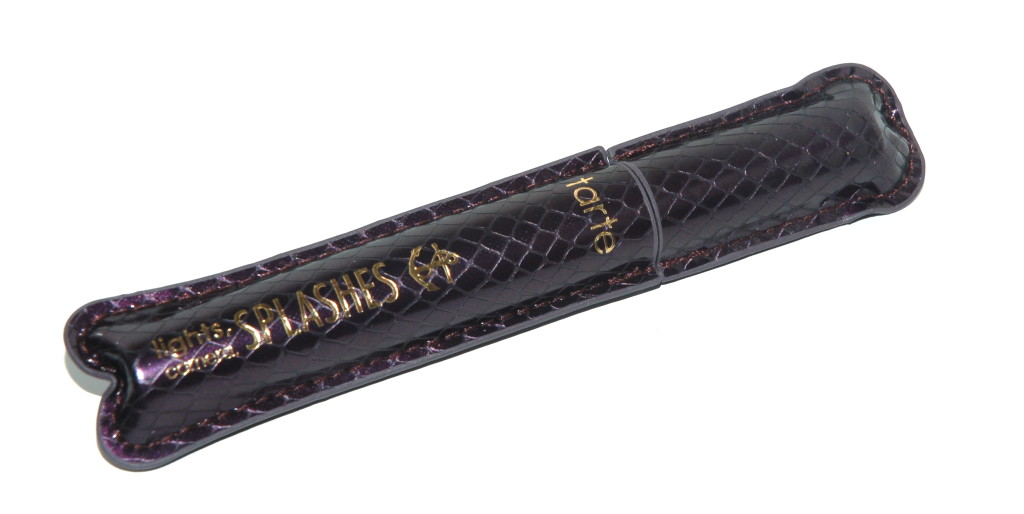 Lights, Camera, Splashes Waterproof Mascara
The Lights, Camera, Splashes Waterproof Mascara is one of the best waterproof mascaras I have tried. It's hard to find great waterproof mascaras which give you the same benefit as regular mascaras, but this one really does impress.
I was so impressed with the Lights, Camera, Flashes statement mascara reviewed in this Tarte Cosmetics review I am pleased to say that the waterproof mascara has the same brilliant quality and has the added benefit of being waterproof.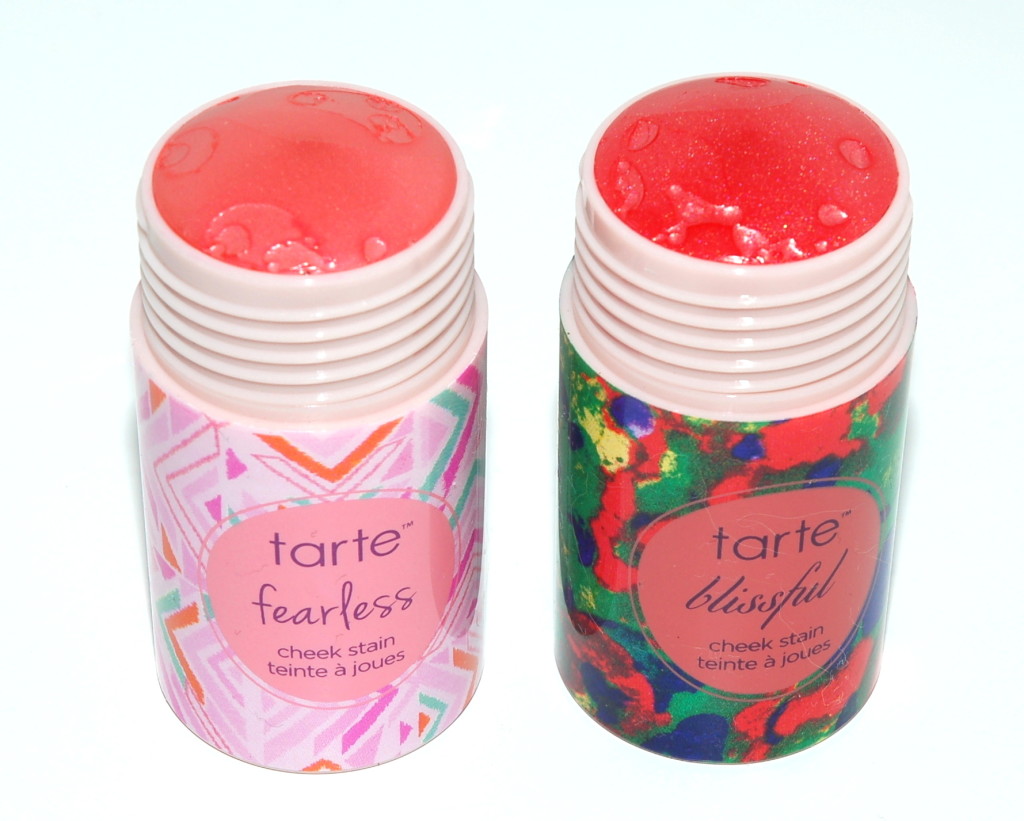 Tarte Cheek Stain
I'm a huge fan of the Tarte Cheek Stains as they are great for adding subtle colour to the cheeks, and a little colour really does make the biggest difference to your face!
These cheek stains also have a lovely smell (Strawberries & Raspberries :D) which I love.
Pictured above from left to right:
Fearless – A new shade in a pink coral
Blissful -A warm peach
Both of these peachy shades are so great for the Summer! I love Fearless for the daytime and Blissful for a more dramatic evening look along with highlighted glowing cheeks!
I have reviewed other cheek stains in my Tarte Cosmetics Spring Collection review and my SheHearts Tarte Cosmetics post.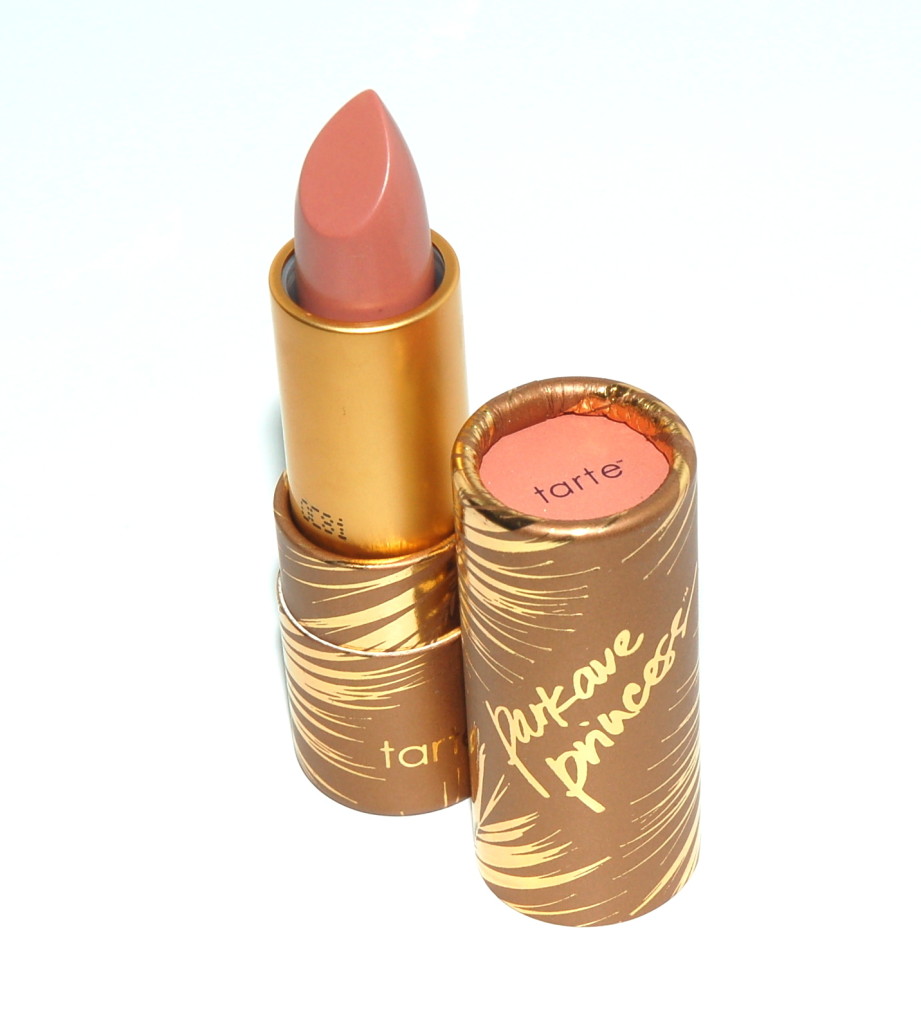 Amazonian Butter Lipstick in Park Ave Princess
The Amazonian Butter Lipstick in Park Ave Princess is a new shade for Summer 2015. A natural nude lipstick which is perfect for the daytime. For me I can barely notice any colour on my lips (mainly as I have olive skin) so I do like to mix this with another coloured lipstick to accentuate it a little. I chose the shade Tulip from the Amazonian Butter Lipstick Collection.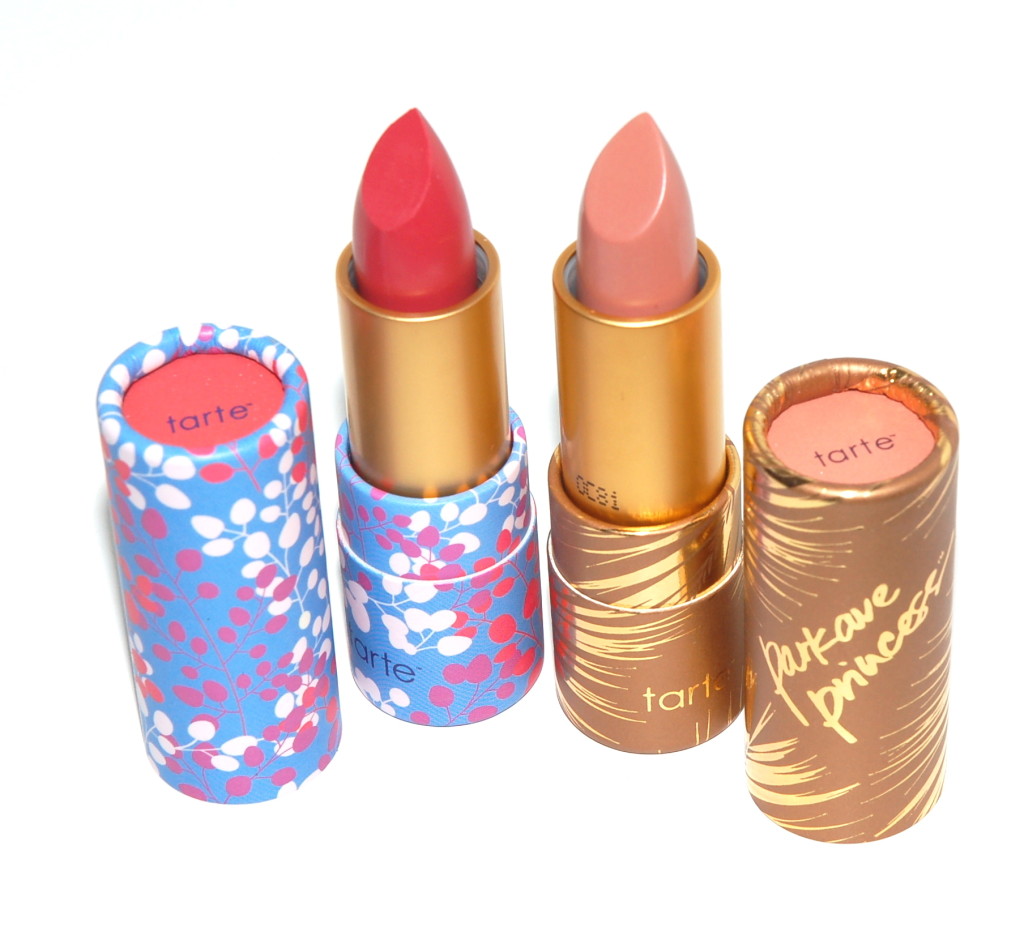 The Amazonian Butter lipsticks are enriched with cupuacu butter, murumuru butter, & shea butter and mineral pigments which all soften and sooth lips. The packing on each are a pleasure to photograph, they're very collectable.
I've reviewed more Amazonian Butter Lipsticks in my SheHearts Tarte Cosmetics review 🙂
Overall…
I LOVE Tarte Cosmetics 🙂 The inspiration behind the brand is something which inspired me right from the very beginning to write about Tarte. It's great to find a brand that not only creates beautifully designed products but also has the added benefit of being great for your skin!
I can best describe Tarte as being treatment makeup! I love the fact that most of the ingredients come from the ground (I'm fascinated by this fact). I also commend the companies ethos Tarte Gives Back by supporting cooperatives in the rainforest, helping women's health organisations, being kind to animals and developing eco friendly programs.
A great company delivering superb products for excellent causes 🙂