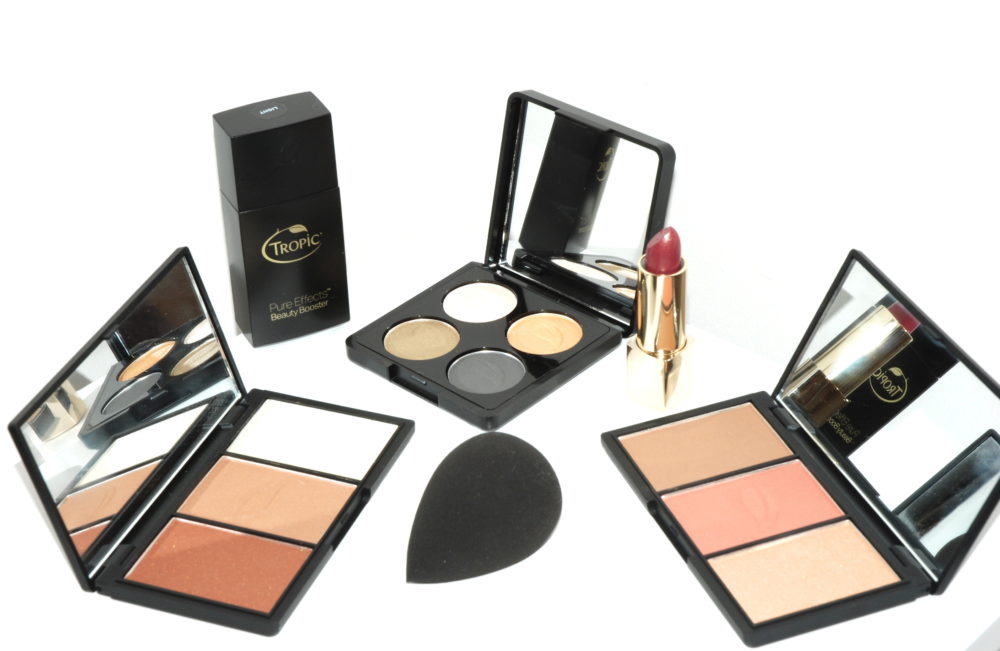 Tropic Skincare Makeup Review
Tropic Skincare is a beauty brand created by Susan Ma and grabbed the attention of the public in 2010 when she appeared on the BBC Apprentice. Lord Sugar invested in Tropic skincare and I can certainly see why he invested in such lovely brand.
Susan was inspired by her upbringing in Tropical North Queensland, being constantly surrounded by amazing plants and botanical actives inspired her to create the Tropic skincare brand.
Her makeup range is absolutely beautiful & I picked out some favourite items to review. From left to right in the photograph above:
Sculpting Palette in Bronze which has a deep chestnut brown shade perfect to define cheekbones, a golden bronzer and a shimmery champagne highlight shade.
Pure Effects Beauty Booster which is a great beauty boosting serum, great to use under foundation. It comes with the beauty blender photographed in the middle.
Mineral Eyeshadow in Wilderness which is a palette with four golden earthy tones suitable for brown eyes. A really pretty quad perfect for the day time.
Colour Click Lipstick in Jazzberry Jam which is a shimmering plum colour enriched with nourishing oils.
Sculpting Palette in Vintage Rose which has a really gorgeous dusty pink blush, a walnut contour shade, & a satin golden highlighter to swoop onto your cheekbones to really make them pop.
Pure Precision Beauty Drop which has been designed to help you apply your makeup with easy precision which is hypoallergenic.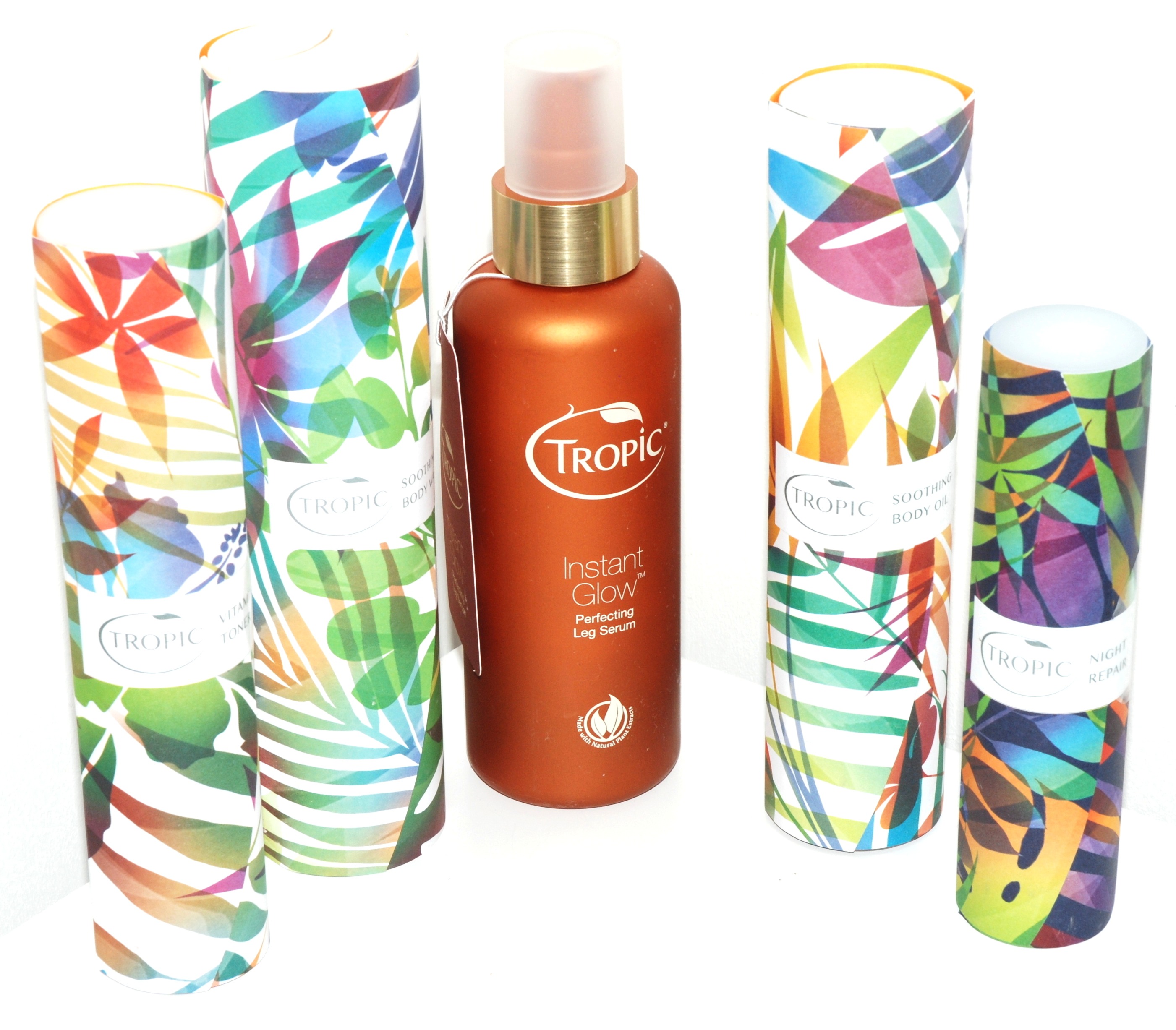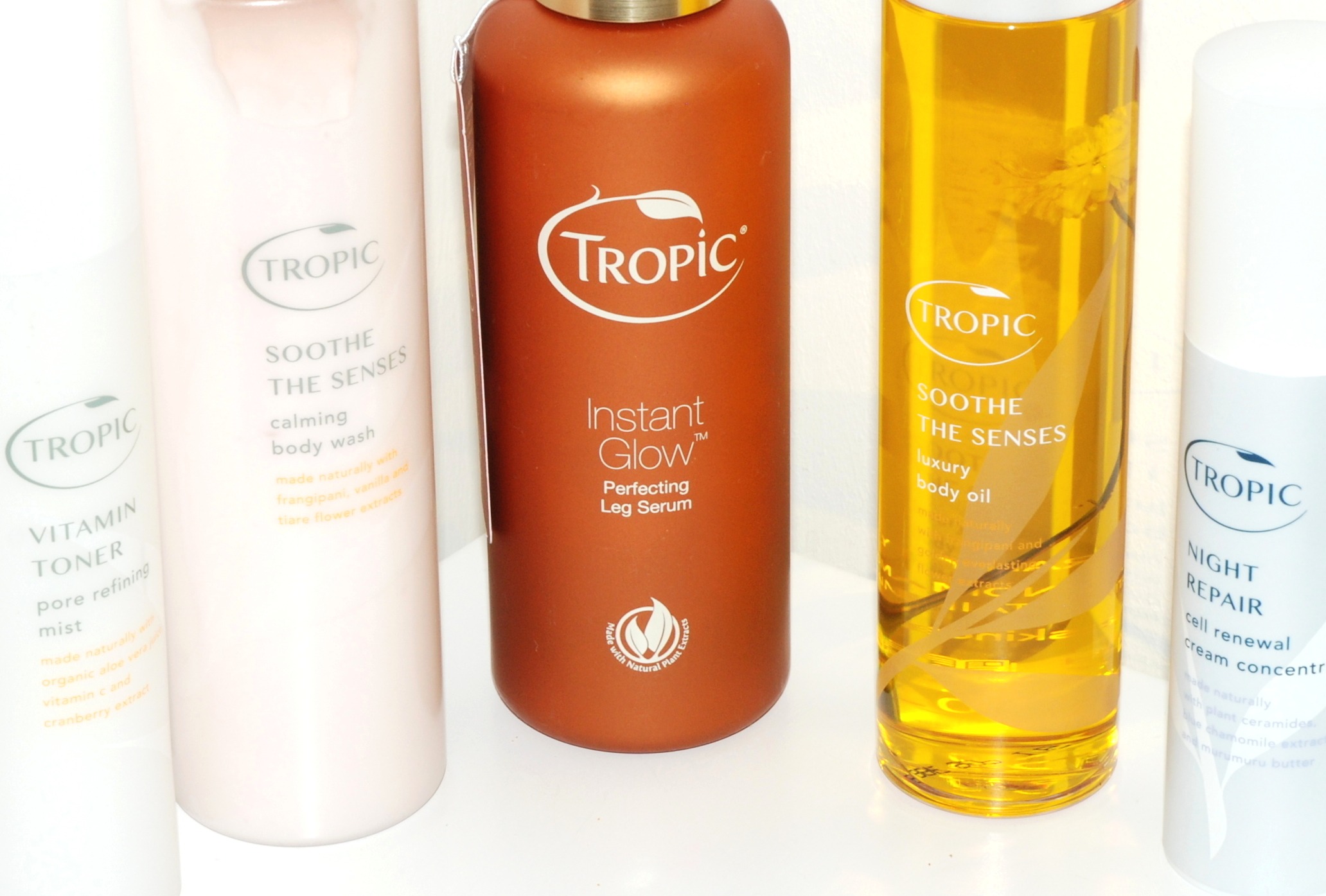 Tropic Skincare
From Left to Right
Vitamin Toner Pore Refining Mist which is a brilliant toner. I tried this a few years ago & have been impressed with this product ever since. It really does make skin feel so refreshed. It contains organic ingredients such as Rose Water, Aloe Vera & Cucumber Juices.
Soothe The Senses Calming Body Wash which is a creamy frangipani, tiare flower, vanilla body wash with coconut extracts. It smells absolutely beautiful and skin feels soft and nourished after use.
Instant Glow Perfecting Leg Serum which gives legs the appearance of a natural healthy tan. It contains gold mica particles and caramel extracts which boosts skin luminosity.
Soothe The Senses Luxury Body Oil which is a beautiful & nourishing body oil with a blend of apricot, rose-hip, and kernel oils which leaves skin feeling very velvety & soft.
Night Repair Cell Renewal which is a fantastic night cream from Tropic Skincare. It contains intelligent plant extracts & exotic butters to hydrate and plum the skin during the night.
Susan Ma's Top 5 Skincare Tips
1. No matter how tired I am, one thing I always do is remove my makeup and clean my face before sleeping. Our skin cells rejuvenate while we sleep, so it's important to allow it to breathe. Always use an alcohol and soap free cleanser to gently remove your makeup so to not strip your skin's natural oils that it needs to protect itself. If your skin feels tight and uncomfortable after cleansing, you are damaging your skin!
2. I love steaming my skin as much as possible, whether it's in the steam room at the gym or with a hot bamboo cloth on my face, it helps to release toxins in the skin, refines pores and stimulate blood flow. Always splash your face with cold water immediately after to close pores and firm skin.
3. I'm obsessed with herbal teas, and drink green tea and maccha tea daily. They're filled with antioxidants to help protect your skin and body from ageing free radicals. Other antioxidant rich foods such as goji berries will also significantly improve your skin complexion.
4. As your largest organ, your skin needs plenty of blood supply to stay healthy. Giving yourself a quick facial massage just before bed with an oil such as our Organic Elixir will help to boost blood circulation and promote plump, radiant skin.
5. Exfoliate at least once a week to stimulate cell renewal and smooth out your skin. Our soap free Face Smooth is a brilliant way to exfoliate away dull dead skin, and reveal baby soft skin with it's nourishing blend of plant oils and Acai berries.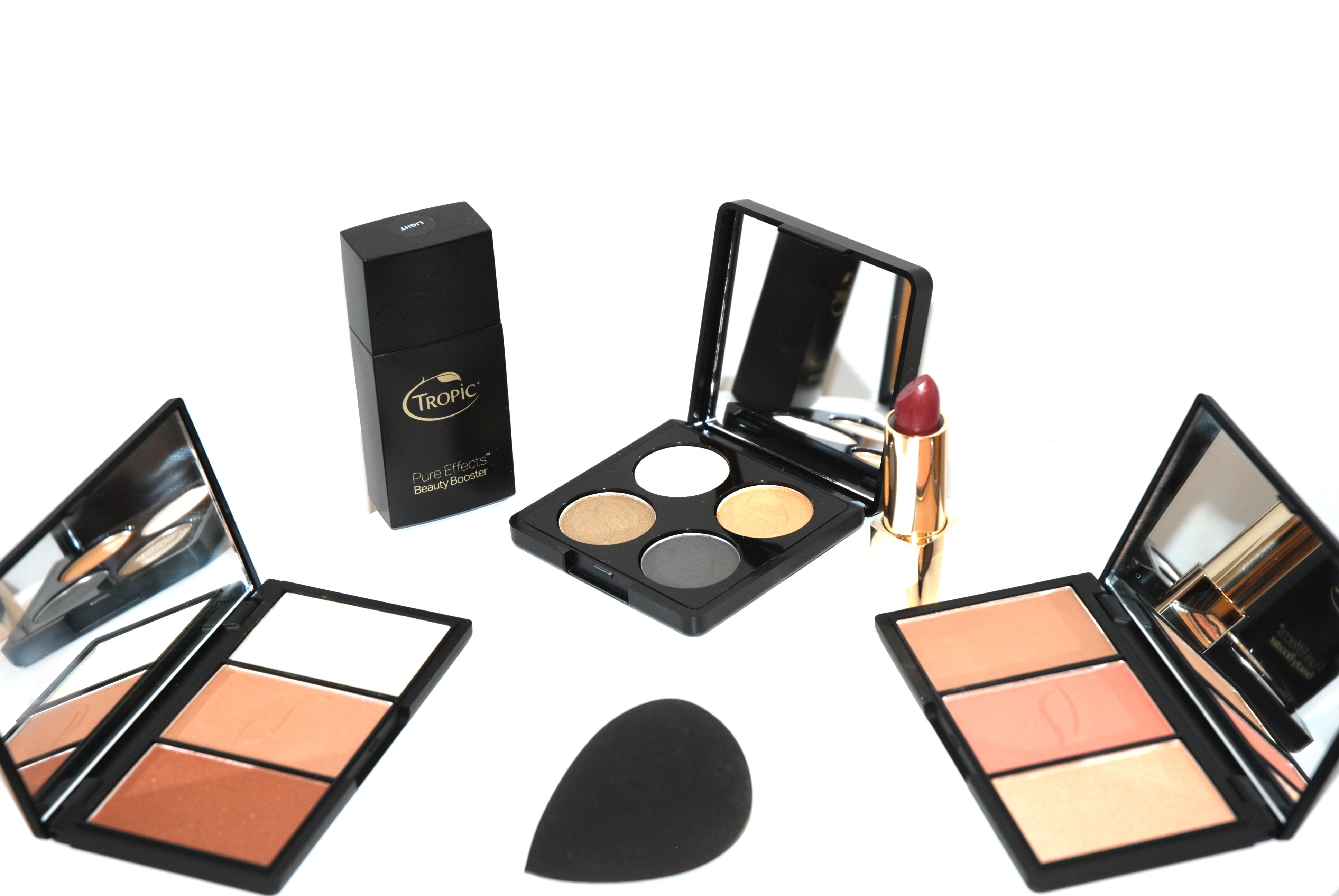 Overview…
Tropic skincare is a beautiful brand. The makeup range is beautiful with a range of warming earthy colours to create some really stunning makeup looks.
The skincare range is full of active and natural ingredients which will leave skin feeling smooth, supple and soft. All products are very beautifully packaged.
What do you think of the Tropic skincare range judging from the photographs above? Which product catches your eye from the makeup and skincare range I have reviewed? 🙂
I would love to hear your thoughts!
Thanks so much for reading 🙂
Laura xo