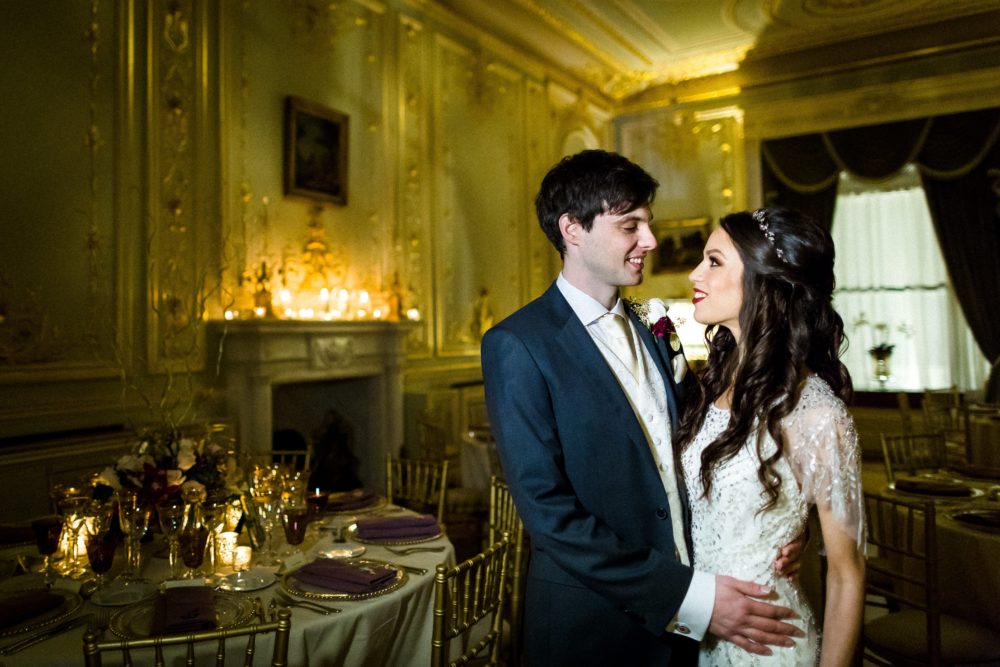 Winter Wedding at Fetcham Park
During a beautiful crisp but sunny Winter's Day on the 26th November 2016, my partner and I made our vows to one another at the alter at the beautiful St John the Baptist Church in Worcester Park, and then celebrated at the stunning  Grade II* listed Fetcham Park House.
Wedding preparation during run up to our big day was intense, we organised our wedding in three months! Of course the nerves were bubbling up in anticipation in the weeks before, however all of our hard work was so worth it. It was incredible seeing all of the creative ideas spring to life and made our day so magical.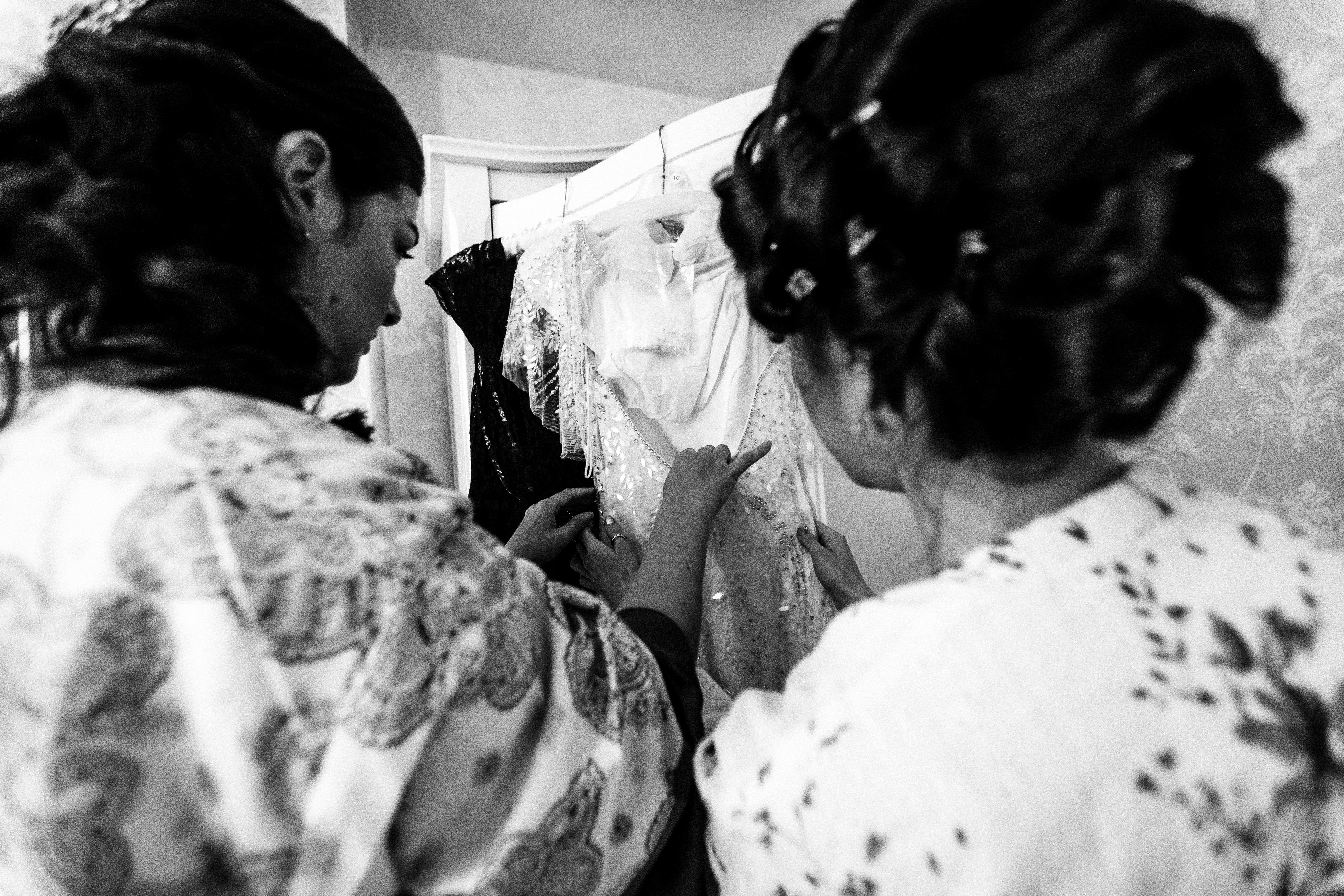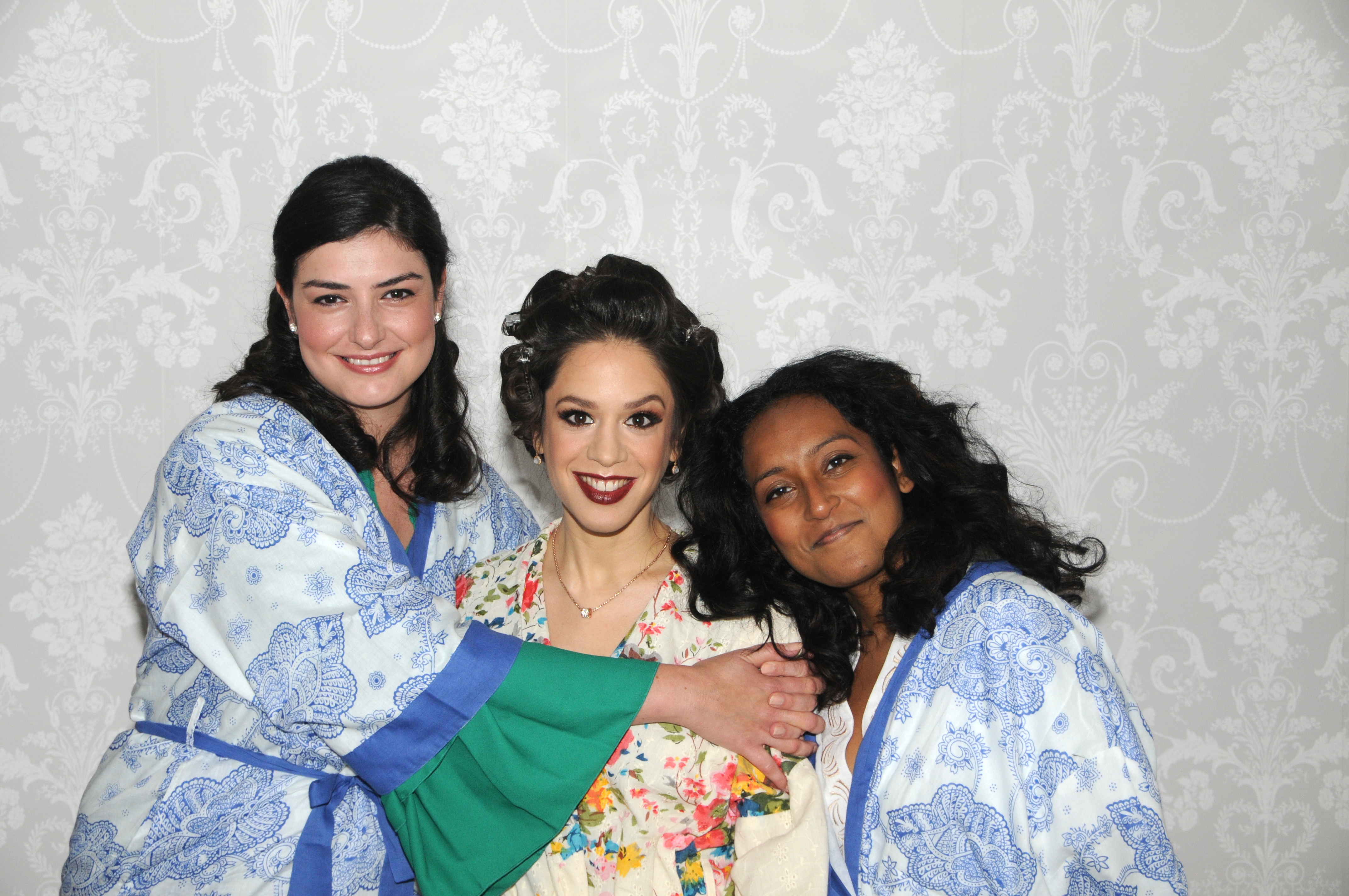 The Morning
On the morning of the wedding I was in a world of my own, and felt especially calm and warm inside knowing that within a few hours I would be reunited with my Jonathan at the alter.
After a rested nights sleep my father picked me up to get ready, it was lovely being surrounded by my beautiful bridesmaids, parents and a supportive wedding team!
Despite the hustle and bustle going on during wedding preparation I drifted off mentally and completely relaxed. I enjoyed every moment of being pampered by my talented makeup artist from the Charlotte Tilbury team, and having my hair curled and styled.
My bridesmaids and I wore some beautiful dressing gowns from Verry Kerry. My bridal dressing gown was the unique Orchard Blossom Dressing Gown and my bridesmaids wore The Santorini short dressing gown in blue.
Makeup & Hair
Hair and makeup is so important on your wedding day, and requires time and thought. I opted for a boho curled half up half down look for myself, and a looser curled look for my bridesmaids. I wore a pretty headdress from Jenny Packham for some shimmery sparkle. The talented Sharon Roberts was so knowledgable when it came to bridal hair.
For makeup I choose a Vintage look and worked with a talented makeup artist from the Charlotte Tilbury team, we used a variety of products to create a bespoke look to suit my personal style using warm tones, a wine lip, and long individual eyelashes.
The looks worked together so beautifully, it helps so much working with beauty specialists, it's so nice to sit back and relax on the morning of your big day also getting ready together.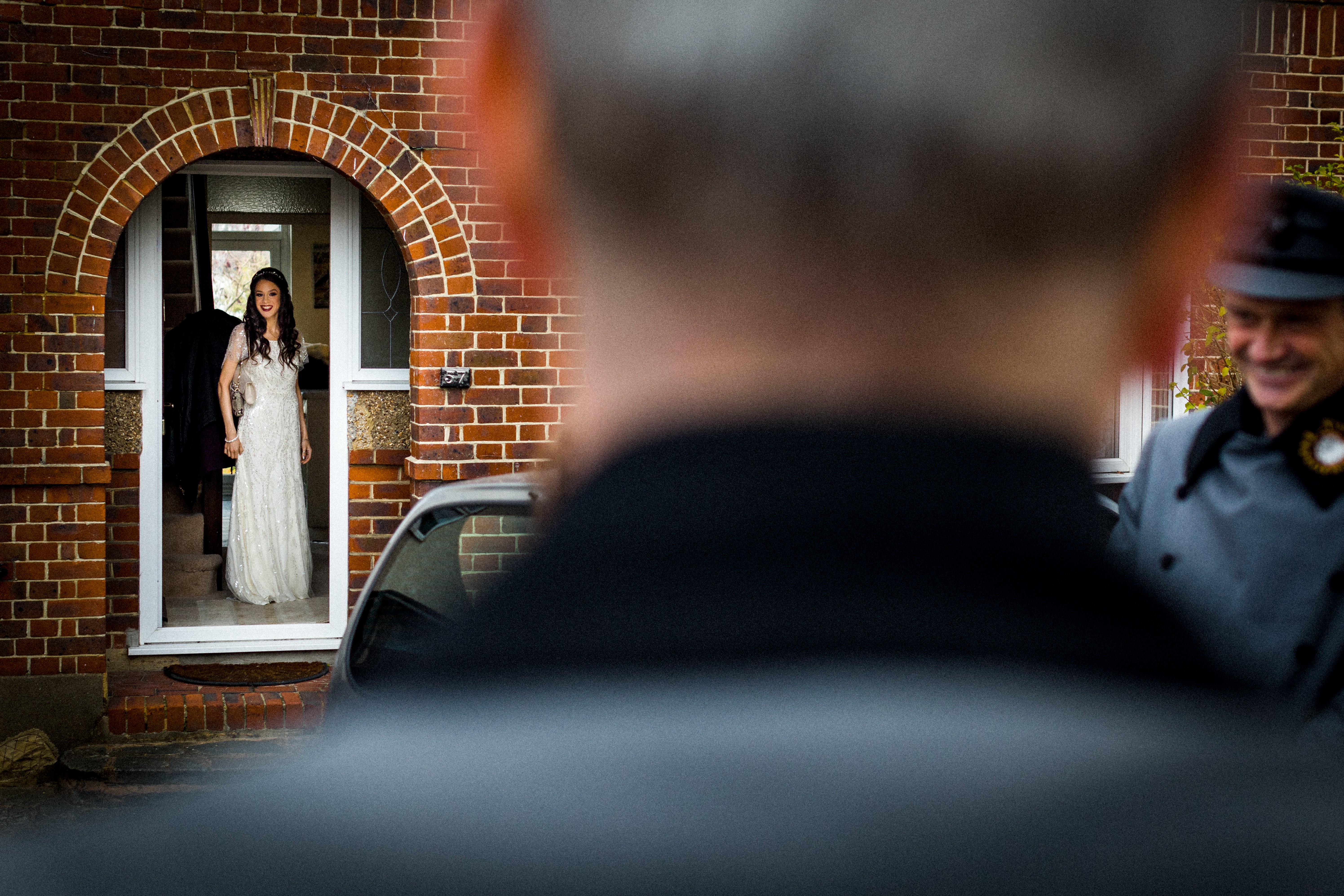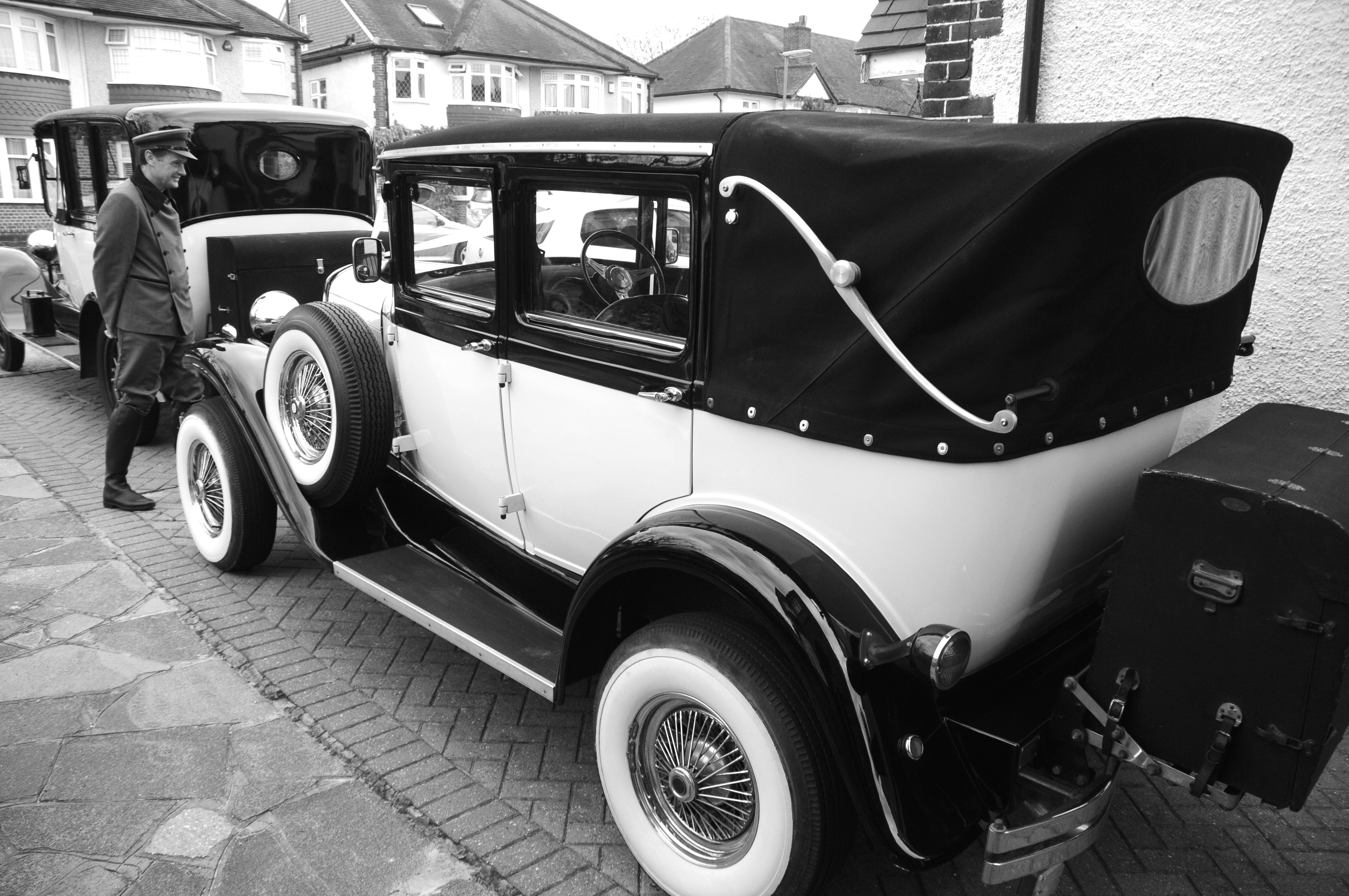 Off to Church
Shortly after having our stunning bouquets delivered my bridesmaids and mother left for the church. We left in style in some gorgeous vintage cars, my bridesmaids enjoyed a stunning Vintage Delaunay Belleville.
My father and I shared a stunning Badsworth Landaulette, he kept me calm and relaxed on the way to the church! I had my own camera with me and took a father daughter selfie in the car, it just had to be done!
Arriving at the church was an exciting moment and being greeted by our friendly vicar. We took a few moments to collect ourselves and then the moment arrived, walking up the isle!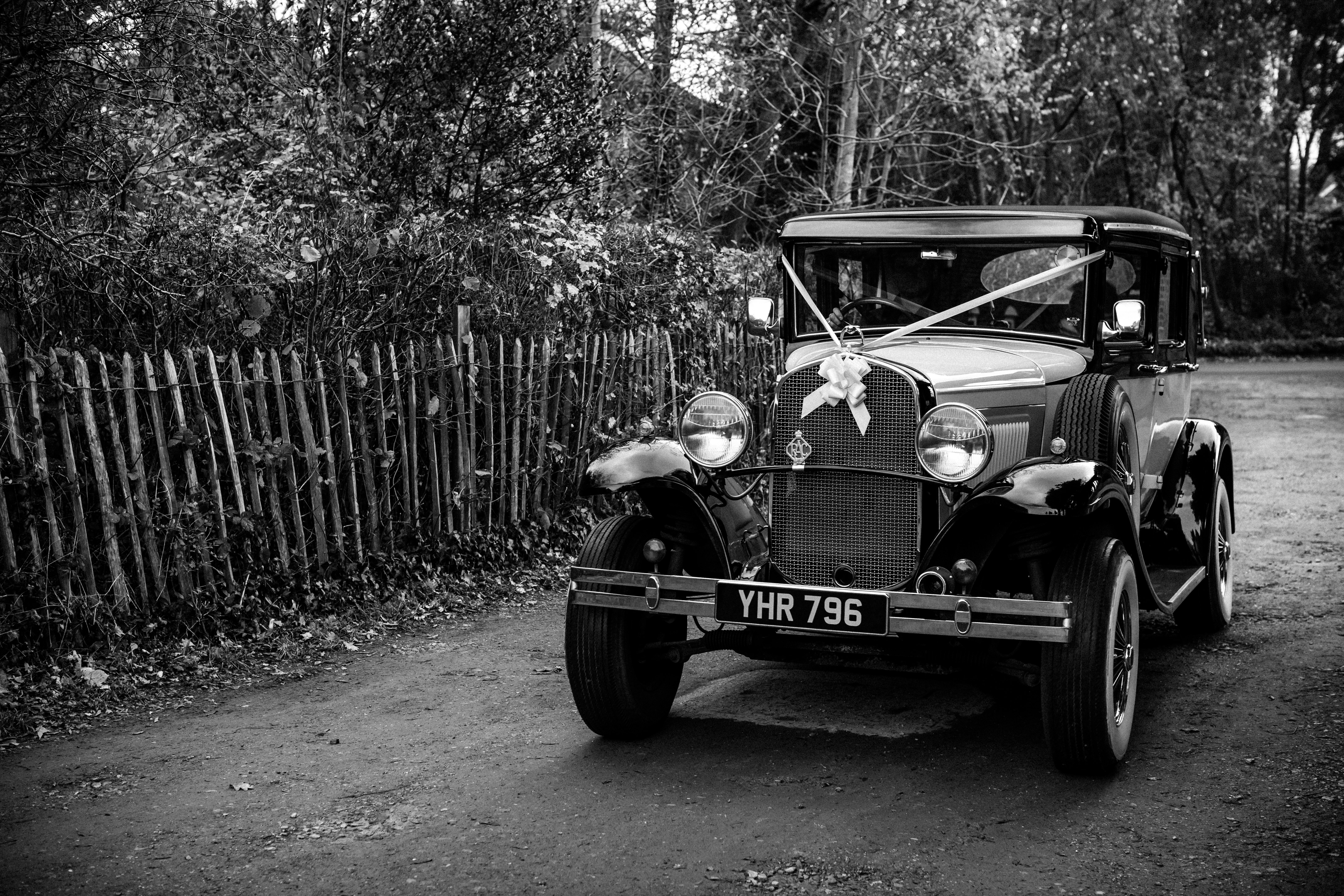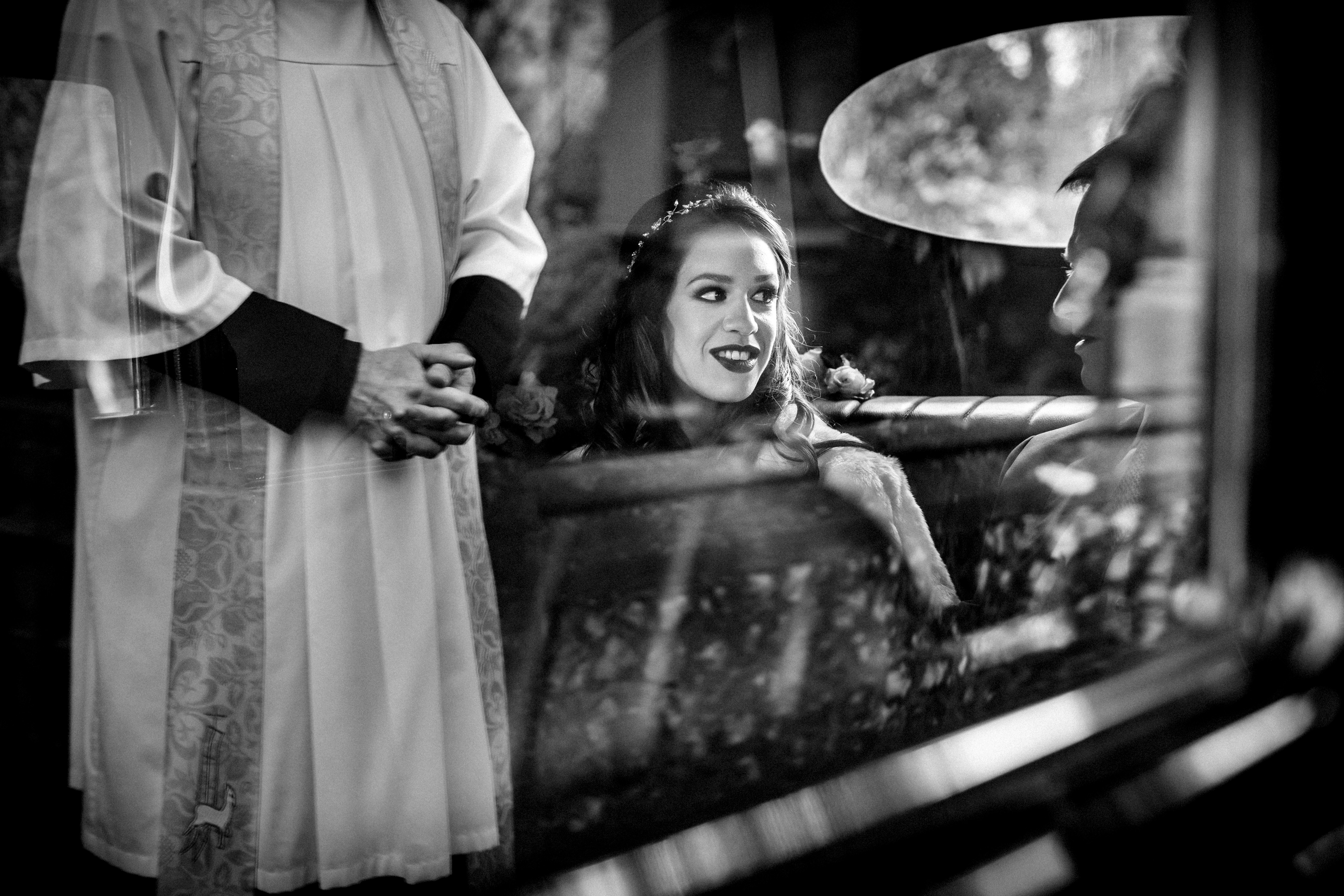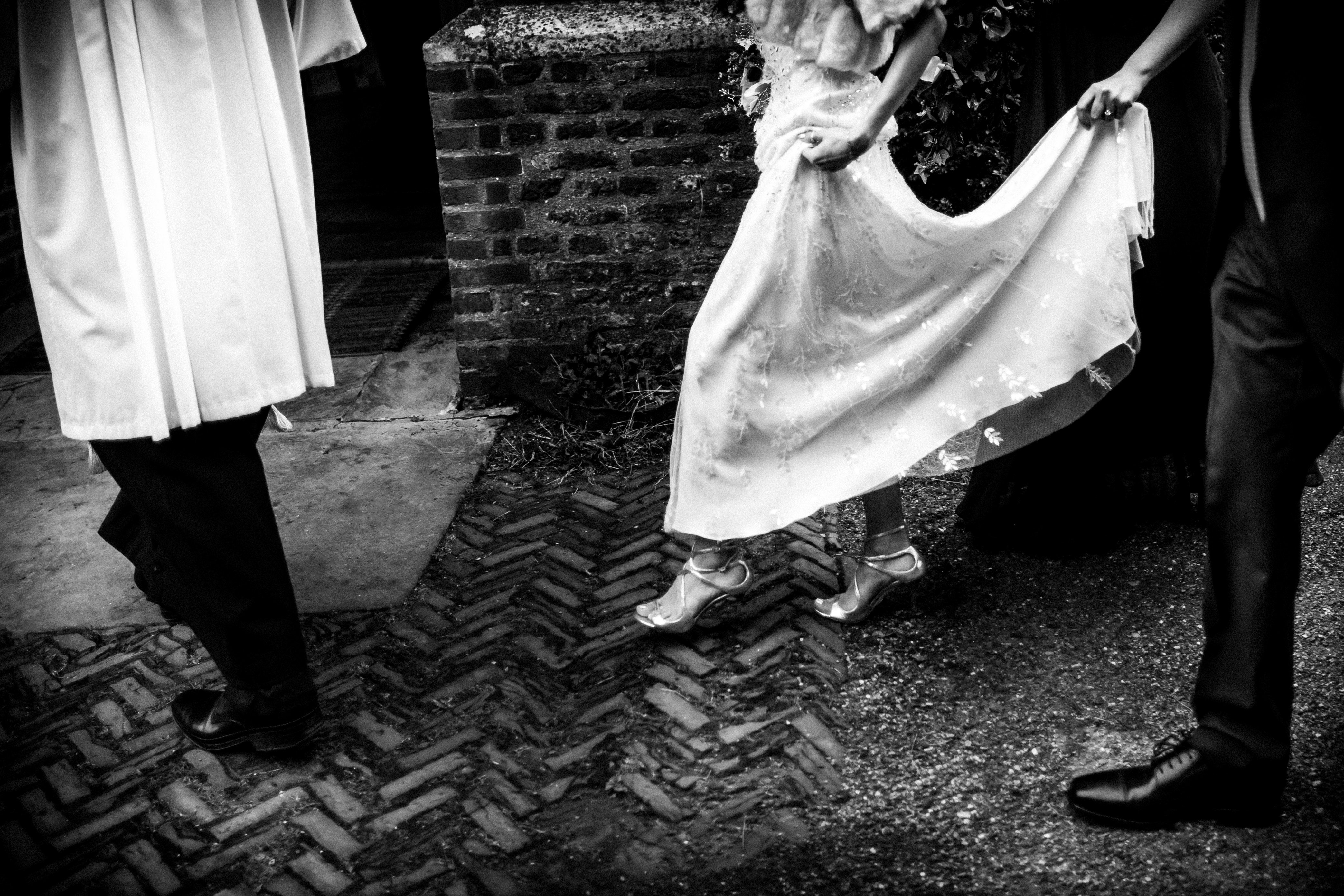 My stomach was full of excitable butterflies waiting to go into the church, happily the calmness still remained regardless. My entry song was The Piano Guys version of A Thousand Years.
It was so lovely to see family and friends greeting you with welcoming smiles, wonderful to have those you love underneath roof. The church ceremony was beautiful from start to finish, the vicar's sense of humour and wonderful sense of calmness was wonderful for Jonathan and I, and also the congregation too.
Our Bible readings were 1 Corinthians 13 and Colossians 3.12. Our hymns were How Great Thou Art and Love Devine. For the signing of the registrars we had Claire De Lune by Debussy and Moonlight Sonata by Ludwig Van Beethoven. Our exit song was an instrumental interpretation of Joyful Joyful by Ludwig Van Beethoven played by the church organist.
This is so true when it comes to love:
'It always protects, always trusts, always hopes, always perseveres' – taken from 1 Corinthians 13
&
'Above all, clothe yourselves with love, which binds everything together in perfect harmony' Colossians 3.12
The church service was beautiful from start to finish and enjoyed every single moment. Standing face to face saying our vows to one another, and exchanging our rings was a moment to cherish forever.
We chose bespoke rings to suit our personalities by expert jewellery Henry Pruwer who created a dainty 18 carat gold ring with dainty diamonds surrounding. Jonathan opted for a slim matte textured chrome Palladium ring, subtle and unique.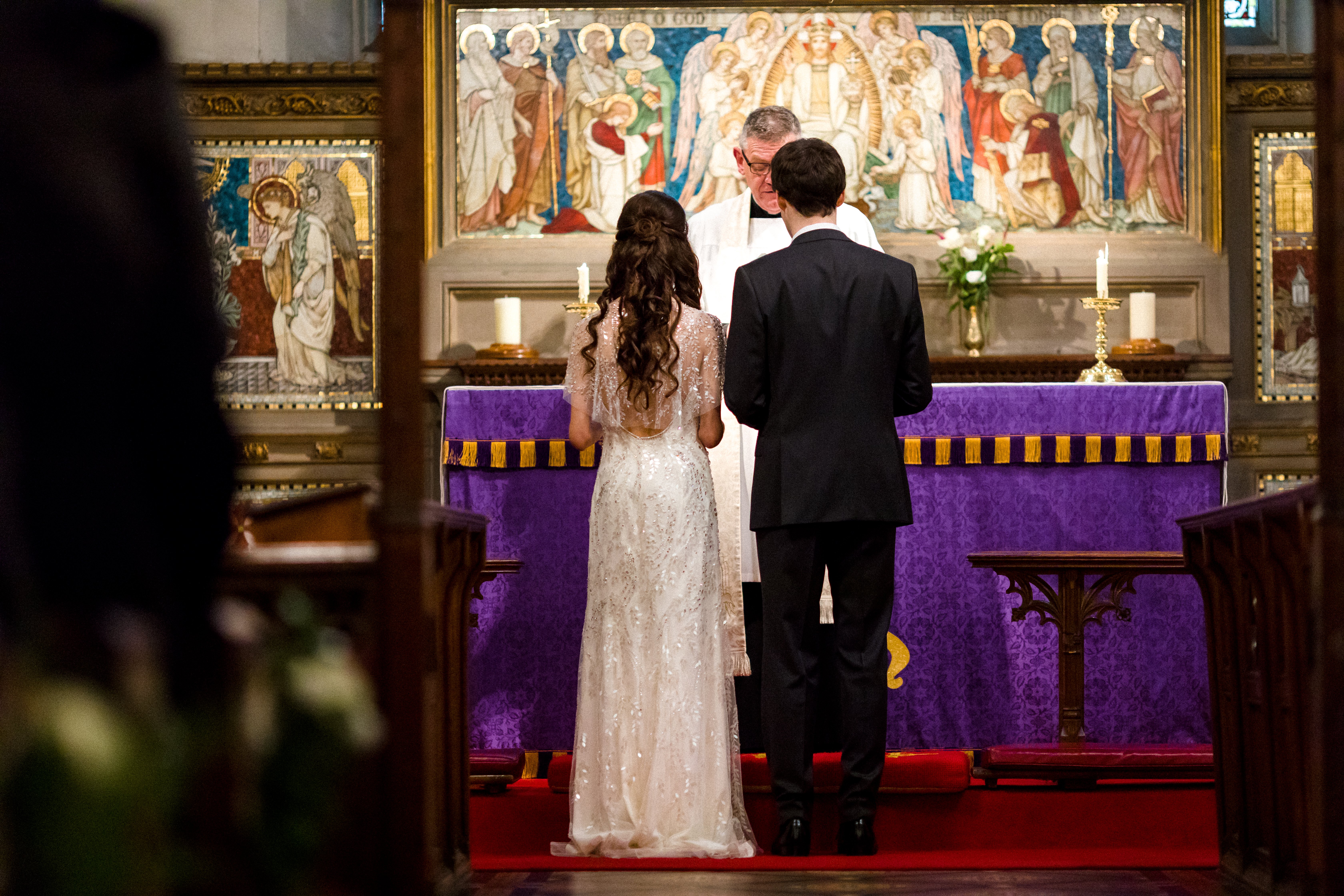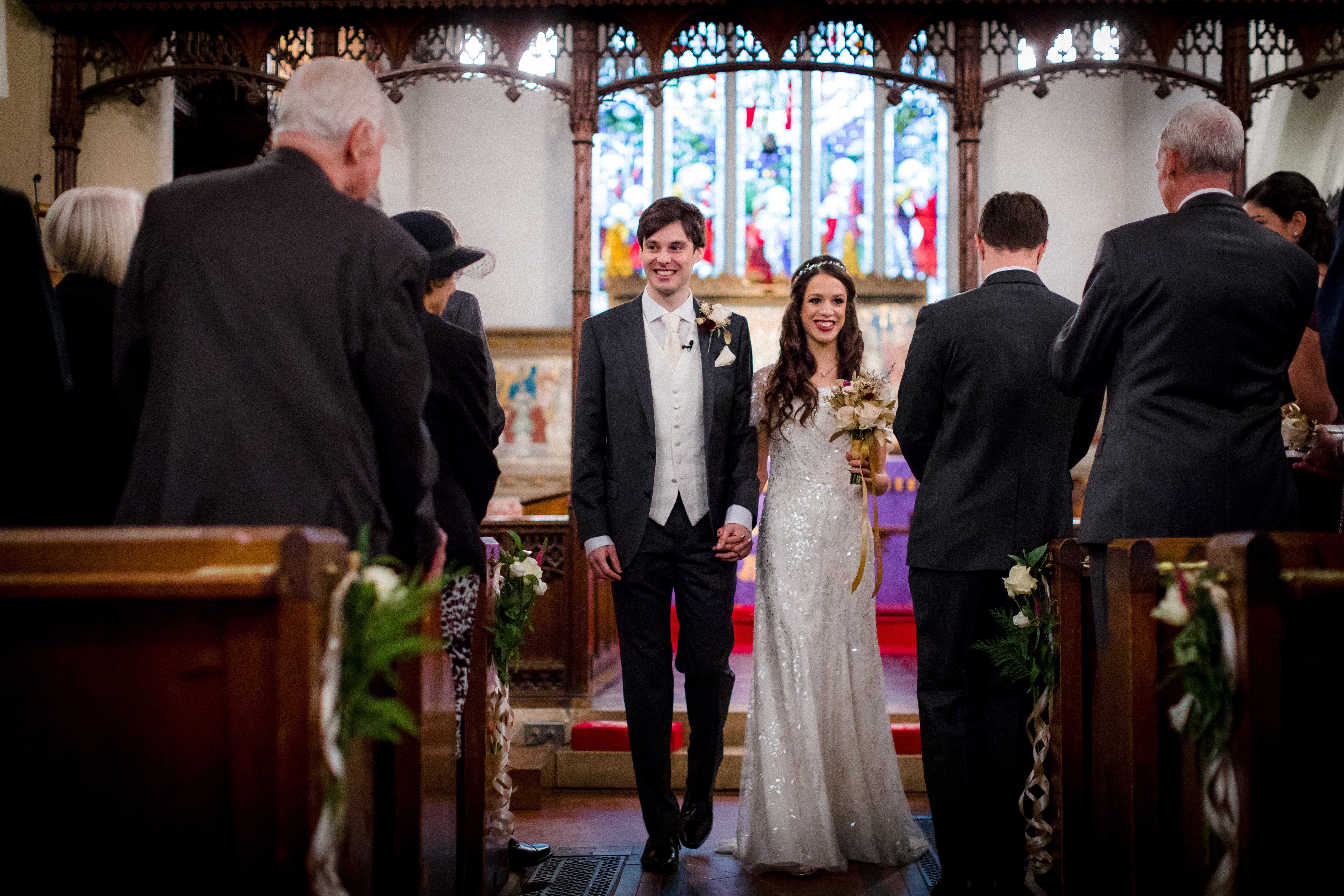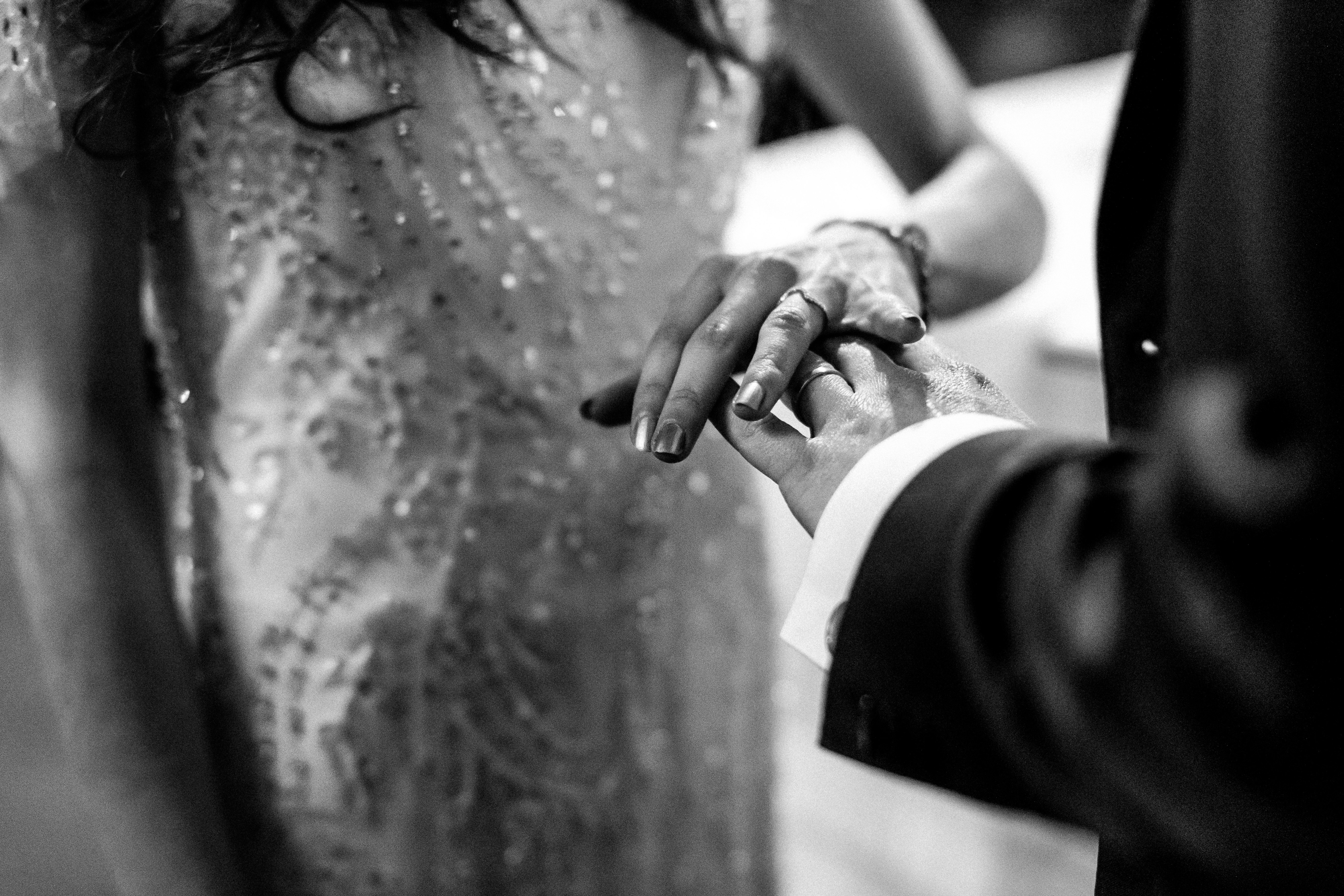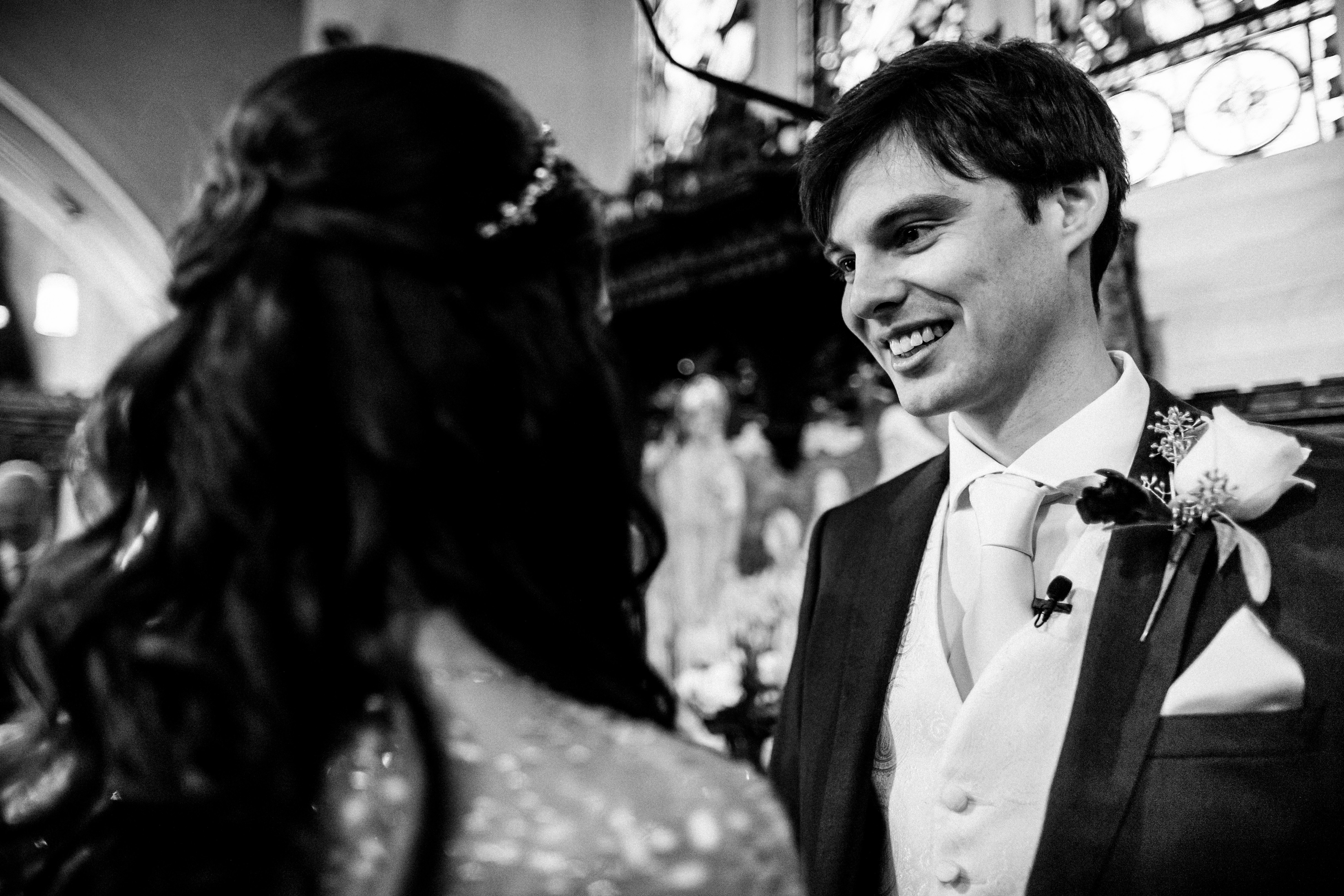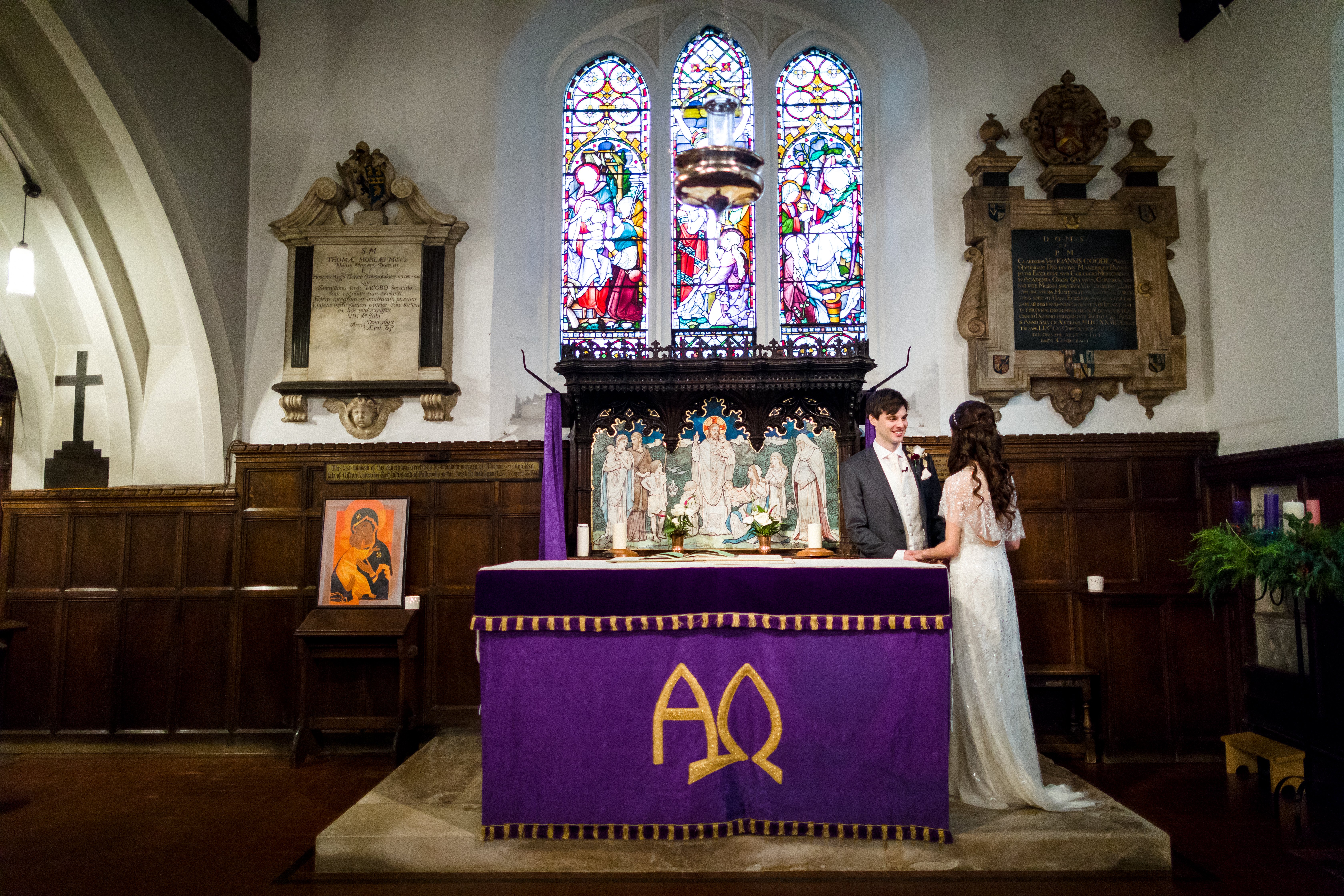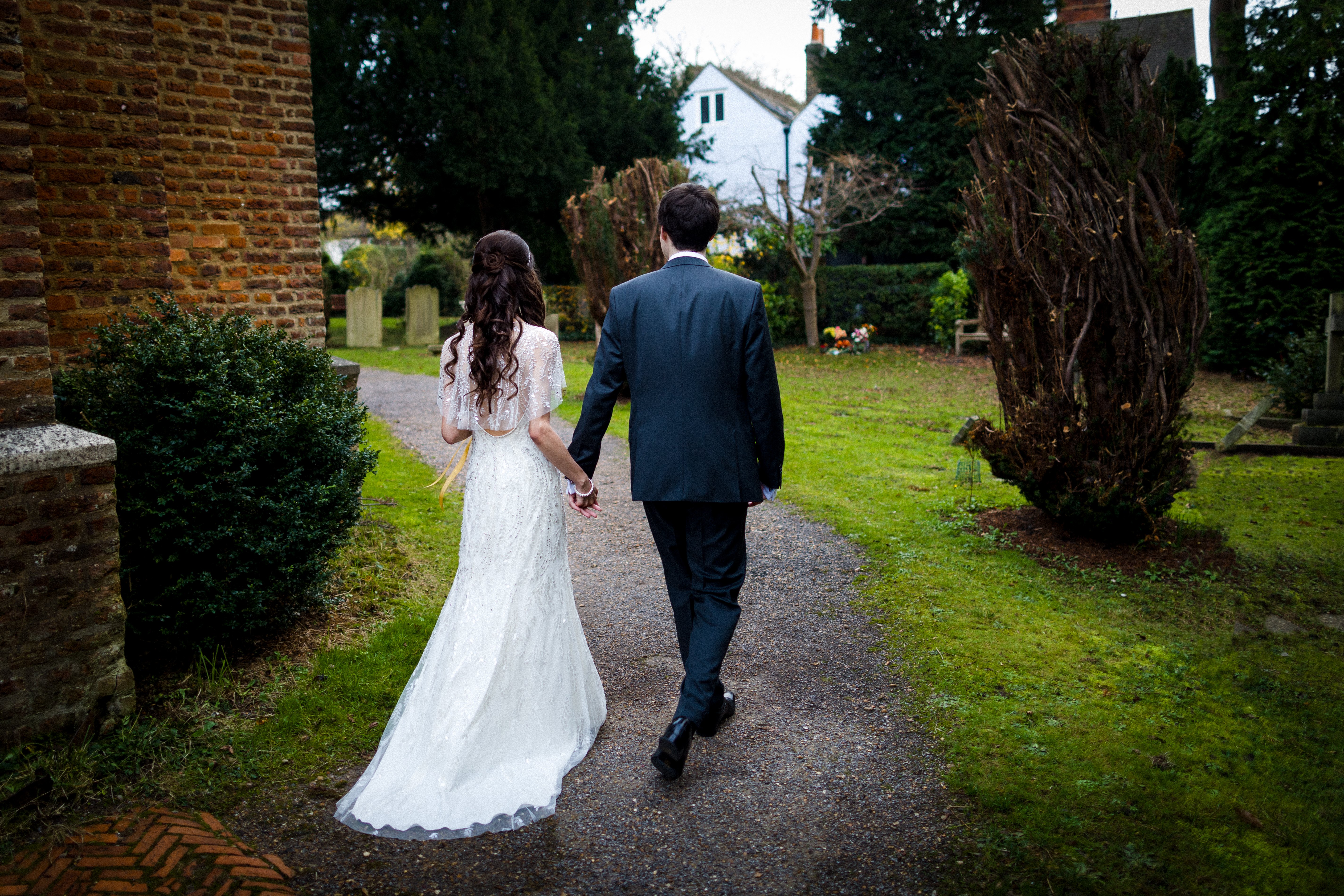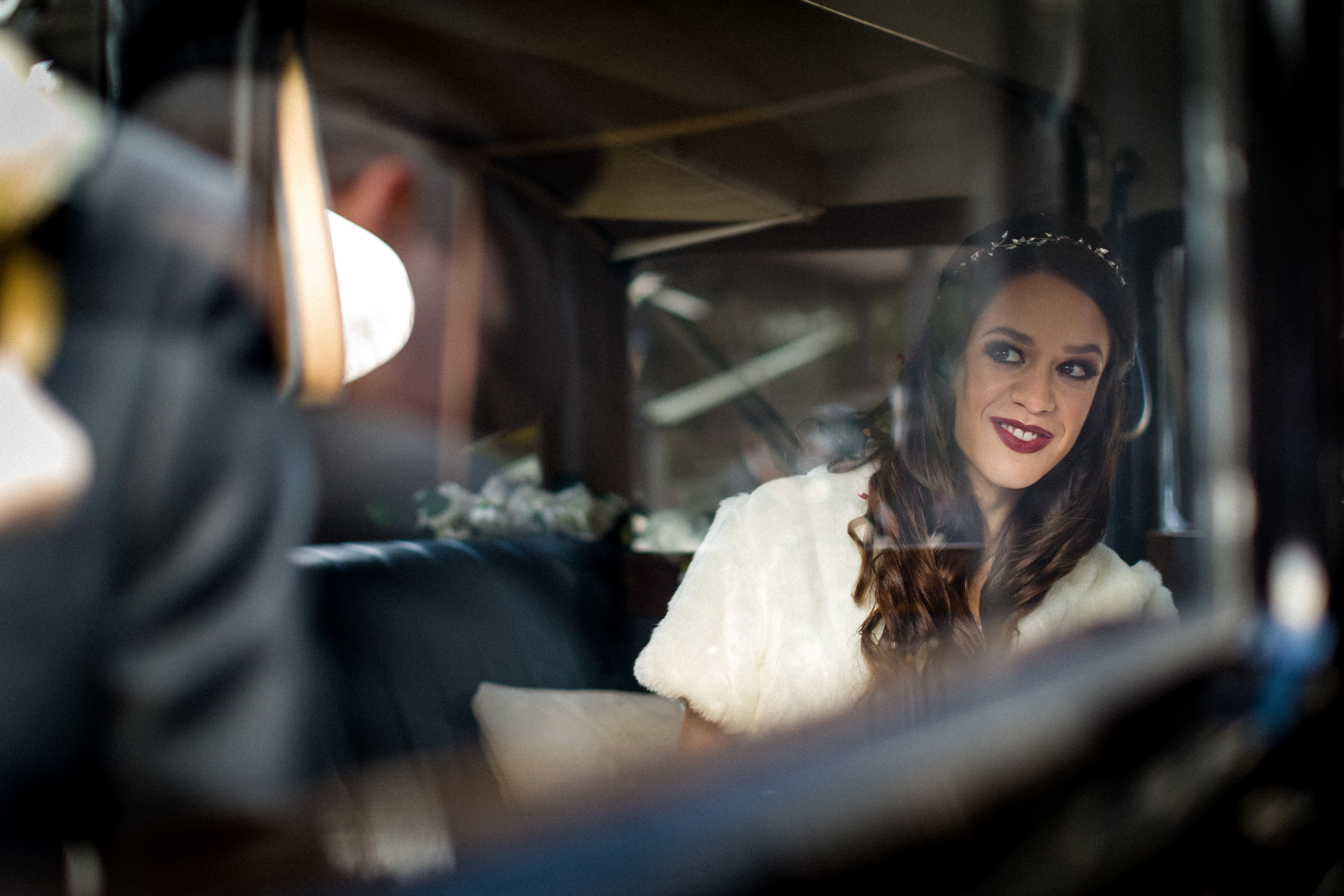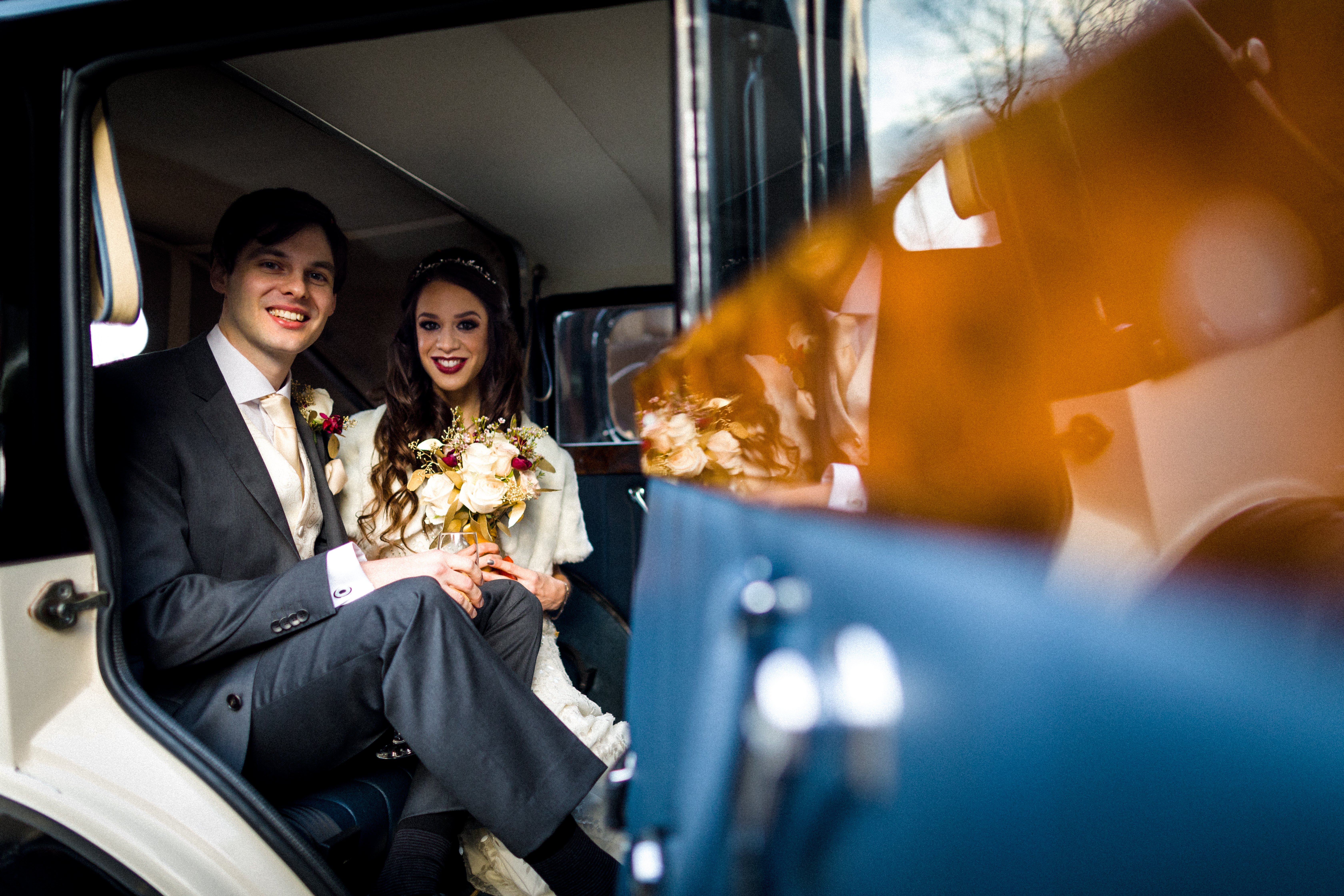 Confetti was thrown, and the cars were there to greet us with a glass of champagne! It was lovely to have some moments alone together in the car soaking in the vows we had just made to one another, then it was off to Fetcham park!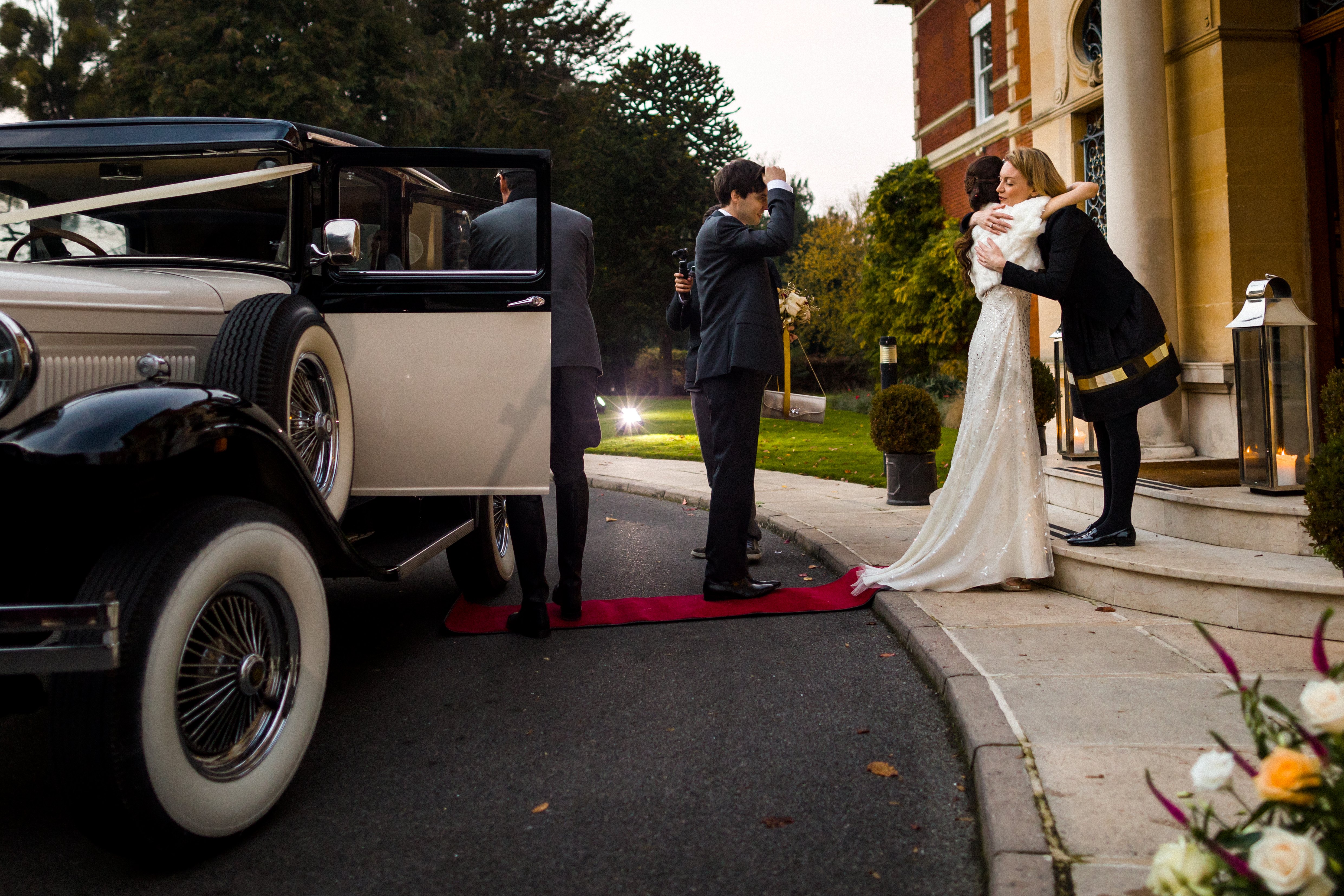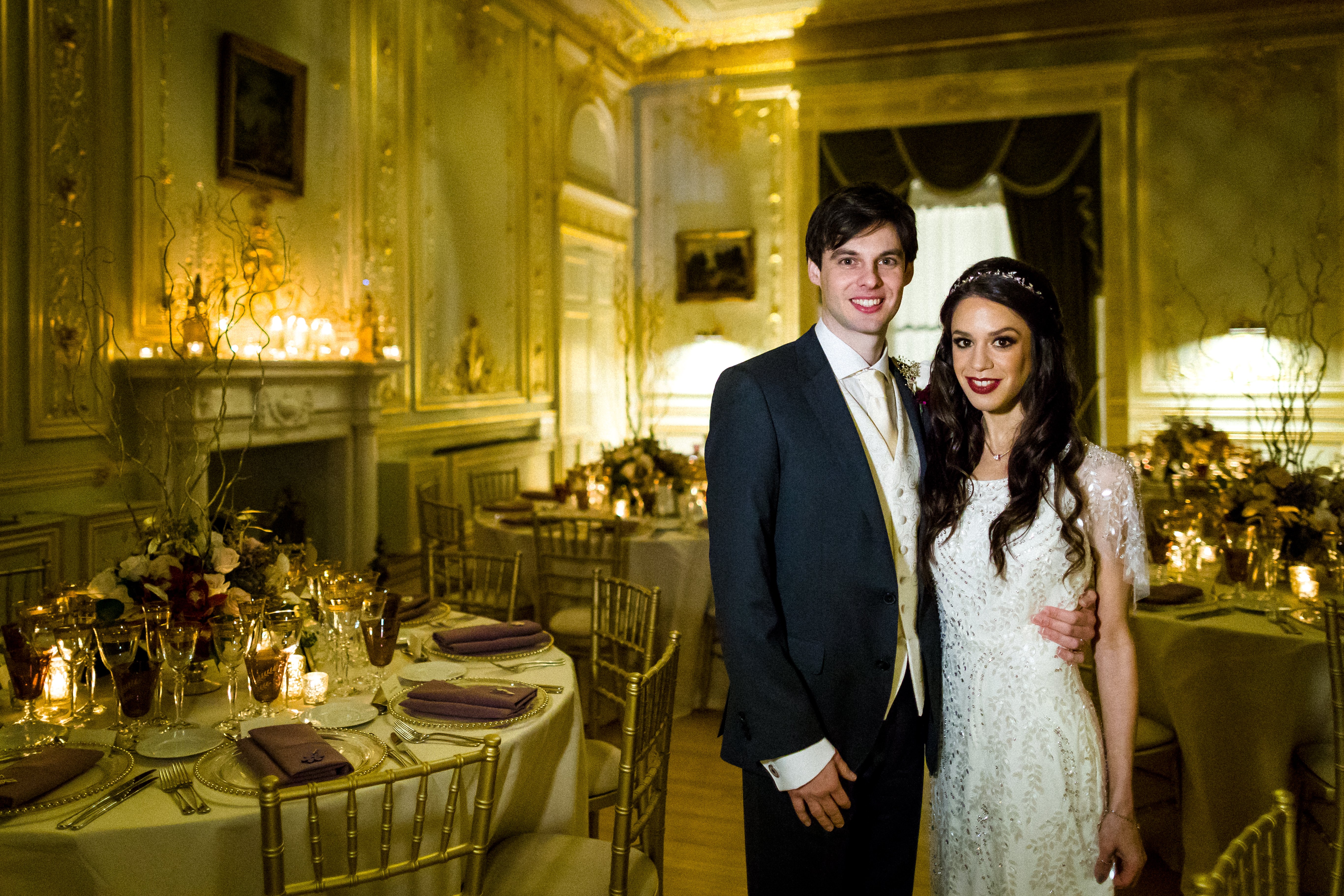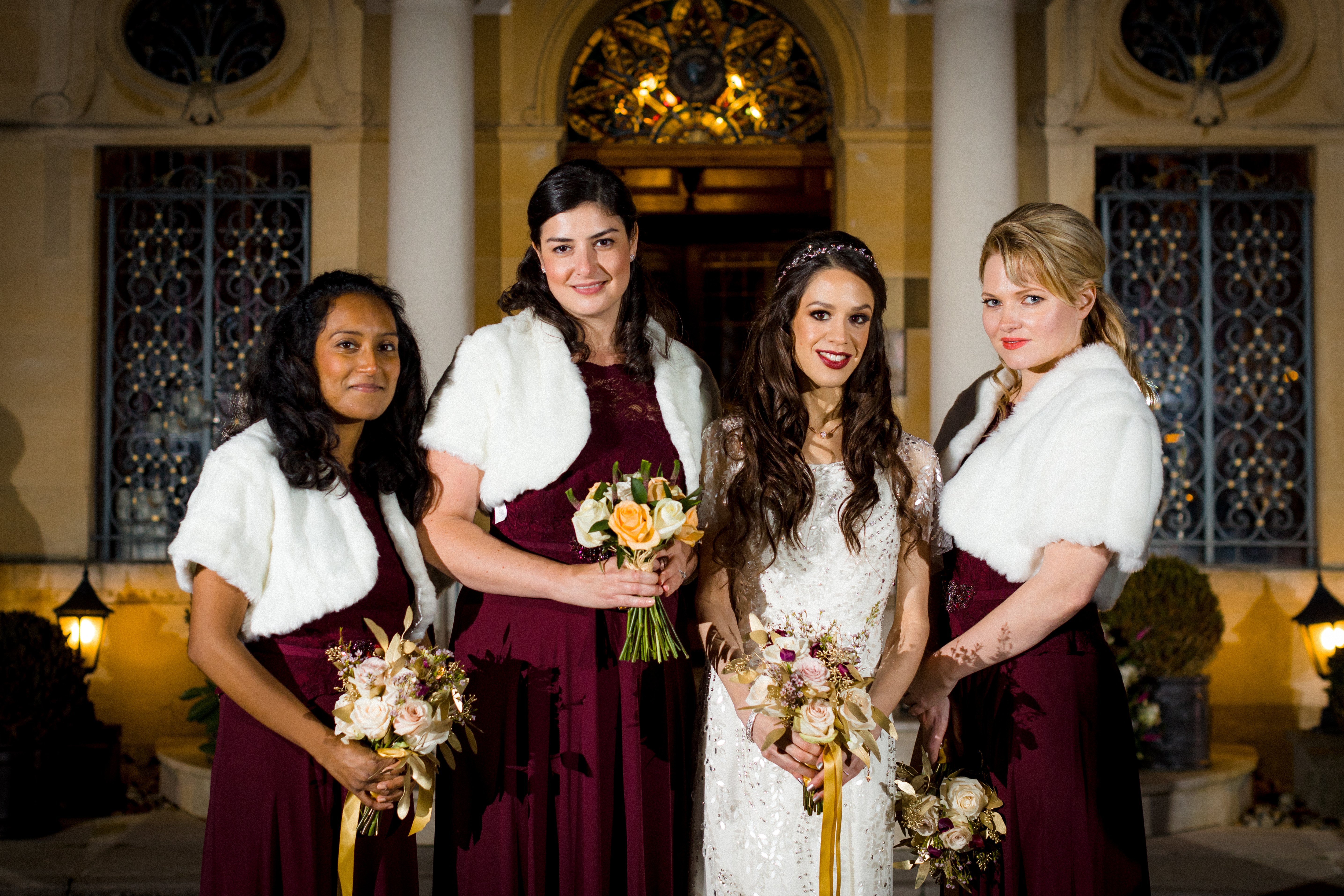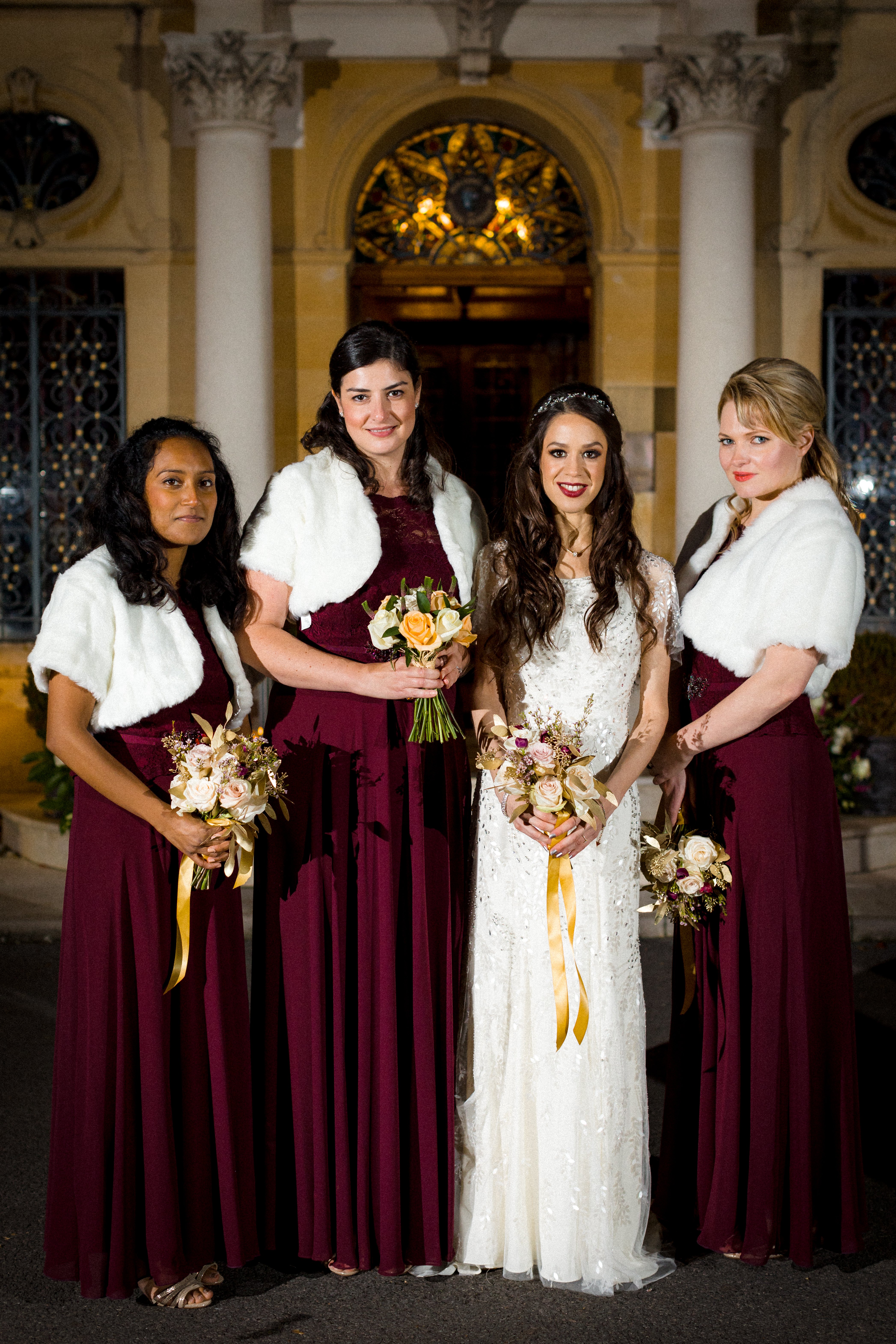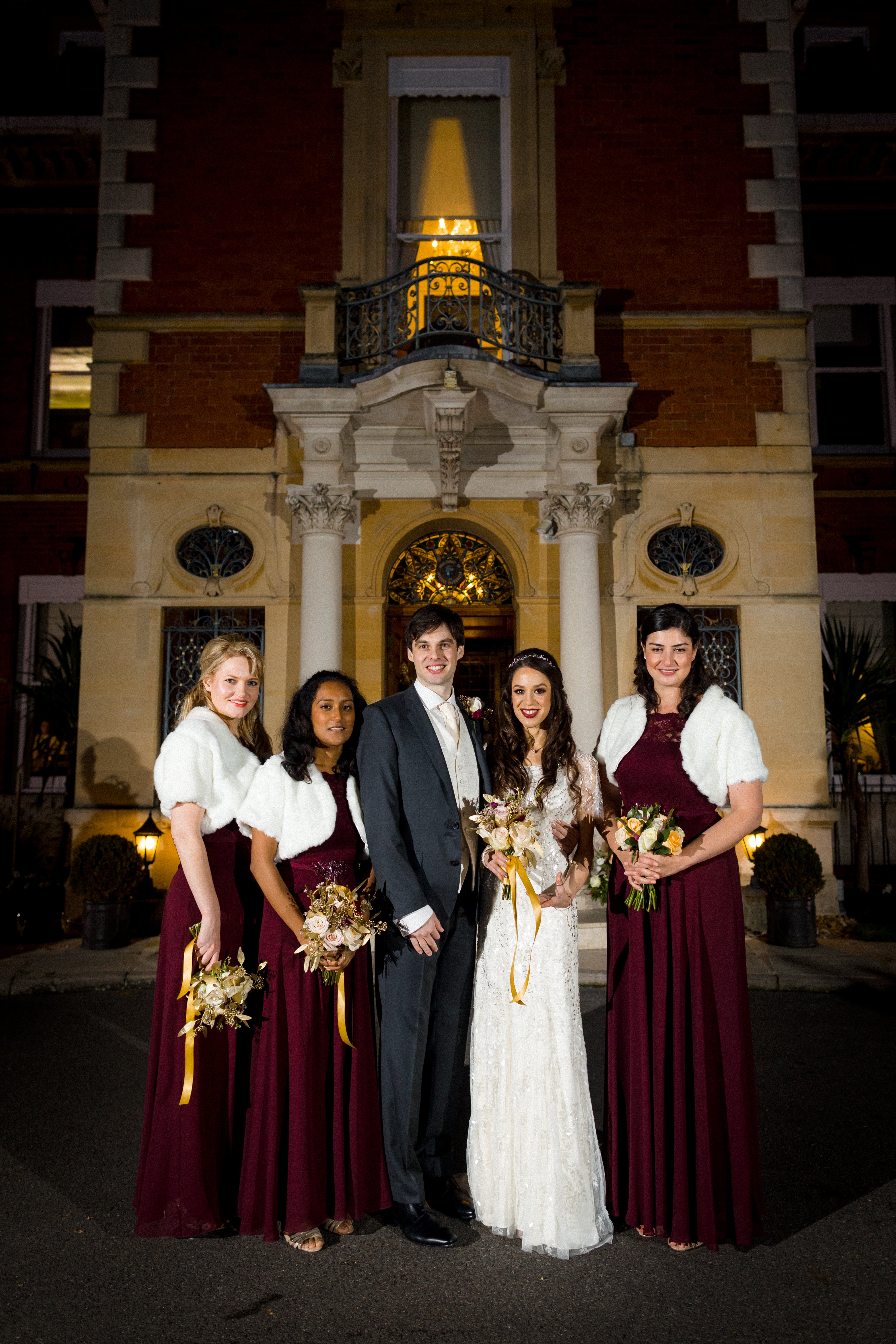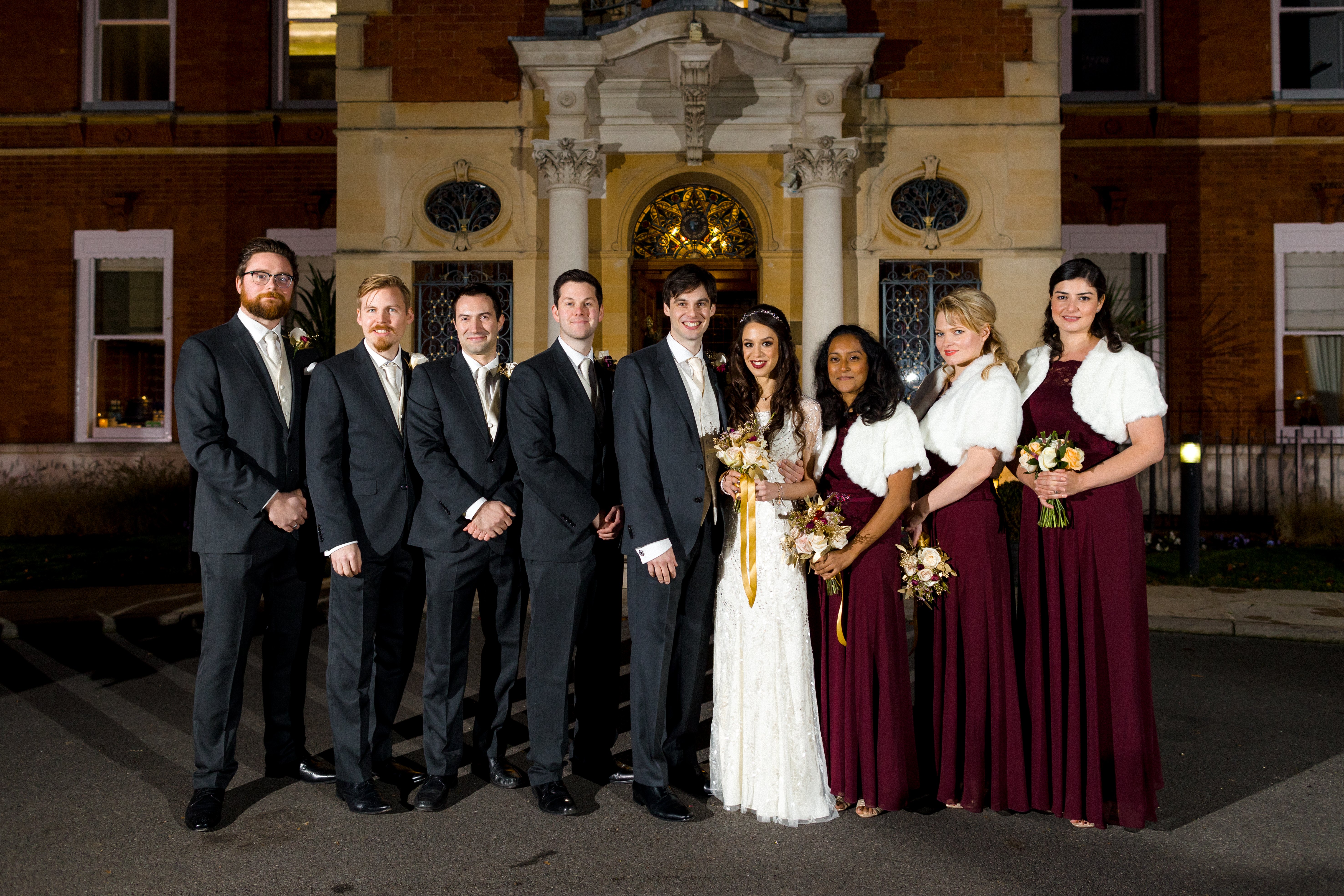 We were greeted by the lovely owner Laura who greeted us with such warmth, she was so supportive from start to finish! It was so wonderful coming into the house and enjoyed a Warm Winter Warmer which was created using Grand Marnier, Cointreau, Pimms, Apple Juice and Winter Spices. We then enjoyed a lovely Laurent-Perrier Bruit champagne reception along with some delicious hand-picked canapes:
White crab meat, samphire & lime aioli en croustade
♦
Walnut shortbread topped with creamy goats cheese, butternut squash, pine nuts & honey drizzle
♦
Smoked salmon blinis topped with horseradish crème fraiche
♦
Honey & ginger marinated duck breast served on fondant potato with plum sauce & spring onion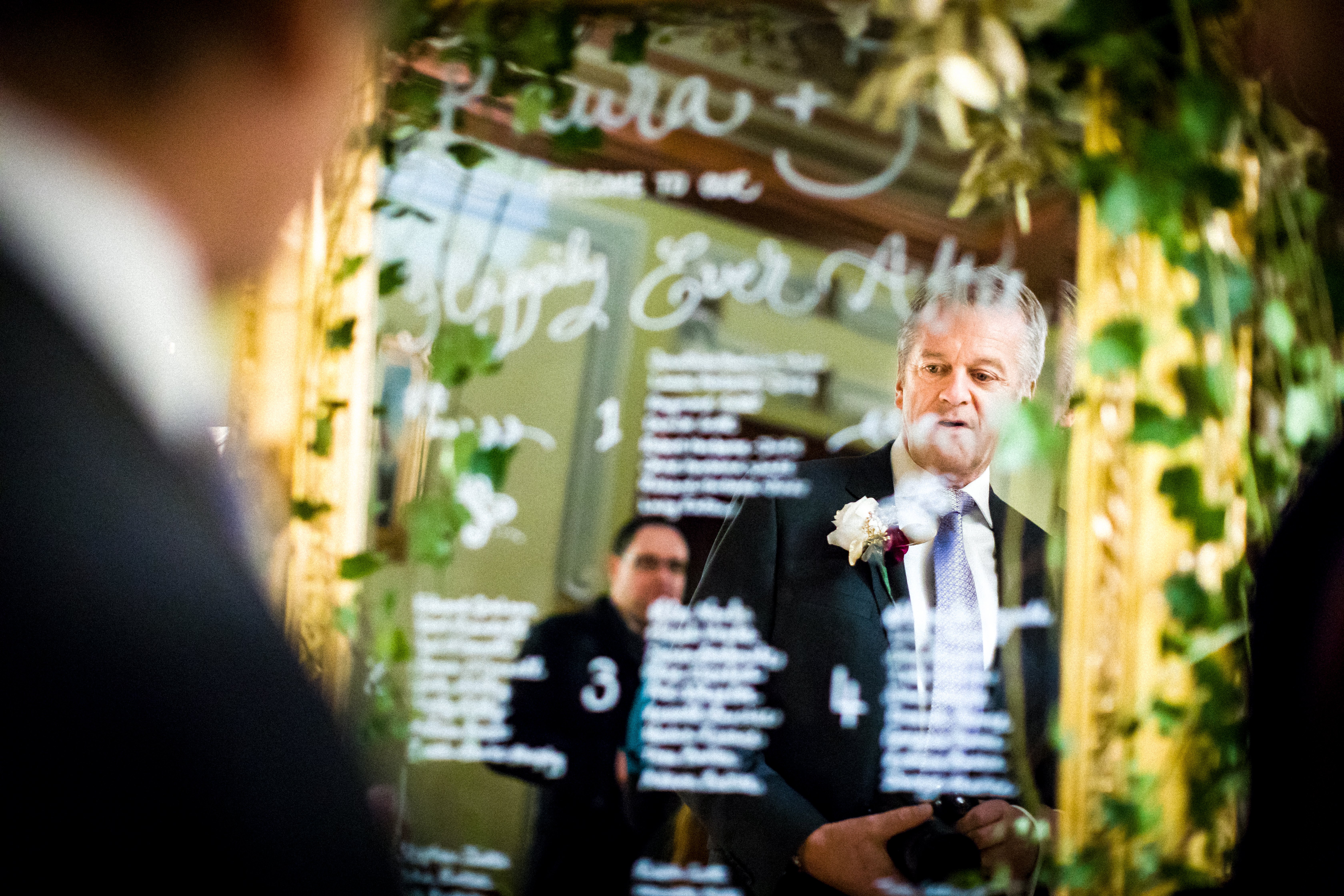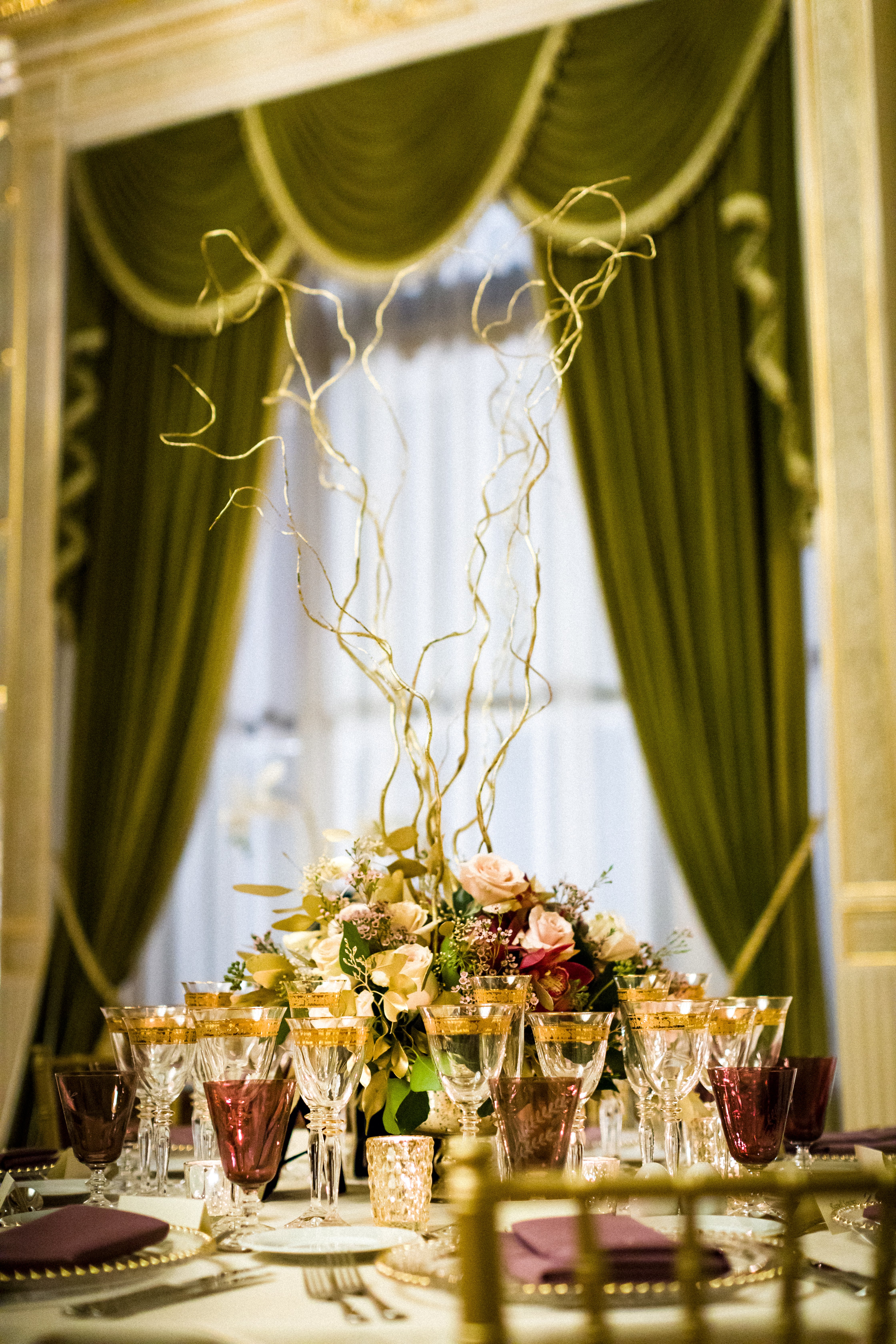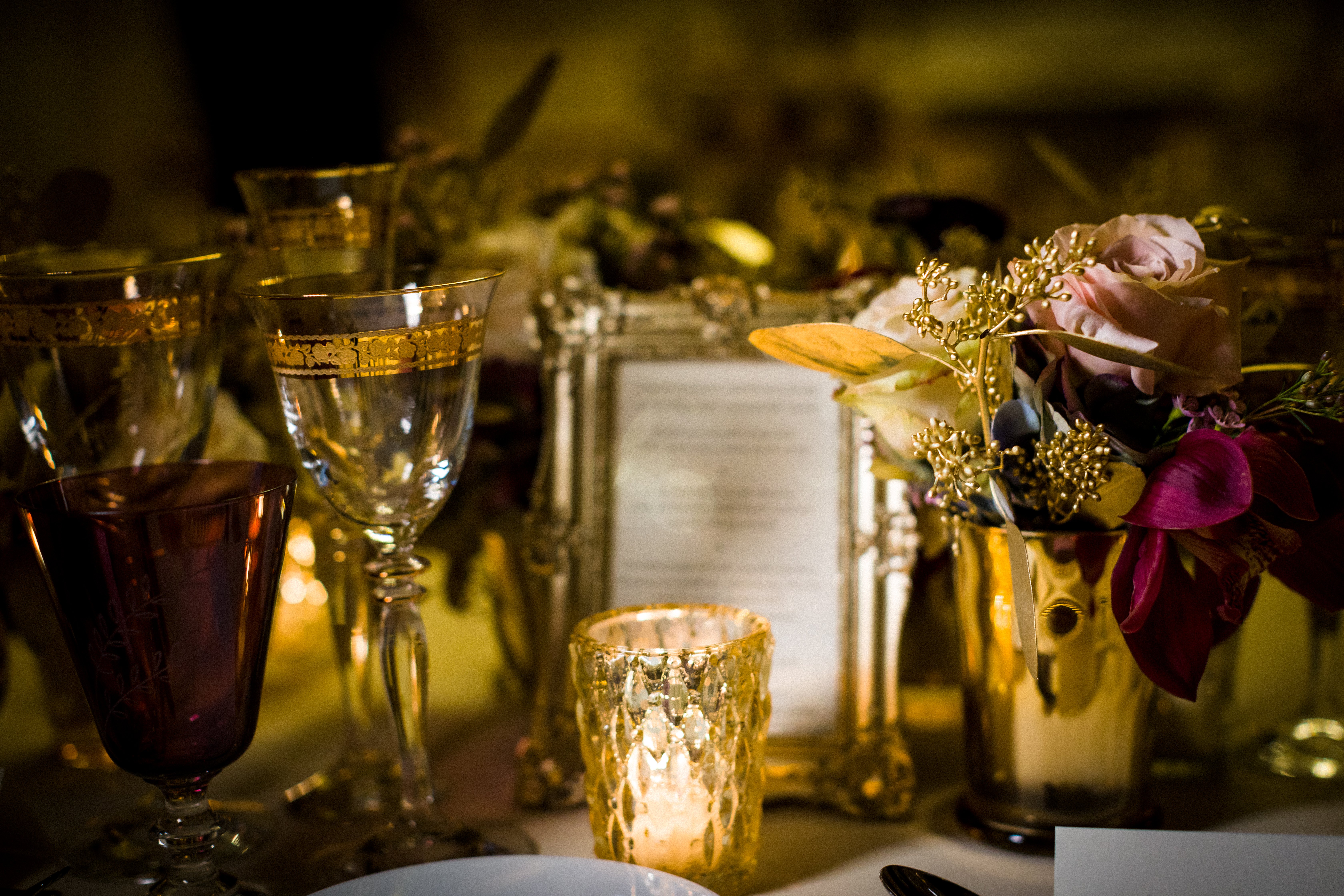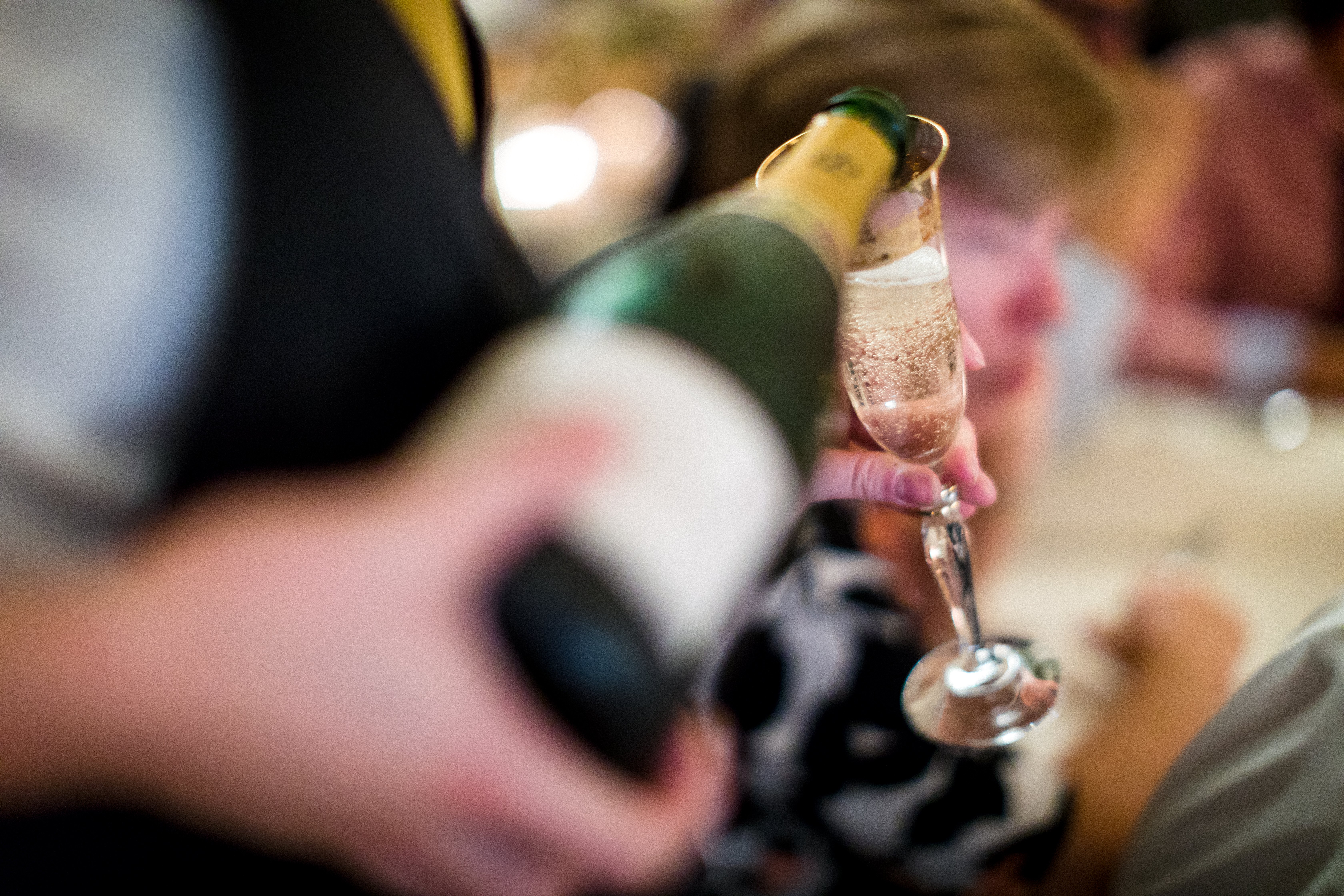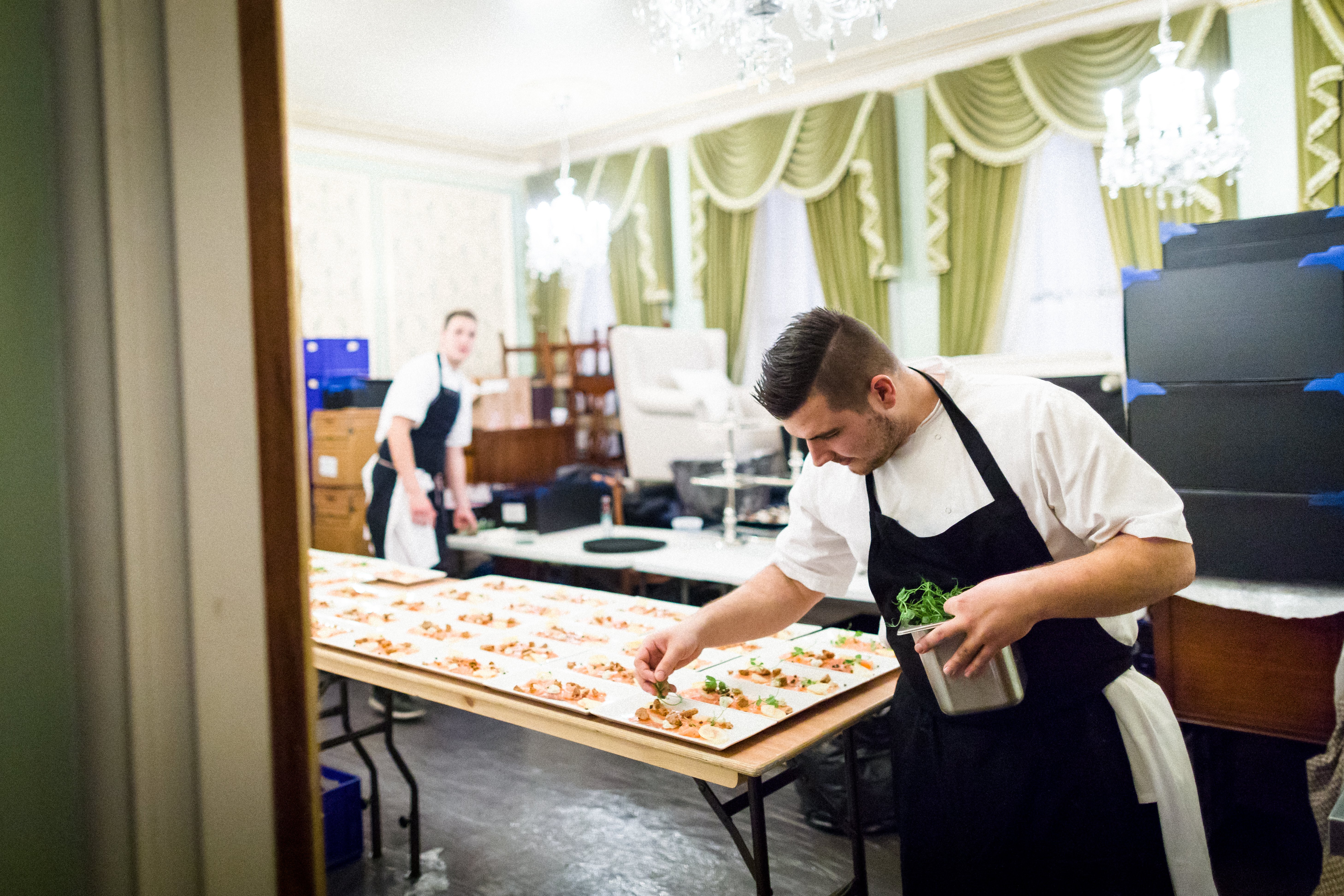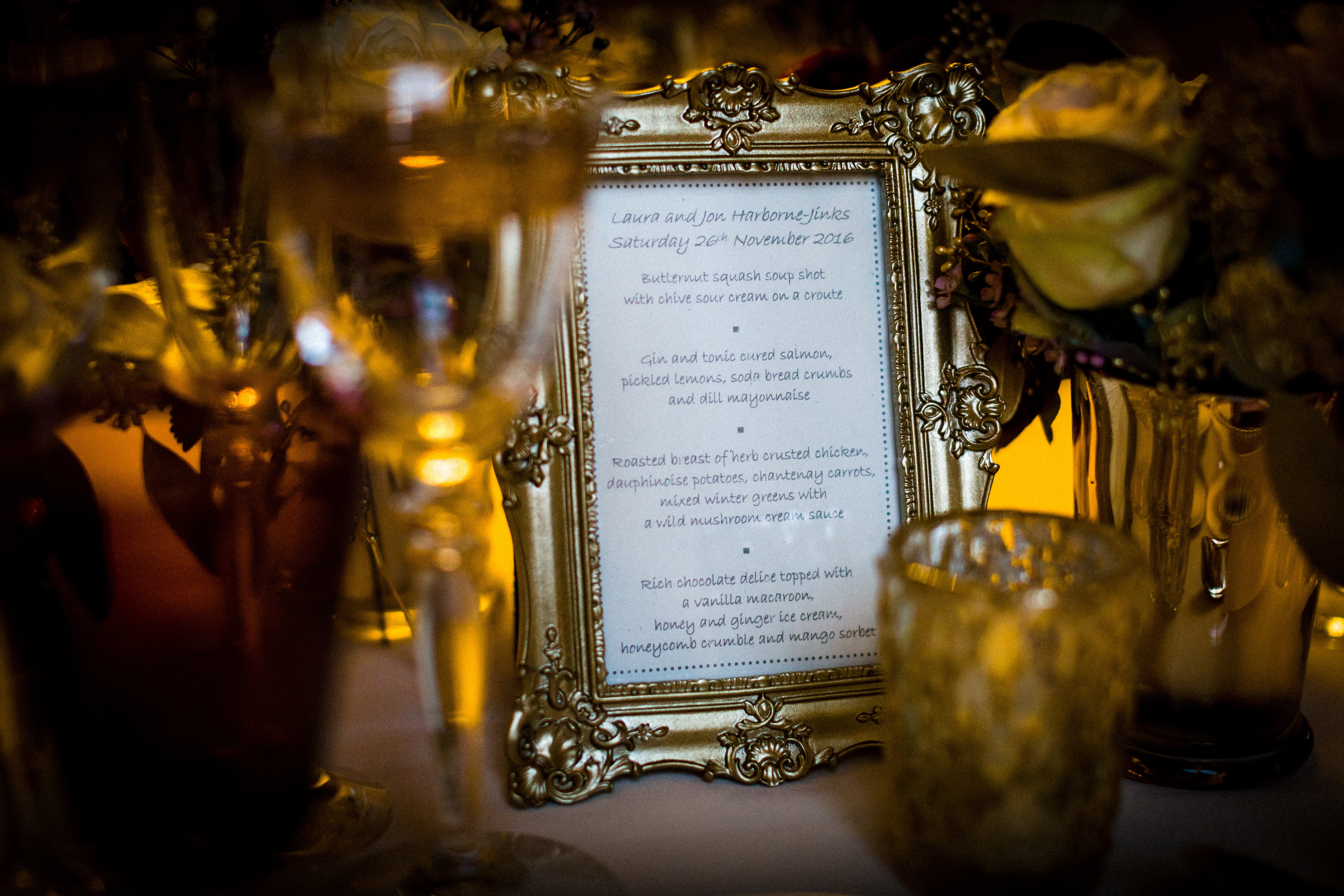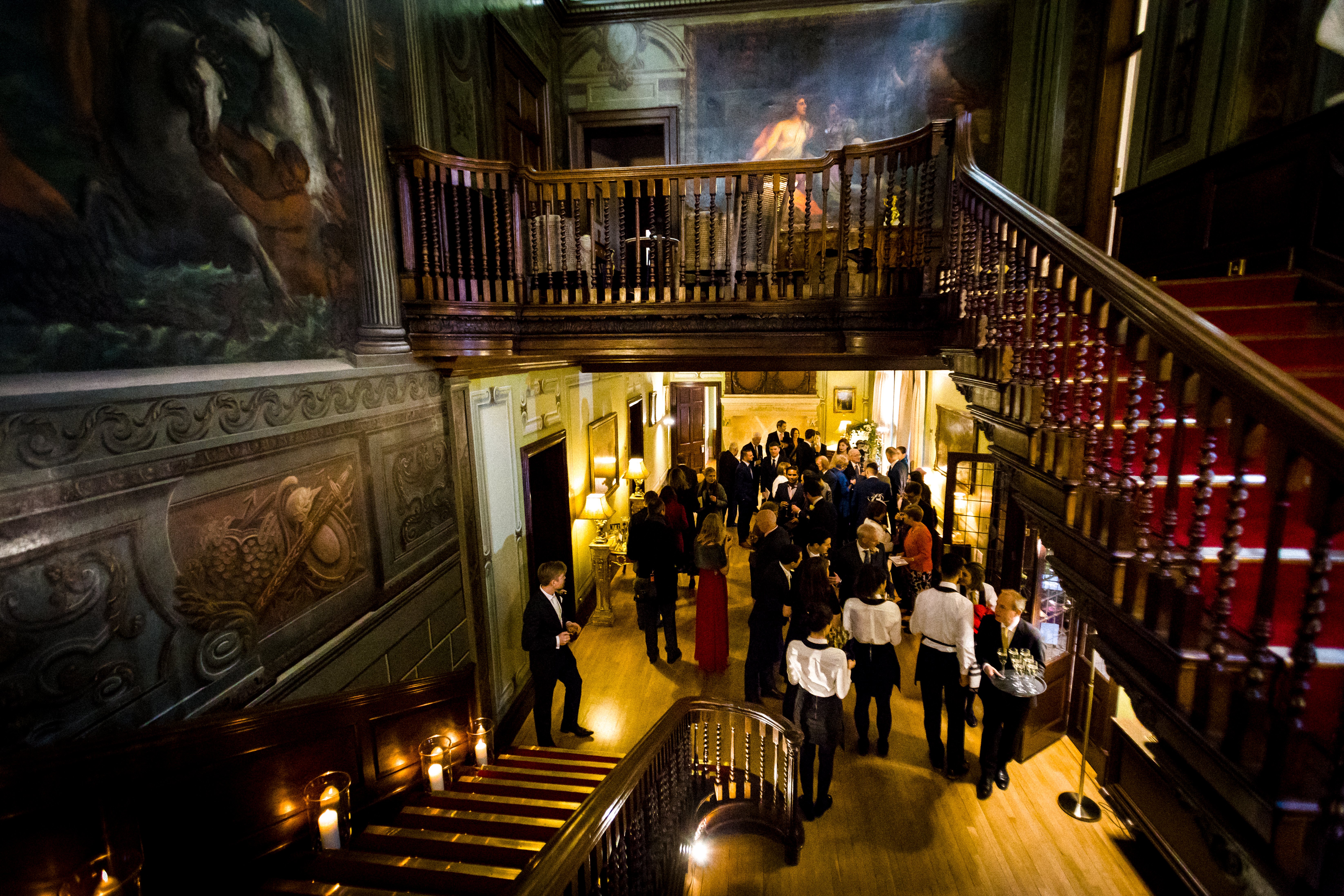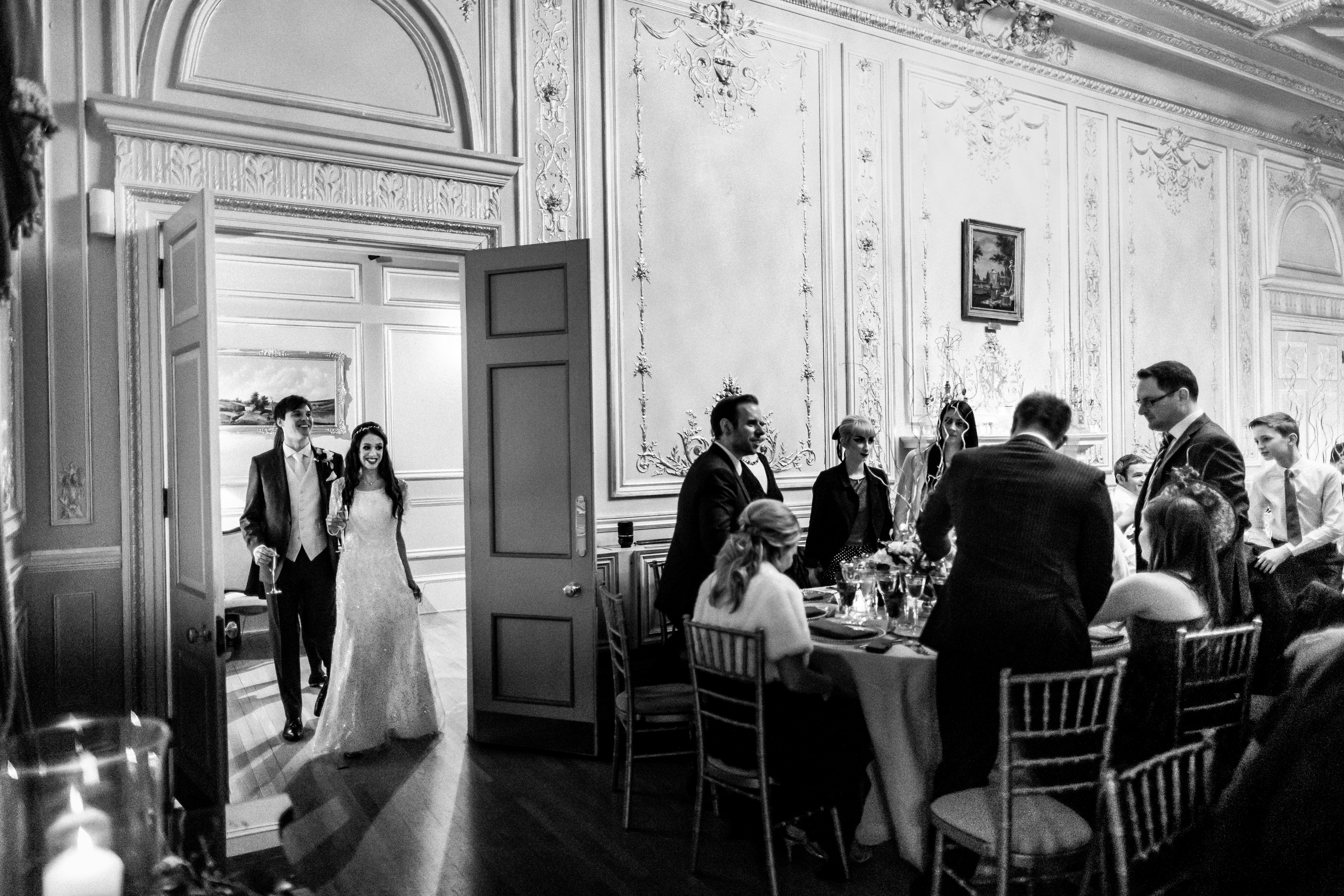 After taking some group photographs outside we were announced into beautiful Salon room as Mr & Mrs for dinner! It was so lovely to see the beautiful theme of gold and aubergine spring to life. Our beautiful flowers were created by florist Fabienne Egger.
Our theme was opulent gold and burgundy with a rustic twist. If you're looking at unusual wedding venues add some luxurious twists for a unique twist on luxury meets woodland charm.
Our wedding caterer was At Home catering who are so incredibly talented at what they do, their food is incredible moorish! We created a bespoke menu together and the final result was mouthwateringly delicious.
Freshly baked bread rolls & butter
♦
Amuse Bouche
Butternut squash soup shot with chive sour cream en croute
♦
Gin & tonic cured salmon
Pickled lemons, soda breadcrumbs & dill mayonnaise
♦
Roasted breast of herb crusted chicken Dauphinoise potatoes, chantenay carrots, mixed winter greens & wild mushroom cream sauce
Rich Chocolate Délice
Vanilla bean macaron, honey & ginger ice cream, mango tuille & mango coulis
♦
Tea & Coffee & Petit Fours
The food was presented beautifully and was truly out of this world. The floral creative decoration was beautiful, each table had golden bowled centre pieces with an explosion of golden twigs surrounded by seasonal aubergine, cream, pink flowers such as roses, hydrangeas, wax flowers, berries, and Cymbidium orchids with surrounding delicate foliage. Each centre piece was styled with golden glass tea lights for a touch of added sparkle.
The bouquets were based on the theme of aubergine, cream with a hint of gold including roses, wax flowers, chocolate cosmos with golden foliage on their stems bound with a long golden satin ribbon with pearl ended pins. I wanted to go for a mixture of opulent and rustic.
The colours worked in harmony with the exquisite salon room.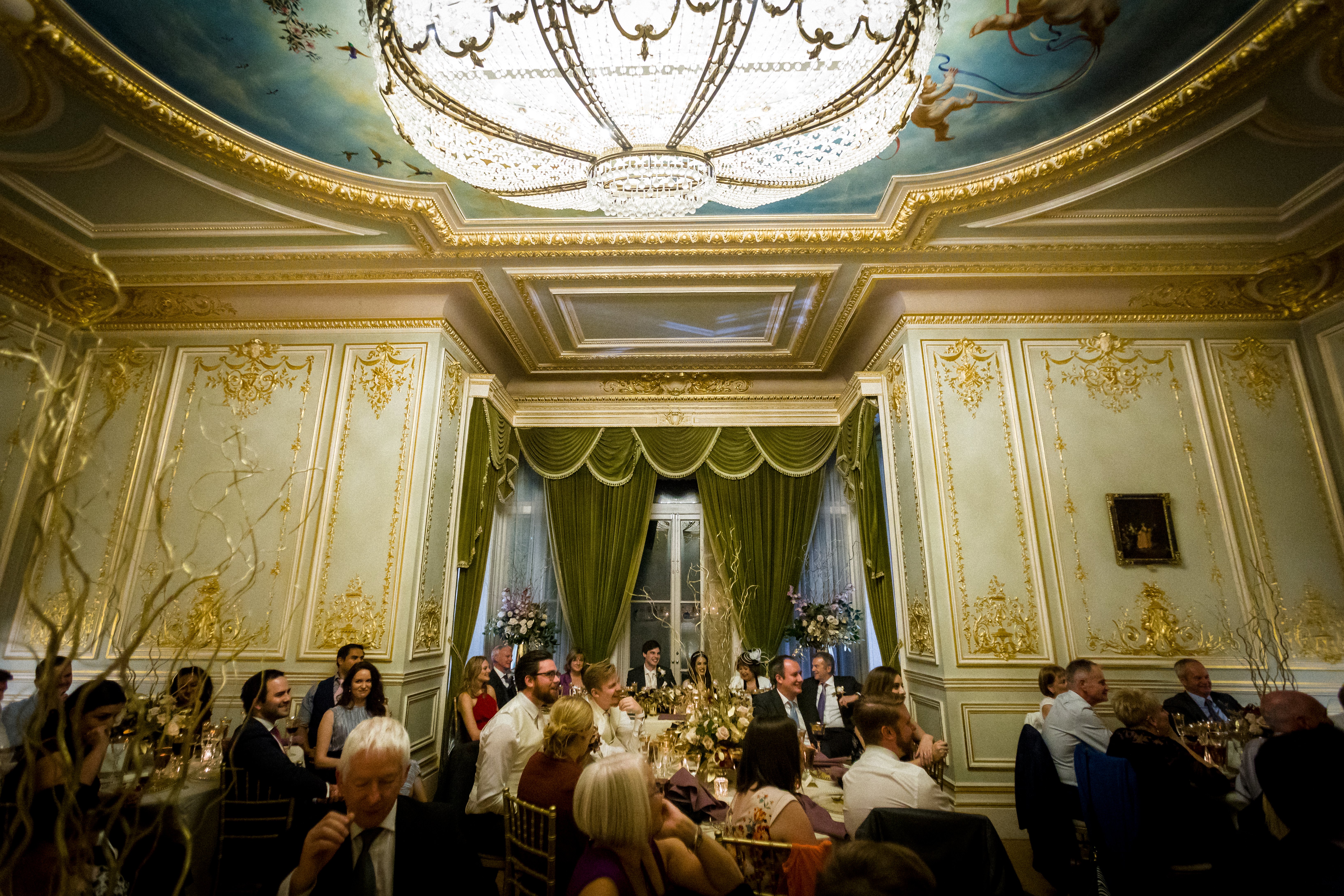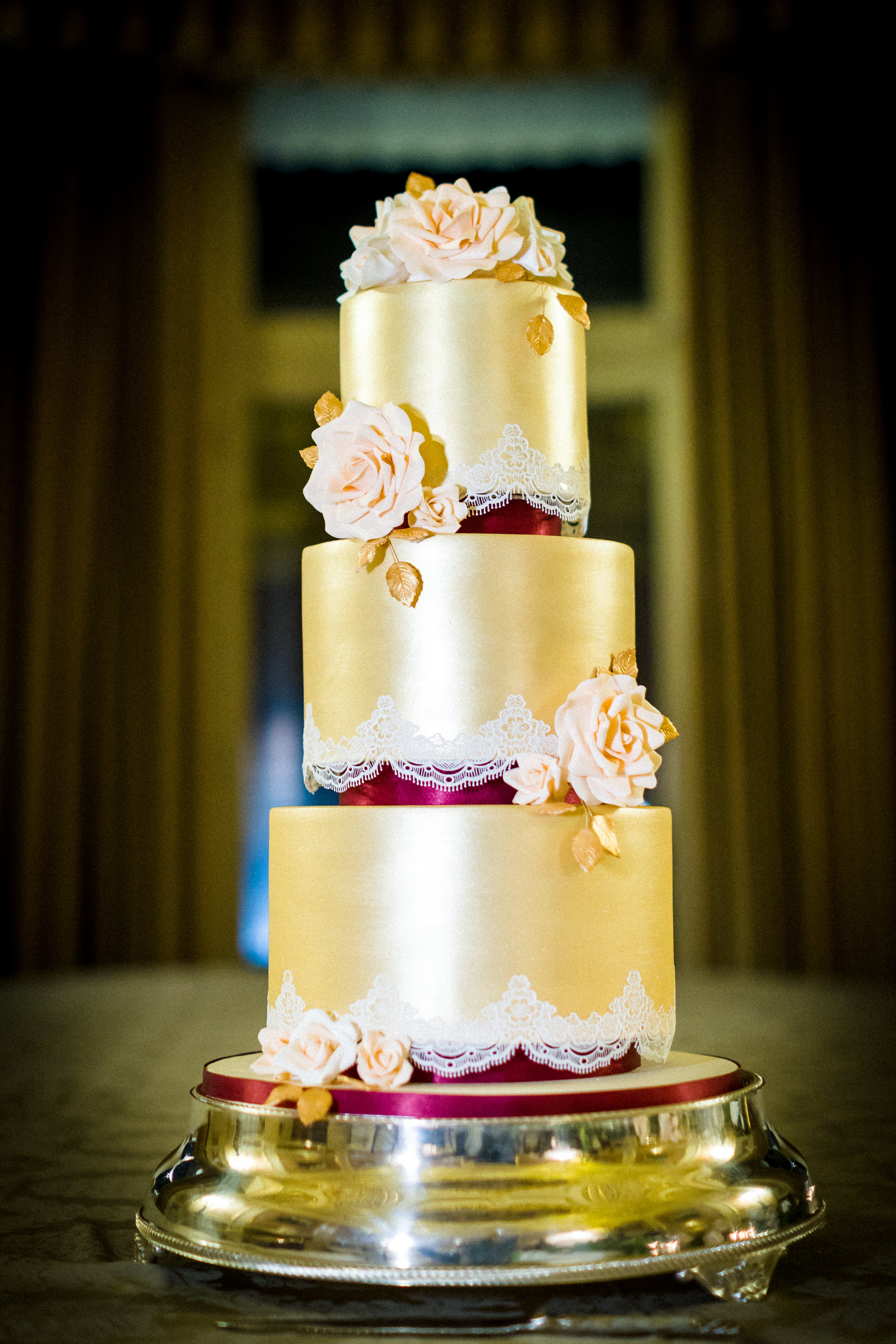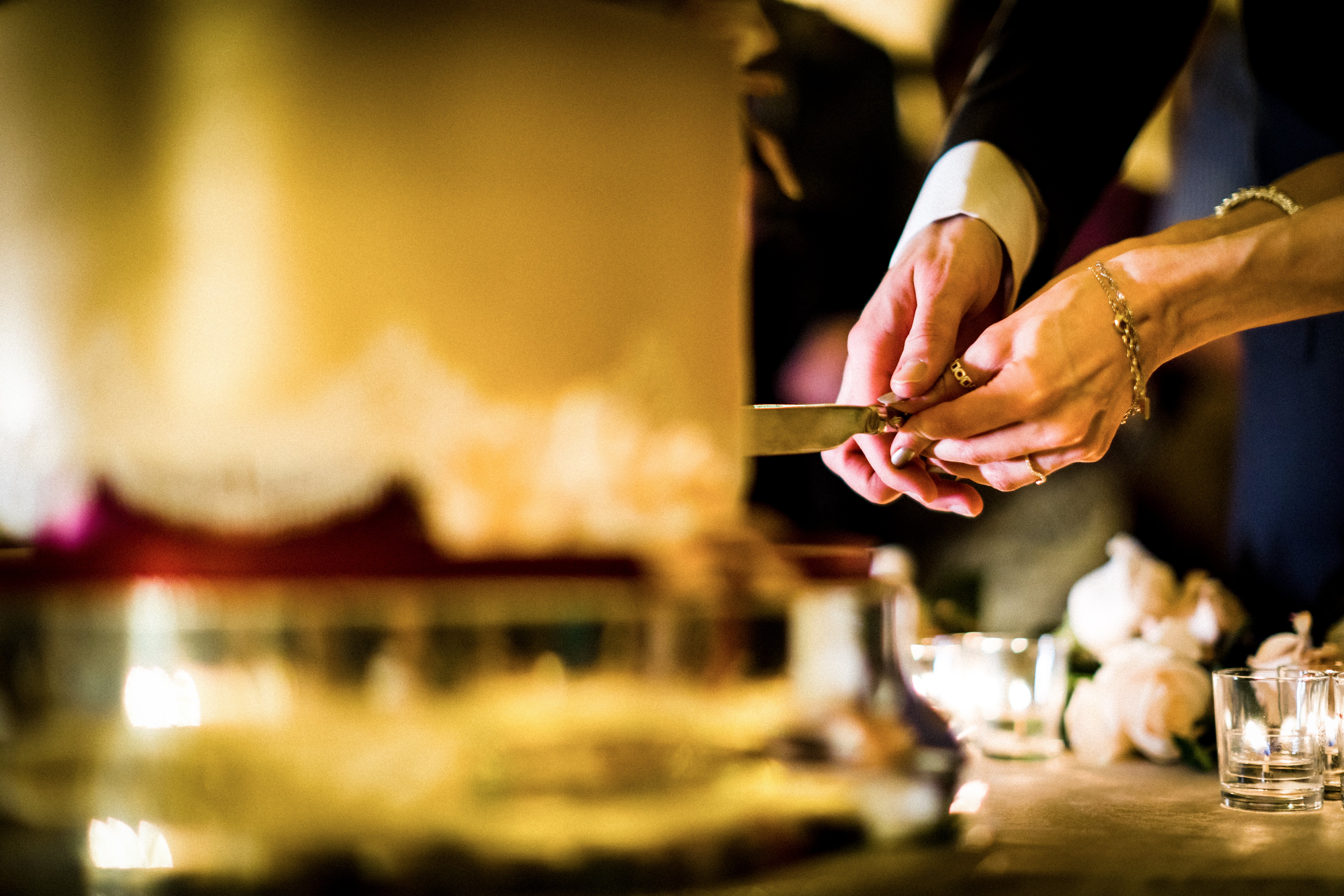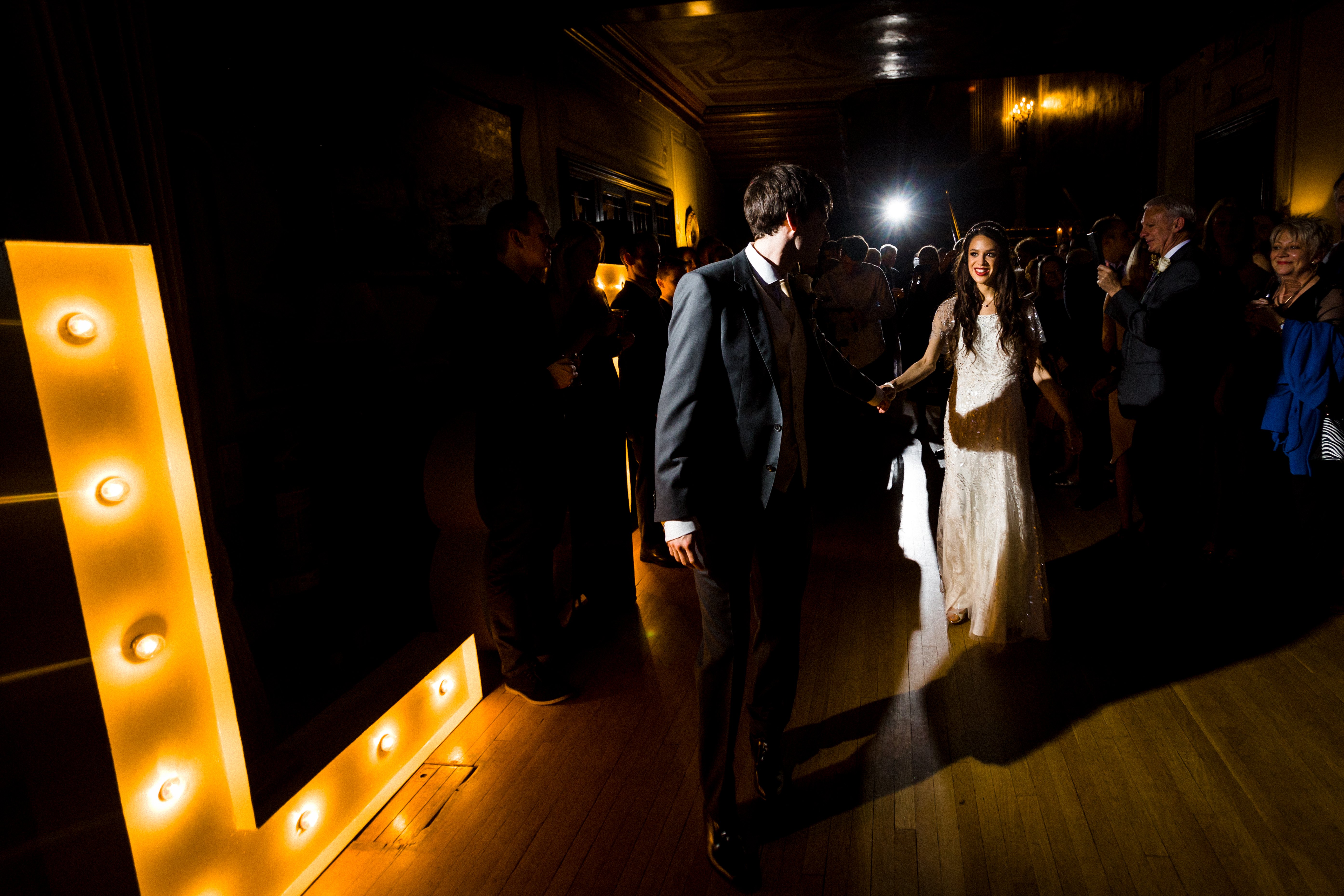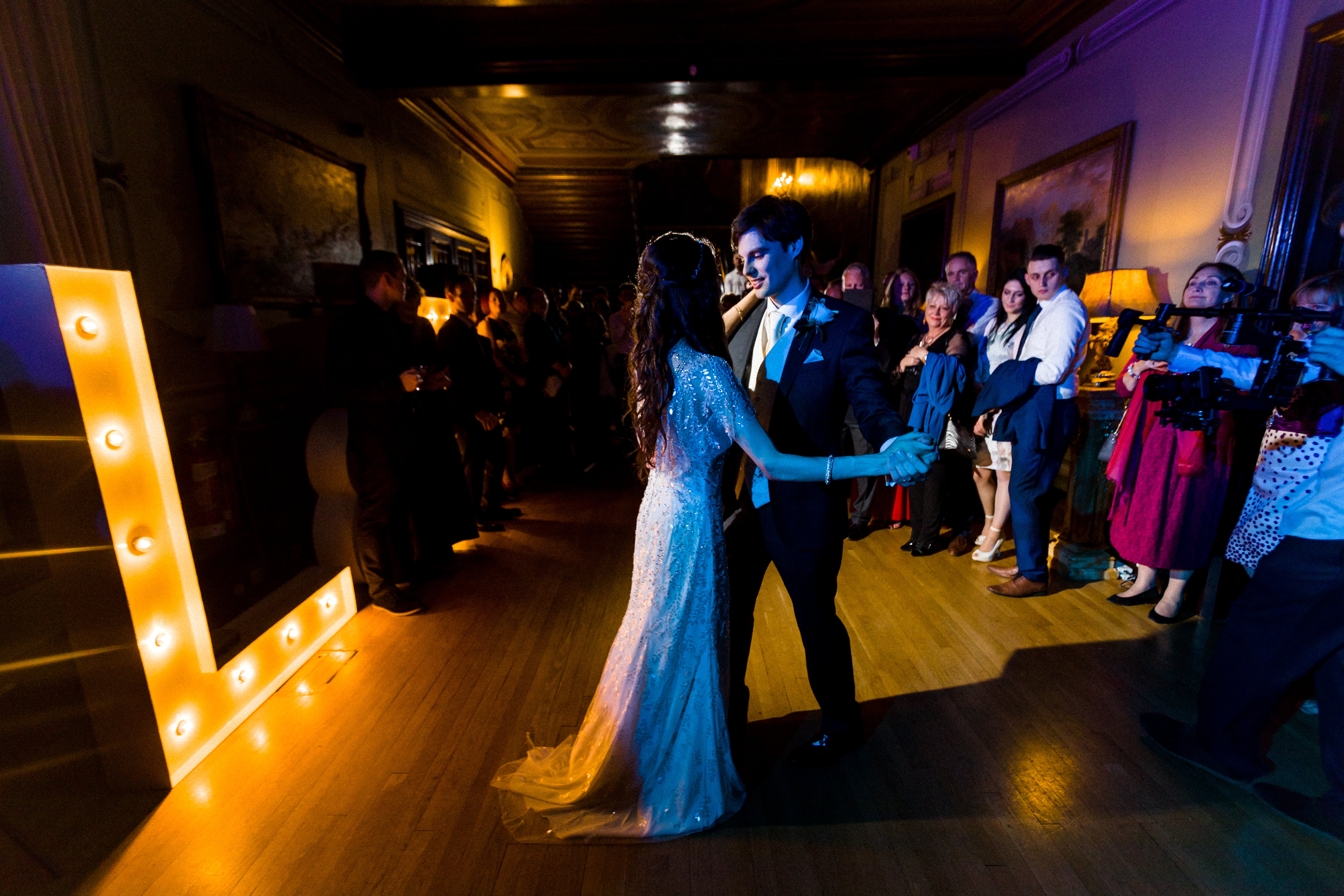 After dinner and speeches we headed to cut our delicious cake made by Jeannette's Great Cakes, we worked together to create a golden wedding cake with hand-made sugar flowers, and golden leaves. A burgundy ribbon was added to match the bridesmaids gowns. Two tiers included vanilla sponge, jam and buttercream, one included carrot cake with orange buttercream, delicious!
Soon after our reception started and it was shortly time for our first dance, we chose Michael Buble's 'Close Your Eyes' which was a beautiful song to dance too. We got lost in one another on the dance floor, it really was truly a magical moment.
Our evening reception was a wonderful one, it was so lovely to see people enjoying themselves. After yet another delicious foodie feast of mini cheeseburgers, cake, and canapes, it was time for our guests to enjoy themselves on the dance-floor.
Our wedding DJ was the talented Matt Maurice who really got people going on the dance-floor, I went for a mix of Classic Rock, Funk and Blues. Some favourites 'The Sultans of Swing' by Dire Straits, 'Superstition' by Stevie Wonder, and 'Get Down on It' by Kool and The Gang. I love a Rock n'Roll vibe!
Our wedding at St John The Baptist and Fetcham Park truly was a magical experience and a day to remember, I'm so thankful for photographer Paul Rogers for capturing so many wonderful moments and the entire team who made our wedding day go so smoothly.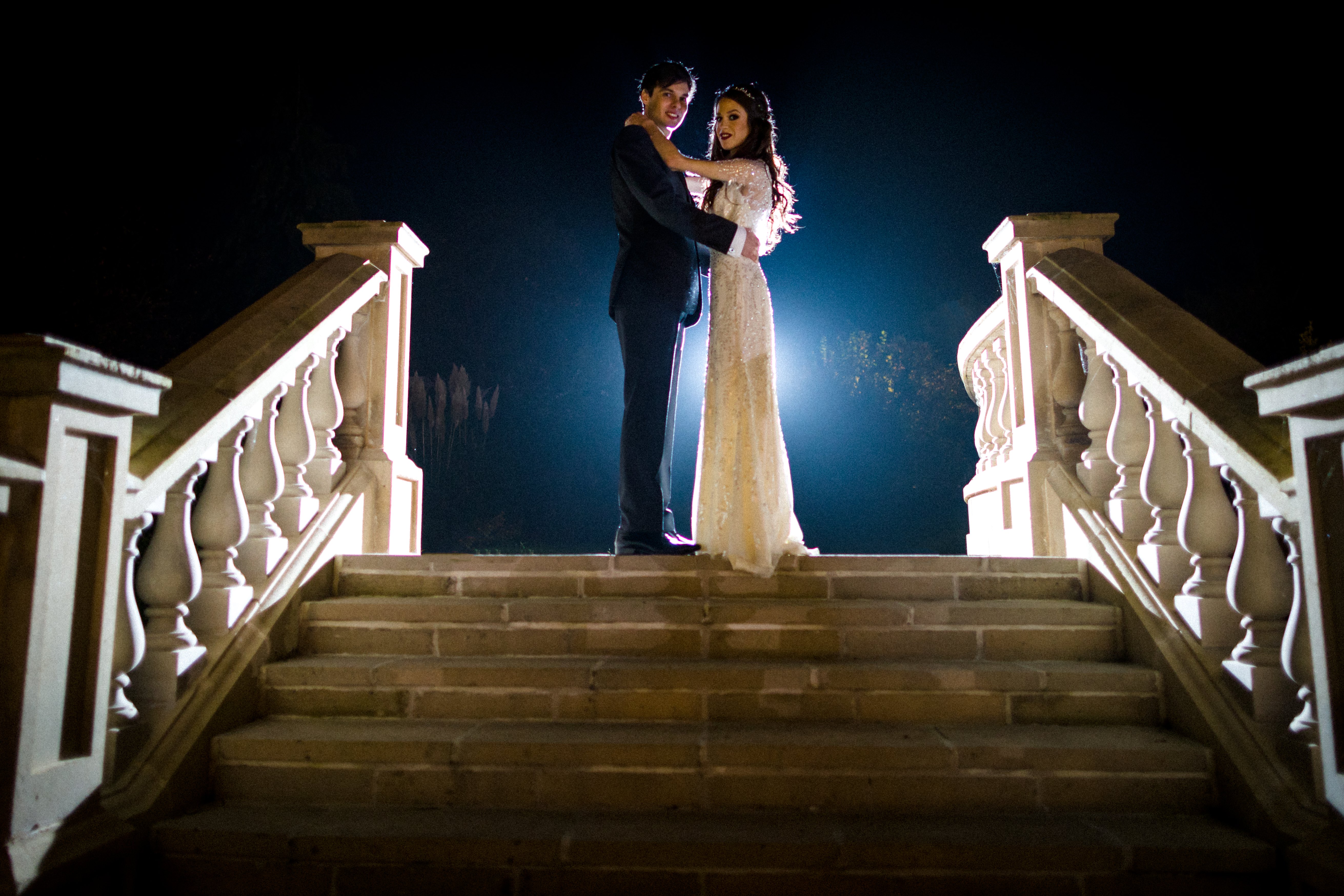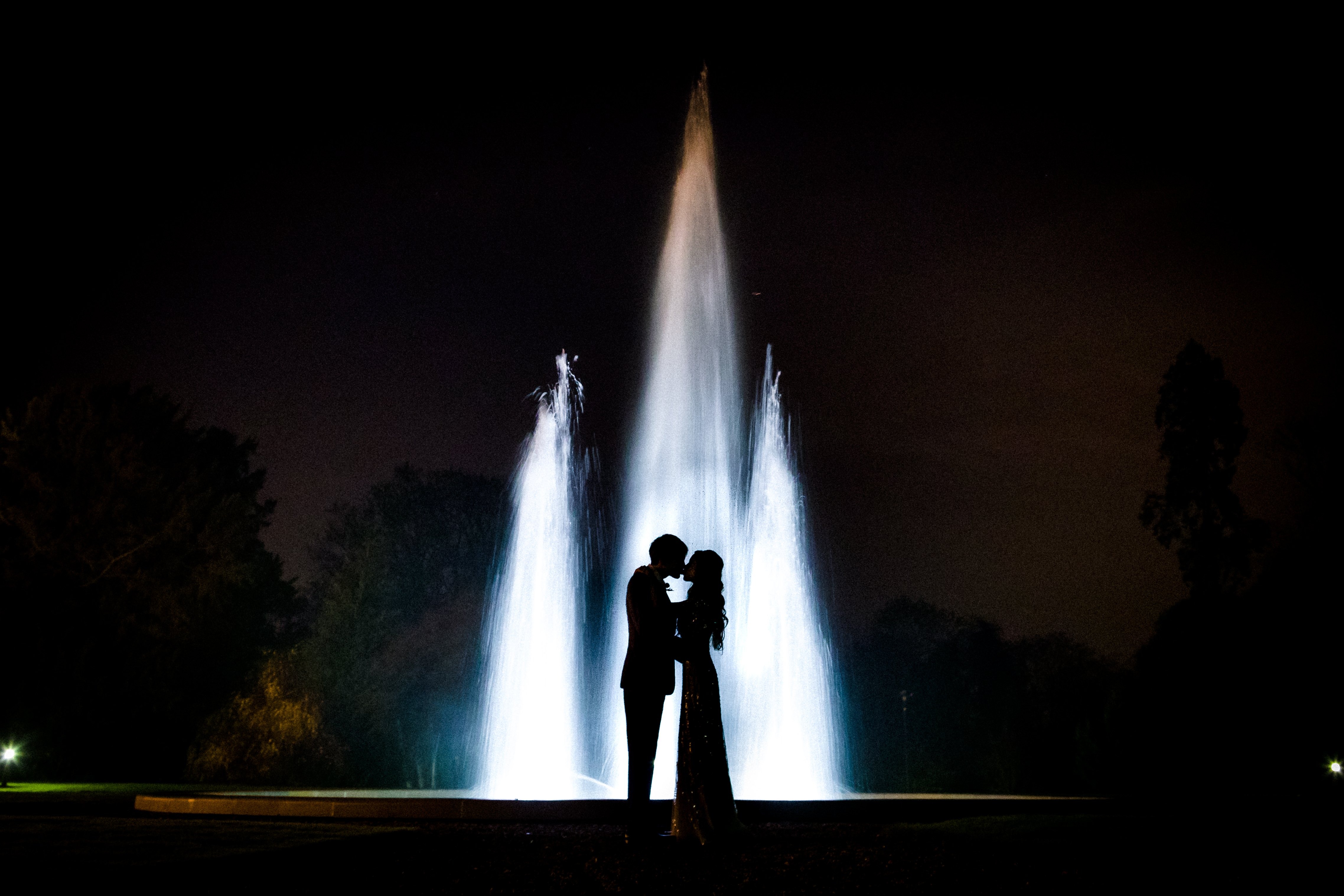 Our talented videographer Rupa Photography created a wonderful wedding video for us, memories to cherish forever. Below is a sneak preview which I hope you enjoy!
Words from Laura Caudrey owner of Fetcham Park:
Hosting any wedding is always wonderful but Winter weddings have an extra special place in my heart given that I launched the house as a wedding venue following my own Fetcham Park wedding in December 2010.

There's just something so romantic about that time of year; the cold forces everyone inside and the house creates a special kind of warmth that welcomes you in and invites you to have fun.  Fetcham Park is never lovelier than when filled with people; great houses like this were built for entertaining and it's why we love sharing it with people.  Add in the happiness and love that a wedding day provides and there really is nowhere else I'd rather be!

Whilst Fetcham Park is beautiful year-round, there's something so enchanting about the house as the light fades and candlelight provides a magical glow.  Laura knew exactly how she wanted the house to look and feel and together with Fabienne Eggar, it's never looked more beautifully festive.

Laura had considered each and every detail of the day and whilst I always caution brides not to obsess too much over the detail – after all, a wedding day is about a marriage, not just Pinterest pretty! – everything that'd shed organised was thoughtful, elegant and beautifully in keeping with the décor of the house itself.  I love it when couples fall in love with the house and incorporate it into their styling; seeing it all come together is always a joy, especially when you've seen a couple's ideas evolve over the months of planning.

Laura worked with an amazing team of Laura Loves suppliers and, as ever, I was amazed by the work that each and every person put into making the day everything Laura & Jon dreamed of.  My hope is that we exceed expectations both for a couple, and their guests, and leave them with magical memories of a day never to be forgotten. 

– Laura Caudery 
Fetcham Park truly was a magical place to celebrate our marriage and enjoyed every moment with family and friends. Thank you to all of the support of the wedding team who were truly supportive and helped bring creative ideas to life.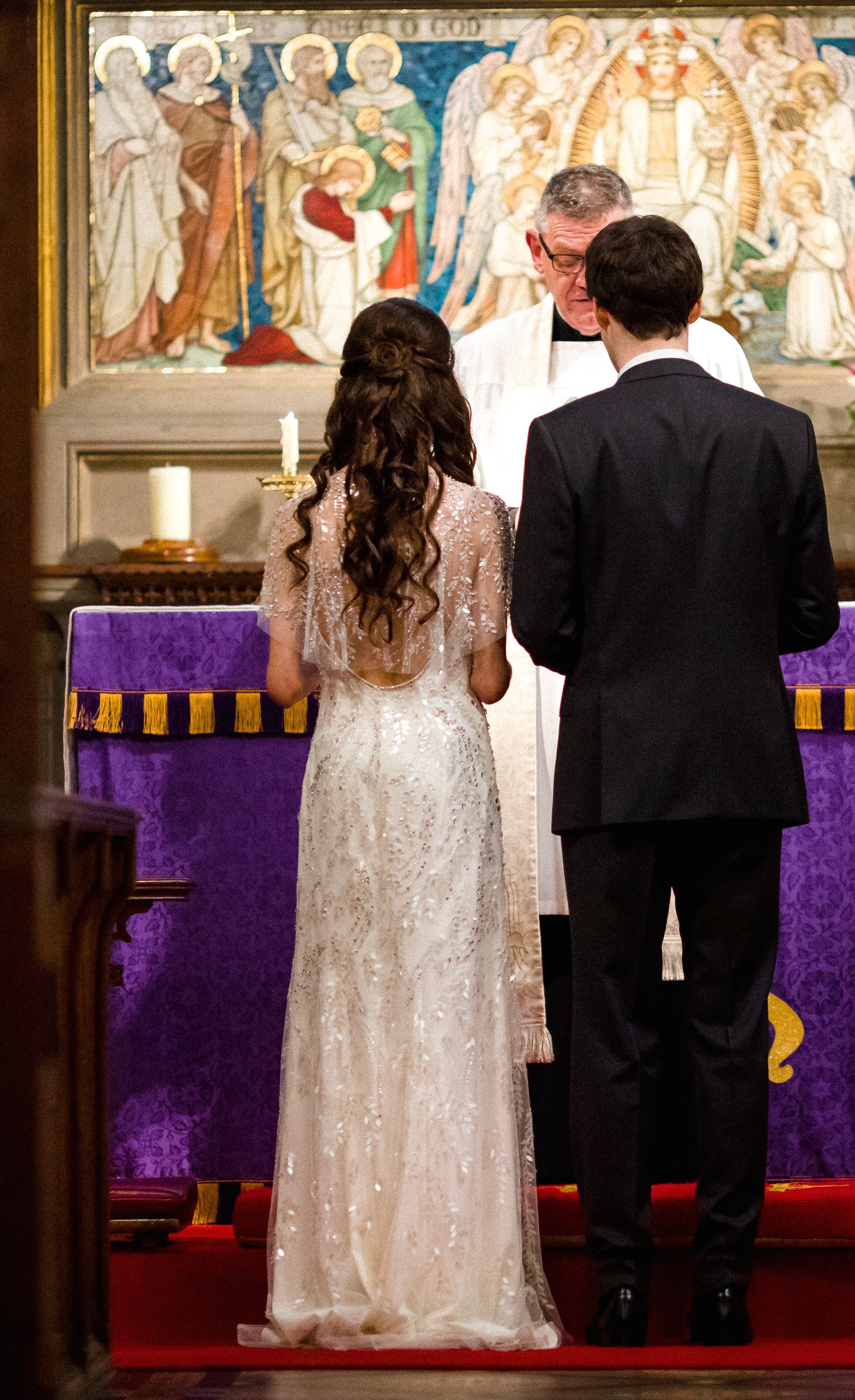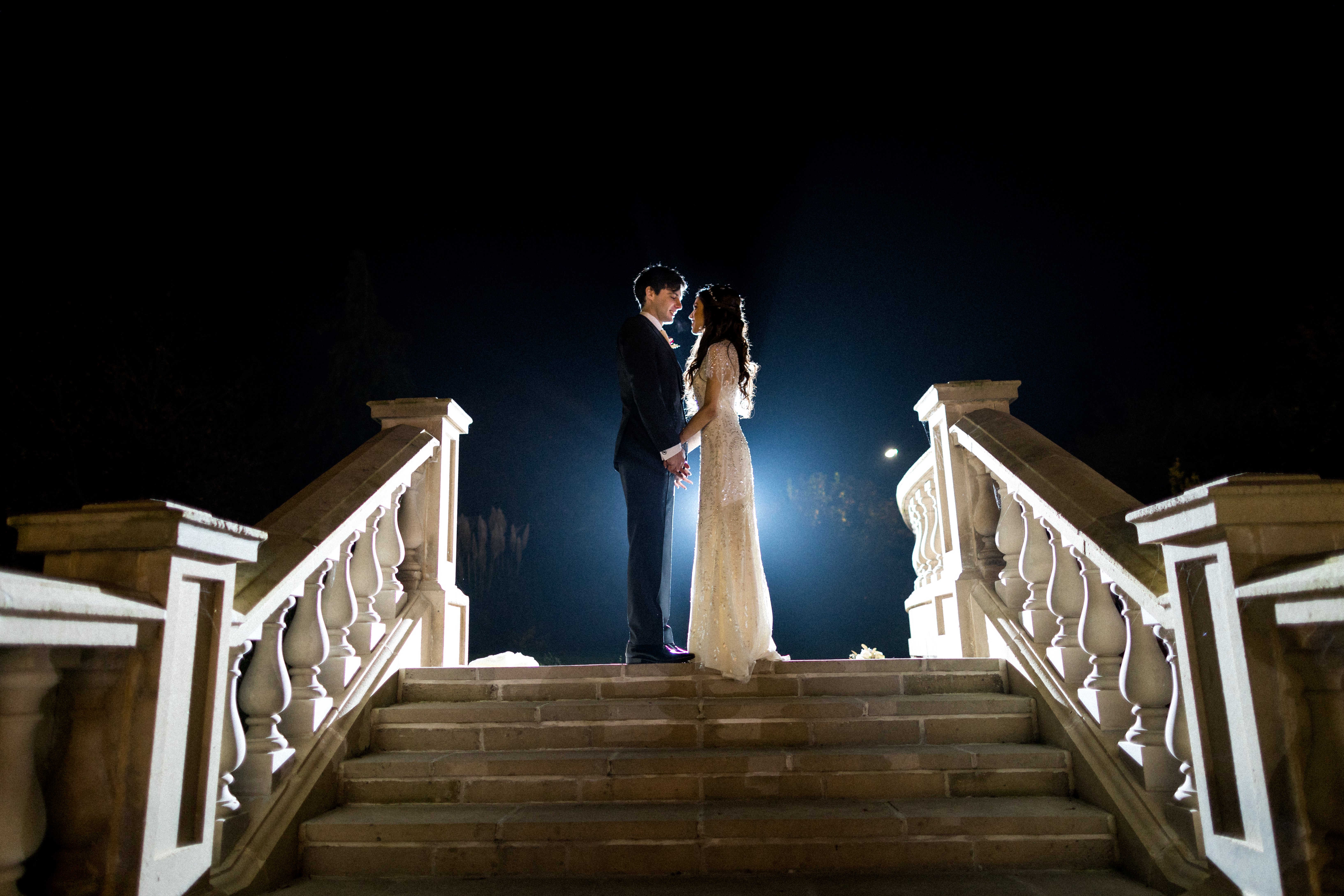 The Dress & outfits
Choosing a wedding dress was a wonderful experience, I've aways been somebody who has believed I would find the dress upon first visit, this is exactly what happened!
I wore the 2017 Hilda detailed beaded dress by Jenny Packham which was in a beautiful ivory colour. Proud to say that I was the first bride to wear this dress, something which the team at the bridal store were very excited about.
The team were so helpful in helping me get the dress of my dreams, as usually it would be a six month wait for new season. Thankfully they managed to call in the dress and then I had it tailored by their talented seamstress to fit my size.
Going to the bridal store was a wonderful experience, their attention to detail ensuring the dress fitted perfectly, and giving me tips on how to walk was ever so helpful. Always look up, walk with a straight back, and don't worry about the train (mine was fairly short so it wasn't a problem).
My dainty sparkly head-dress was also from Jenny Packham
Bridal shoes are so important, even if they're not seen all the time the comfort factor is so important as you're on your feet all day. I chose an elegant pair from Jimmy Choo. I wore the stunning Ivette champagne glitter strappy sandals which truly were the most comfortable shoes I have ever owned!
My bridesmaids were in Burgundy full length dresses also from Jenny Packham, they all looked so beautiful and the colour really blended in nicely with the opulent theme.
My handsome groom Jonathan wore a stunning Hugo Boss suit which was tailored to perfection, and a stunning lightly detailed paisley waistcoat from Neal and Palmer London. The groomsmen reflected his look and meshed in so wonderfully.
Wedding Tips
1/ Although a wedding day can be stressful, please ensure to relax and have a supportive team around you. Enjoy the creative wedding preparations from start to finish from cake tastings, floral ideas, decor, and the menu! Do some DIY aspects also, I created our little wooden wedding favours the day before and I was glad to see people pinning them to their outfits!
2/ Work with an experienced and professional photographer and videographer. Working with Paul as a photographer and Rupa's videography team was a pleasure, they captured imagery and footage very often without you knowing. Of course I love creative portraits, so do request this with your photographer, it's also a great time to have some alone time with your partner.
3/ Alone time! Although your wedding day is important to celebrate with family and friends, be sure to take various moments alone together to soak in moments of romance and to calm one another if nerves happen to arise at any moment, it helps so much.
4/ Having a talented makeup artist and hairdresser really helped me so much on the morning of our wedding day. It was lovely not to have to worry about doing it myself, have trails first to ensure you get the correct look first. It's very relaxing being pampered that's for sure.
5/ Enjoy ever single moment, you'll find your wedding day will go exceedingly quickly as you'll both be enjoying yourselves so much! Soak every moment in from start to finish, and enjoy the magical warm bubbly feeling that will last with you throughout the day!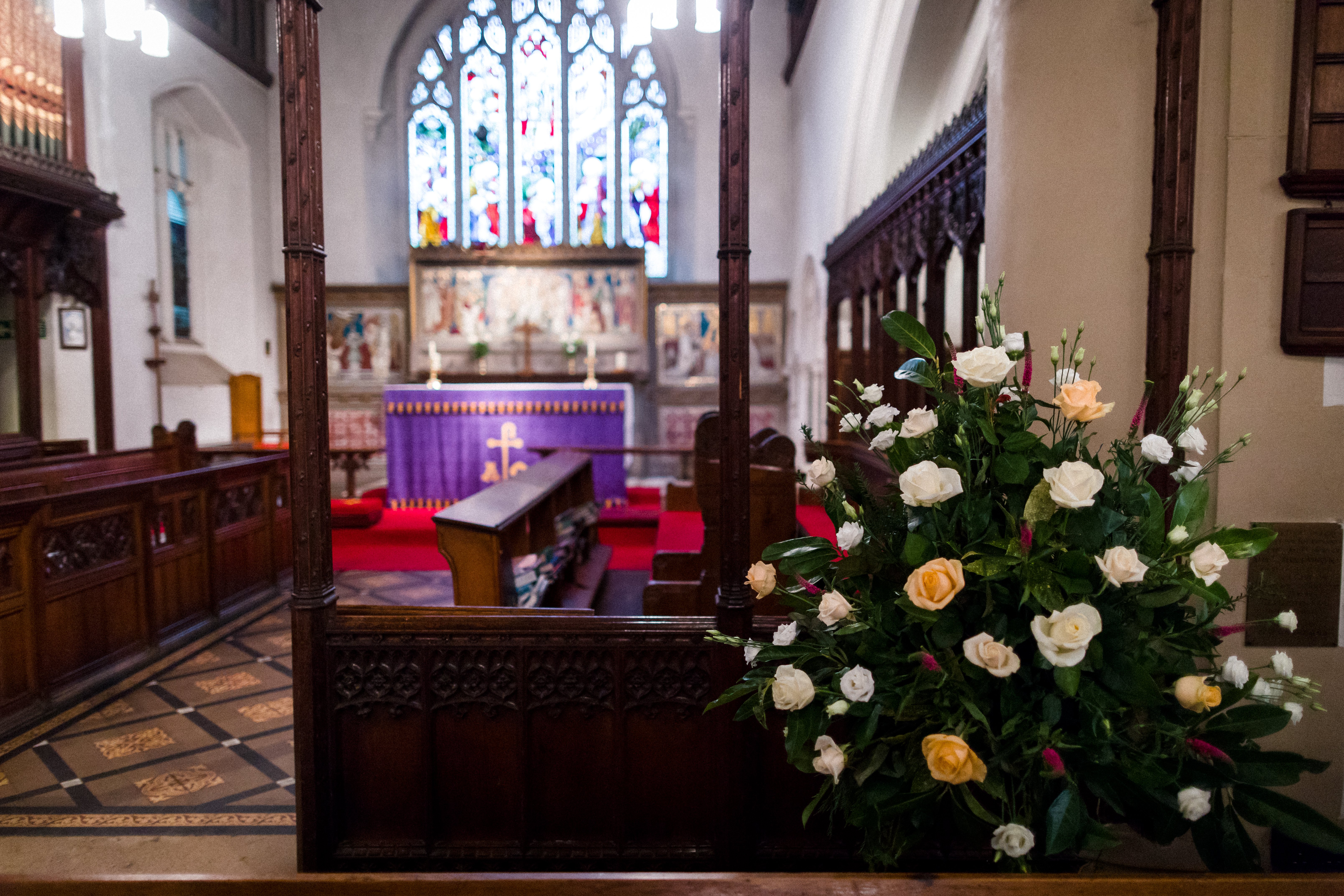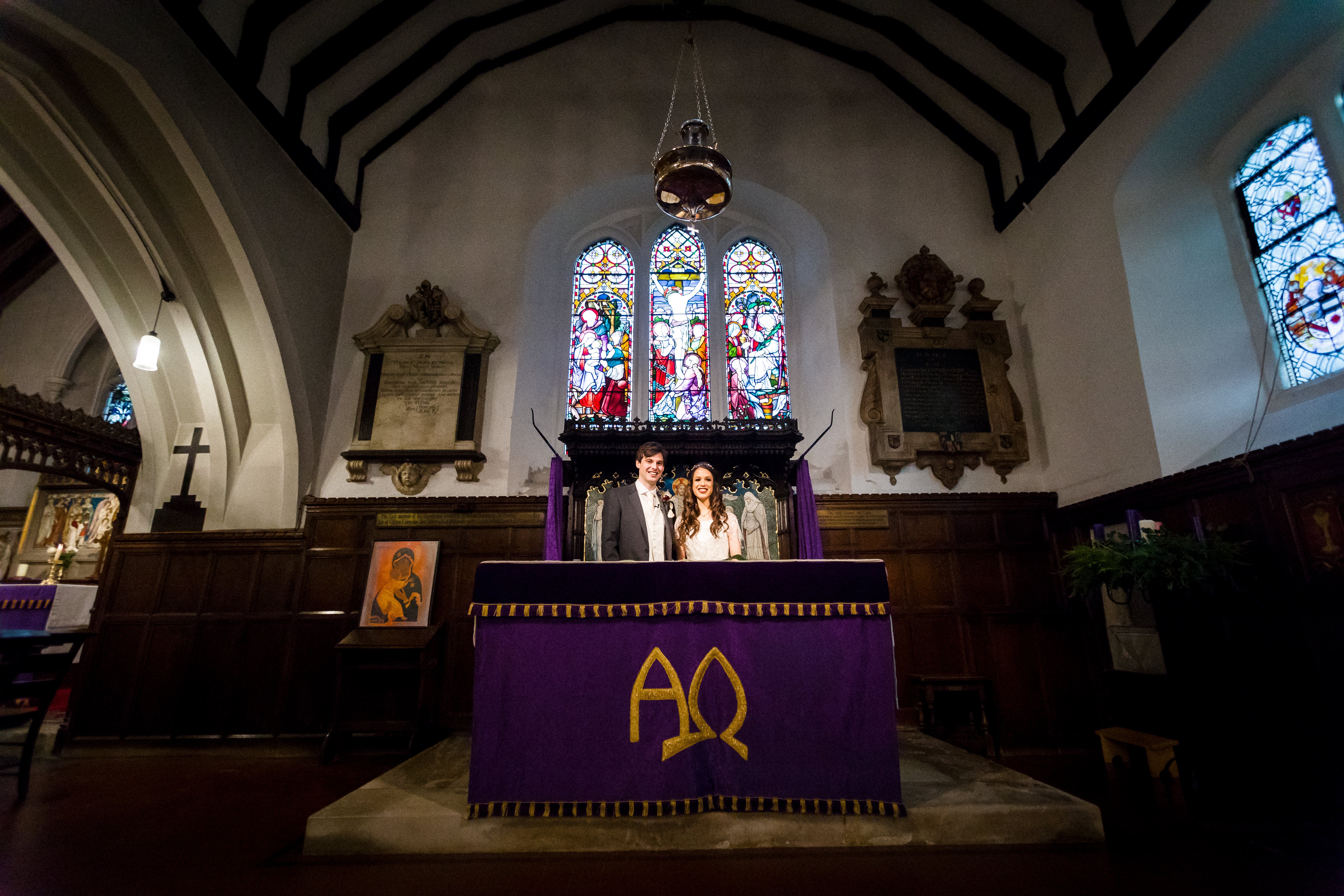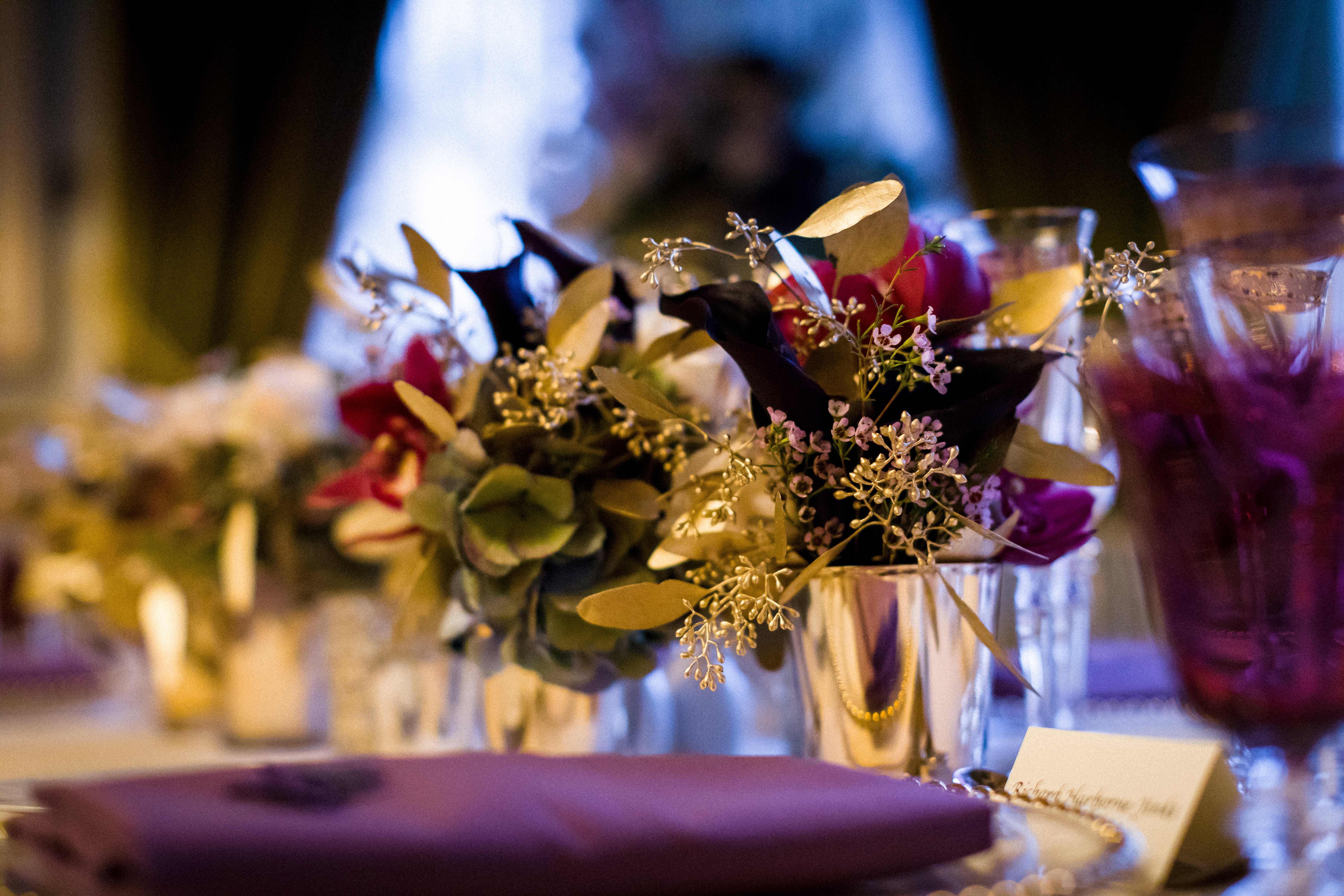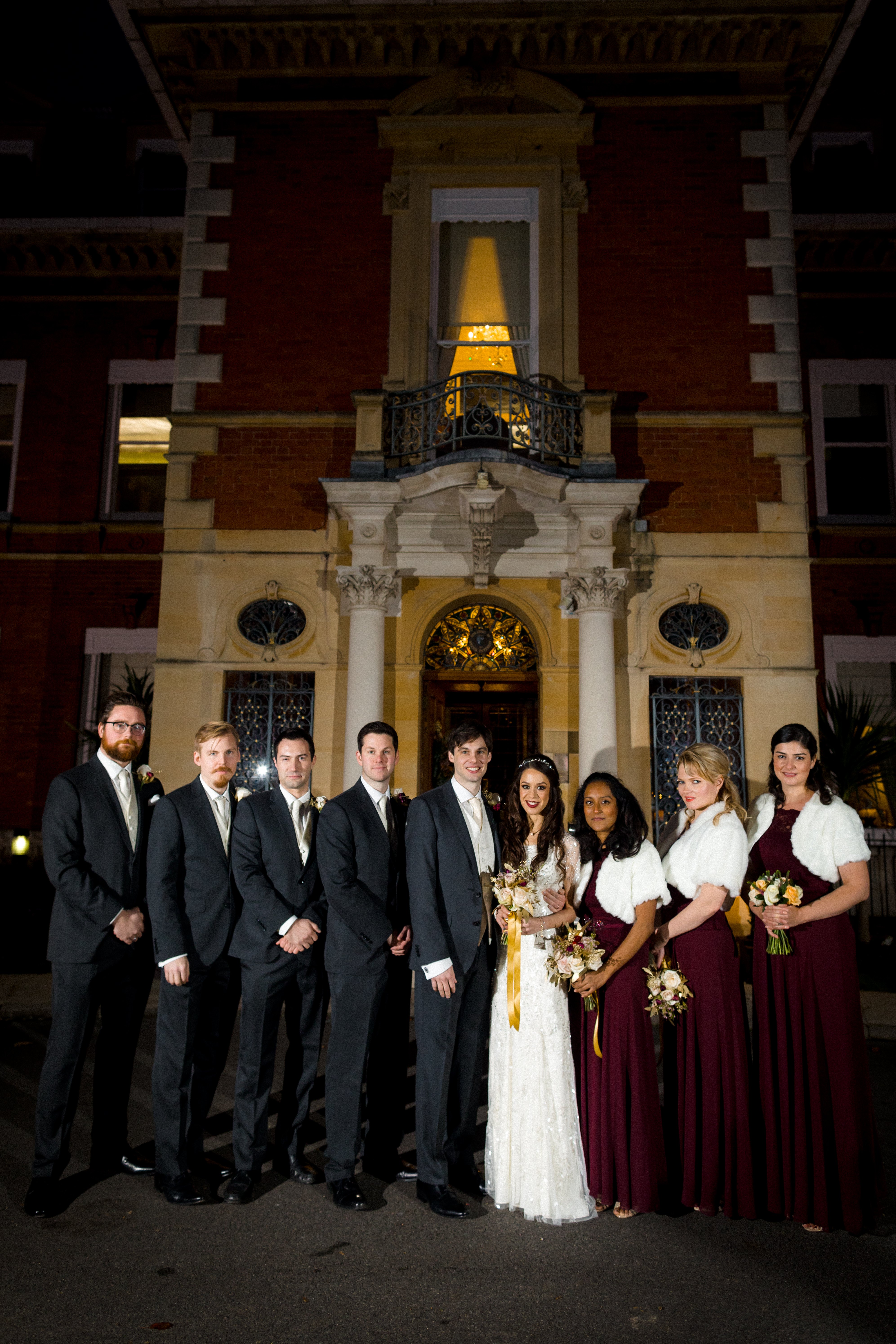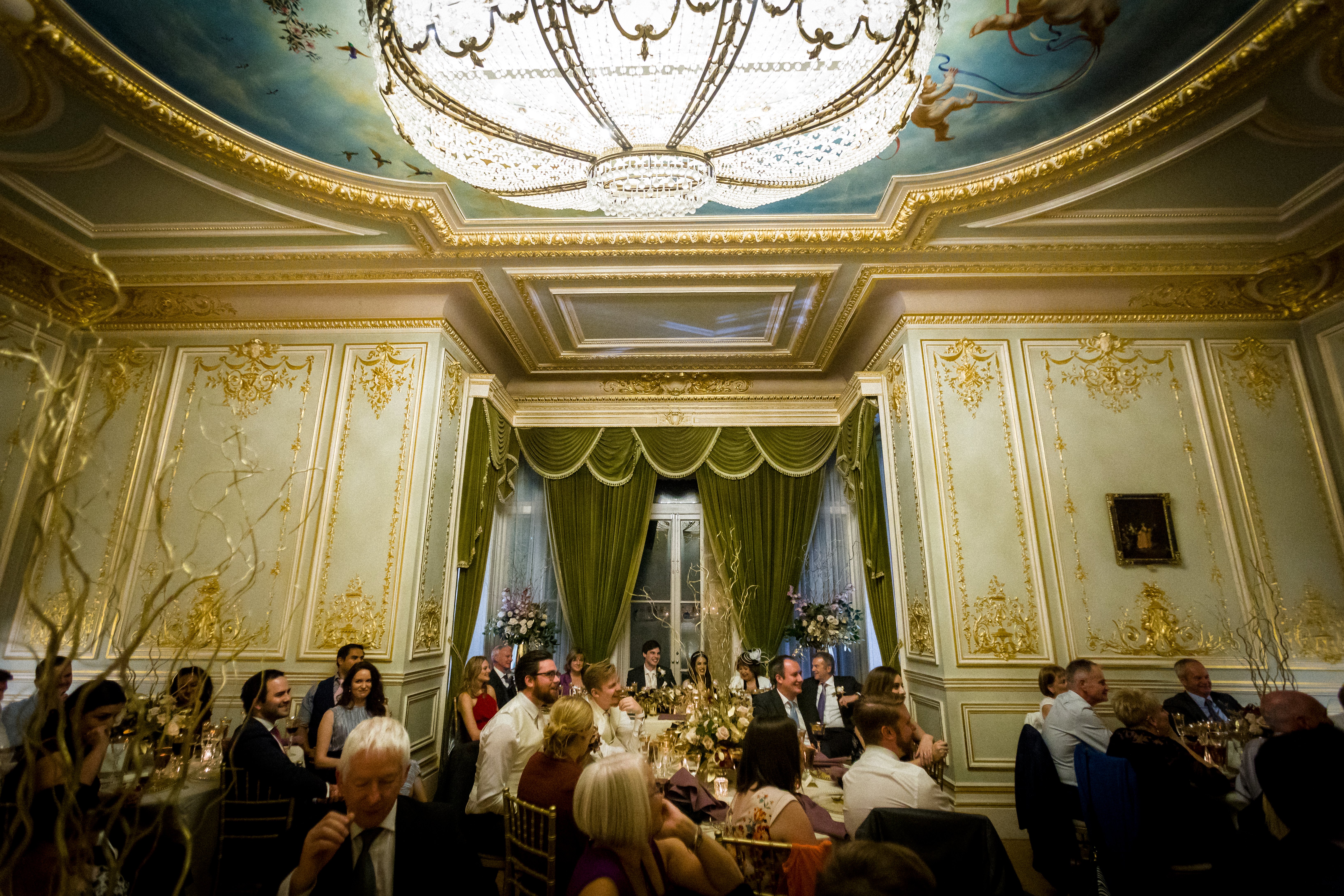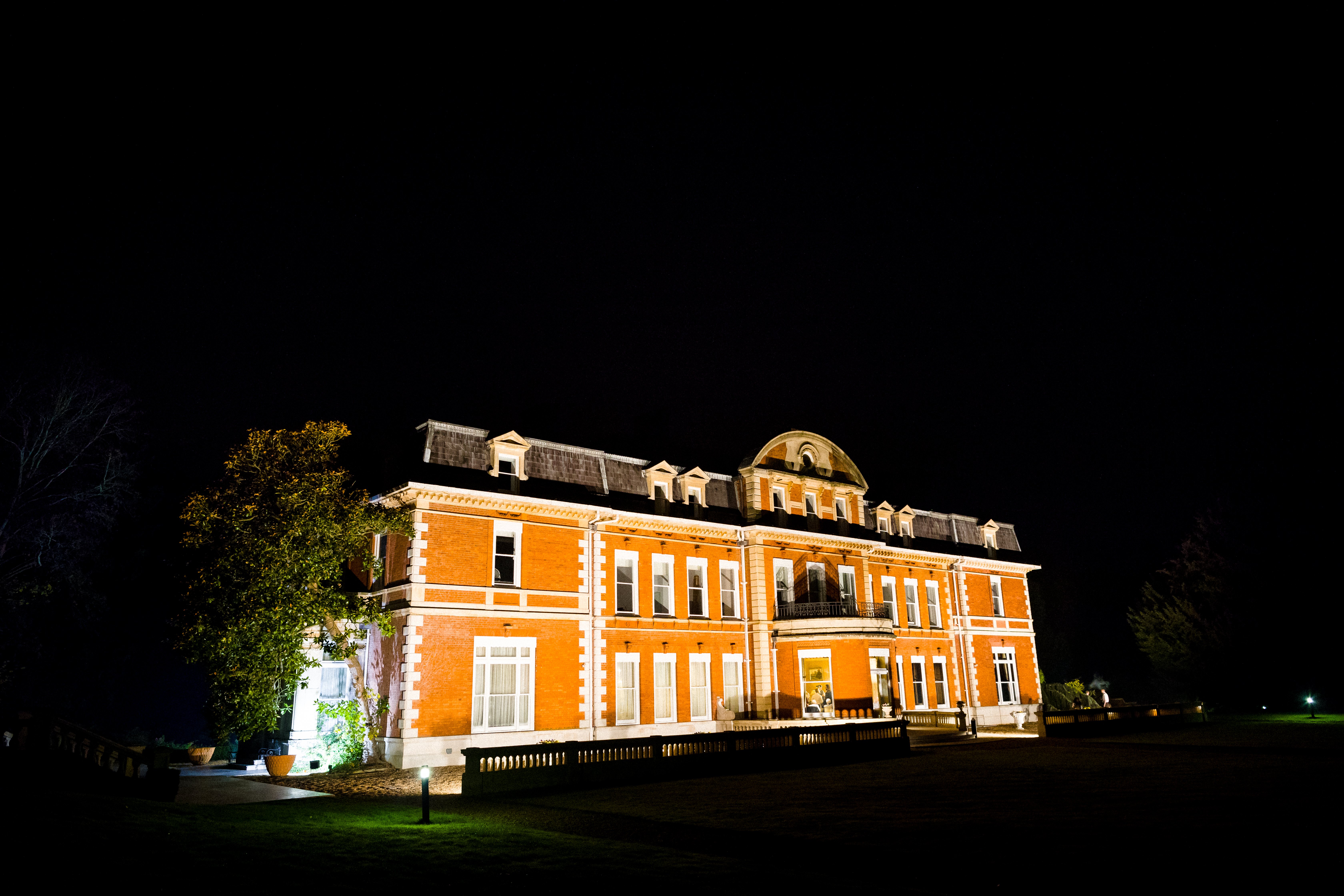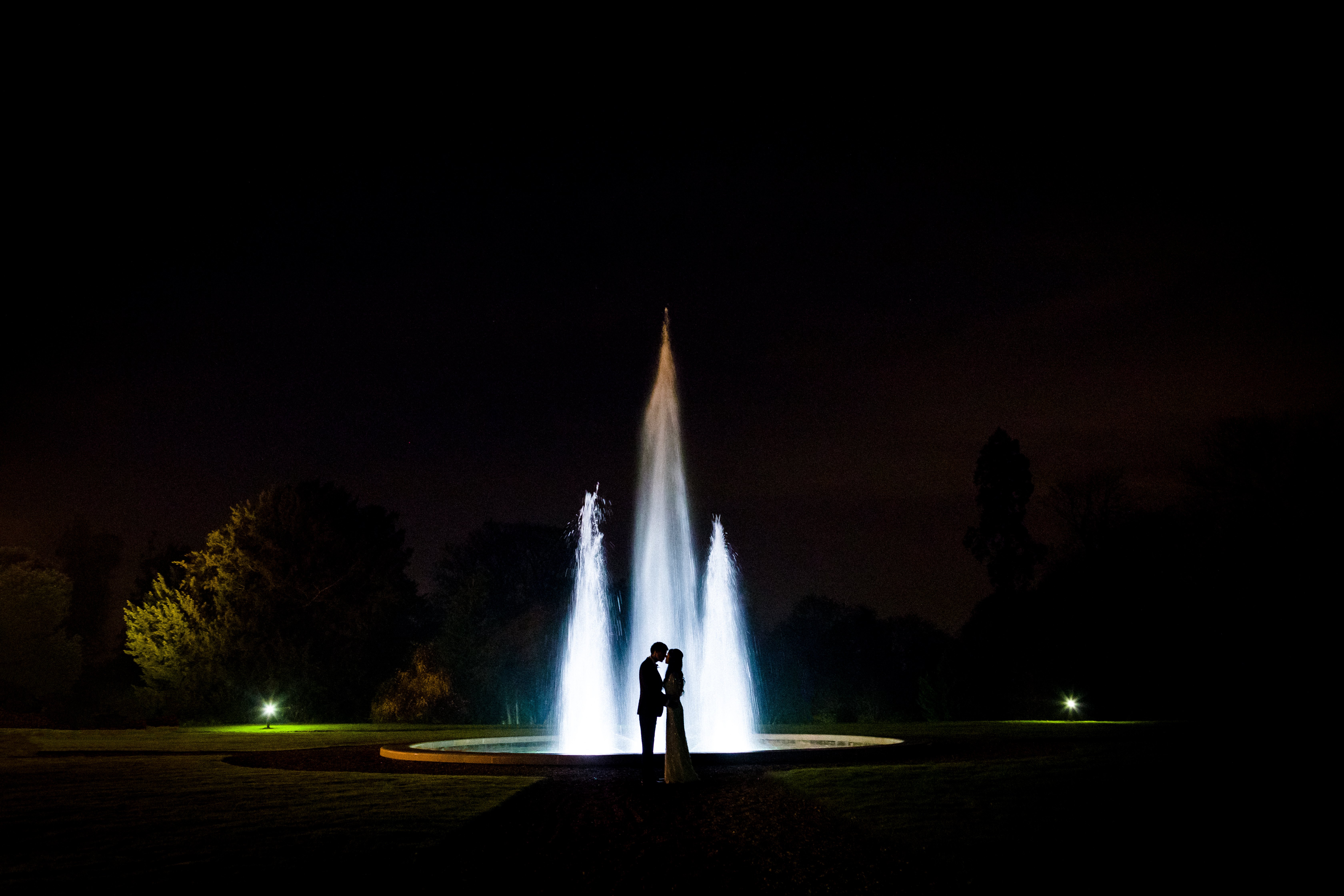 Thanks so much for reading my post, I really enjoyed sharing our special day with you all on SheHearts. What do you think of the look of Fetcham Park House judging from the photographs and the overall theme?
Do let me know which aspects you enjoyed the most, I would really love to hear your thoughts!
With love,
Laura xo