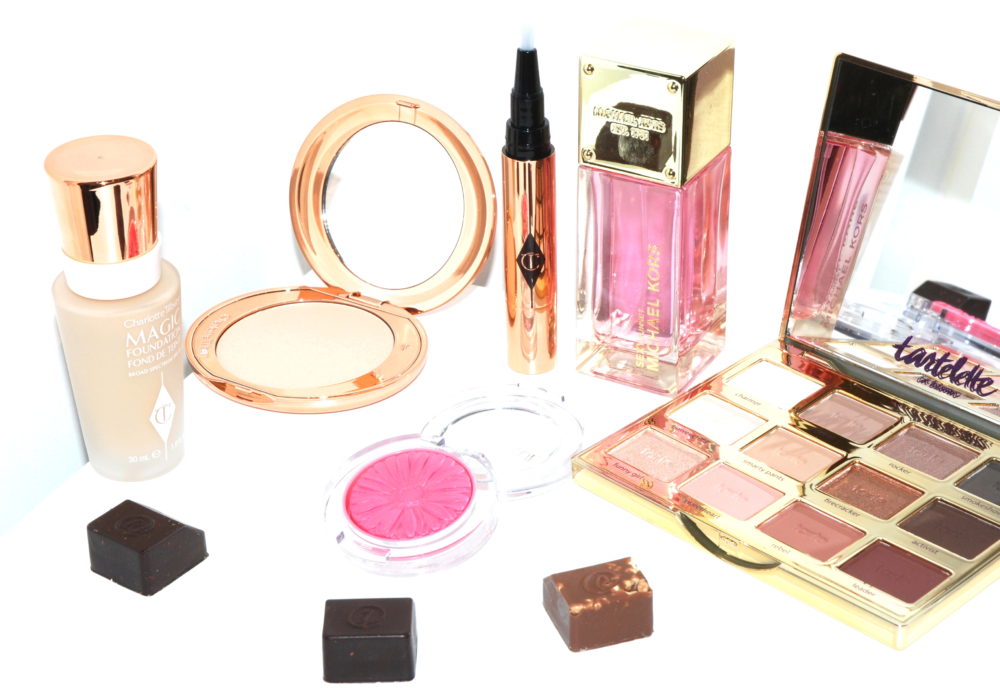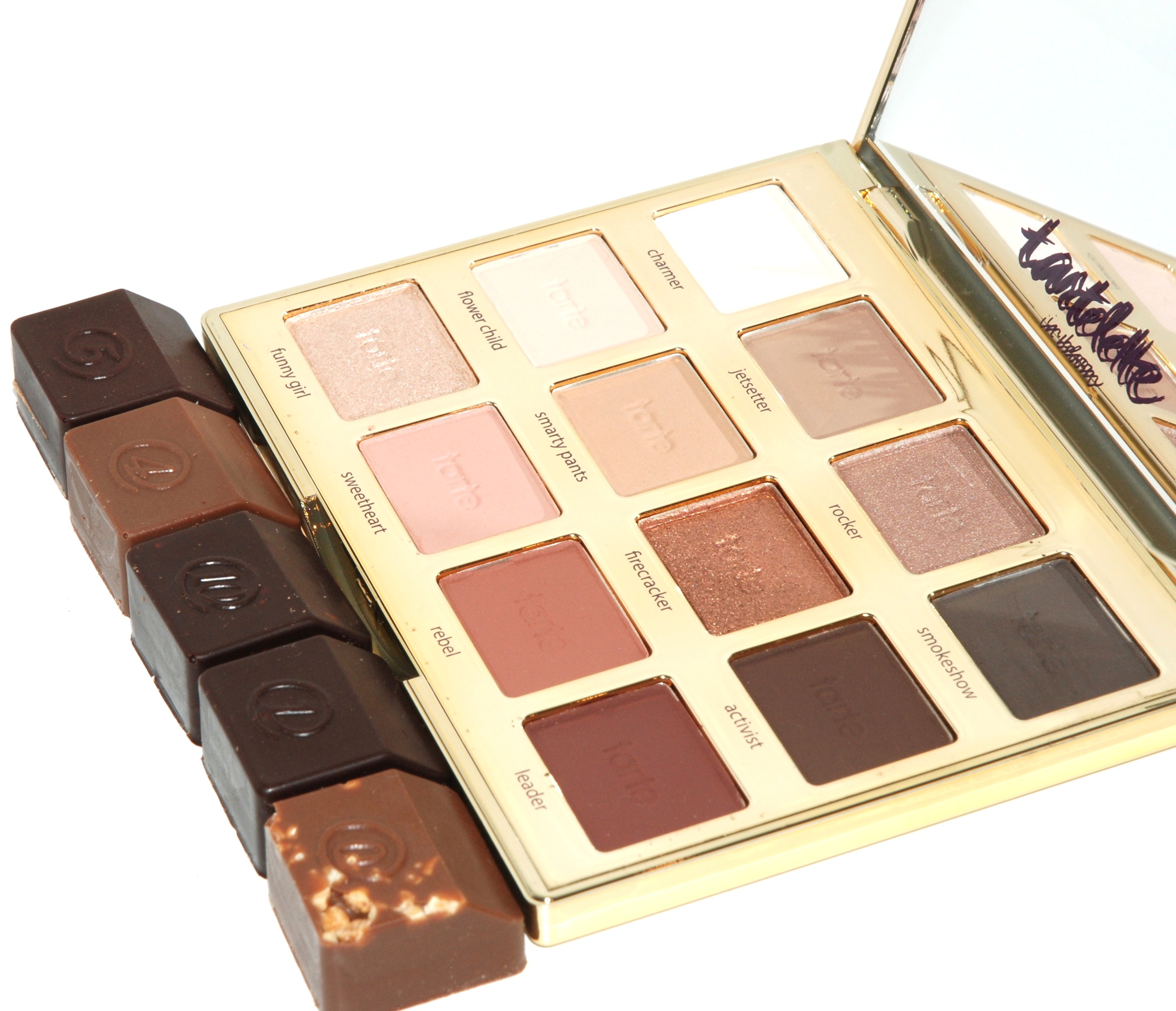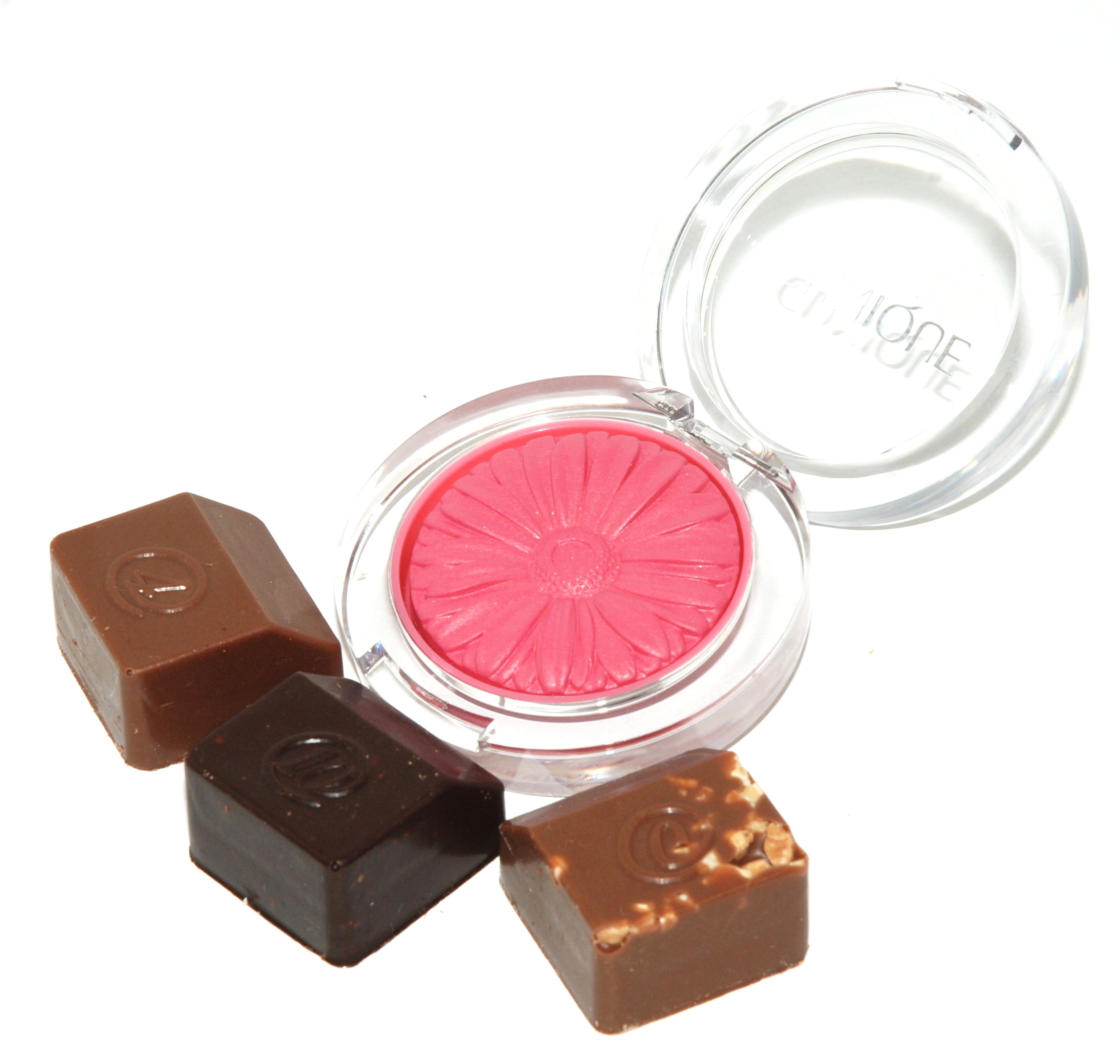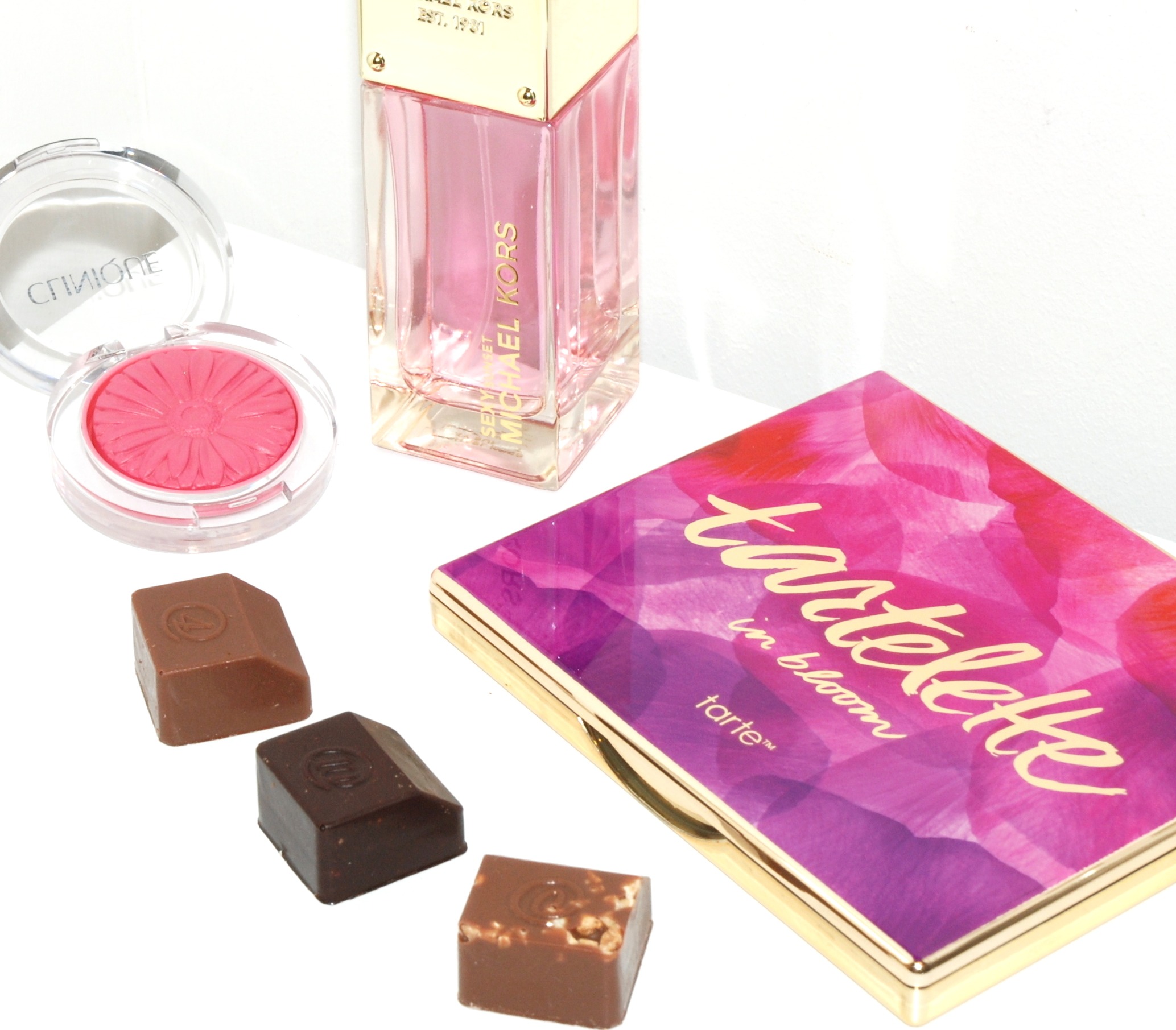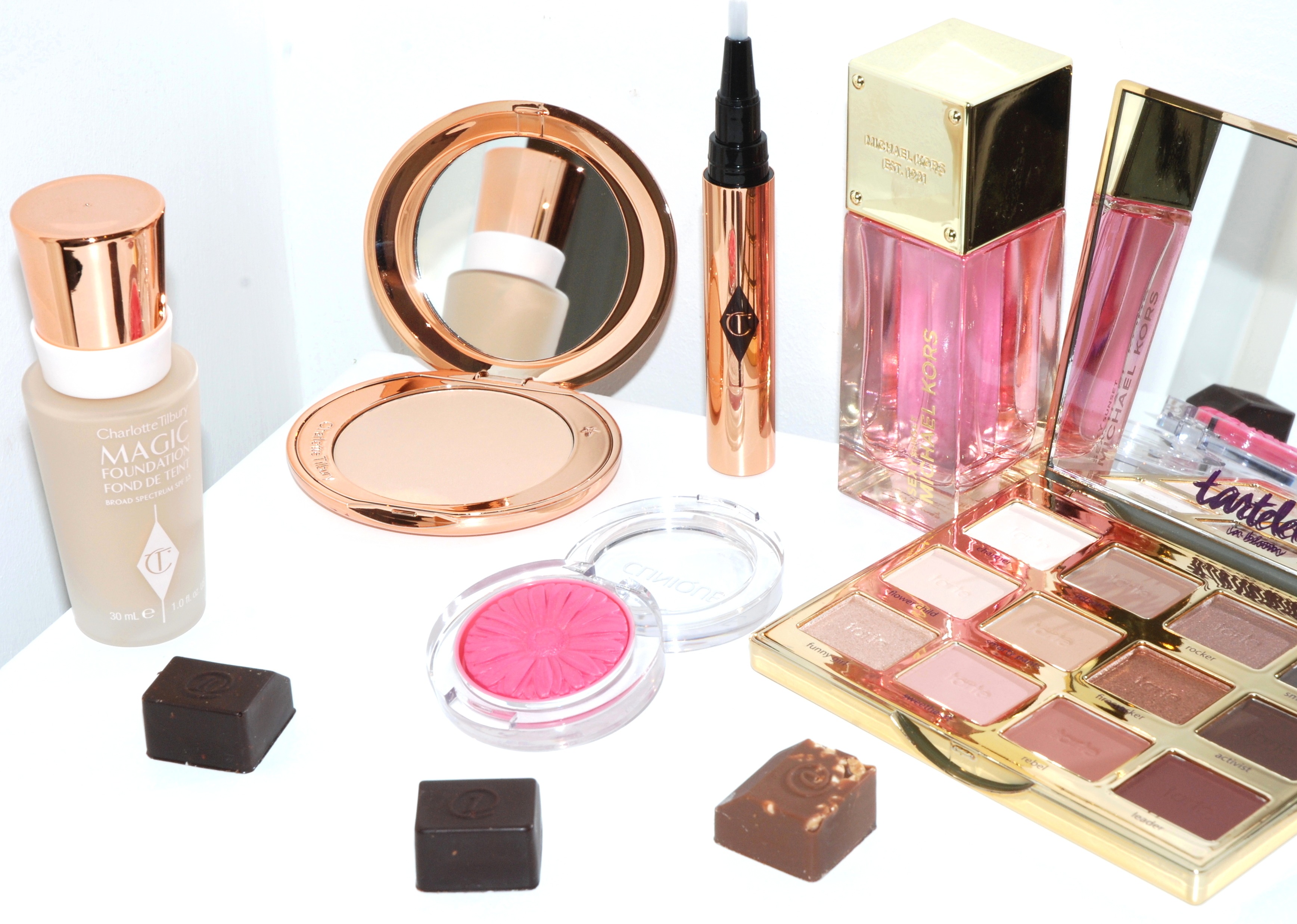 Summer Makeup Picks 2o16
Step into Summer with beautiful warm makeup tones, there are many stunning makeup options available to help you create the perfect Summer makeup look.  Showcased on SheHearts is a large variety of  beauty products to help you find the perfect picks for Summer 2016.
I've also included some of my favourite fragrances too.
These options in the following edits will hopefully inspire your makeup wardrobe!
Edit One
From left to right:
Charlotte Tilbury Magic Foundation Shade 6 which is my favourite foundation at the moment. A very lightweight foundation with a matte finish which is perfect for oily skin, and a medium/full coverage without being heavy. It's gorgeous!
Powder Airbrush Flawless Finish in 2 Medium to use on top of your foundation to set it in place. Very much like applying a veil of silk to your face, it has a stunning finish and makes your skin feel as soft as velvet.
Charlotte Tilbury The Retoucher in 2 Fair. I use this product as both a concealer under my eye and as a highlighter also on the cheekbones. A lovely product with a lightweight finish.
Michael Kors Sexy Sunset Eau De Parfum which is a fruity crisp fragrance perfect for warmer months. Bursts of pear, florals, and woody flavours. A very seductive and moorish scent in a beautiful bottle.
Tartlette inBloom the sister to the original Tartlette palette which is absolutely gorgeous. So many stunning golden, pink and copper shades! My particular favourites are Firecracker and Leader, so gorgeous! Also, it smells like vanilla!
Clinque Cheek Pop in Berry Pop. This pretty flowered product is stunning both in appearance and on the skin. It adds such a warm hue to the cheeks to perfect flawless dewy skin.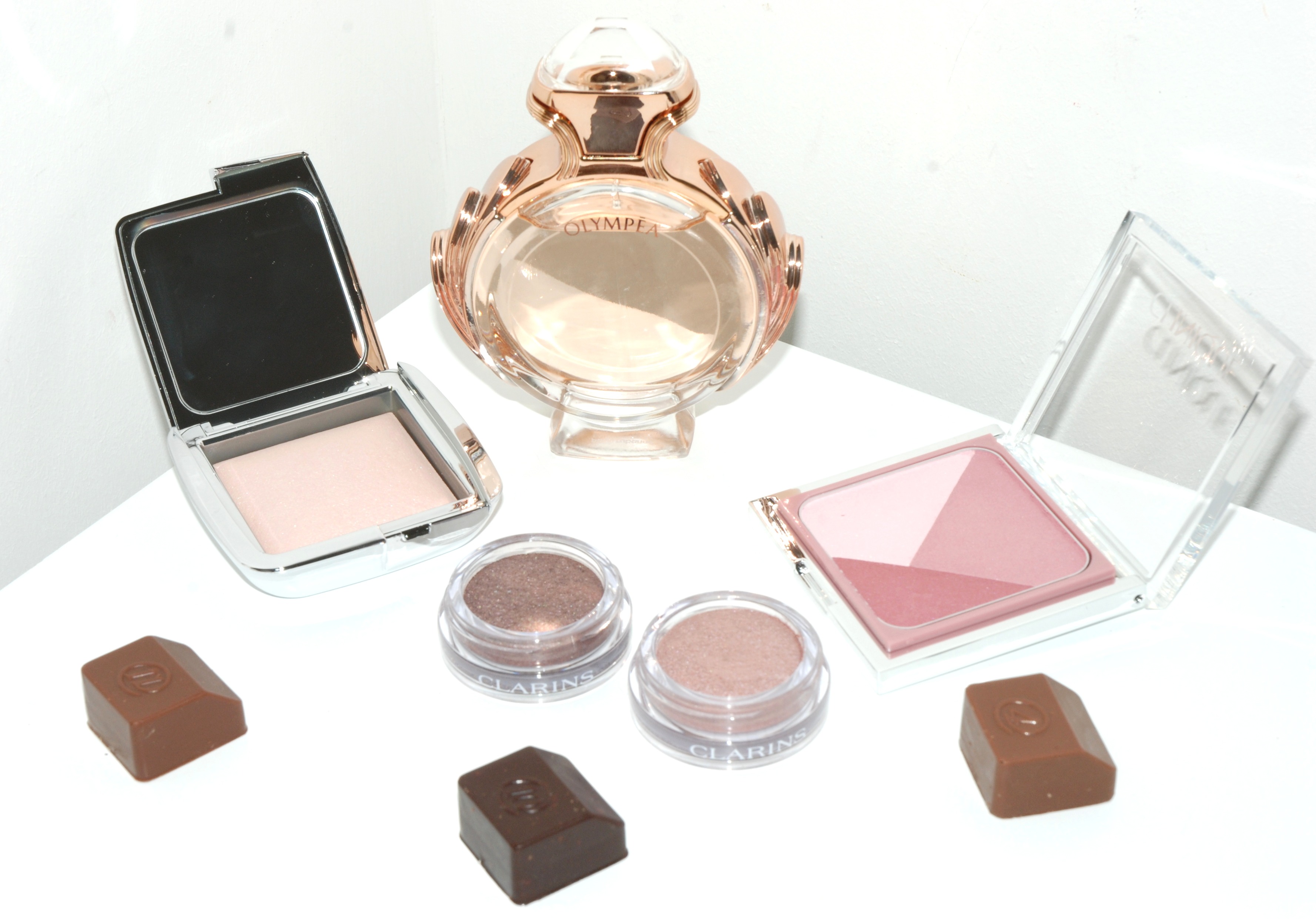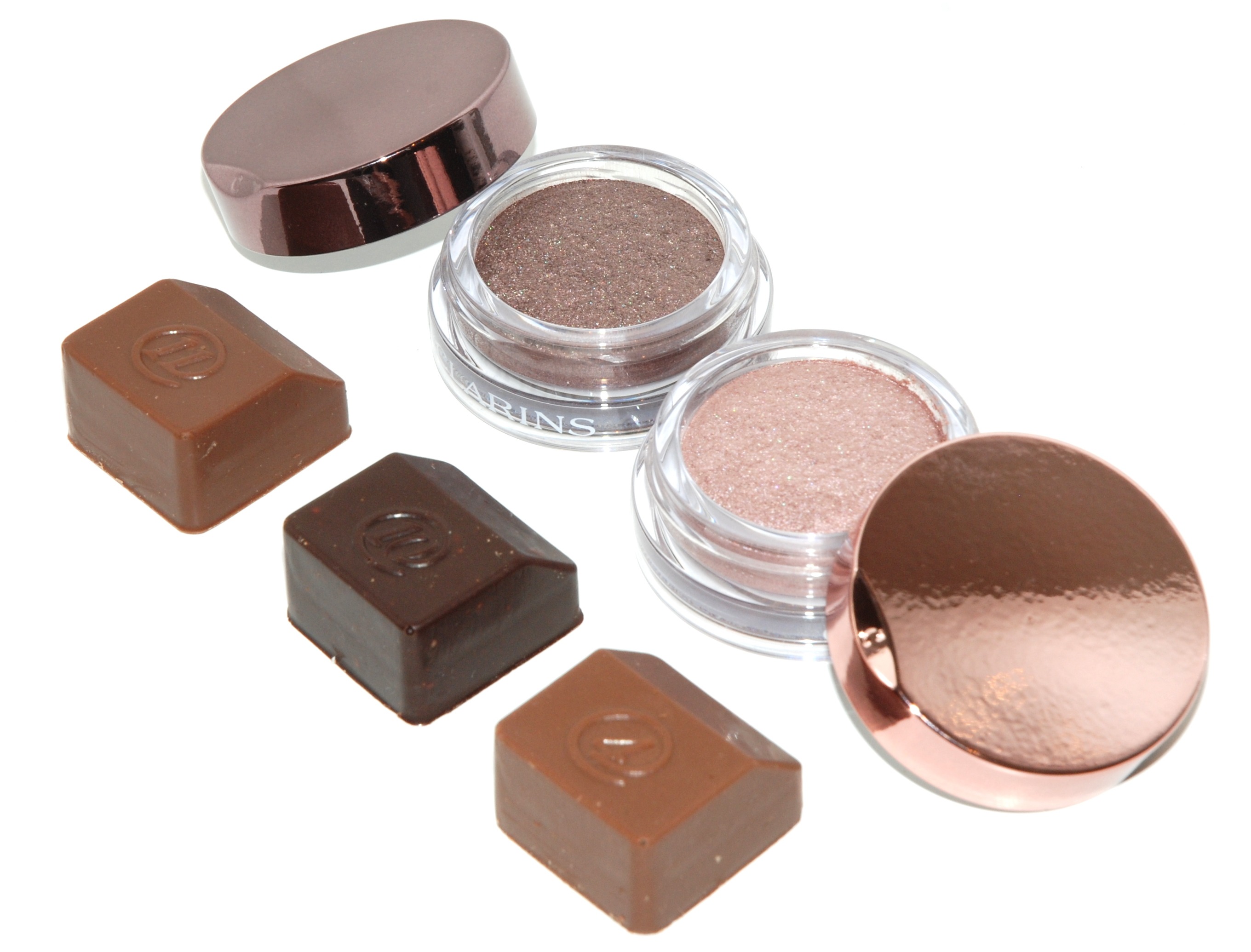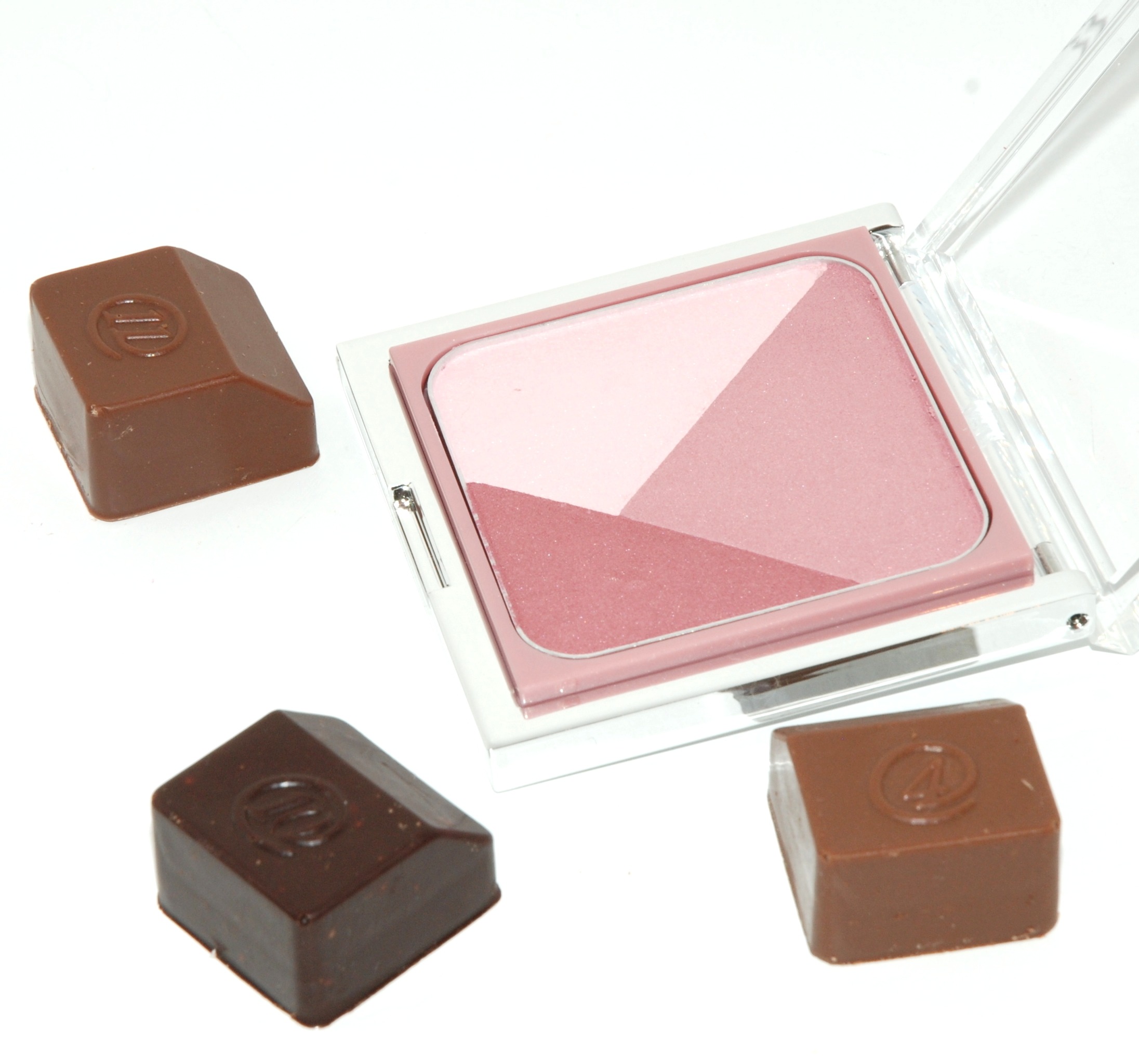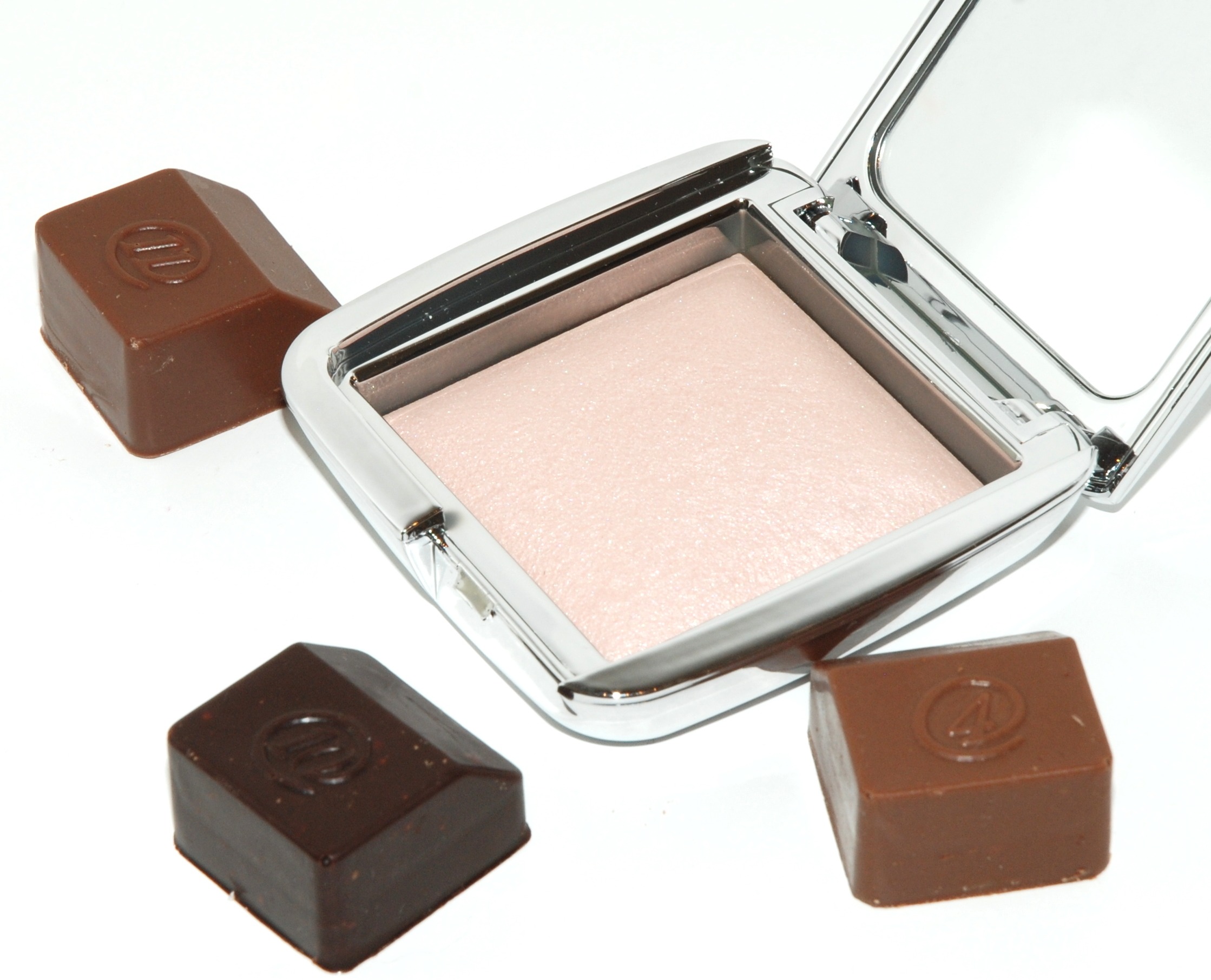 Edit Two
This second edit showcases some luxurious products to highlight cheeks, create shimmery warm eye makeup looks, and perfect perfectly pink cheeks!
From left to right (see top photo)
Ambient Strobe Lighting Powder Iridescent Strobe Light by Hourglass which is an illuminating pink powder with a soft highlight. The product can be used either wet or dry. I picked this one up in Sephora in Rome and it's just so beautiful.
Olympea by Paco Rabanne which is such a moorish sweet scent containing warm fragrant tones such as salted vanilla, water jasmine, green mandarin notes. It's a captivating scent and very alluring in terms of bottle appearance also.
Clinique Sculptionary Cheek Contouring Palette in Defining Berries, a lovely palette to create a pretty berry flush to cheeks.
Clarins Ombre Iridescente Eyeshadow in 07 Silver Plum and 05 Silver Pink which are cream to powder eye formulas with soft focus pigments with a pretty shimmer.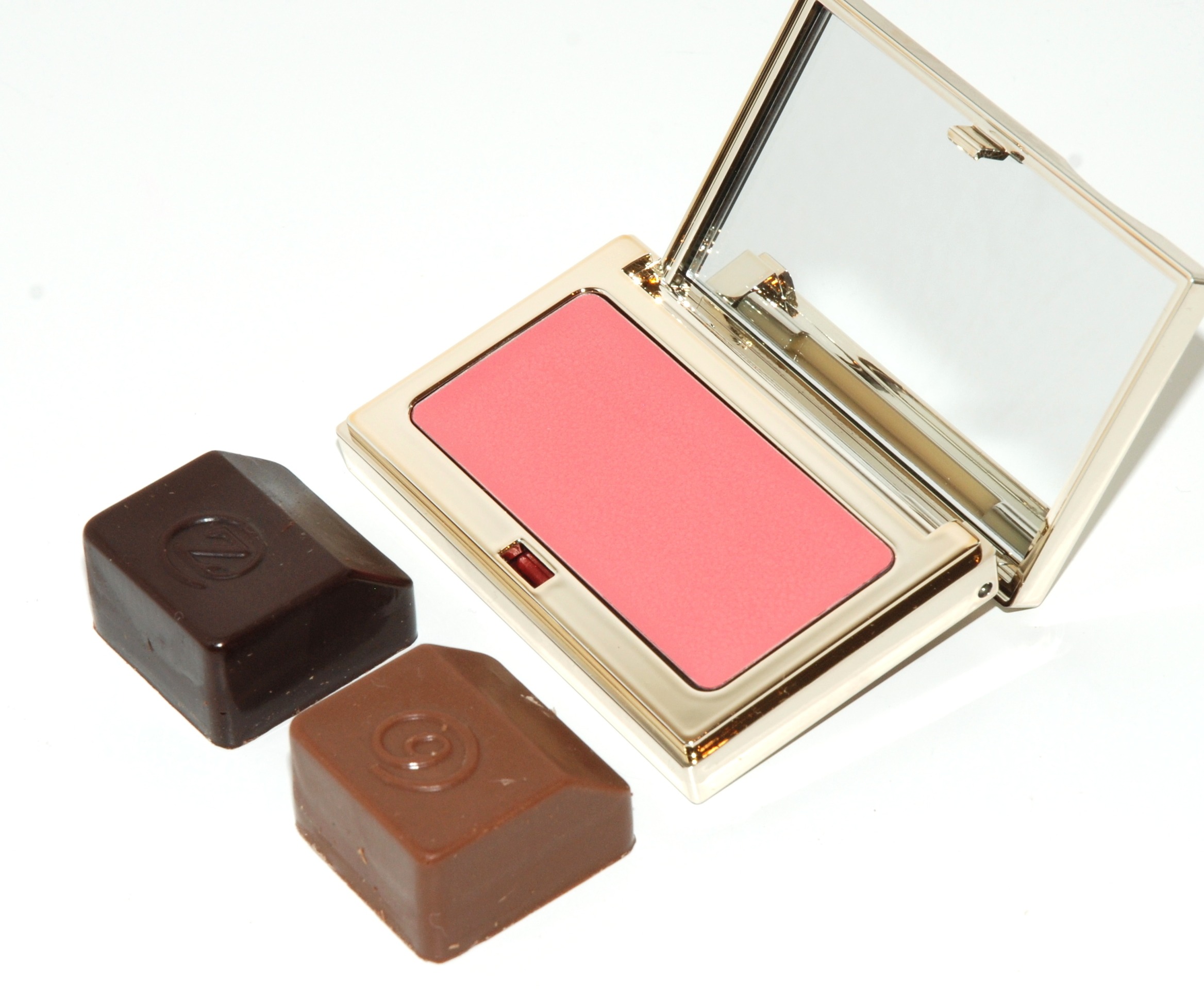 Edit Three
In Edit three showcases products to perfect a pretty peachy makeup look.
From left to right (top photo in this edit)
Clarins Rouge Eclat Lipstick in 25 Pink Blossom and 26 Rose Praline which are two new editions to the Rouge Eclat range. Beautiful pink shades with age defying properties aiming to provide you with the perfect pout.
Clarins Multi Blush 05 Rose a lovely cream blush which adds a healthy Rose glow to cheeks.
Carli Bybel Palette which is a stunning palette created by Carli Bybel and BH Cosmetics. The highlighters are impressive and pigmented. The eyeshadow looks are warming and beautiful.
Charlotte Tilbury The Retoucher in 2 Fair which was showcased in my first edit however I wanted to put my two favourite concealers side by side. This is a very lightweight and beautiful concealer and impressed with the coverage.
YSL Touche Eclat Shade 2 – an absolute must have in your makeup wardrobe. It's such a lightweight product and great for highlighting cheekbones and to use under the eye also. This was from a compact purchased in World Duty Free.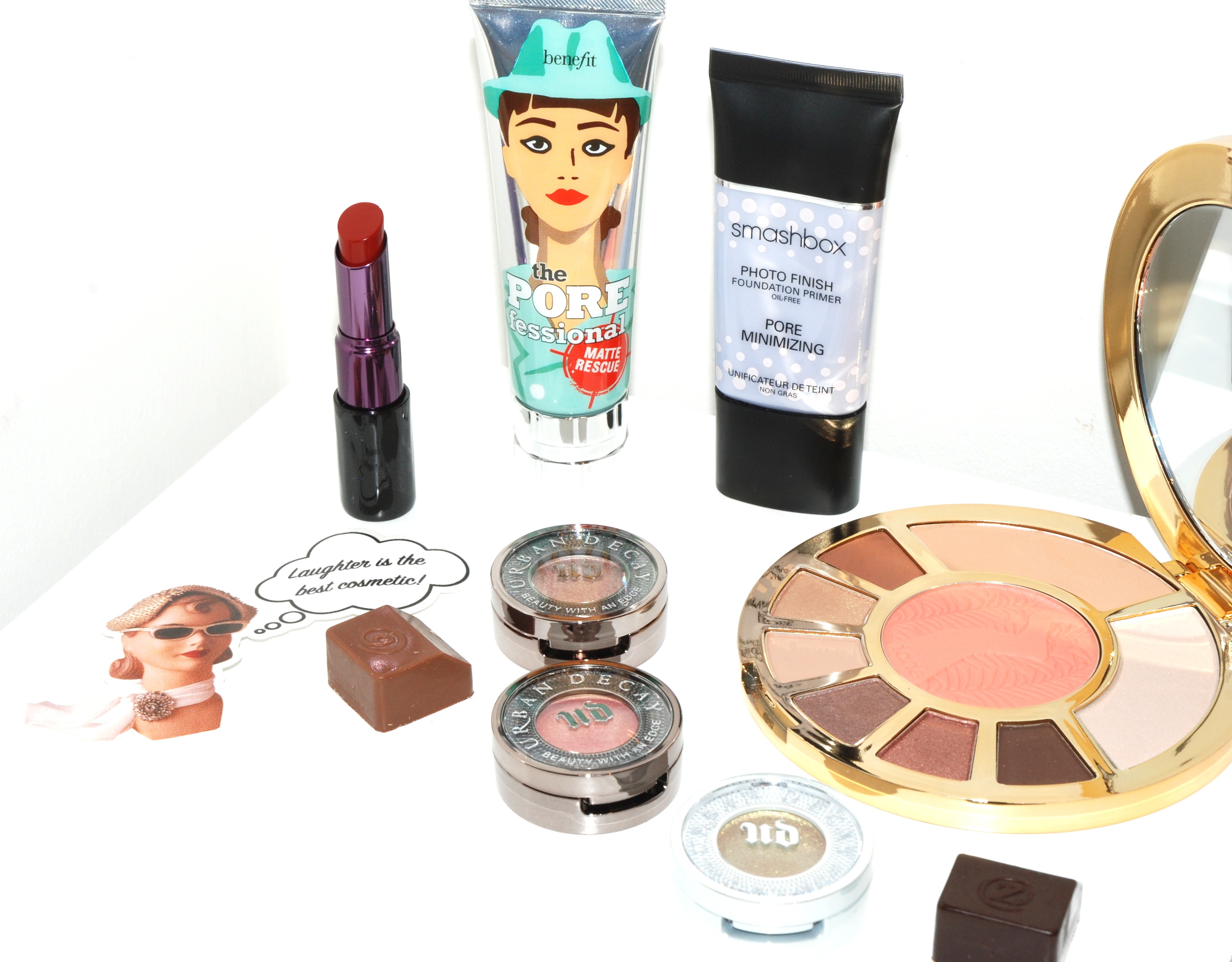 Edit Four
Edit four showcases some warm matte and shimmery eyeshadow looks, some perfect primers and a wonderful rouge lip to team with warm eye makeup.
Urban Decay Matte Revolution Lipstick in Bad Blood: A vivid rich red lipstick colour to create a perfect red matte pout.
Benefit the Porefessional Matte Rescue which is one of my favourite primers to use as it created the perfect canvas for your foundation. it's translucent and has a beautiful matte finish.
Smashbox Photofinish Foundation Primer, a tinted foundation primer which really does make it look so flawless, apply it under foundation or you can wear it alone.
Tartlette Showstopper Clay Palette, a stunning circular wheel of natural beauty showcasing a range of pretty natural shades perfect for warmer months.
Urbay Decay Eyeshadow in Midnight Cowboy Rides Again, X and Moondust Eyeshadow in Stargazer.
I'm a huge fan of the Urban Decay single eye shadows, they are long lasting highly pigmented shadows. The collection is beautiful and would recommend any of these beautiful colours.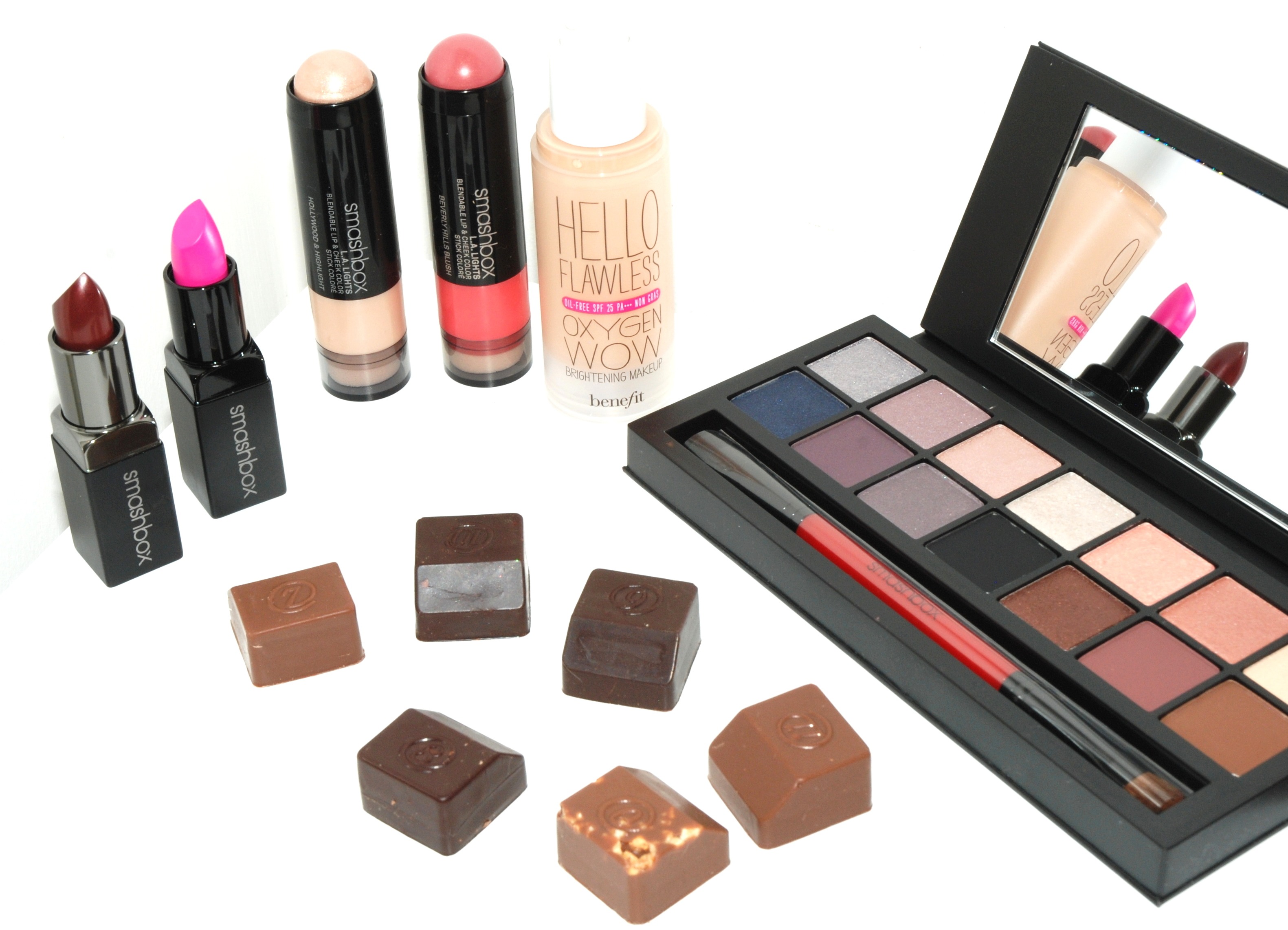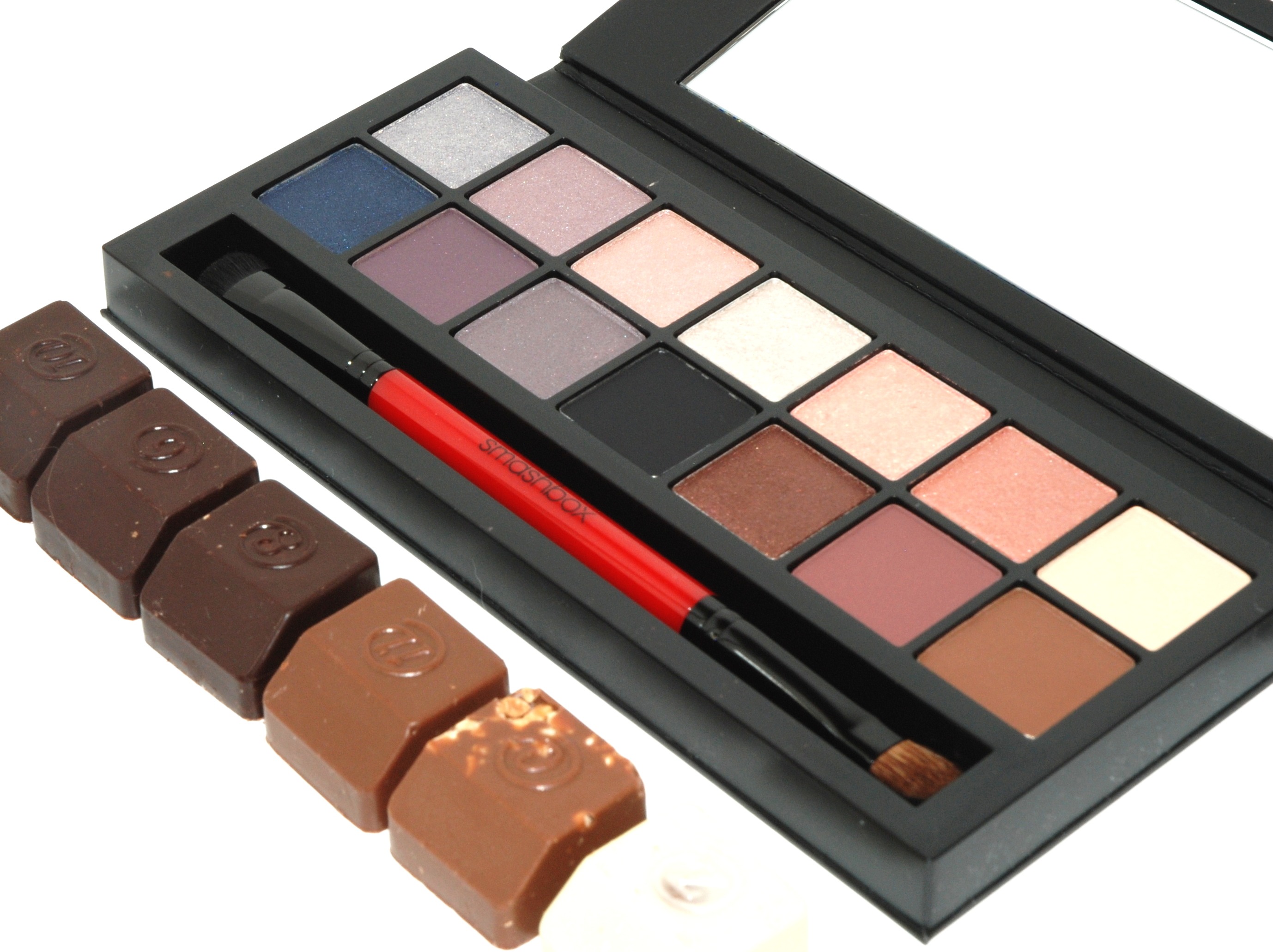 Edit Five
This edit brings you a collection of products to create a shimmery look on the skin, a sculpted warm or cool eye look, and beautiful lips.
From left to right:
Smashbox Be Legendary Lipsticks in Plum Scene and Magenta Matte.
Smashbox LA Lights blendable lip and cheek colour stick in Beverly Hills Blush and Hollywood and Highlight. Beverly Hills blush is a gorgeous coral shade & the Hollywood Highlight gives you a champagne shimmery highlight.
Benefit Hello Flawless Oxygen Wow Brightening Makeup in "I'm so money honey"
Smashbox Double Exposure Palette a popular eyeshadow palette from Smashbox containing a gorgeous range of shadows which can be worn either dry or wet for a more intense look.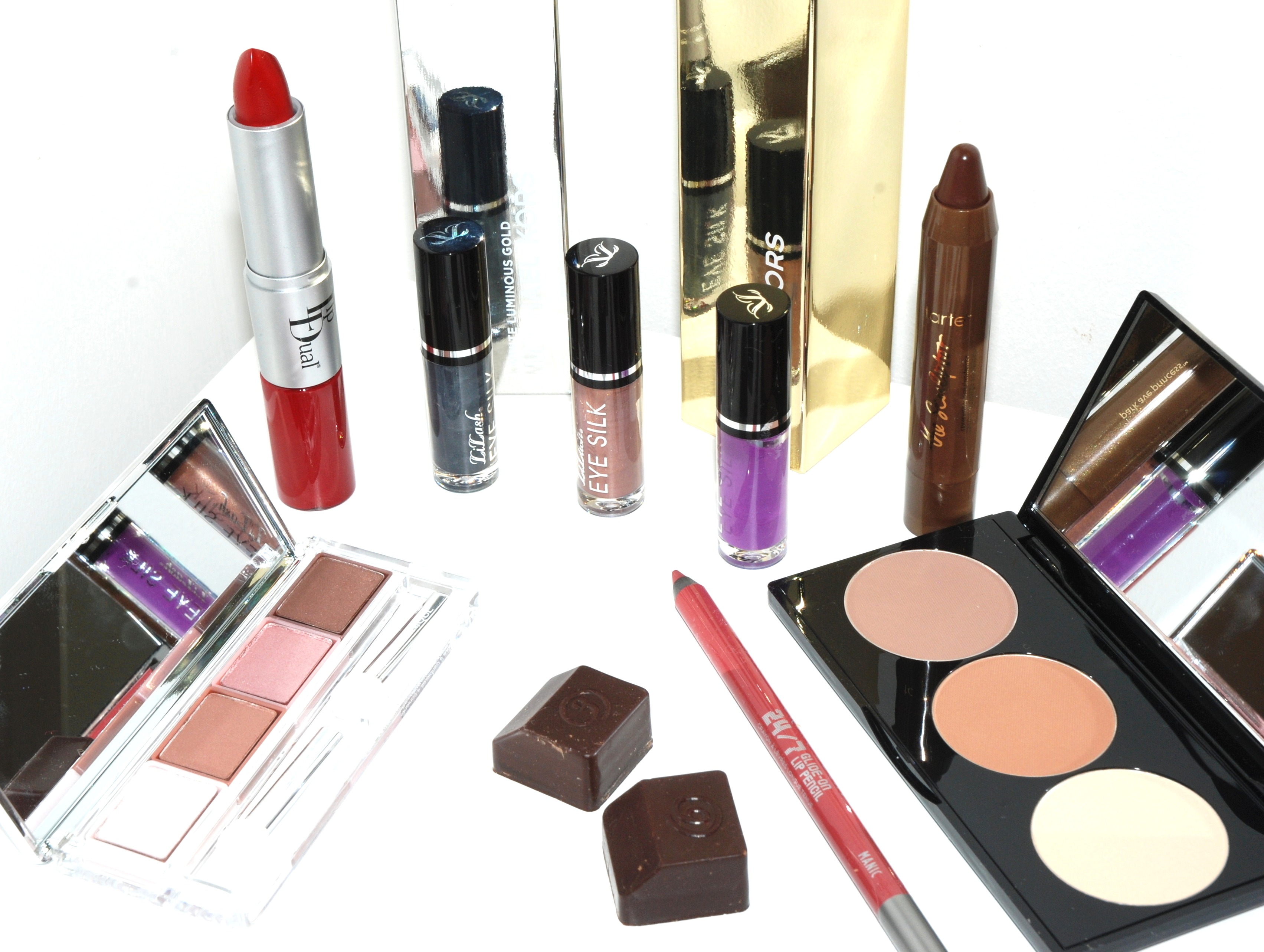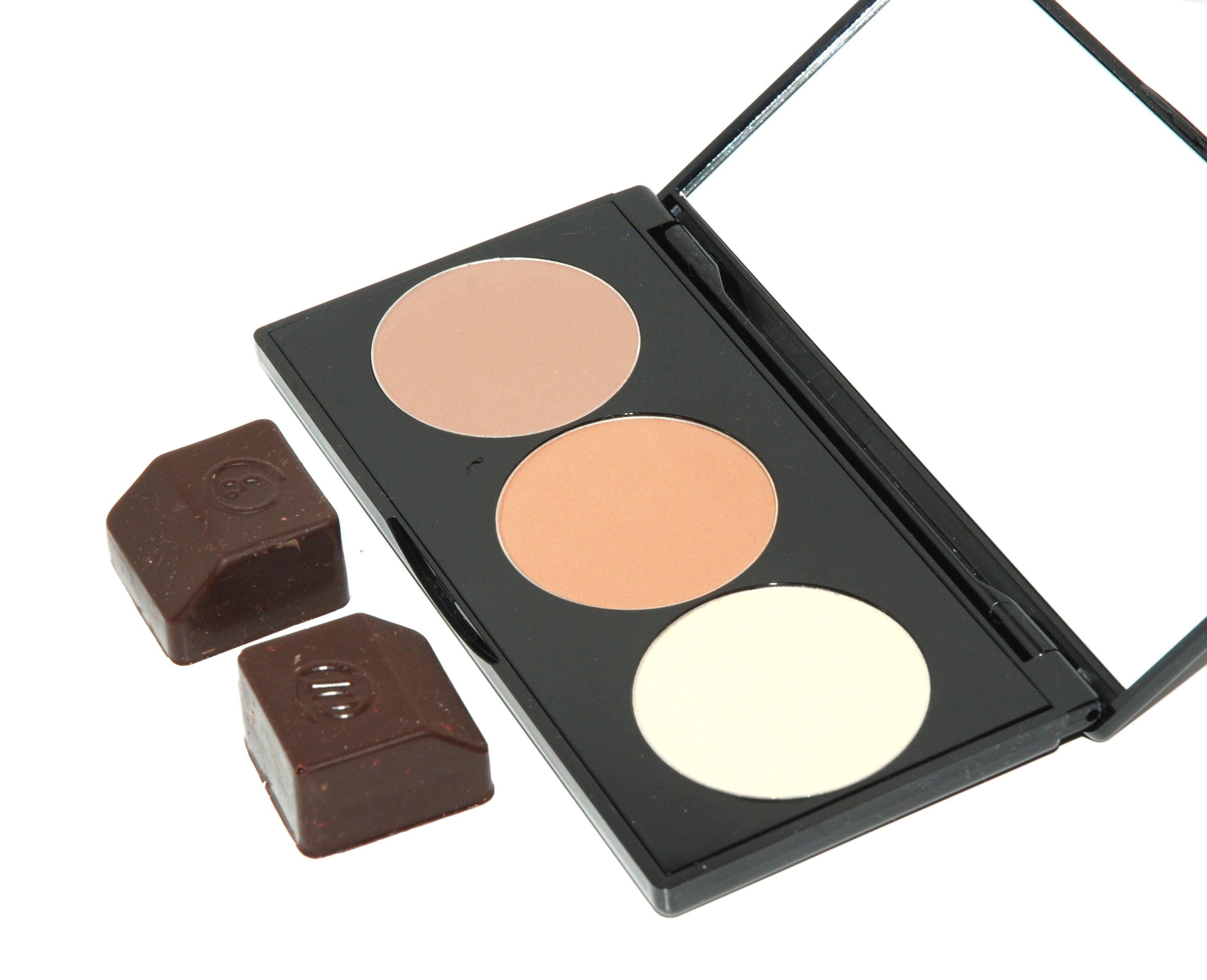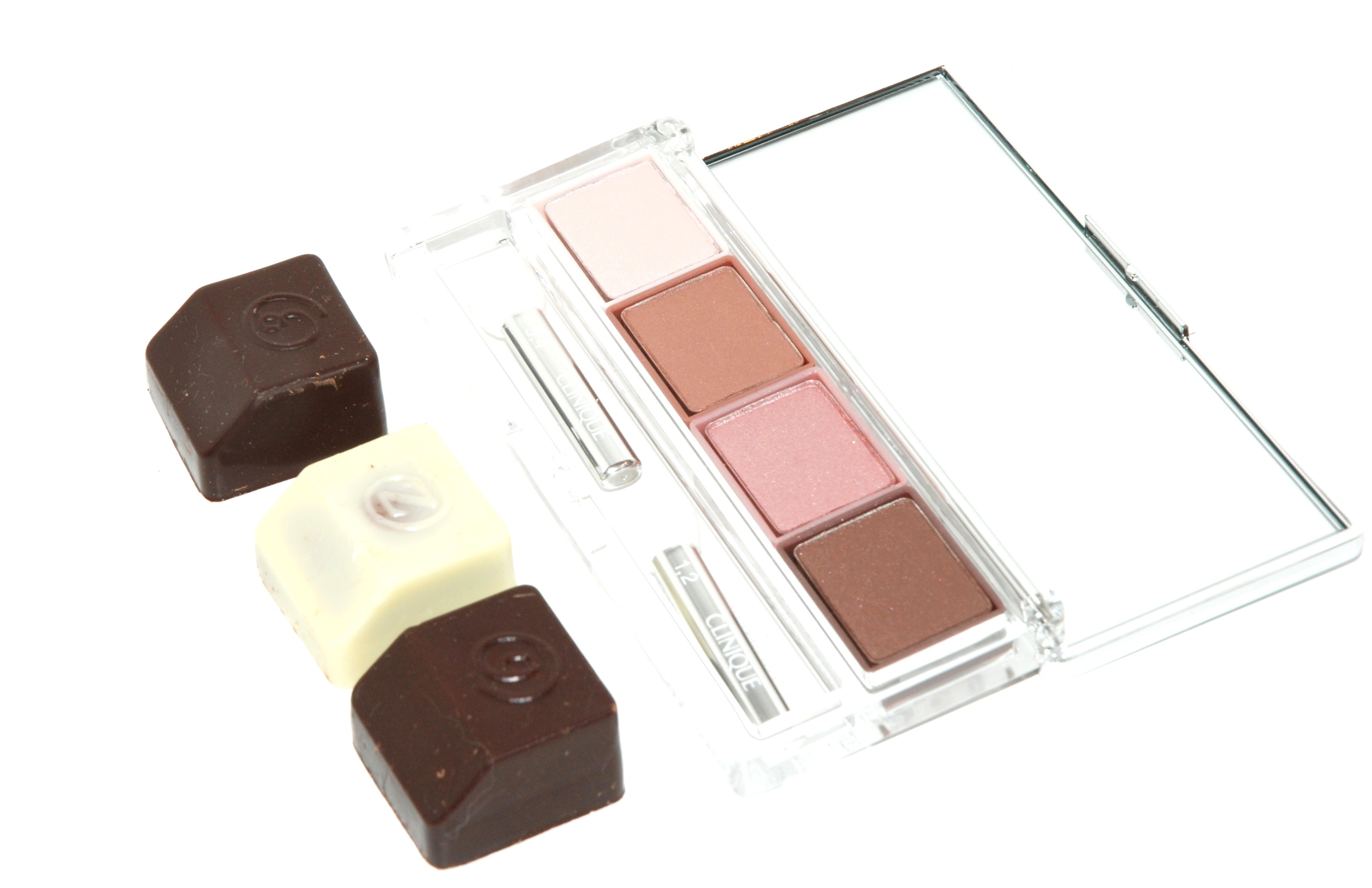 Edit Six
This edited is a mixture of chocolate hues and fruity fragrance blends with a splash of colour and luminosity.
From left to right:
Clinque All About Shadow Quad in 06 Pink Chocolate. This pretty quad contains such beautiful pinky toned colours to create a warm smokey eye.
Ravishing Red Lip Duel by Leighton Denny which is a gorgeous vivid red colour for the lips from the LD boutique.
Michael Kors White Luminous Gold and 24K Brilliant Gold fragrances from the gold collection. Two beautiful fruity scents which are seductive, feminine and alluring. Their beautiful bottles really make quite the statement.
Tarte The Sculptor in Park Avenue Princess 3 which is my favourite contour stick. It's so easy to use and the product is incredibly easy to blend.
Smashbox Step-By-Step Contour Kit. This is a great portable product from Smashbox containing a contour, bronze and highlight colour. A great easy to use contour compact.
LiLash Colour Silk eyeshadows which are mini colours I have been reaching for lately to create a pretty smokey purple eye look.
Urban Decay 24/7 Glide-On Lip Colour in Manic which is a creamy lip liner perfect to wear either alone or to team with a suitable lip colour.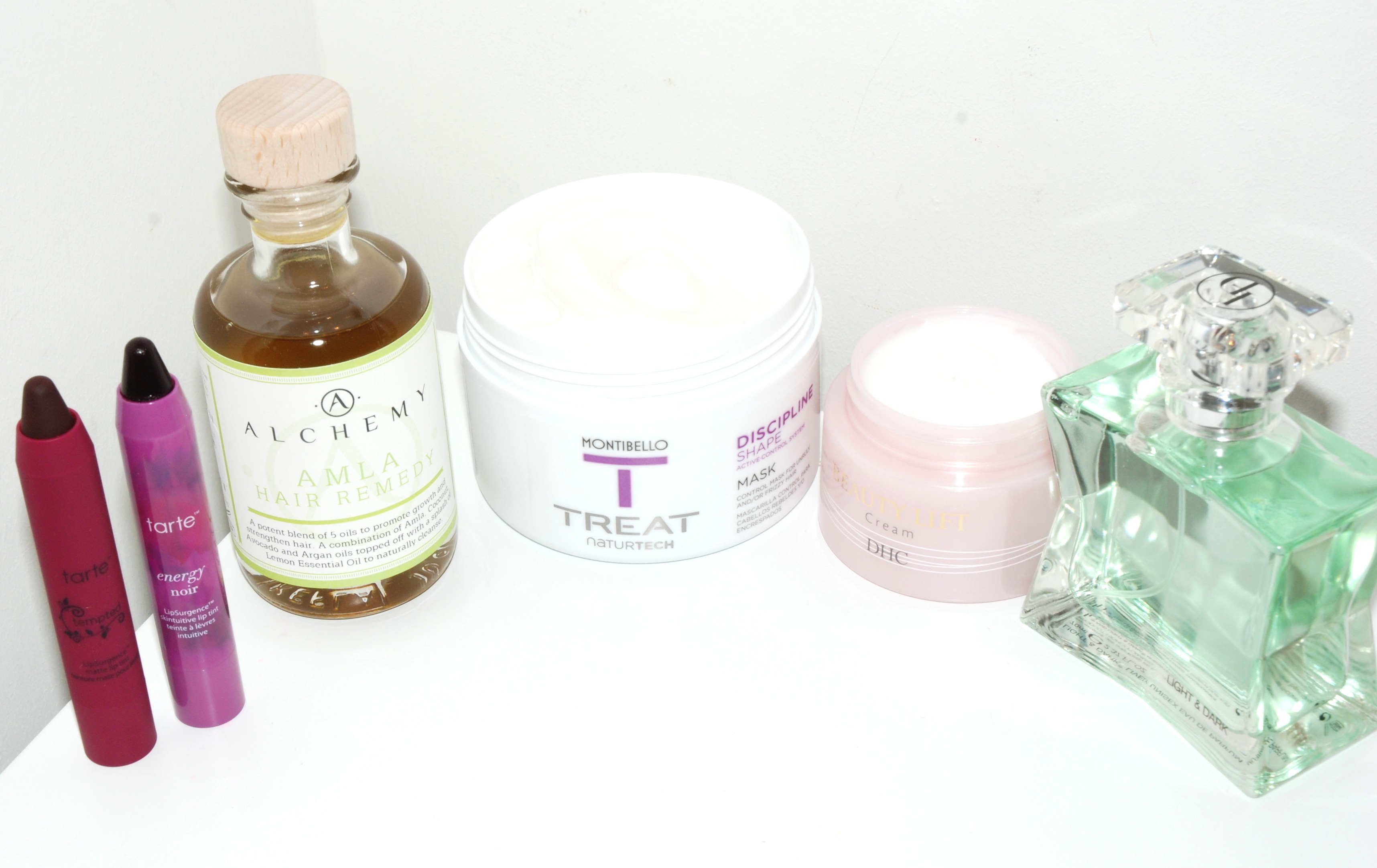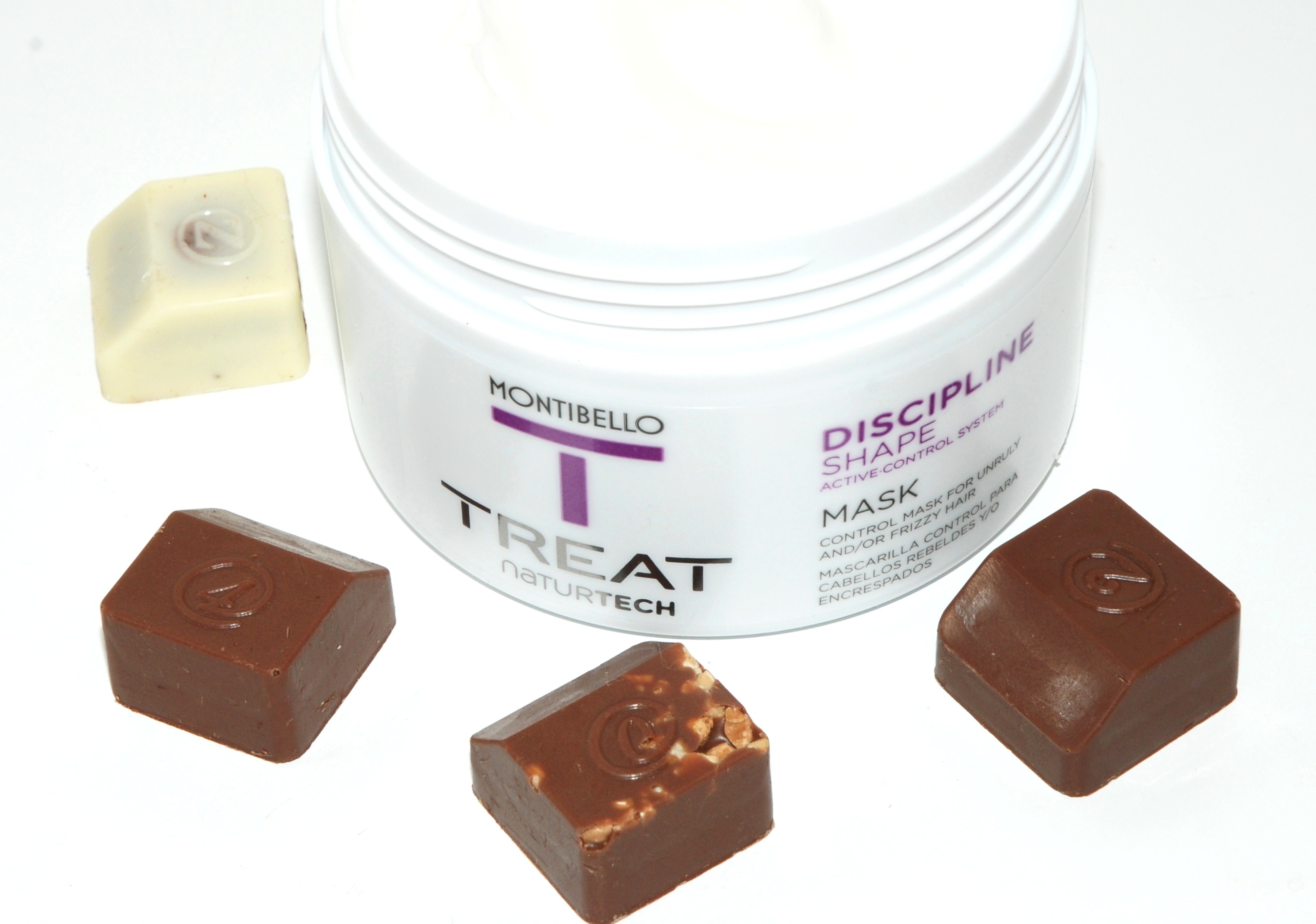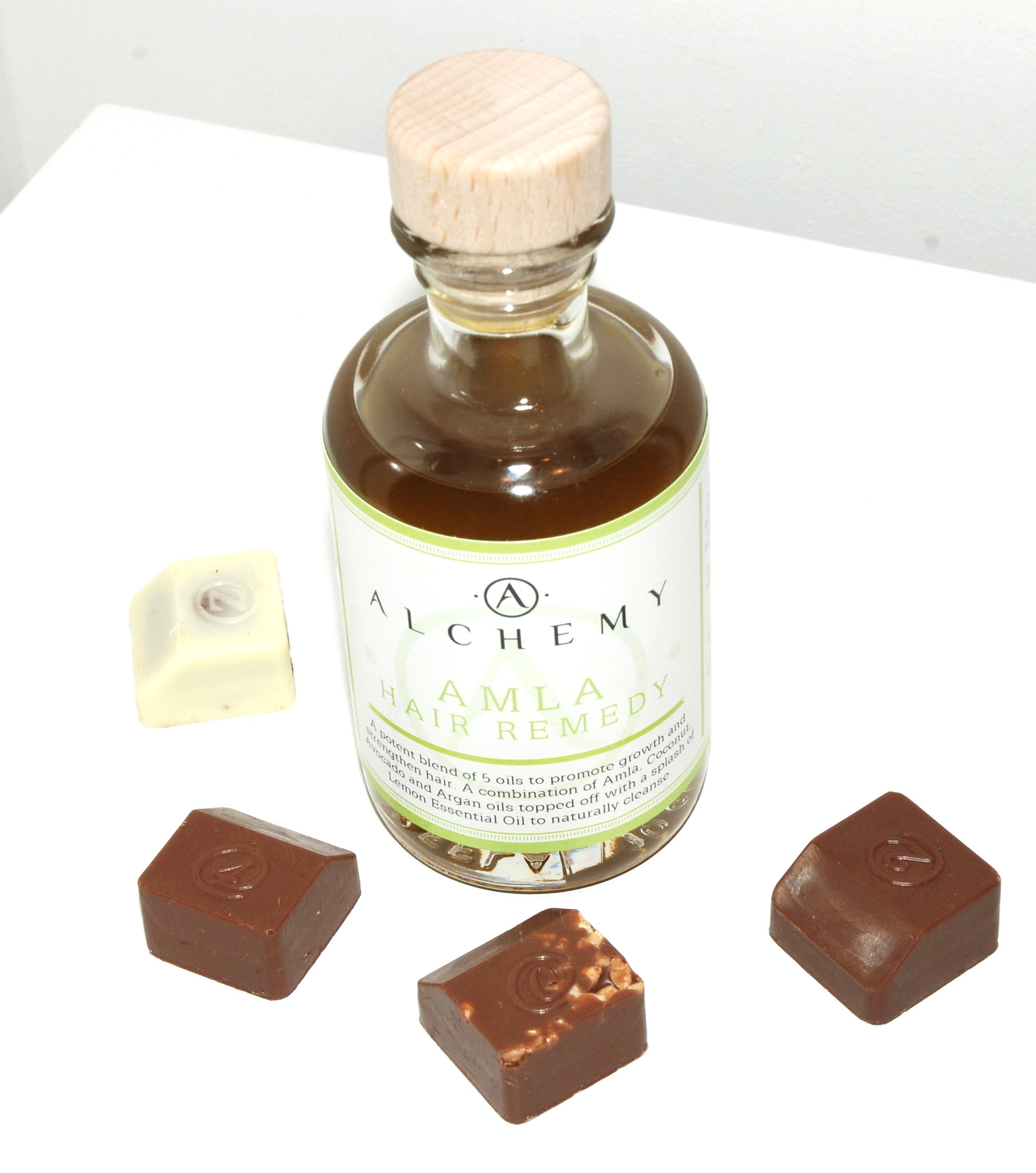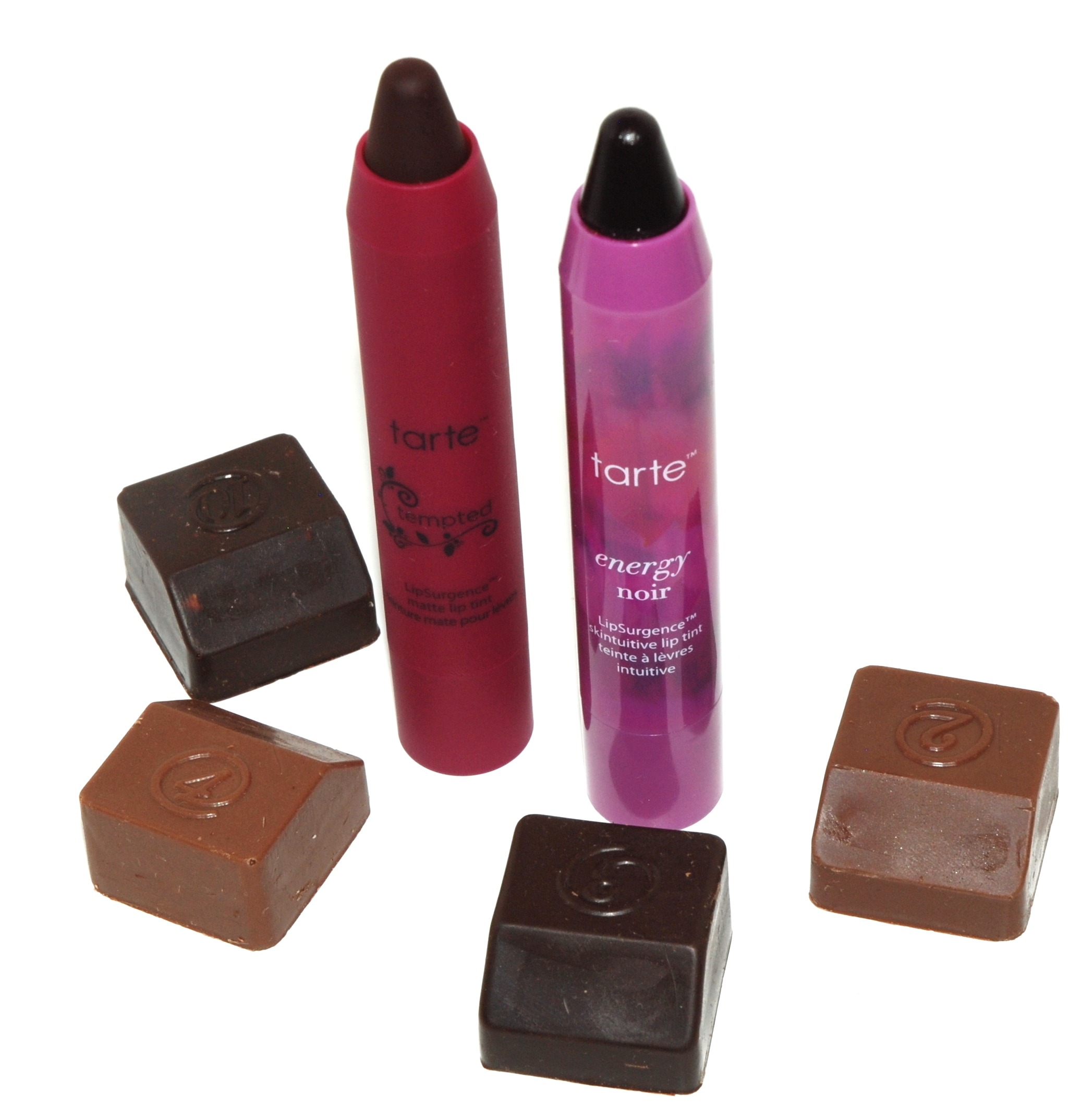 Edit Seven
Nourish skin and hair using inspiration from this edit, and amp up lips using moorish berry tones.
From left to right:
Tarte Cosmetics Lipsurgence in the Matte Lipsurgence Range in Tempted and lip tint in Energy Noir
Alchemy Alma Hair Remedy containing five super oils to improve the condition of hair from the inside out. Am impressive treatment which you leave on for about 20 minutes providing you with soft, silky hair.
Montibello Treat Naturtech disipline shape mask for frizzy hair which is a beautiful hair mask and certainly helps to tame dry and damaged hair.
DHC Beauty Lift Cream which is a Japanese skincare brand containing oat kernel extracts and peptides for plumper, firmer skin.
Light & Dark Lively Unisex Scent by Leighton Denny from the LD Boutique which is a unisex scent. It's a very moorish scent in a quirky bottle and I've found myself reaching for this scent regularly and one of my favourites at the moment because it smells so refreshing!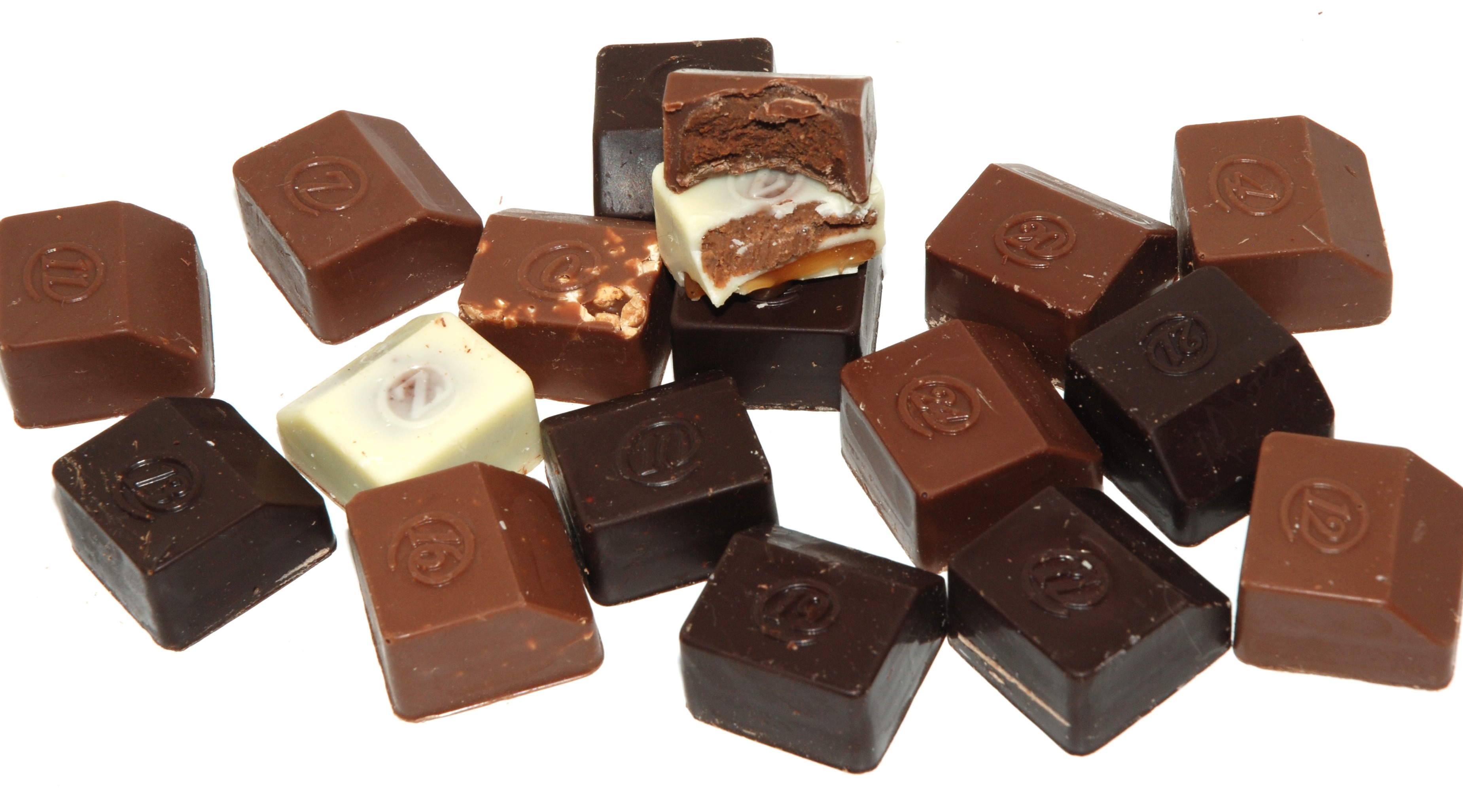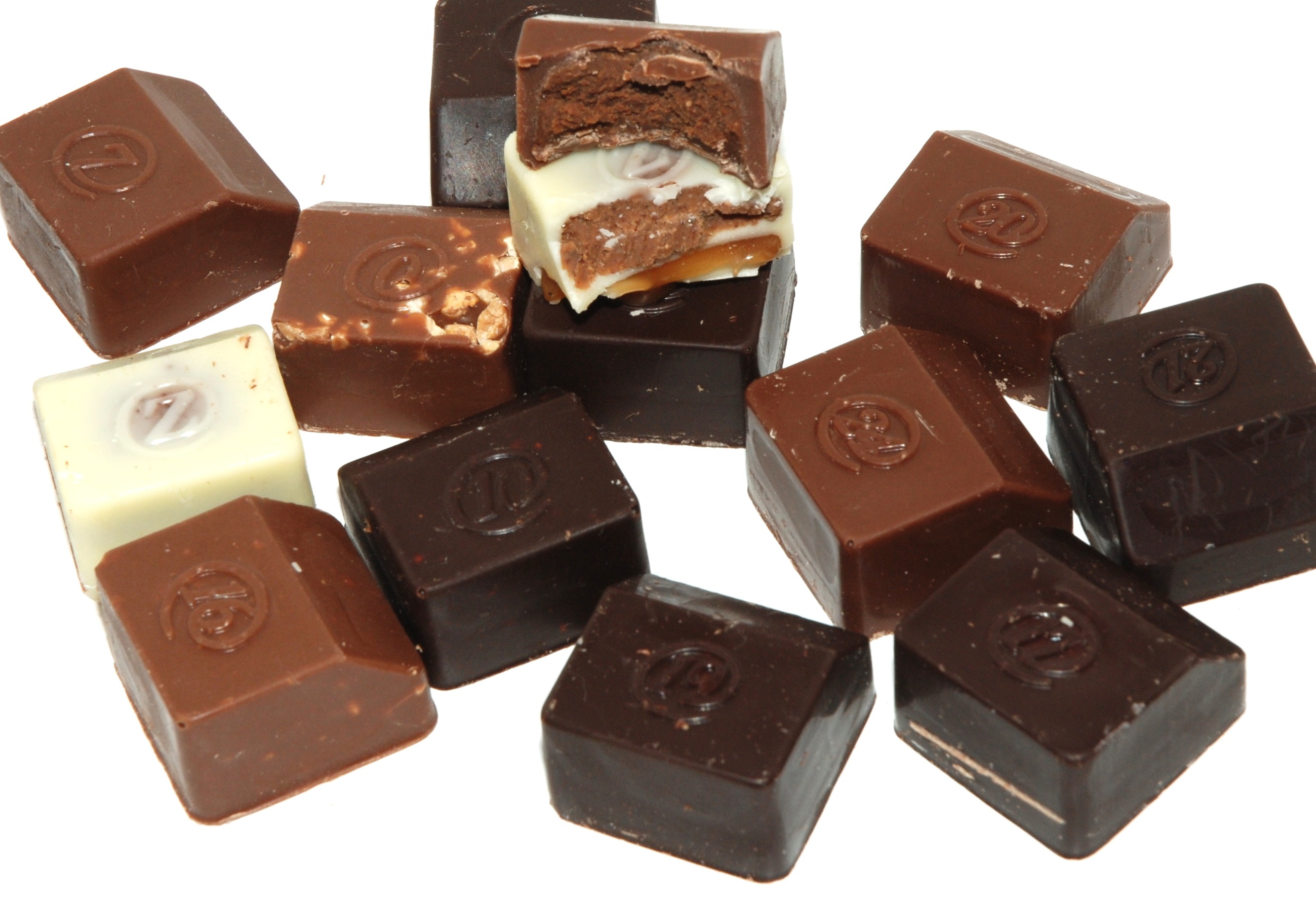 zChocolat
These makeup picks were shot with the zBox 30 from zChocolat my favourite French luxury chocolate brand. The selection of chocolates are absolutely delicious! Each numbered chocolate contains its own unique flavour.
One of my favourites being Number 1 Mistral Breeze, a dark chocolate containing Bourbon Vanilla and 70% Venezuelan chocolate.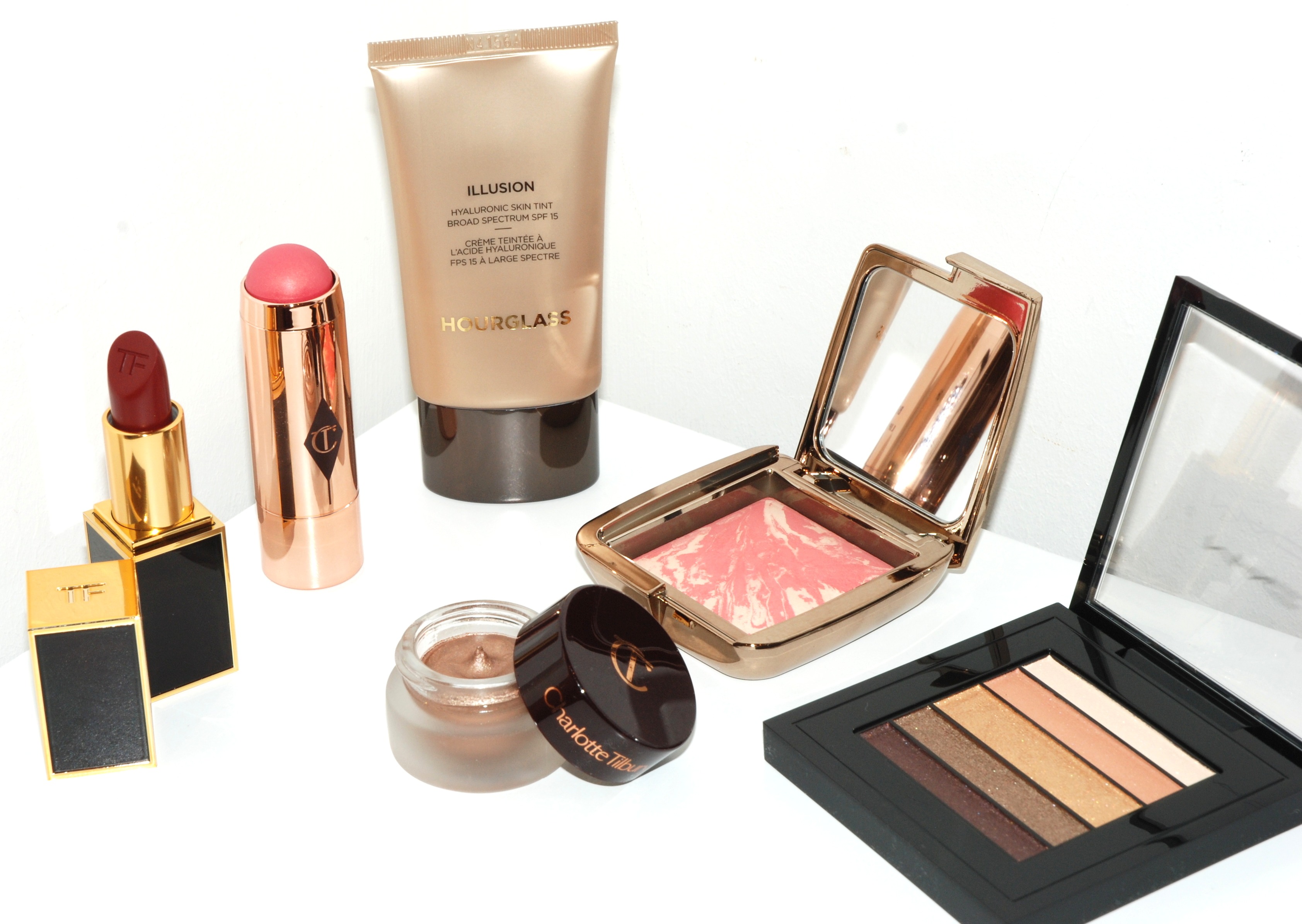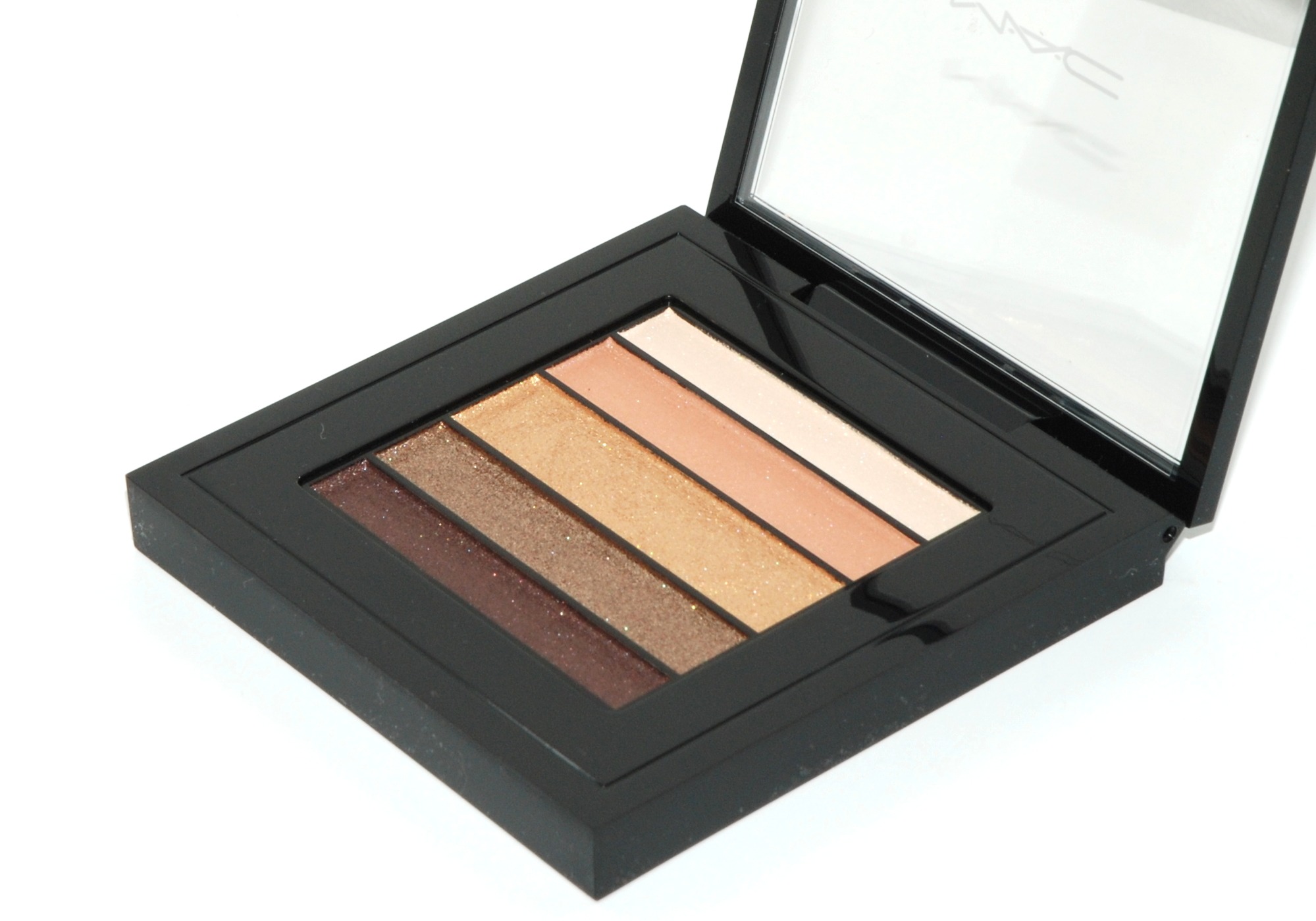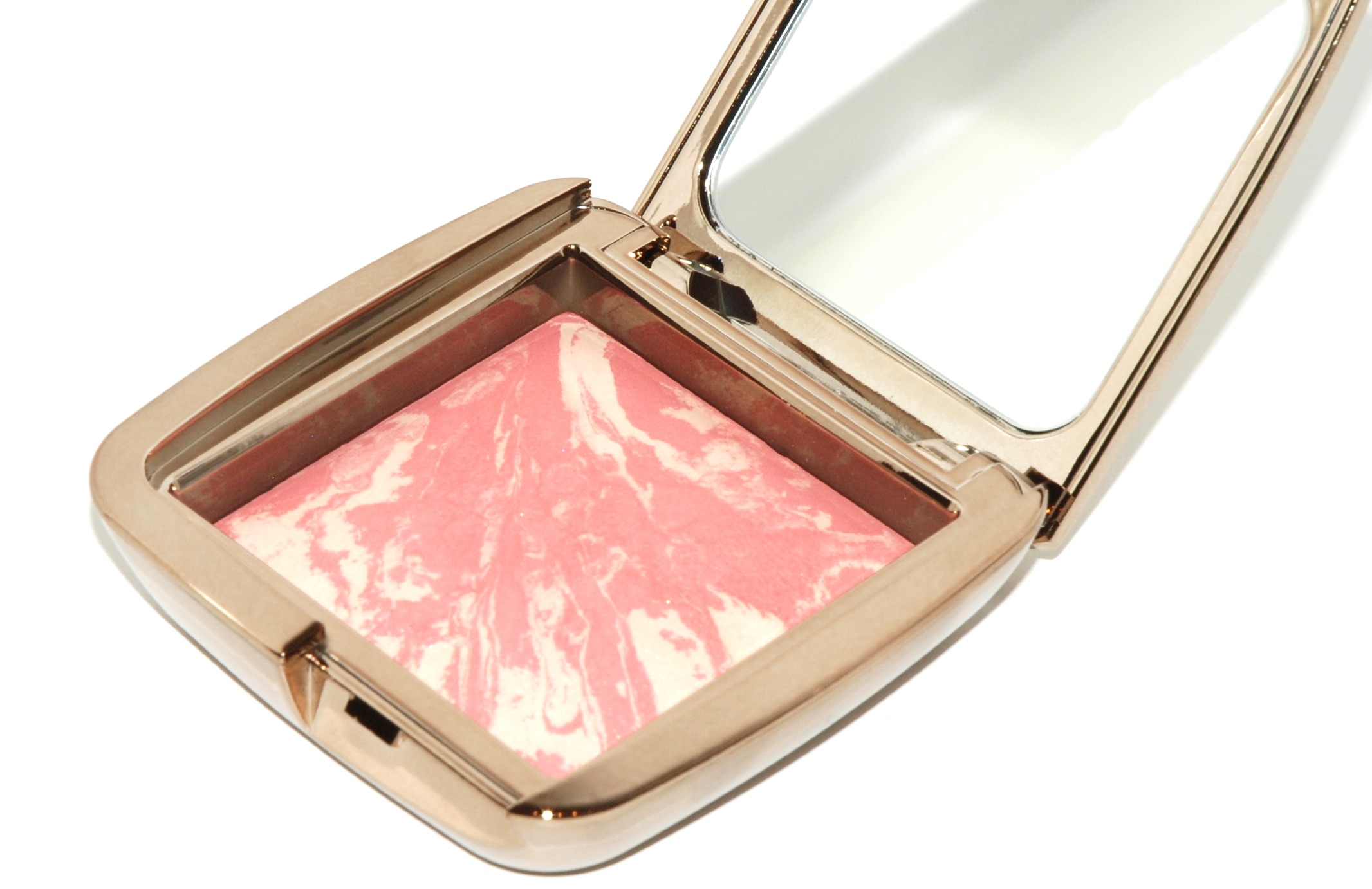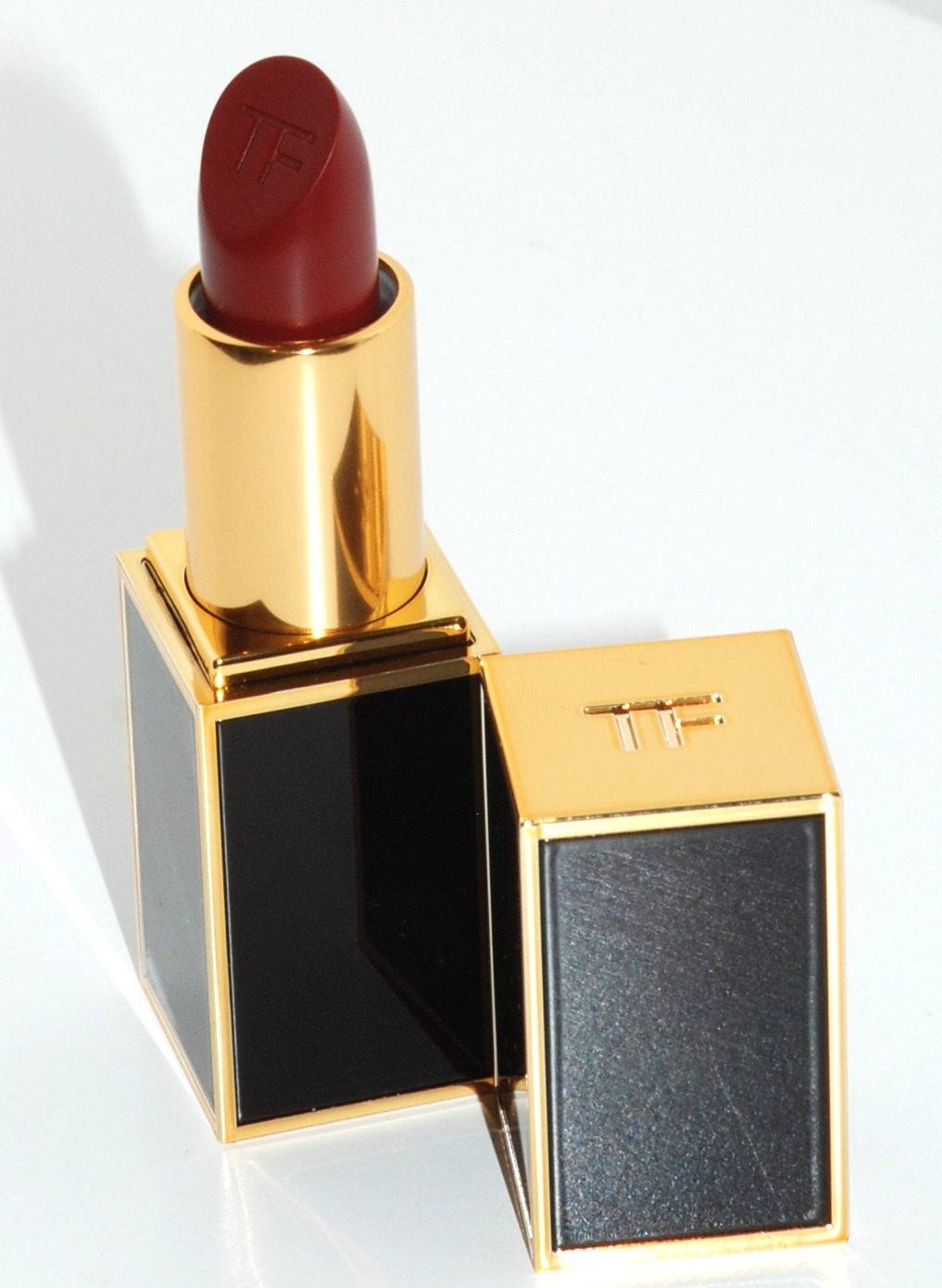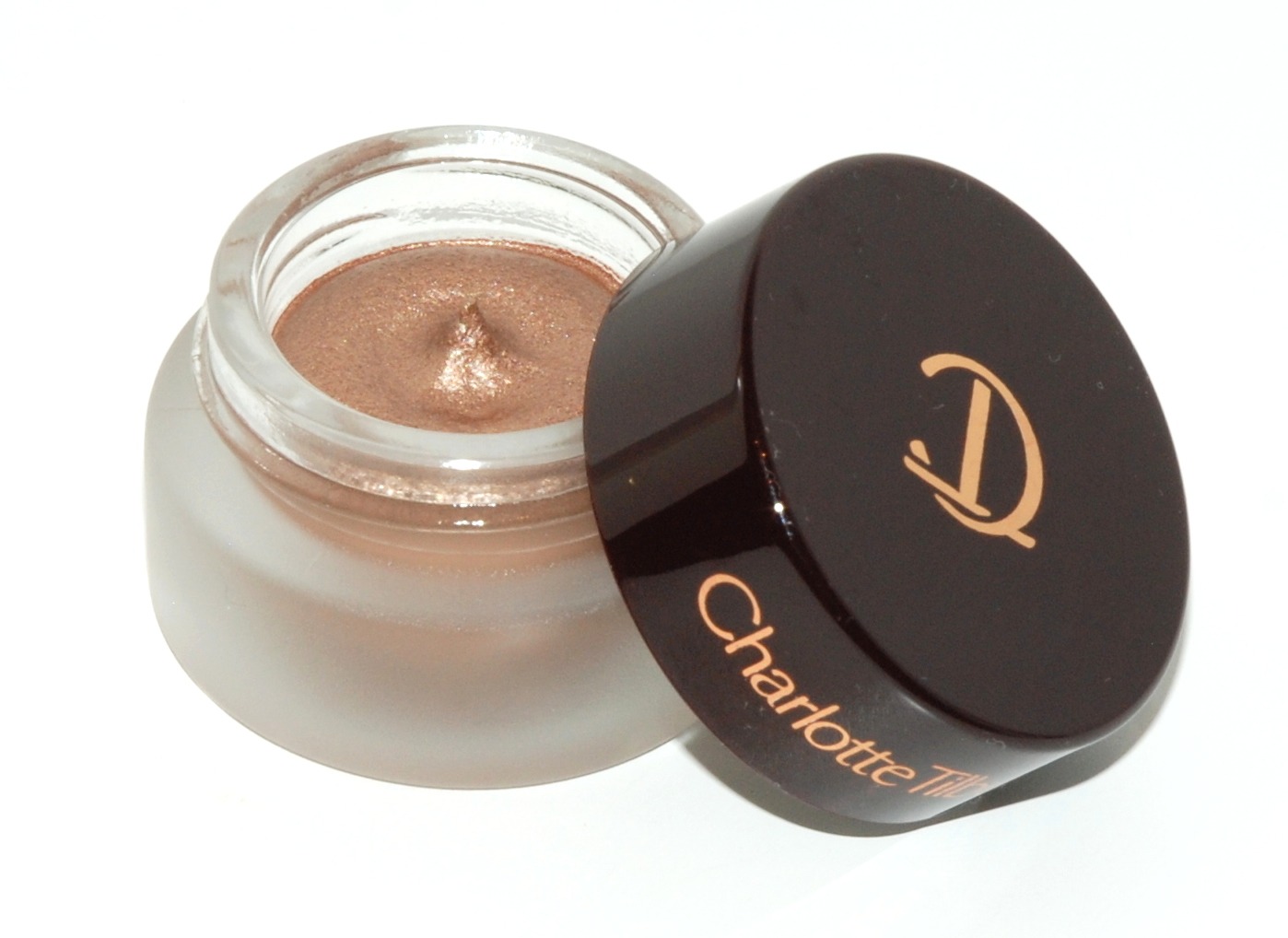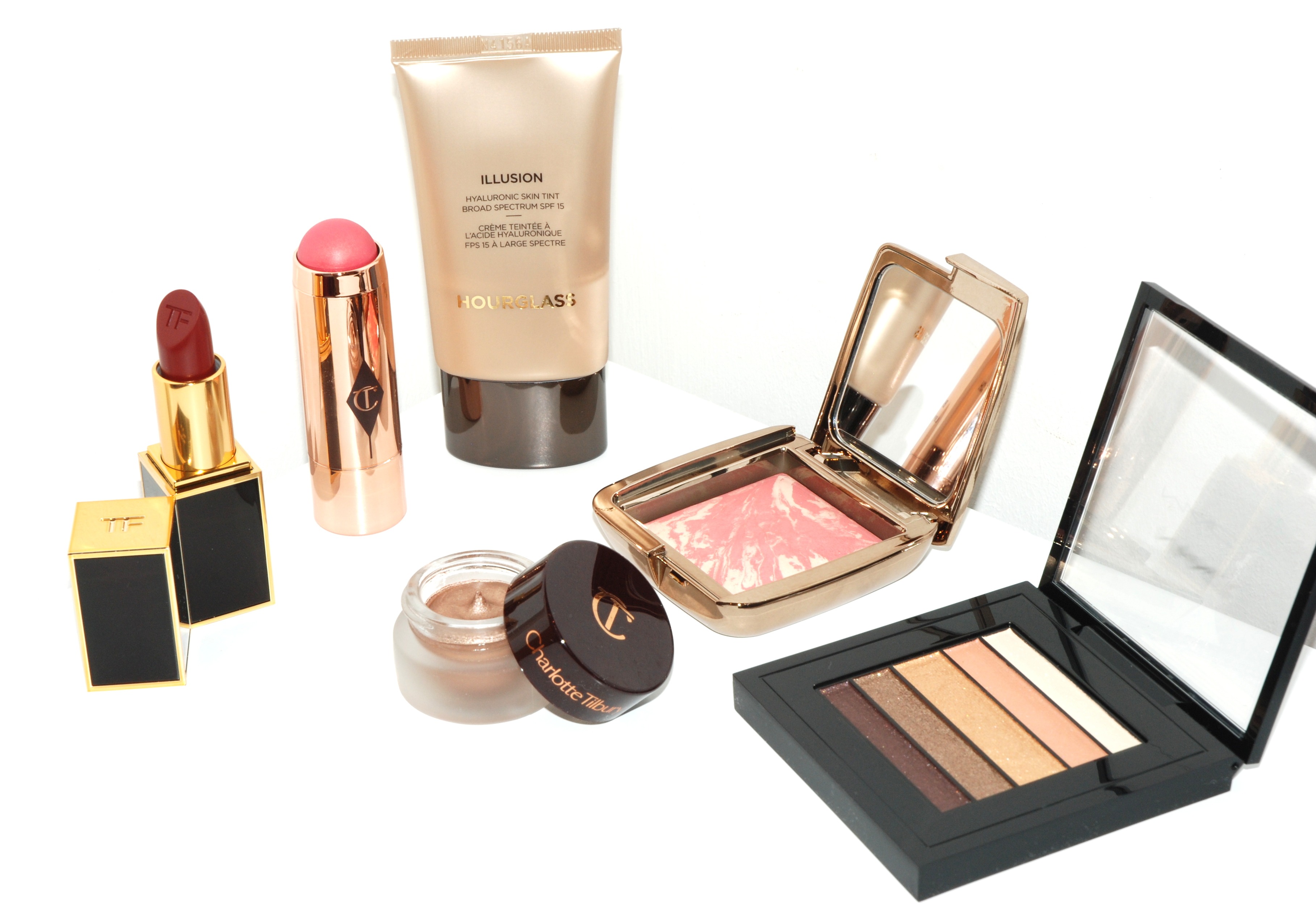 Edit Eight
This luxury edit showcases a range of high end beauty products to create an illuminating warm makeup look for Summer 2016.
From left to right:
Tom Ford Lipstick in Velvet Cherry which is a matte velvety red lipstick from the infamous Tom Ford. It has an expensive price tag for a lipstick and I've been curious to see what the fuss is all about. It is a luxurious lipstick and the finish is lovely, worthwhile treating yourself to one or two of these!
Charlotte Tilbury Beach Stick in Las Salinas which is a really pretty peach cream blush colour. It smells like vanilla and adds such a radiant pop of colour to cheeks. Charlotte Tilbury's products always impress, quality every time.
Hourglass illusion Hyaluronic Skin Tint in Golden. The formula uses advances technology to give skin a photoshopped finish for a much more youthful complexion. Very lightweight and great to wear alone or under foundation.
Hourglass Ambient Lighting Powder Blush in Diffused Heat which not only looks beautiful in the pan, it also looks really pretty swept onto the cheeks. Diffused heat has a reddish tone to it which is gorgeous to add radiance and glow to the skin.
MAC Veluxe Pearlfusion in Brownluxe which is a beautiful eyeshadow quad containing a variety of luxurious brown tones ranging from a warm brown, peachy pink, and a gorgeous golden shade. Available at House of Fraser.
Charlotte Tilbury Eyes to Mesmerise Cream Eyeshadow in Marie Antoinette which is such a beautiful colour warm golden pink and so easy to apply!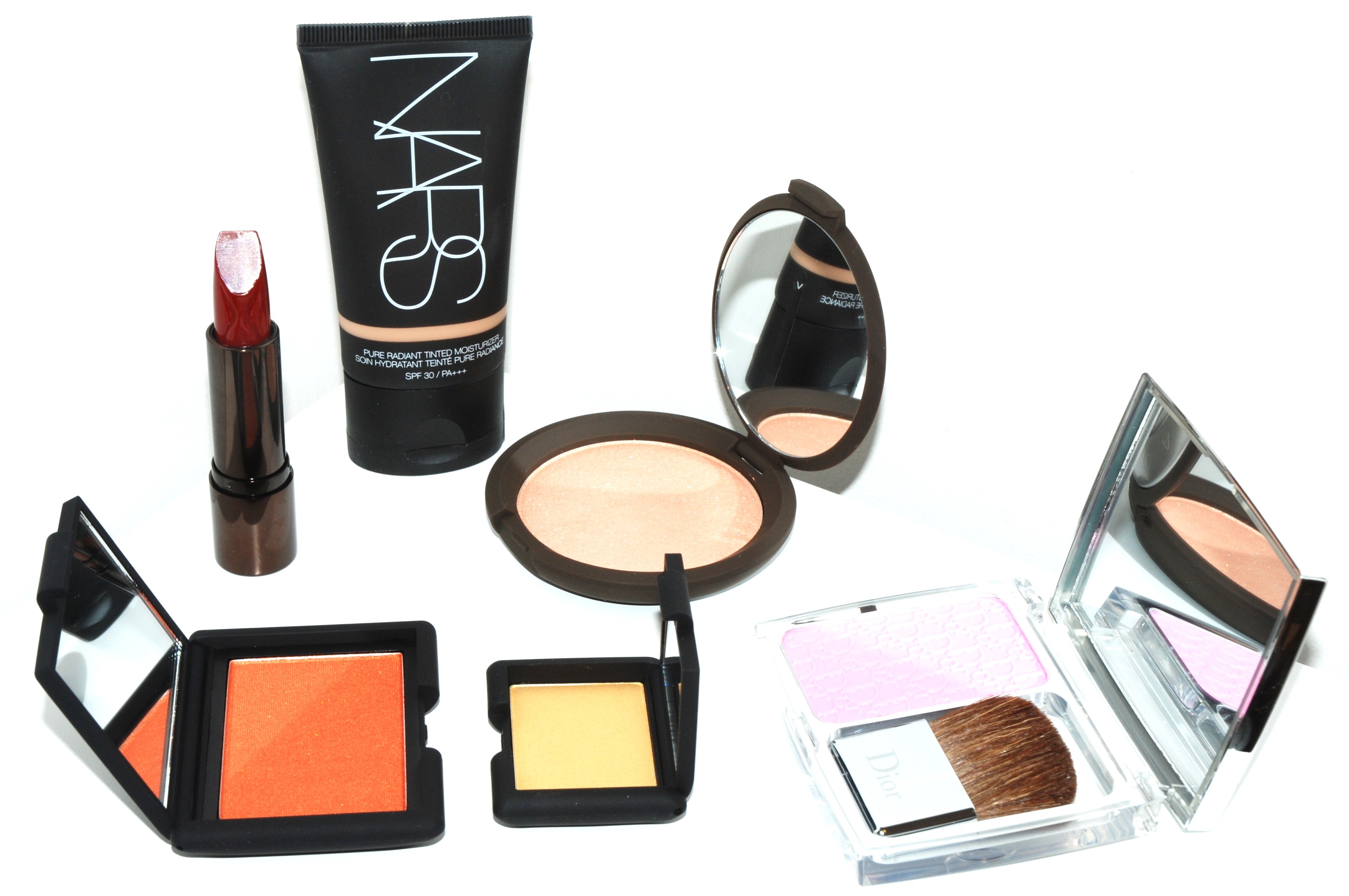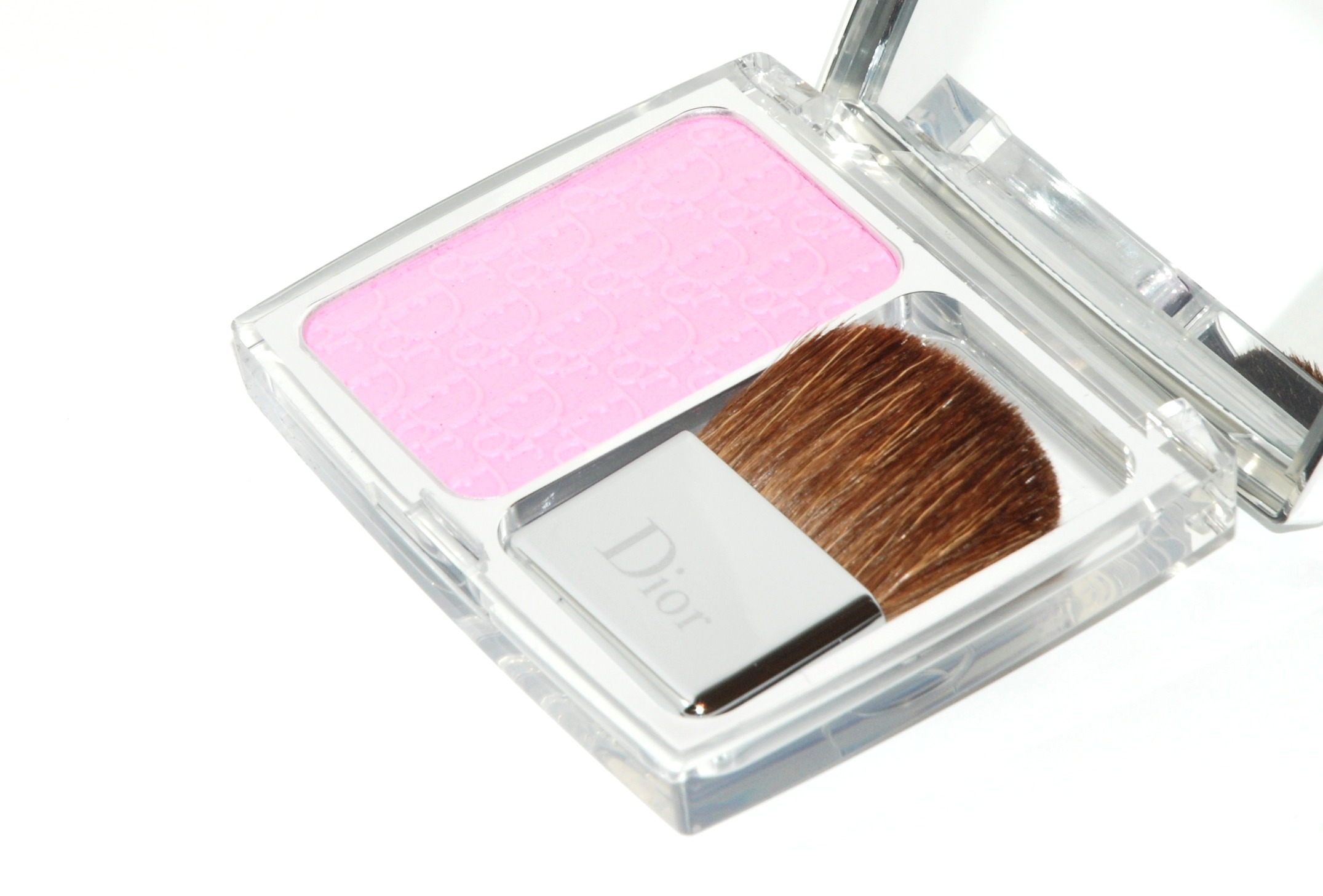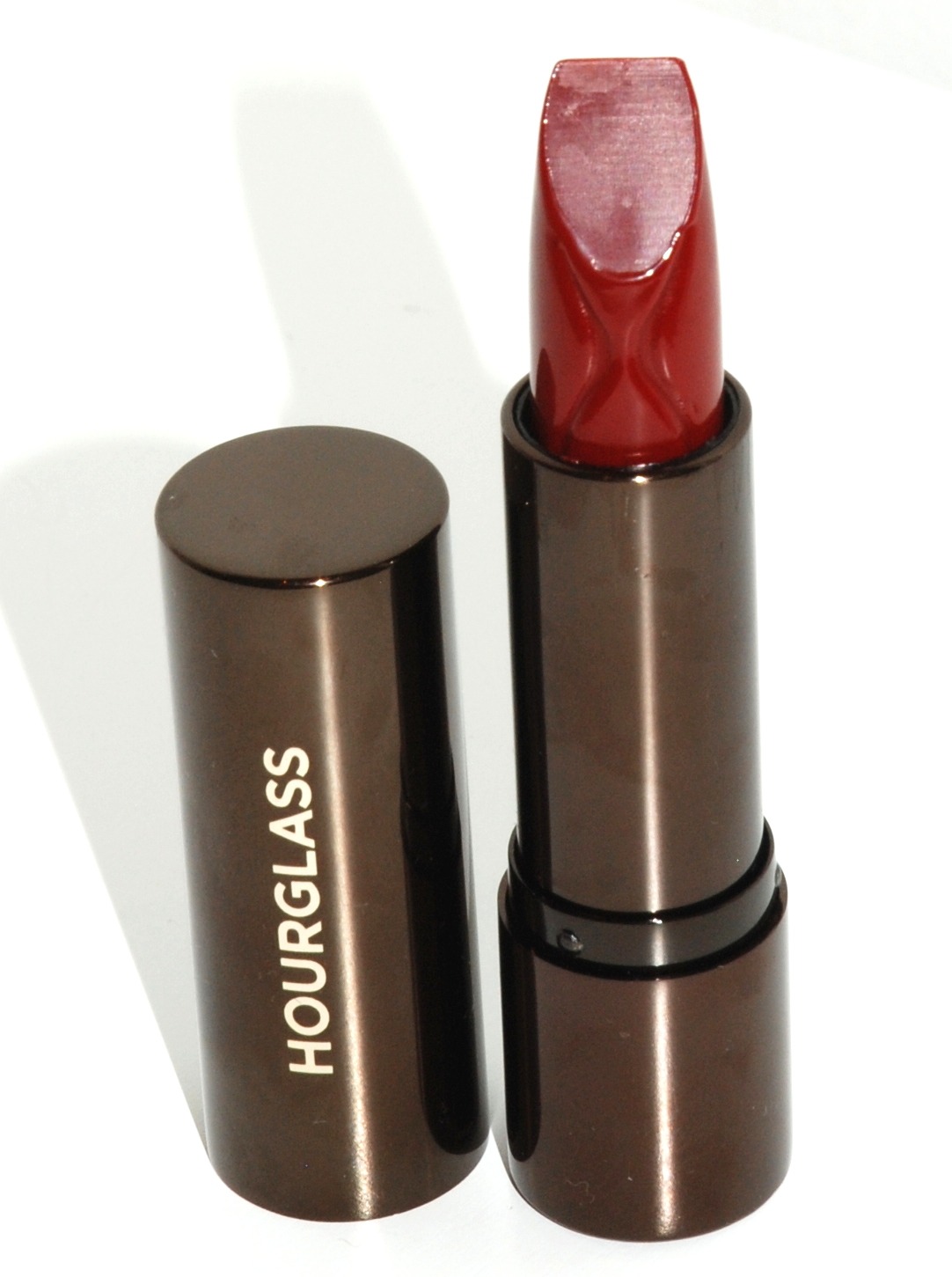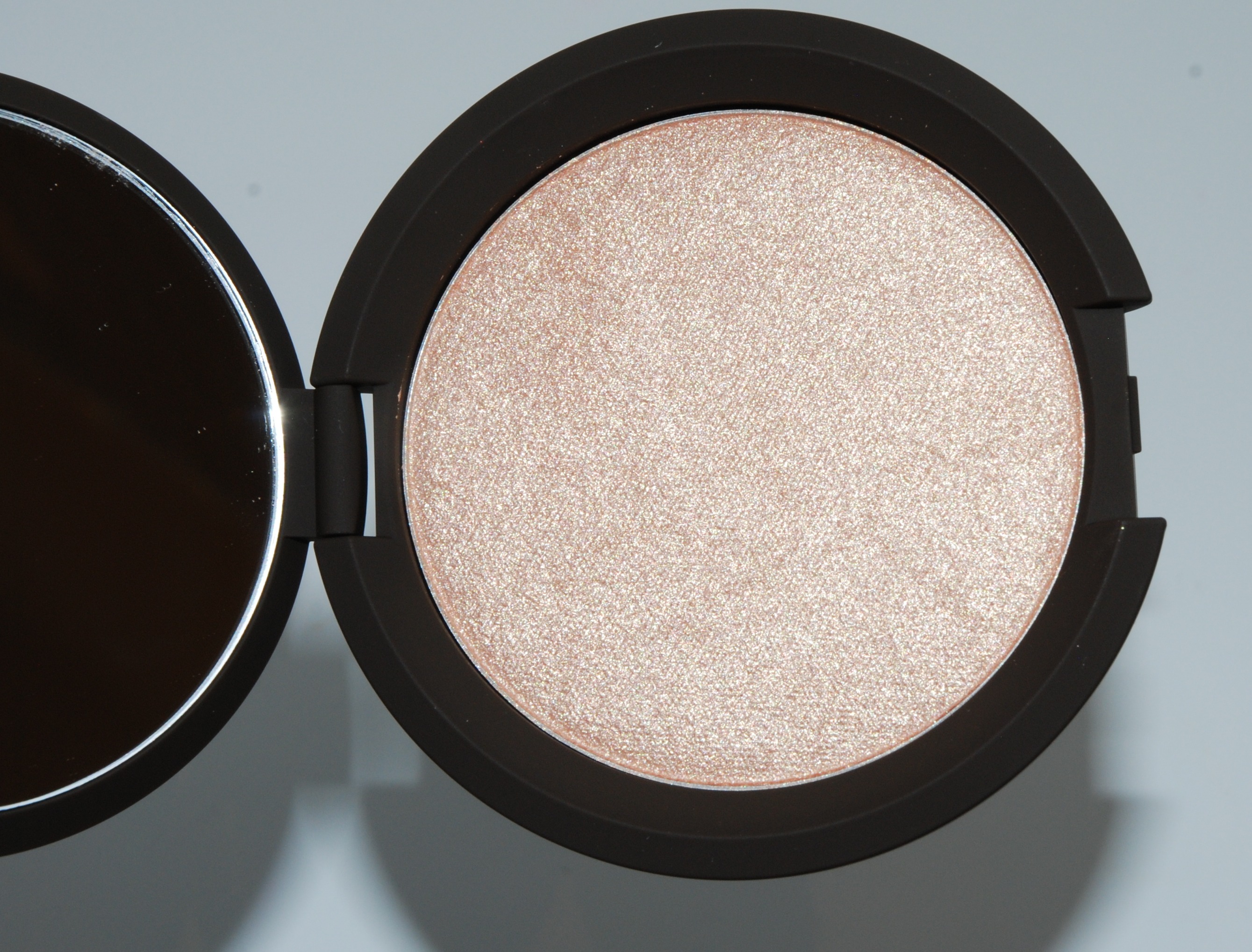 Edit Nine
This edit showcases high-end beauty products to accentuate and highlight cheeks, create a golden eyed look and perfect a deliciously red pout to go with beautiful dewy skin.
From left to right:
NARS blush in Taj Mahal which is a gorgeous burnt orange shade. Similar to my favourite Exhibit A featured in my NARS favourites 2016 in terms of vibrancy & warmth. This gorgeous blush is beautiful and very complimentary on olive skin.
Hourglass Velvet Creme Lipstick in Icon which is a true red shade. The detailing on the lipstick itself is beautiful and this wears very easily gliding onto the lips with effortless precision.
NARS Pure Radiant Tinted Moisturiser in St Moritz which is a creamy formula which for is perfect if you have dry skin and are looking for a tinted moisturiser. NARS also have a matte tint range which is great for oily skin.
BECCA Champagne Pop the popular highlighter which has been the talk of the town for quite a while now. It's a pretty golden highlighter which is great to add emphasis to cheekbones. It looks lovely worn as an eyeshadow in the inner crease and underneath the brow bone. It certainly makes cheekbones pop!
Dior Rosy Glow Blush which is a luxurious and intelligently formulated blush as it adapts to your own skin-tone and changes colour slightly after applied to skin. This is a very pretty blush which gives skin a rosy healthy glow.
NARS Goldfinger Shimmer Eyeshadow which is a really pretty golden shimmery single eyeshadow from NARS. Highly pigmented with a metallic finish, it's gorgeous!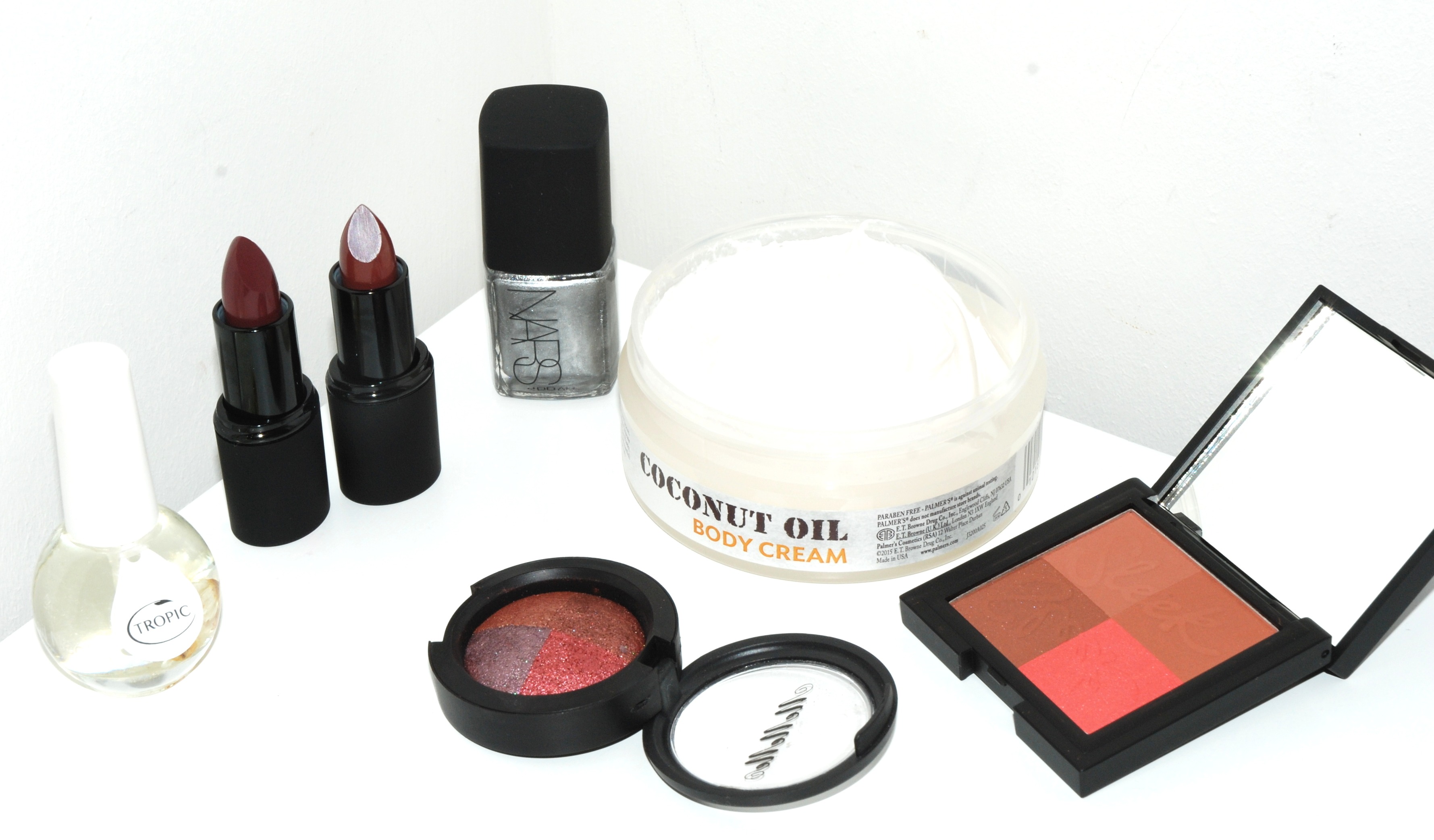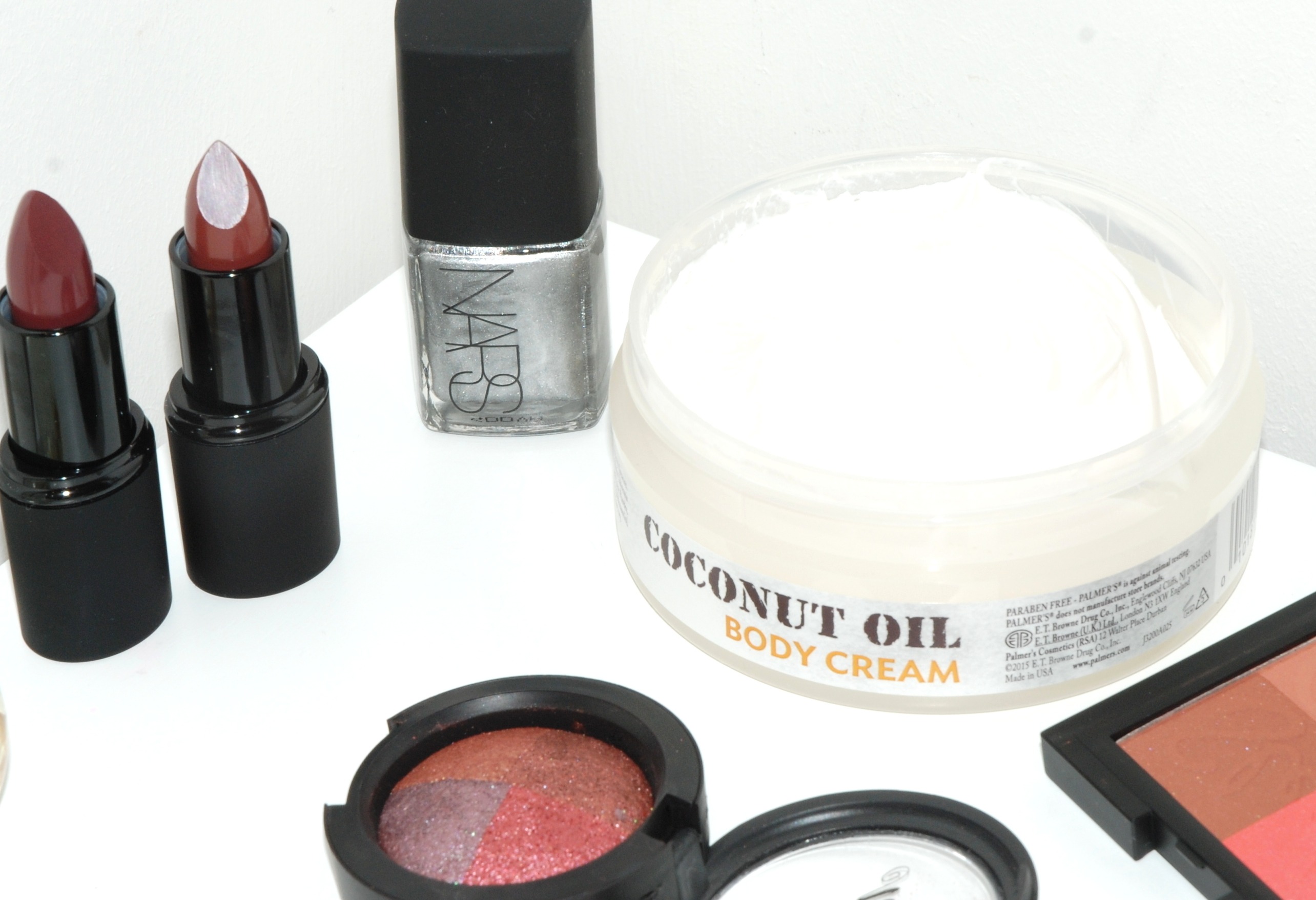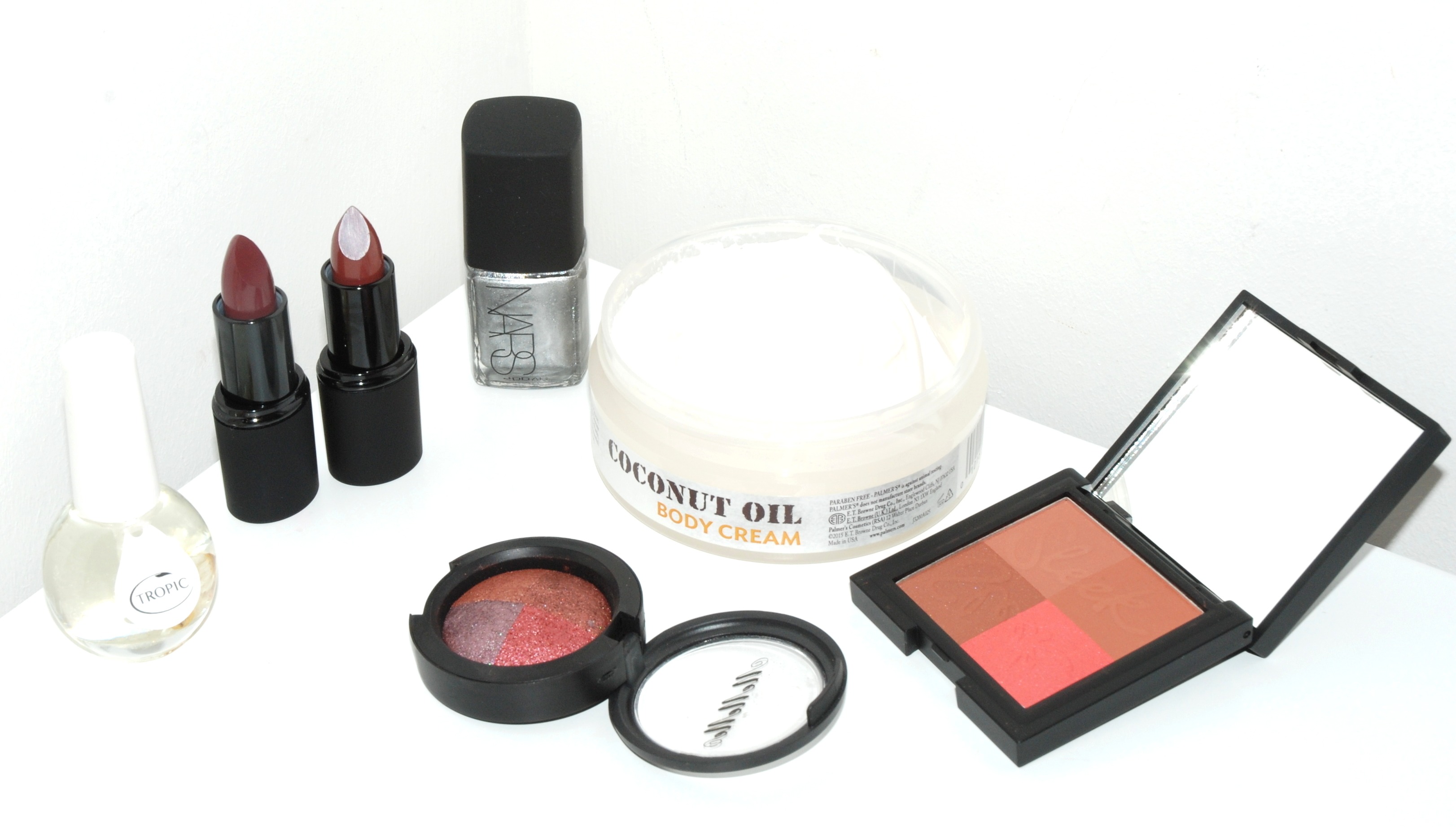 Edit Ten
Edit ten showcases some high-street options as as well as some luxury treats.
From left to right:
Tropic Skincare Nail Nectar from Tropic Skincare which nourishes and strengthens nails.
Sleek True Colour Lipsticks in Smoulder and Dare which are two gorgeous browny red shades.
NARS Amarapura Nail Polish which is my favourite nail varnish colour of all time. It's been love at first try and features in many of my fashion shoots. A stunning silver chrome metallic matte nail shade, an absolute sensation to wear.
Palmers Coconut Oil Body Cream – I had the pleasure of attending the launch of this range at Ham Yard in London and this was one of the products showcased. If you love the smell of coconuts this is for you, the scent is lovely and long-lasting also.
Sleek Bronze Block in Dark which is great for warming up the face. The pink shade is great for using alone as a blush.
MeMeMe Eye Inspire Catwalk Quad in Opulent Eyes which contains four warming eyeshadows which can be used wet or dry.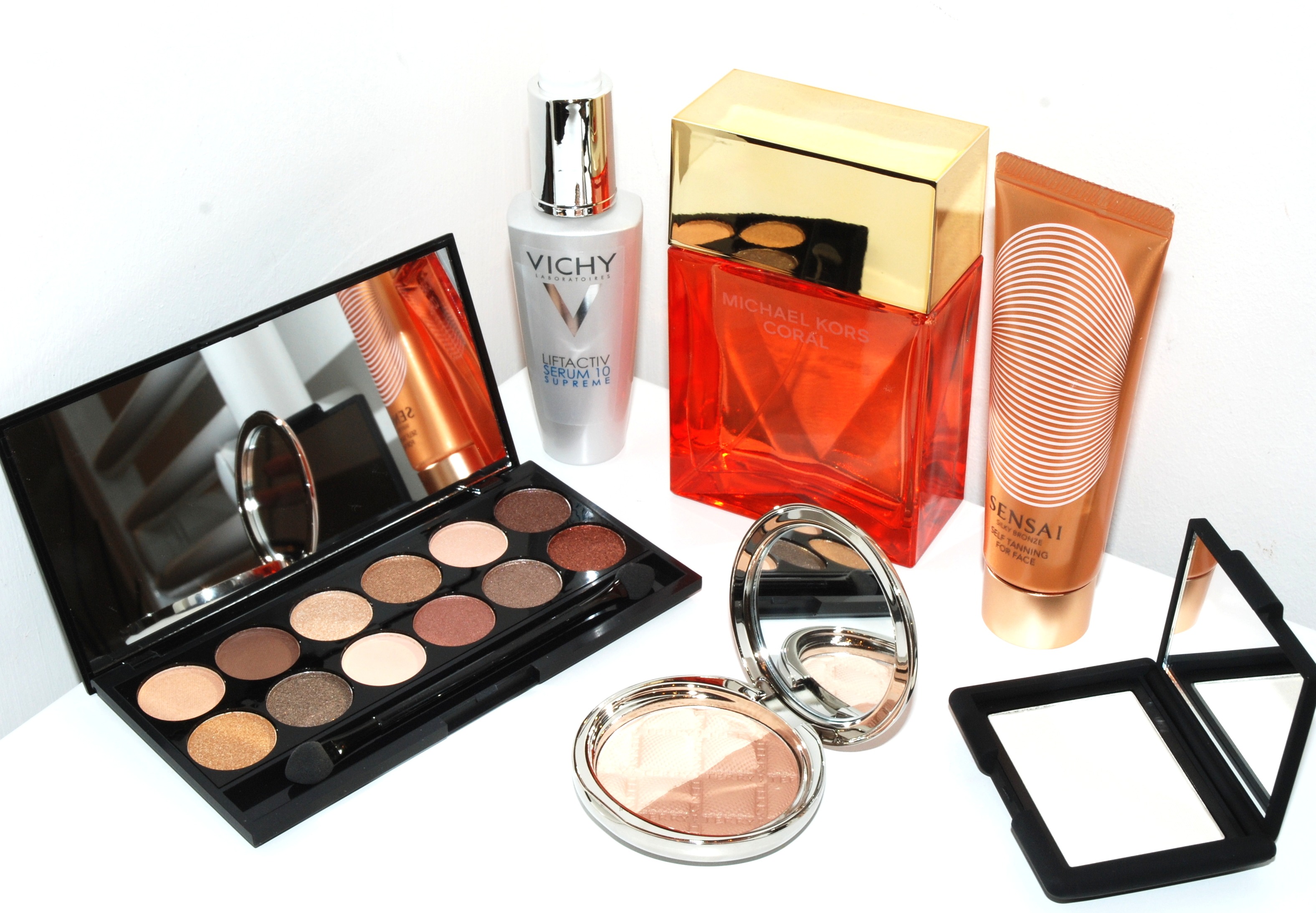 Edit Eleven
This edit brings you products to create a warm smokey eye, contour and highlight cheekbones to compliment radiant skin, and a scent perfect for sunnier months.
From Left to right
Sleek I-Divine Eyeshadow Palette in All Night Long which is a pretty compact containing warm golds, pinks and browns. Great to create a warm pigmented smokey eye.
Sensai Silky Bronze Self Tanning for Face which creates a gradual tan to the face. It's recommended you apply this two to three times per week to maintain an even tan to create a bronzed sun-kissed face.
Vichy Serum 10 Supreme LIFTACTIV which targets 10 signs of ageing such as loss of firmness, wrinkles, dullness, a loss of plumpness. A multi-tasking skincare product which is the perfect pick me up skincare product in a bottle.
Michael Kors Coral Eau De Parfum which is a blend of tropical scents ranging from sweet raspberry, grapefruit and warm sandalwood in a quirky orange bottle. A crisp fragrance for Summer.
NARS Highlighting Blush in Albatross which is a popular highlighter from the NARS brand. A lightweight opalescent gold highlight.
Terribly Densillis Contouring in 200 Beige Contrast which is a beautiful contouring compact. The ByTerry brand creates very high end products which equal quality every single time. Beautifully designed providing immediate youth due to its soft focus technology.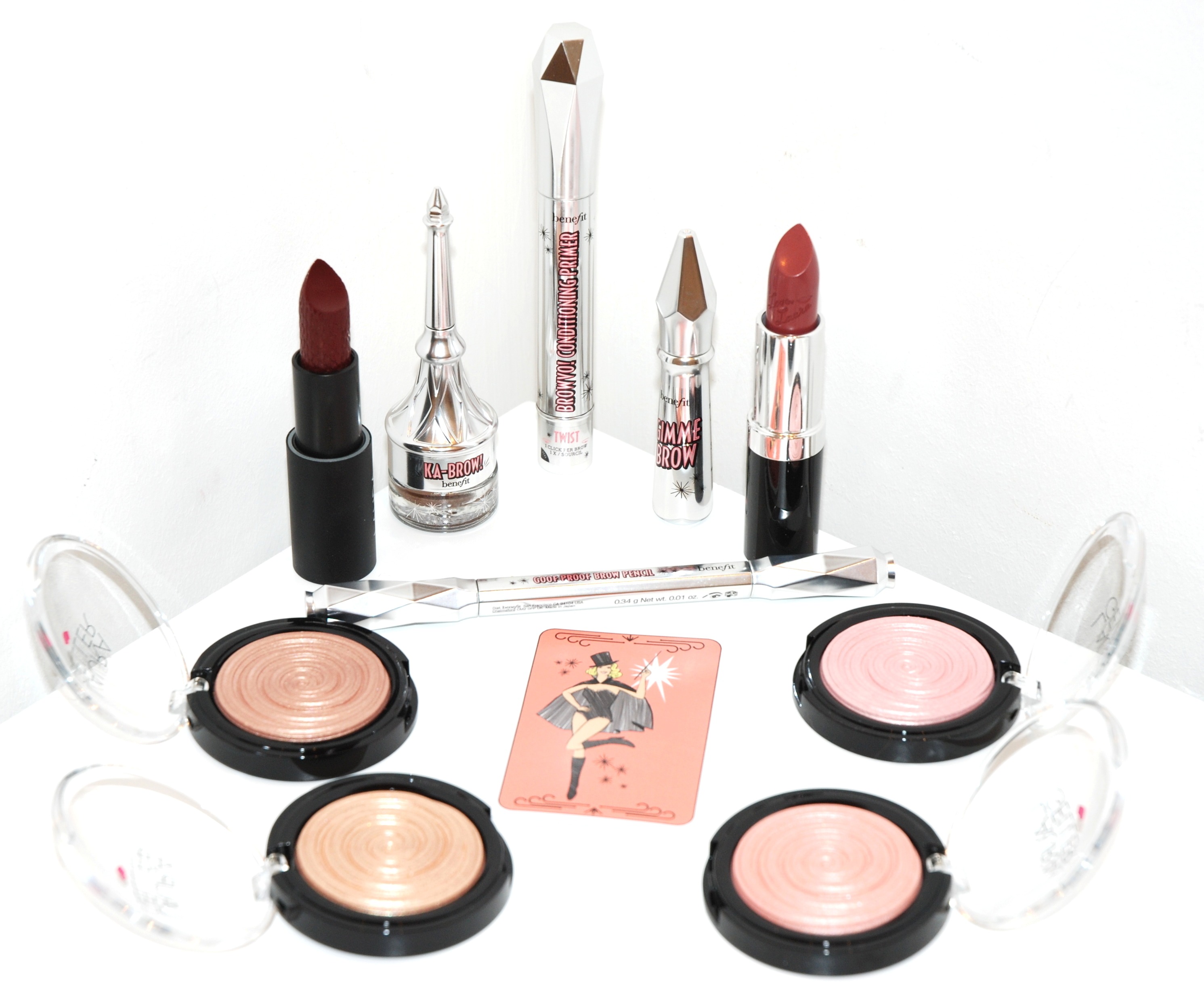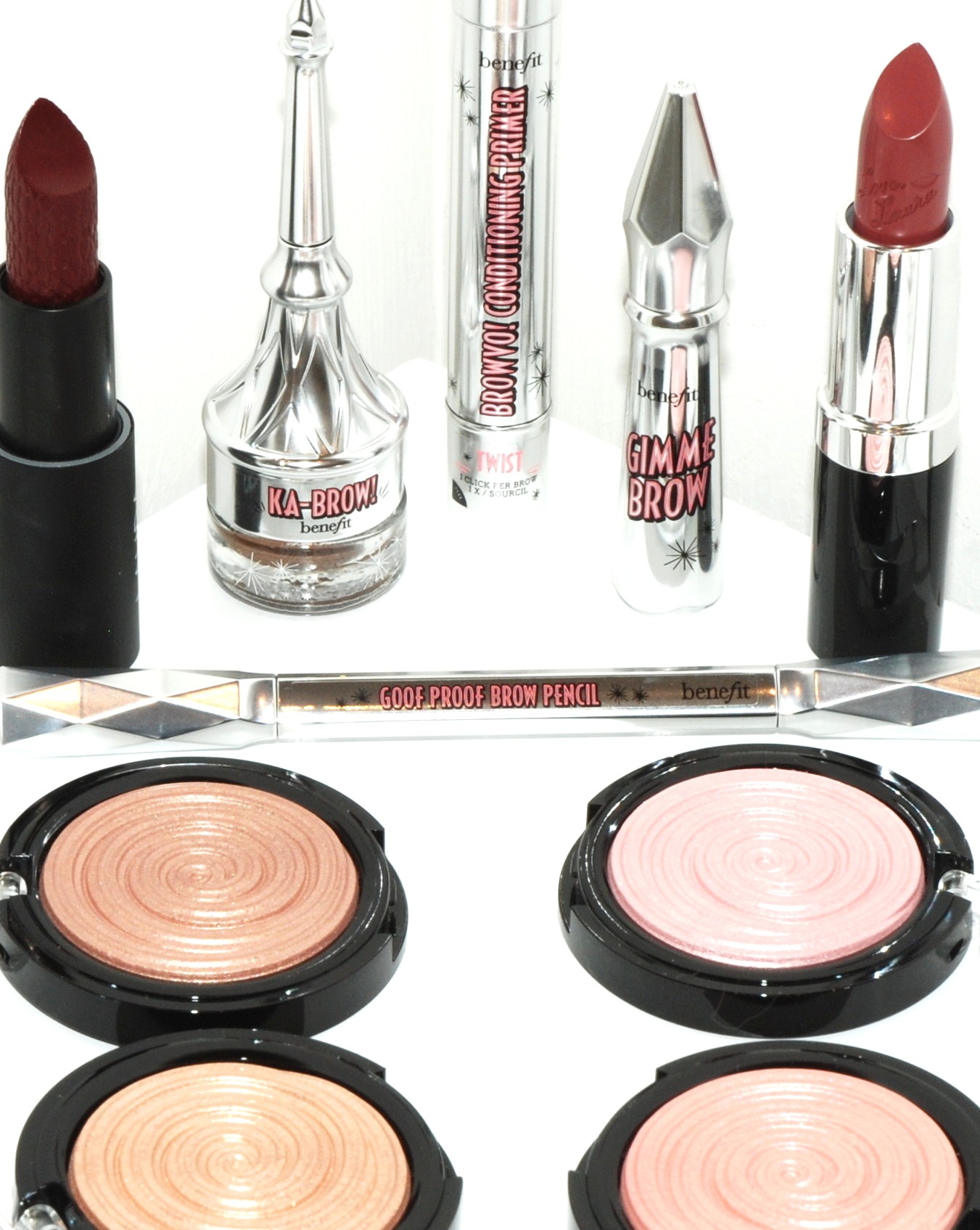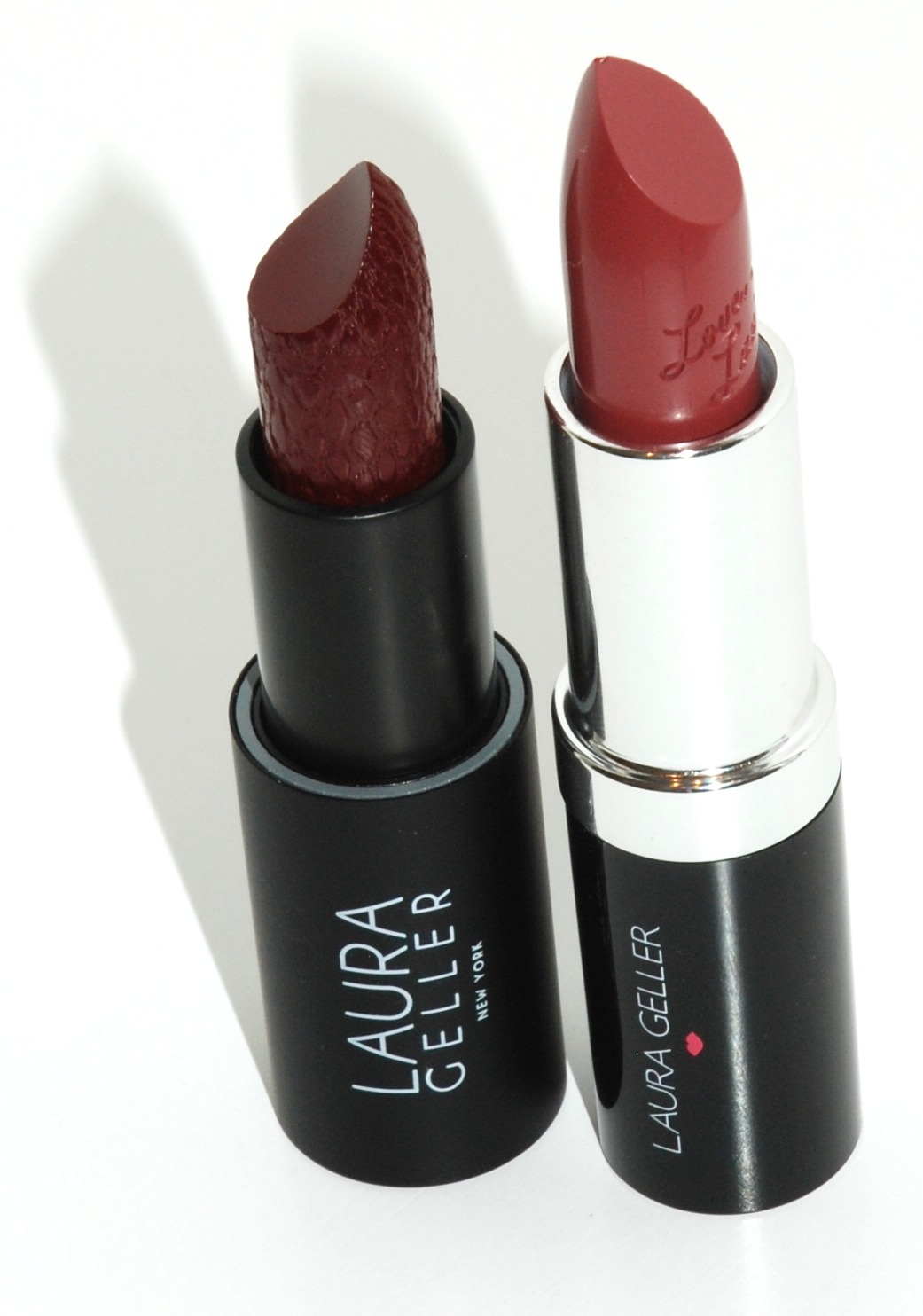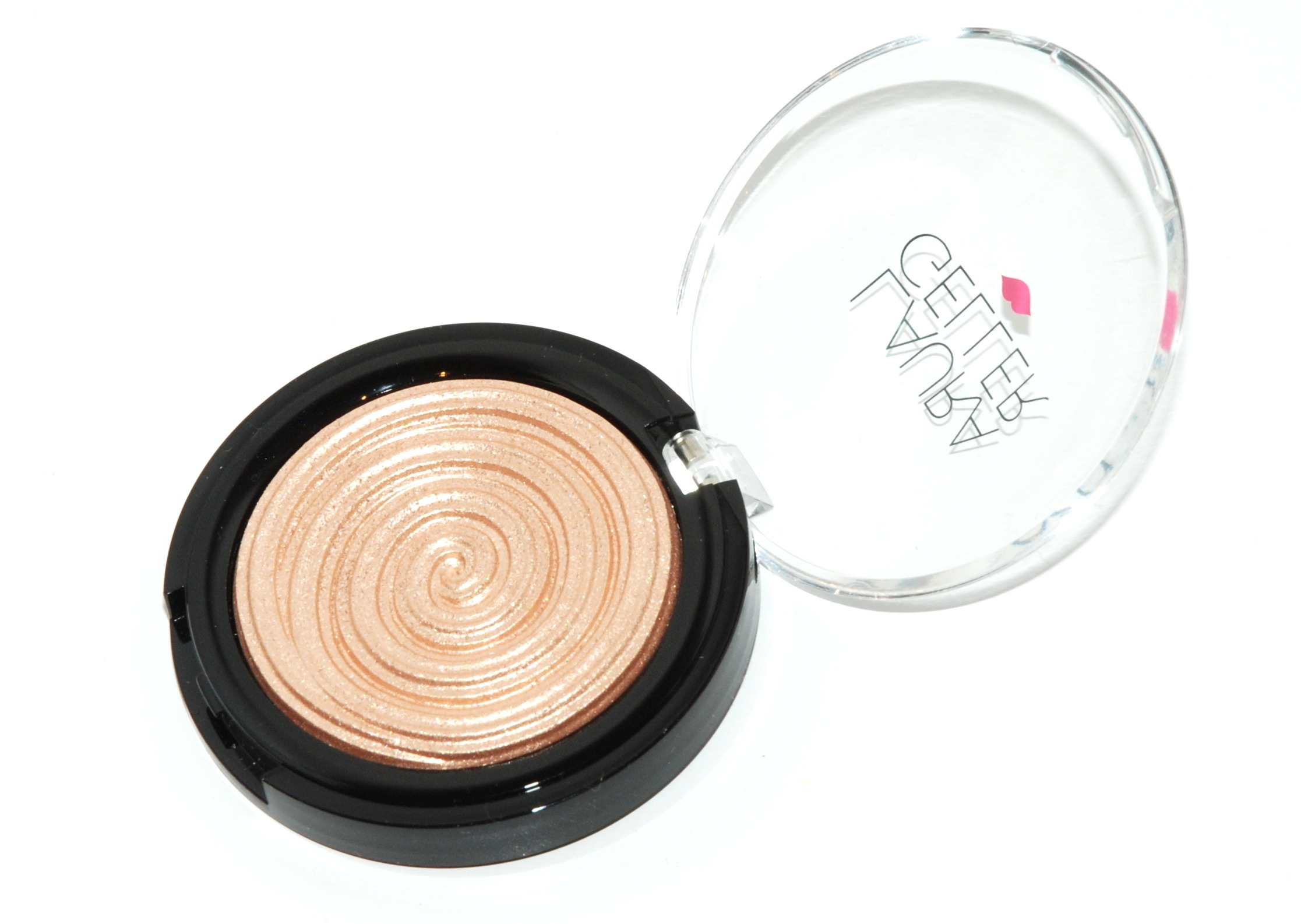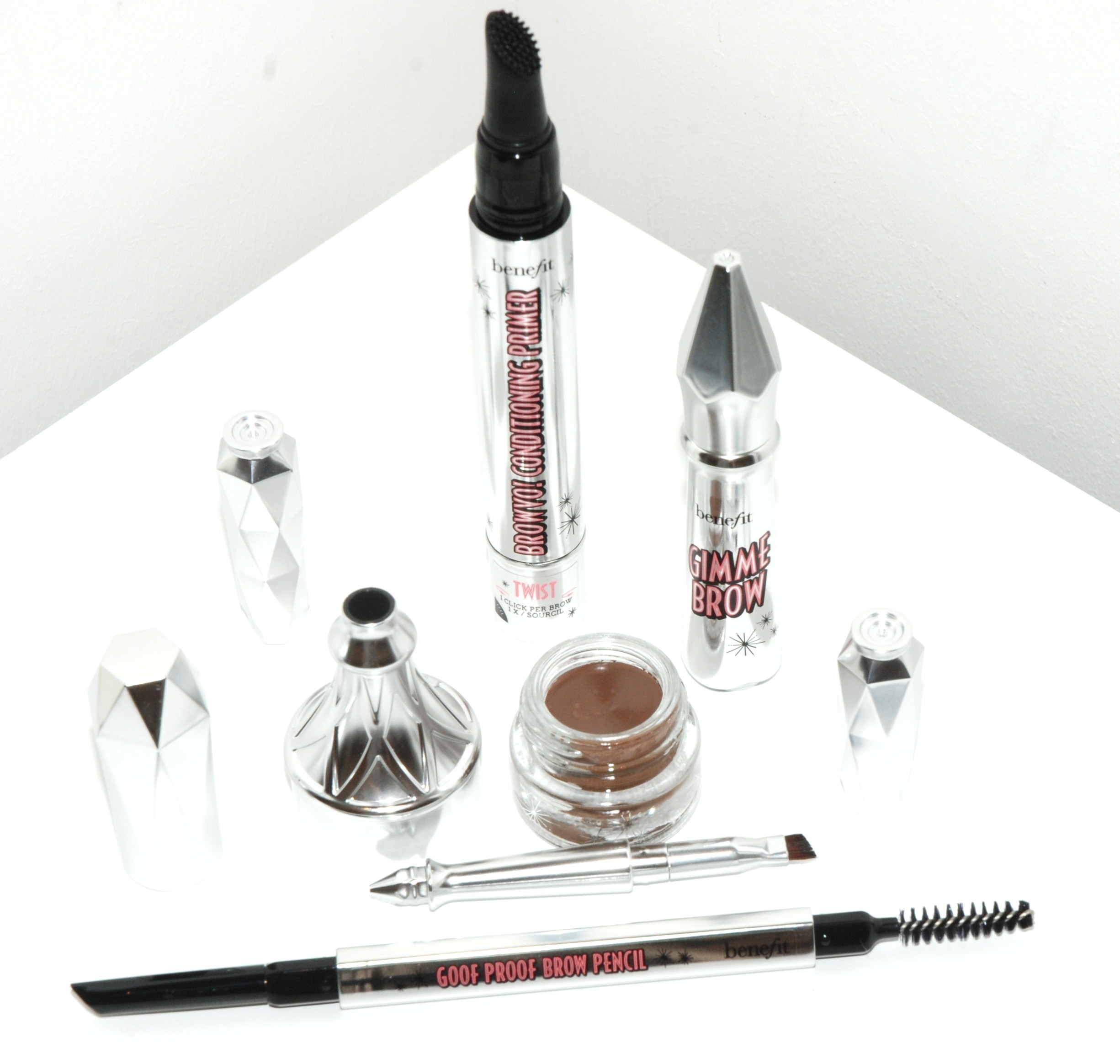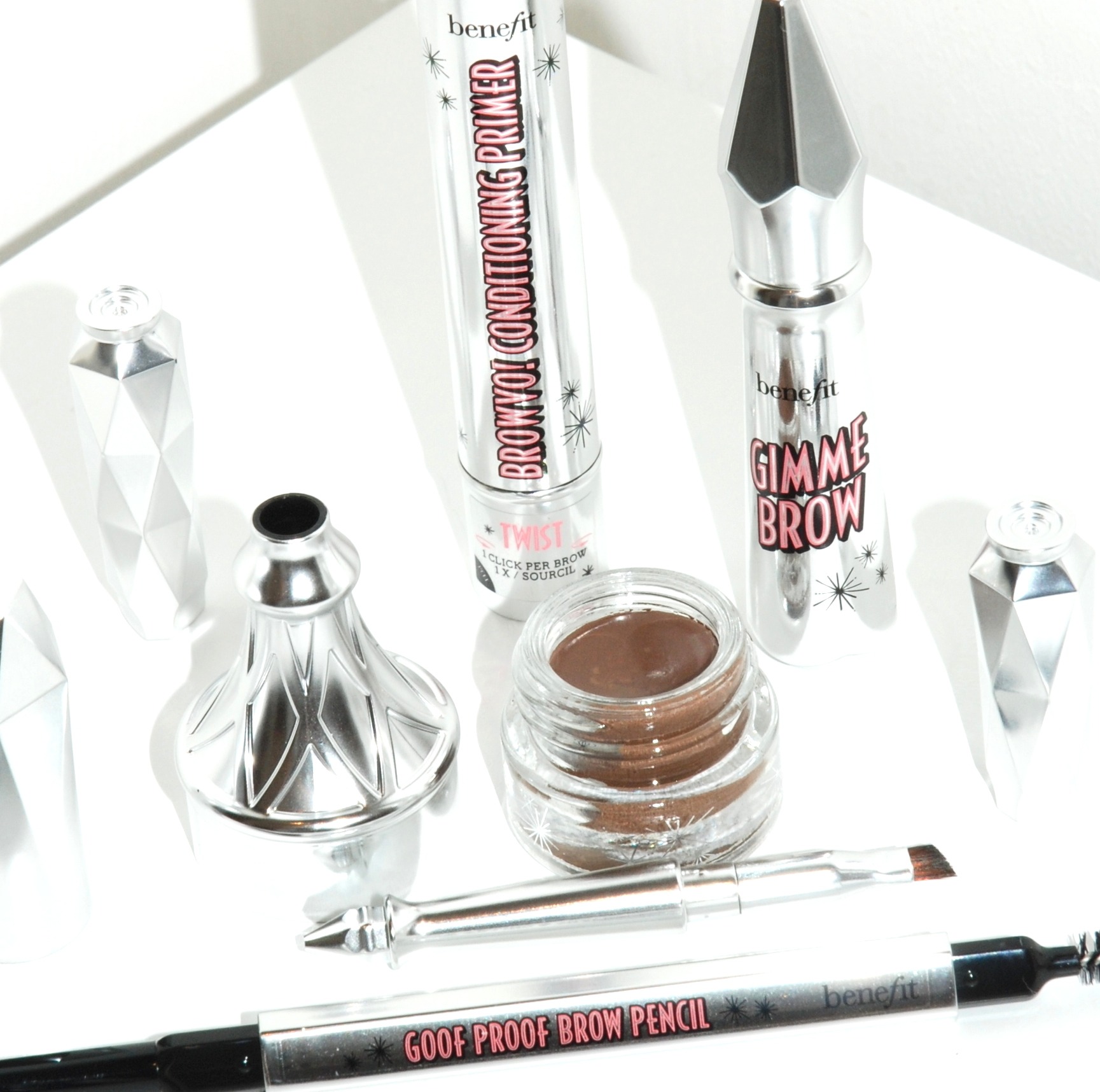 Edit Twelve
Define brows and create beautifully glowing highlighted cheekbones this Summer. Team this look with a pretty warm lip.
From left to right
Laura Geller Baked Sculpting Lipstick in Broadway Plum which is a very moisturising highly pigmented creamy plummy red lipstick.
Benefit Ka-BROW! Eyebrow Cream-Gel in 04 Medium which is one of the brand new eyebrow products from Benefit. I had the pleasure of attending the product launch where they showcased all the new products. An impressive range and this was a favourite of mine.
BROWVO! Conditioning Eyebrow Primer which is full of nutrients to help eyebrow growth which is great for those with sparse eyebrows.
Gimme Brow Volumizing Eyebrow Gel in 03 Medium another new product from the Benefit Eyebrow range. This is a fibre gel to provide volume to the brows.
Laura Geller Color Enriched Anti-Ageing Lipstick in Rosato which is a pretty plummy pink colour. Perfect for a daytime lip.
Goof Proof Eyebrow Pencil in 04 Medium which helps to fill in brows and accentuate brow shape. It comes with a spoolie on the other end of the product which is very useful for application. A very easy to apply pencil.
Laura Geller Baked Gelato Swirl Illuminators in Ballerina, Charming Pink, Gilded Honey and Peach Glow which are utterly beautiful both in terms of design and product quality. Gilded Honey is my favourite and I actually prefer this to Champagne Pop!
I love the golden highly pigmented highlight which sits so beautifully on cheekbones. Each shade is beautiful, for warmer skin tones go for Gilded Honey and for cooler tones try Charming Pink. Peach Glow and Ballerina are great for any skin-tone.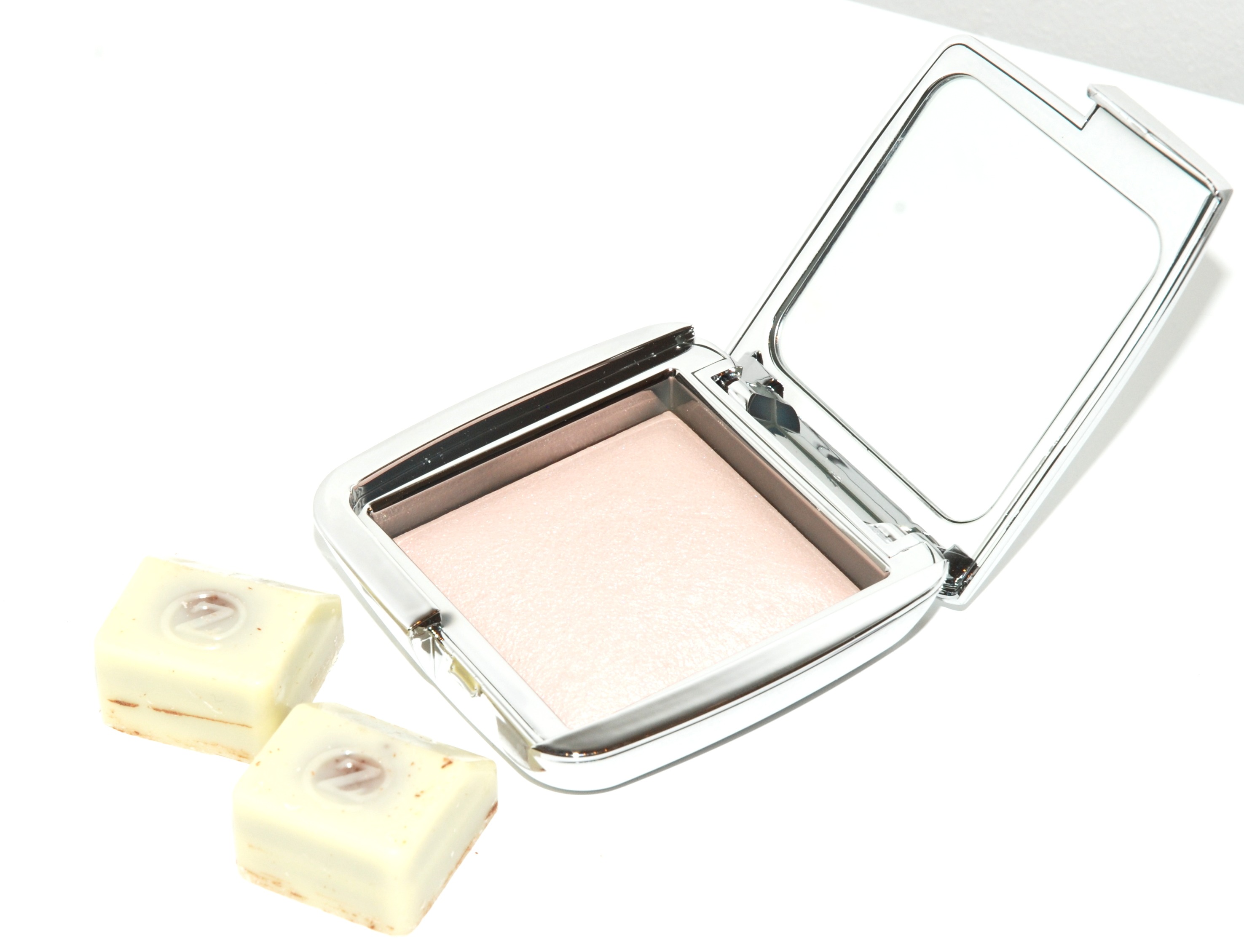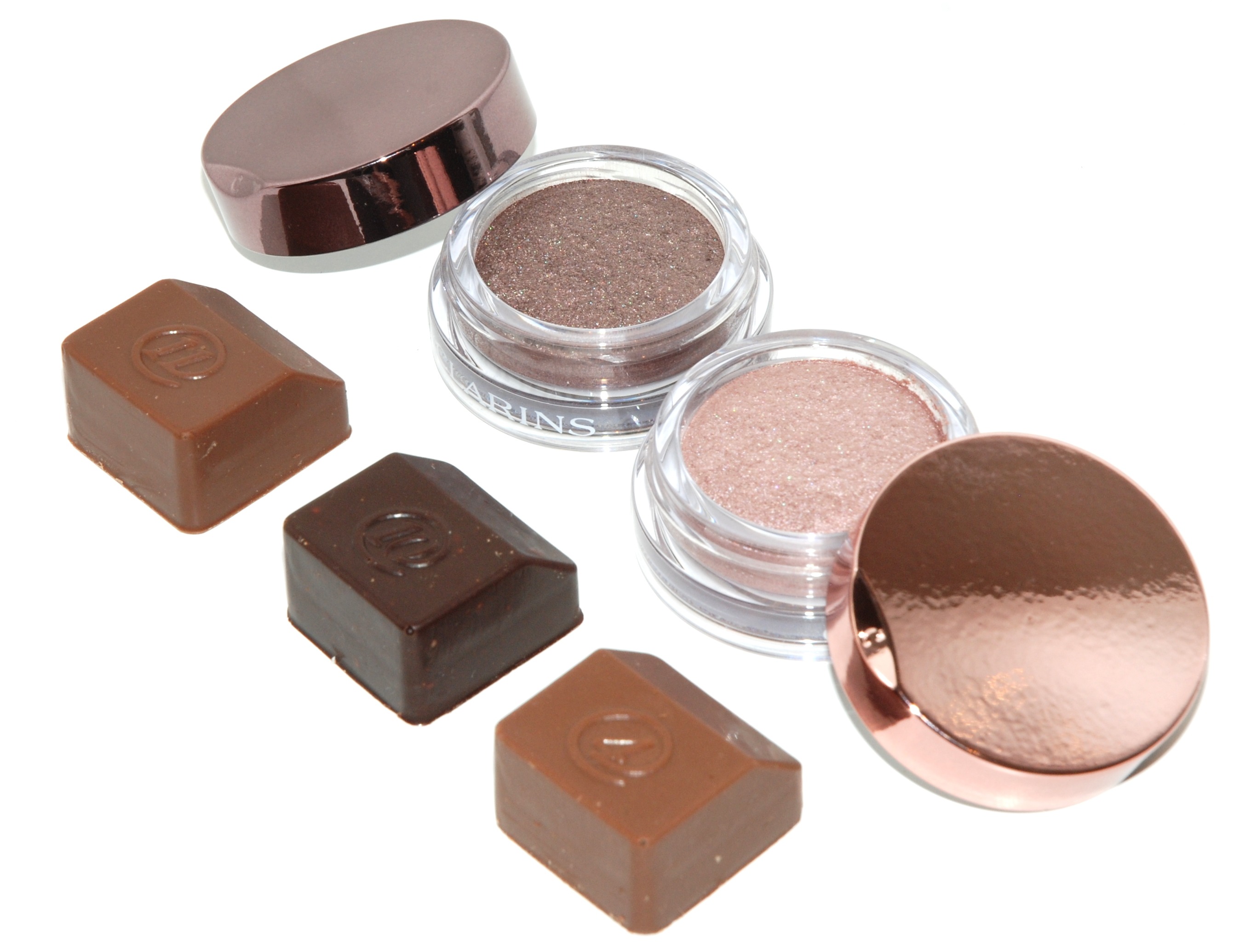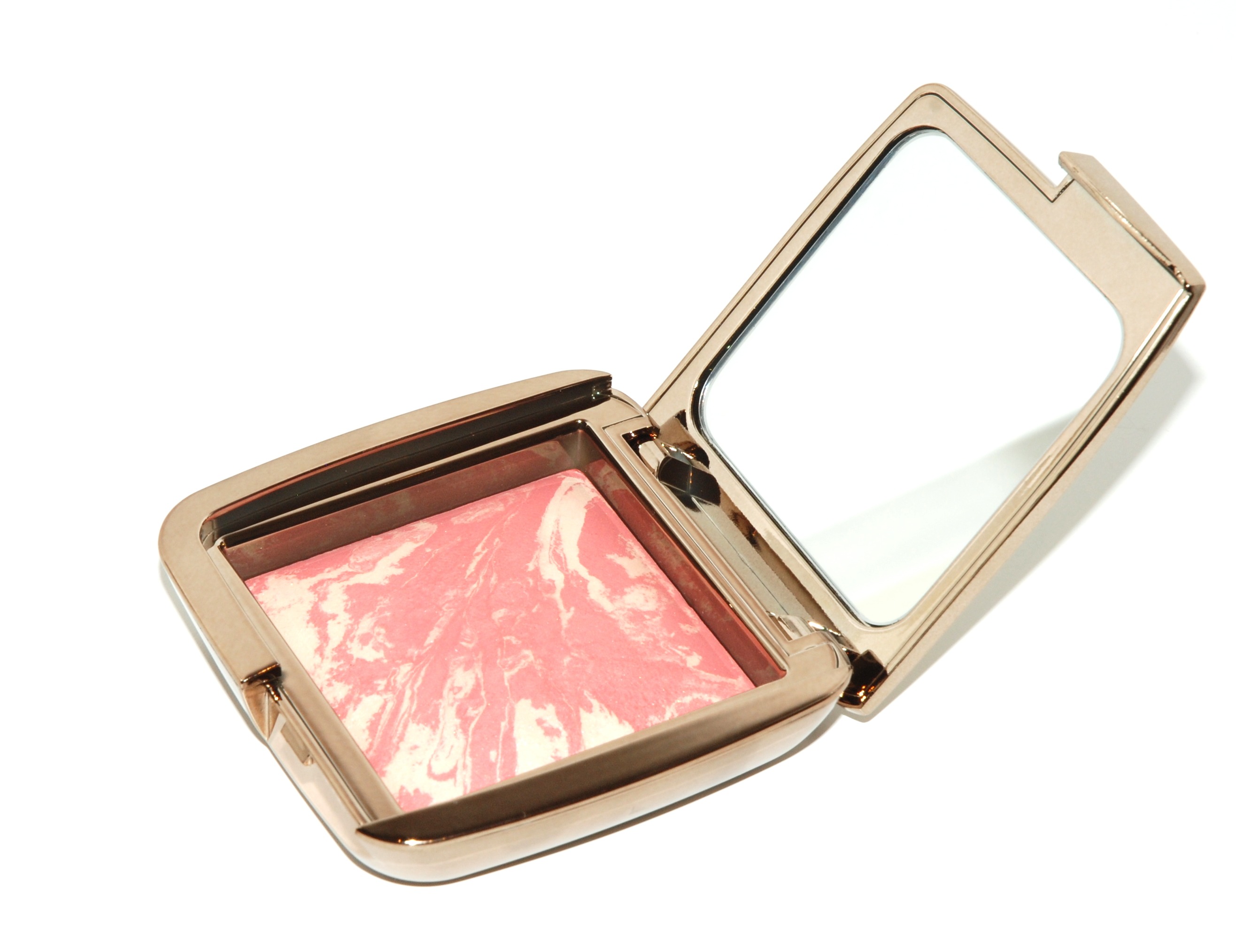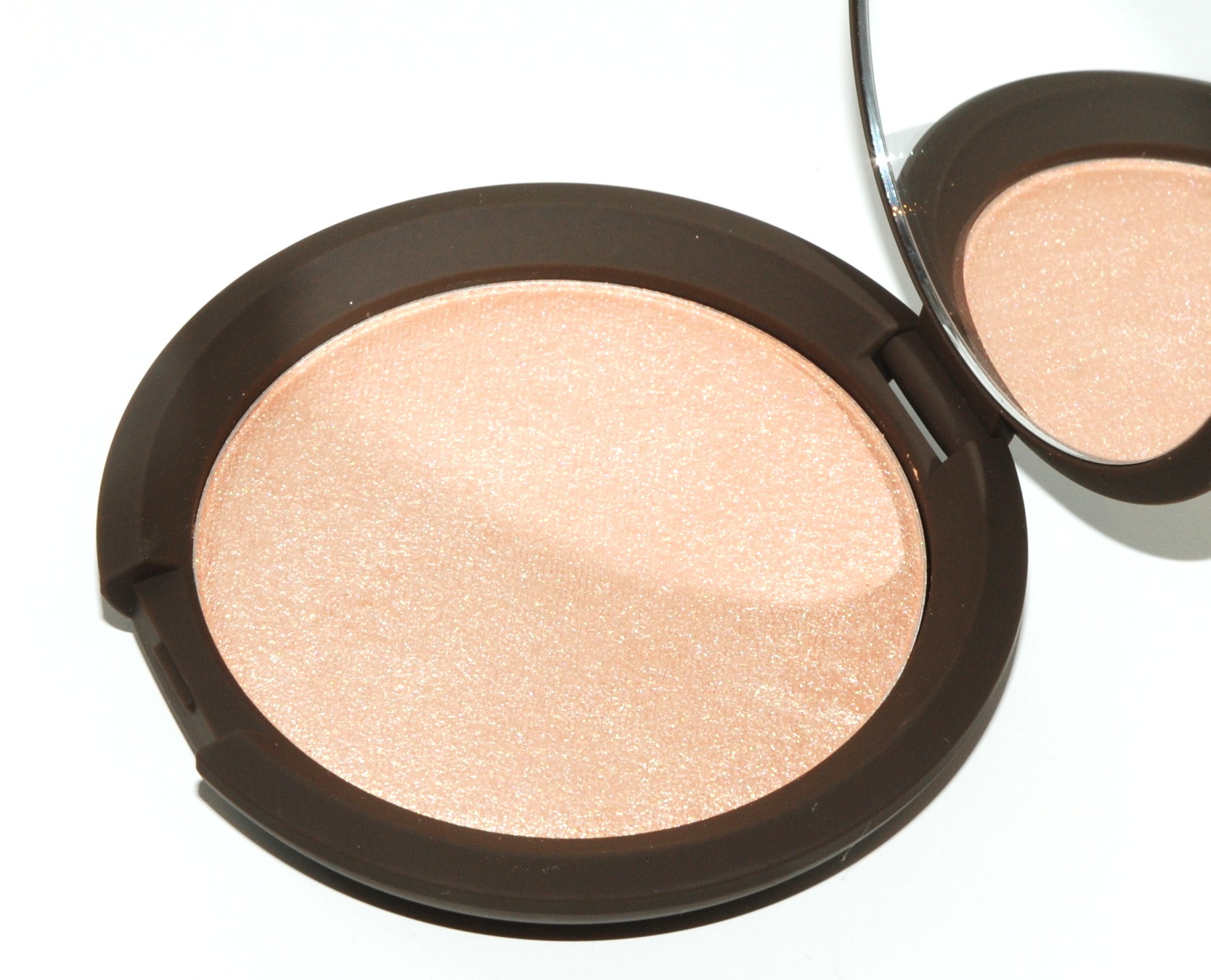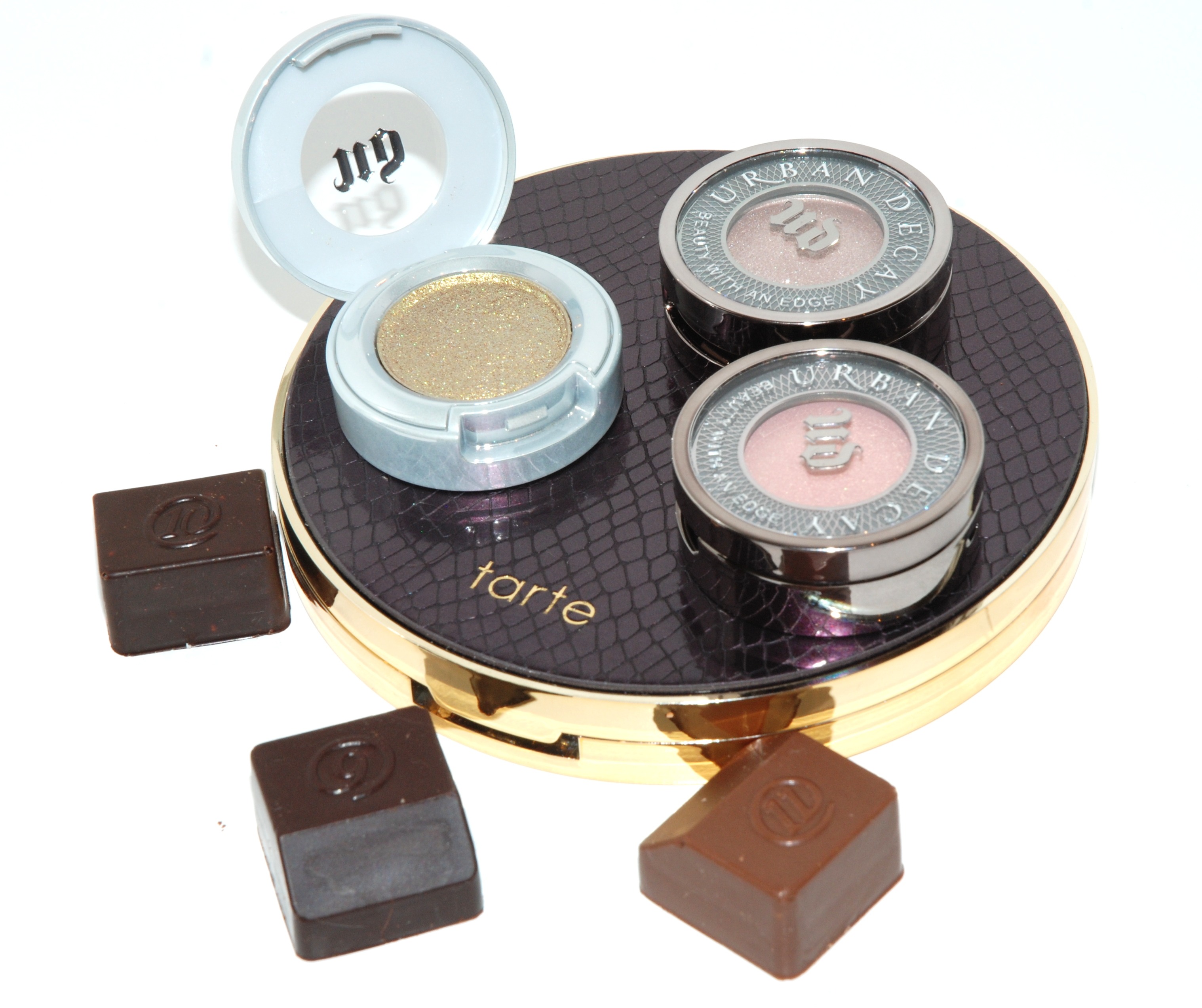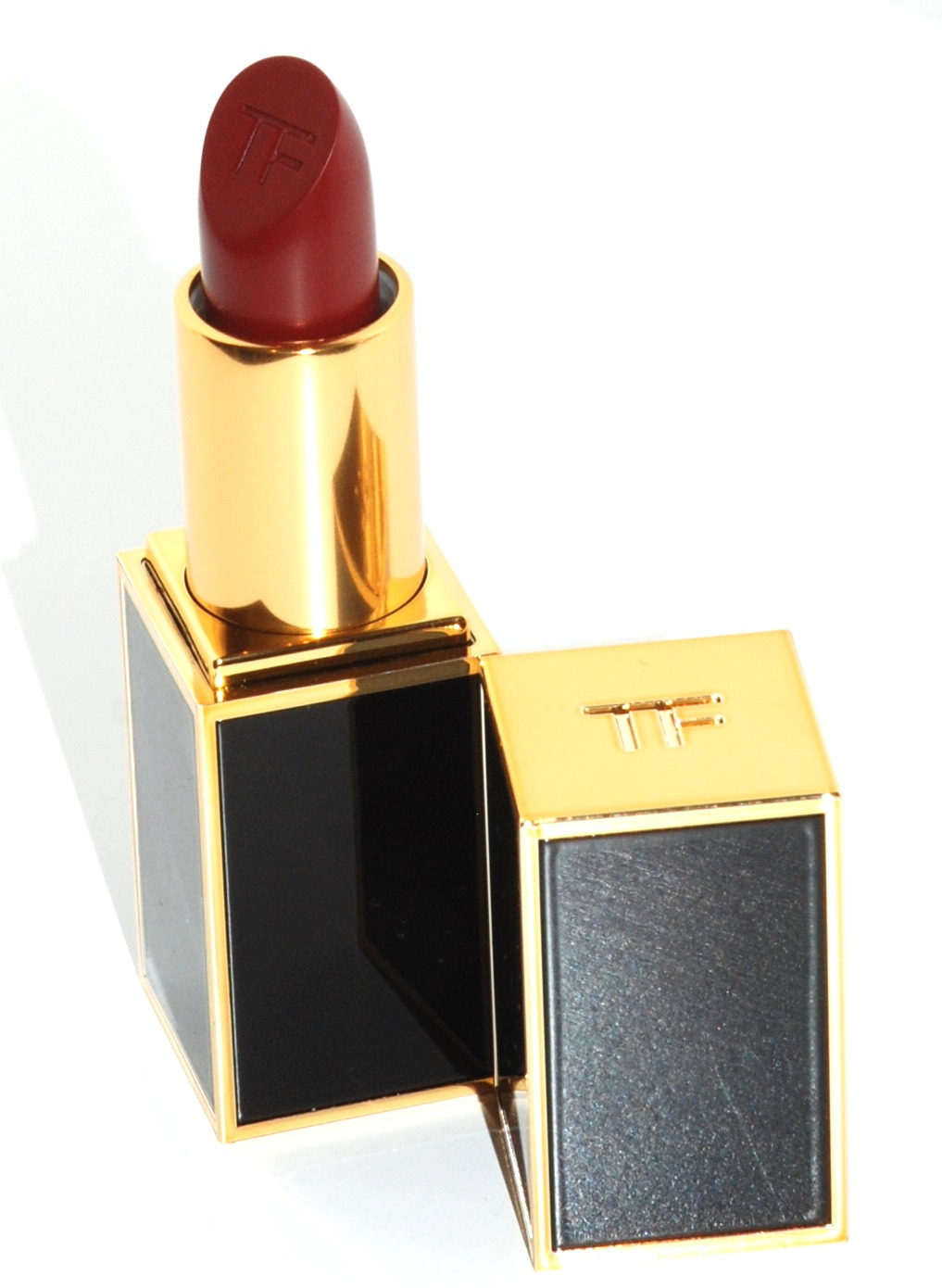 Overview
Pinks, Peaches, Golds, Reds and Bronzes are wonderful colours to opt for during Summer months such as warm shimmery eyes, rose-gold highlights, pretty warm lips and radiant dewy looking skin.
Being experimental with your makeup wardrobe is the 'beauty' of makeup and spritzing on fruity and floral scents.
Do check out my Beauty Favourites of 2015 for more even more inspiration!
Which products caught your eye in my Summer 2016 Beauty Post?
I would love to hear your thoughts 🙂
Thanks so much for reading!
Laura xo