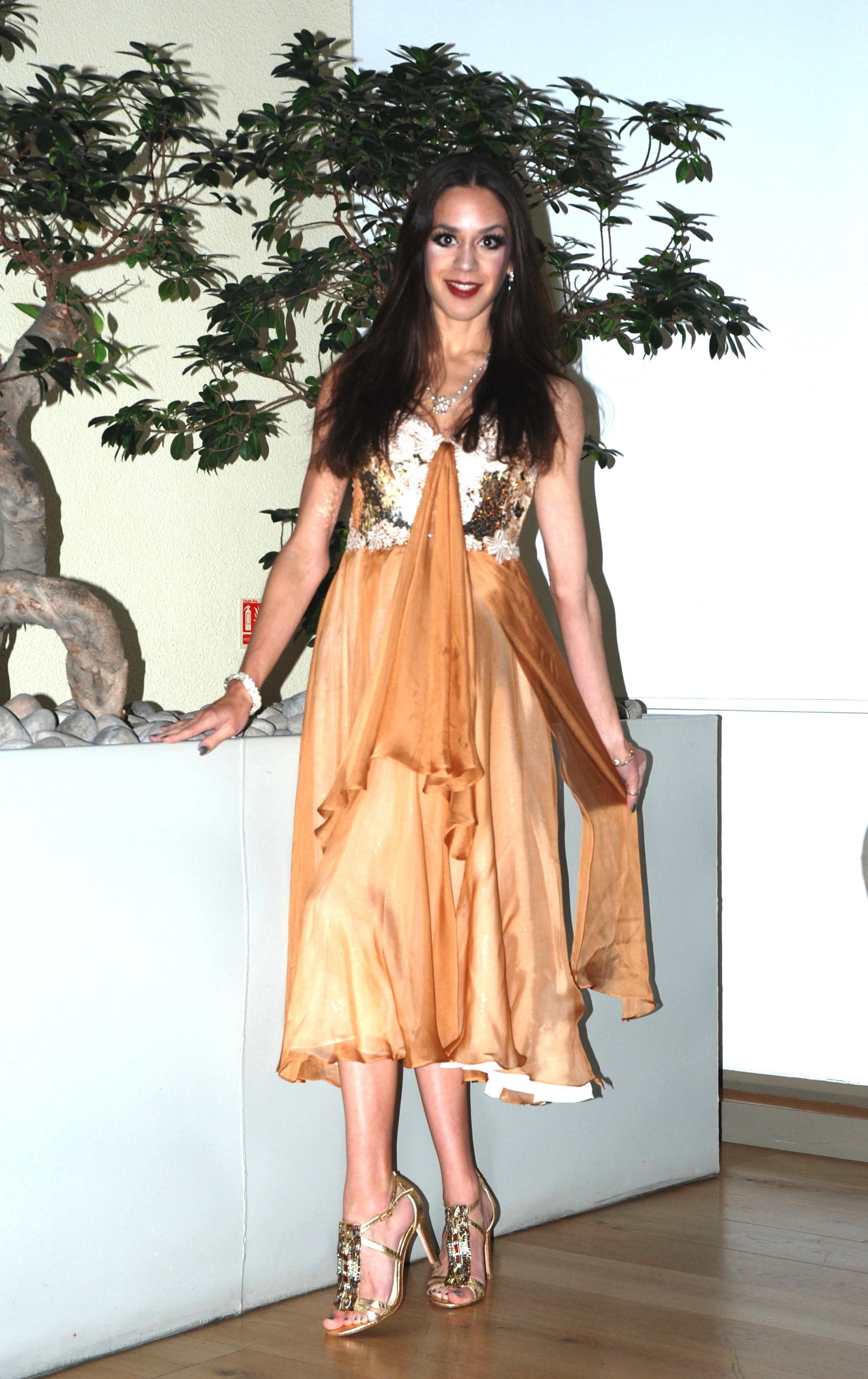 AGA Couture Design Review
Aga Couture is a luxury designer brand created by fashion designer Agnieszka Klaput, a London-based Polish designer.
AGA's simple yet sophisticated designs make women feel respected, yet desirable, sensual, confident, individual and most importantly beautiful.
I first spotted AGA Couture's designs at International Fashion Week at the AMBA Charing Cross Hotel and was taken by her sophisticated 'Shades of White' SS16 collection & was impressed from her other beautiful designs from her initial launch in 2014.
The shoot took place at the stunning five star Andaz Hyatt Liverpool Street which is a five star luxury boutique hotel set in the heart of London.
The dress photographed above was a dress from her SS16 collection and it's absolutely beautiful. A romantic piece of design and incredibly floaty and feminine.
This dressed glided down the catwalk at London Fashion Week & really impressed members of the press there.
A gorgeous strapless statement dress which really is ever so sophisticated.
This beautiful white silk dress was seen on the catwalk of SS16 at London Fashion Week. A beautifully cut dress with unique sleeves with matching detailing on the shoulder.
This simplistic creation is really soft, floaty and feminine to wear. A great outfit for a dinner date perhaps 🙂
Teamed with black shoes and white or jewellery you can create a pretty monochrome effect wearing this pretty dress.
AGA Coutures's simplistic design creates a dress suitable for both the day and the evening, it can be dressed up or dressed down which is really useful if you're attending a day and evening event.
This stunning AGA Couture silk dress is from a previous collection seen at Top Model 2015. This stunning sleeveless dress is 100% pure silk which is fitted and tailored to perfection.
The beautiful beaded and diamante detailing is so luxurious and runs on the front of the dress & all the way down the back of it also. It's one of my favourite dresses to wear as it really goes look & feel so glamorous. A great dress to team with a pair of sparkly heels, the ones I'm wearing are the Roselle sandals from Vince Camuto.
Detailed to perfection with added glitz and glamour this dress is perfect for a theatre night out in London or for cocktails in a luxurious location.
This dress was shot in the Champagne Bar and surrounding areas at the Andaz Hyatt Liverpool Street in the Catch Champagne Bar & Lounge.
This sophisticated black dress is a sleeveless dress also seen at Top Model 2015. It's a pure silk dress and it's cut to perfection. This design of dress can either be worn as a perfect office dress, or for a sophisticated lunch or dinner date. A dress which can be dressed down or up which I find is really beneficial when it comes to choosing dresses.
The dress has a striped texture which adds dimension and shape to the design with a discreet zip fastening at the back of the dress which I prefer.
I teamed the dress with white & silver jewellery & black lace up sandals from Office Shoes. Also added my favourite nail varnish from NARS called Amarapura which is a stunning silver chrome.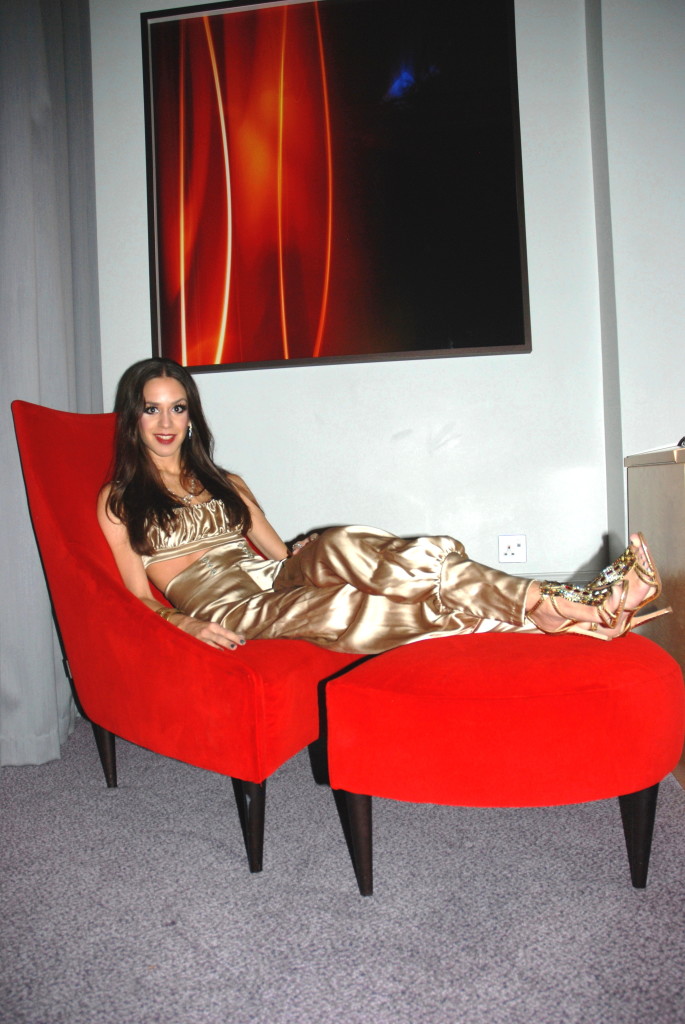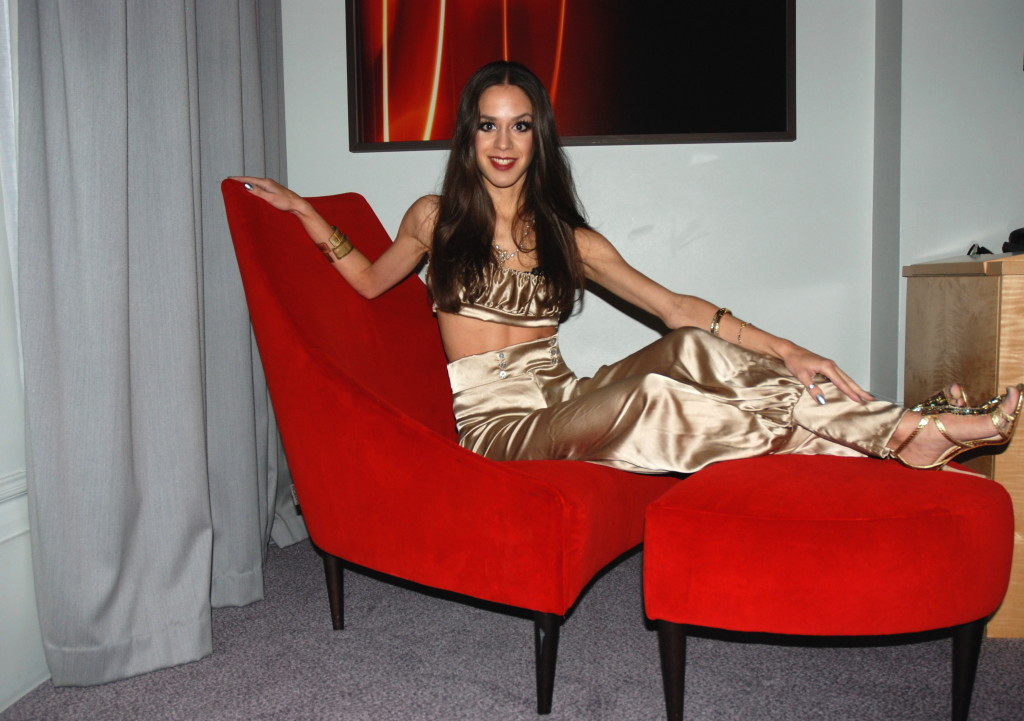 Above I'm wearing a pair of silk trousers and a top. This outfit for me can either be worn in two ways, on a night out as a unique and trendy outfit teamed with high heels, or it can be worn as comfy lounge wear!
The silk trousers are ever so comfortable and after I kicked off my heels in the hotel room I curled up on the sofa with a glass of champagne! Really easy to wear around the house. The top is a crop top which is comfy to wear and would wear this as a piece of luxury night wear!
Another multi functioning outfit from AGA Couture.
Aga Couture Q&A
How would you describe the AGA Couture Brand in a sentence?
AGA Couture is a mix of deliberate provocation hidden in the sophisticated details; Modern design in classic form. My creations stimulate imagination and keep space for your own interpretation.
What inspires your designs?
My inspiration comes from the endeavour to bring out women's inner beauty by tailoring luxurious creations to flatter natural feminine features. Beauty arises out of smallest details, such as a pinch of luxury, and spontaneous emotion. All these put together with a hint of love.
Where do you see the future of the AGA Couture Brand and what do you think your next collection?
I see AGA Couture London as a strong, quality brand. It will not come as a surprise that I have already begun work on my upcoming collection. I am certain my new collection will be quite a surprise.
Overall I'm so impressed by AGA Coutures beautiful designs. The luxurious element and the detailing on each design is impressive. It was a pleasure to shoot this stunning creations.
I would love to hear your thoughts on the outfits showcased above. Which is your favourite & why? 🙂
Thanks so much for reading!
Laura x o